This Strawberry Muffins recipe is healthy and tasty, full of fresh delicious strawberries that you can enjoy at any time of the day!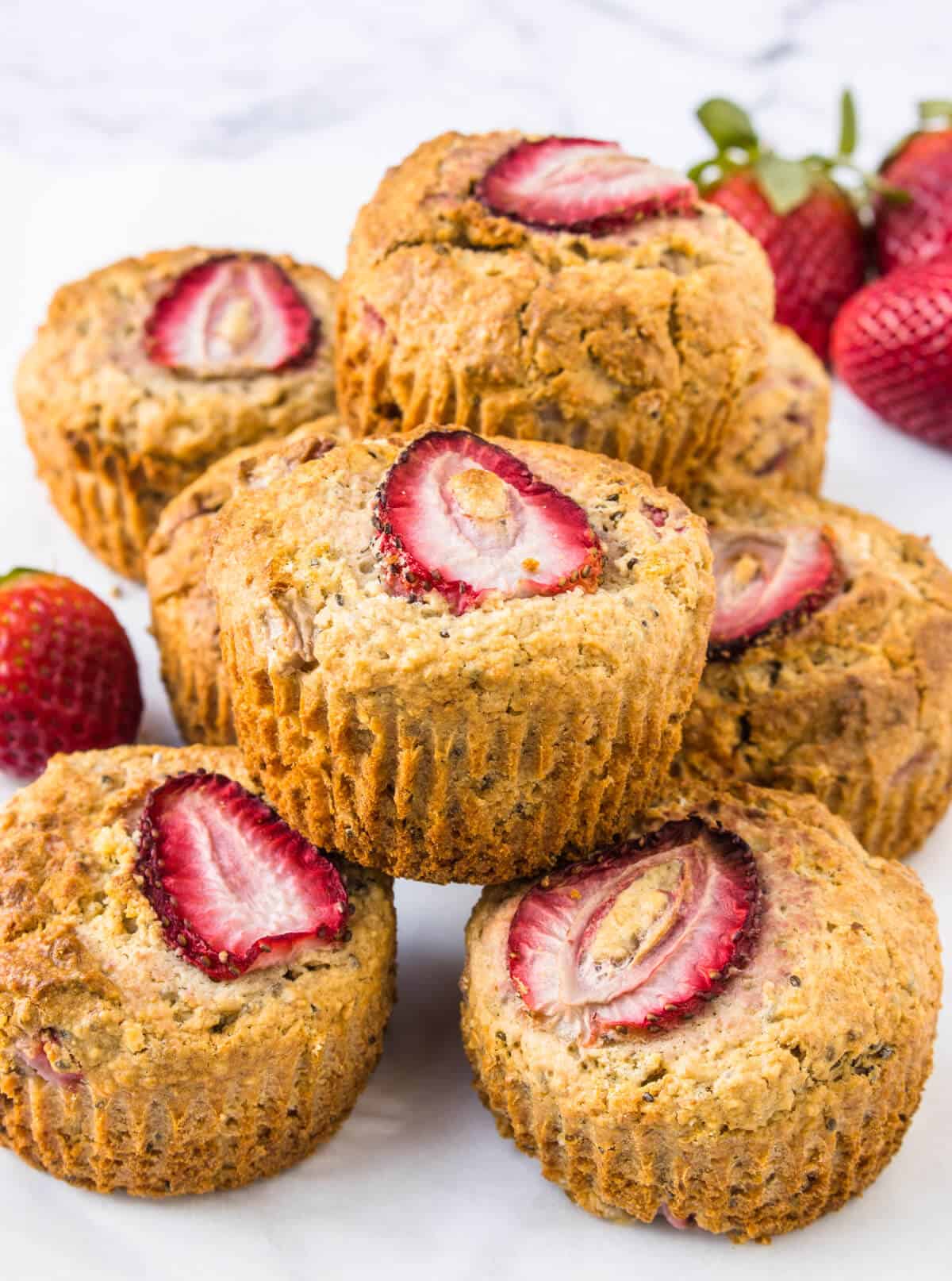 Who doesn't love a yummy muffin for morning or afternoon tea or even as a quick breakfast?
Its strawberry season here in Australia so I've created these healthy and tasty muffins full of delicious strawberries that are guilt-free so you can enjoy them at any time of the day. Also, its a recipe kids will love too.
If you're like me and love strawberries then I recommend you also check out my Healthy Strawberry Parfait, Strawberries & Cream Smoothie and Strawberry Spring Salad.
Table of Contents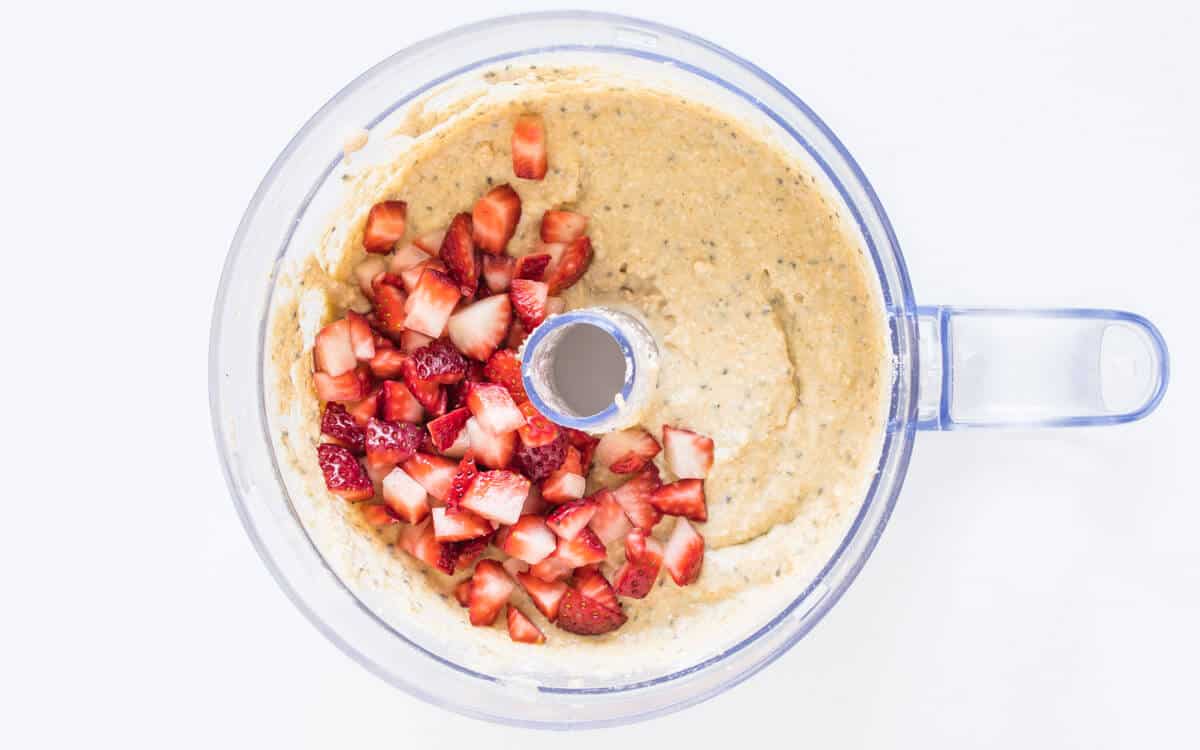 Ingredients to Make Strawberry Muffins
Strawberries, I use fresh strawberries.
Chia seeds helps in the making these muffins fluffy and also provide a source of fibre, omega 3 and antioxidants
Eggs are important in binding all ingredients in the batter, acting as a glue
Oat flour, I buy rolled oats and blend these to make oat flour. This is simple to do and is a much cheaper option than buying store bought oat flour
Coconut oil, is a healthy substitute for butter or any other oil. Coconut oil can withstand high temperatures which works perfectly for baking
Rice malt syrup or honey, I always use rice malt syrup as it provides a natural sweetness however honey will also work well
Banana, for baking, ripe bananas are always the way to go at they provide additional flavour and natural sweetness
Baking powder is used to increase the volume in the muffins and helps with the texture
Milk, I use Almond or Oat milk however any plant-based milk will work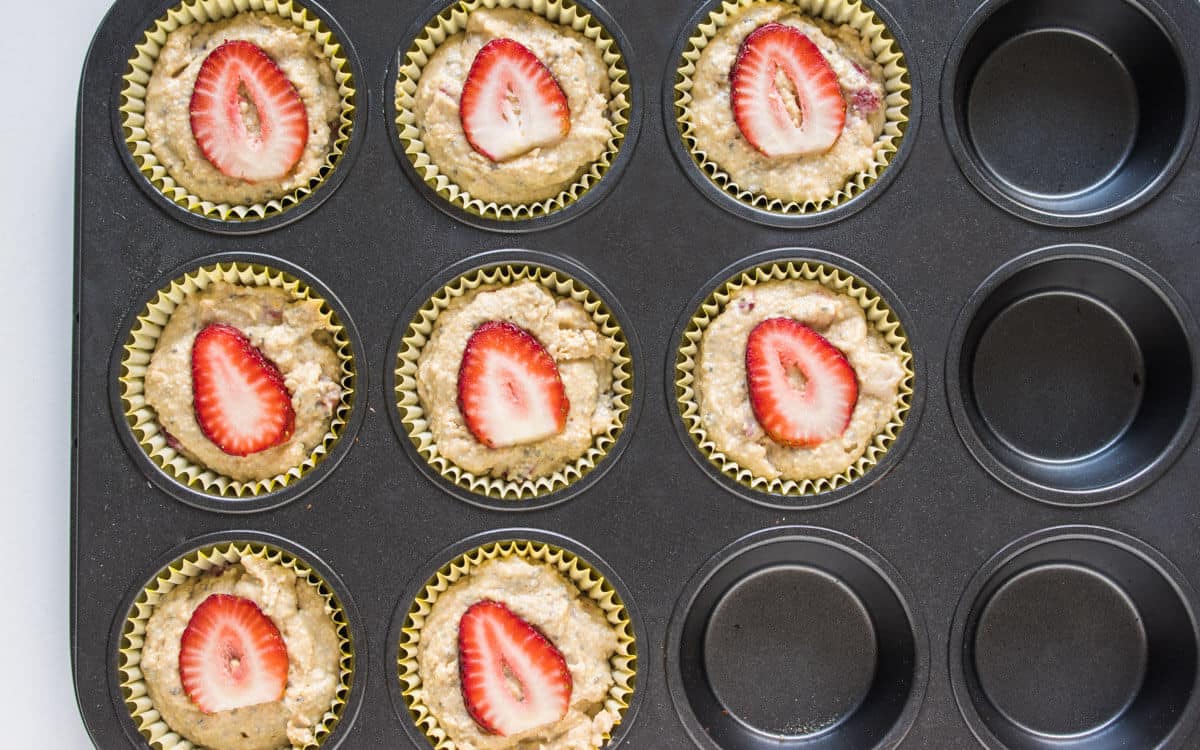 How to Make Strawberry Muffins
Place all ingredients into a blender except for strawberries and blend
Add chopped strawberries and fold in with a spoon
Pour batter into muffin tray or cups
Place strawberry slices as garnish on top of each muffin
Bake in the oven 30 minutes
Allow to rest on a cooling rack for 10 minutes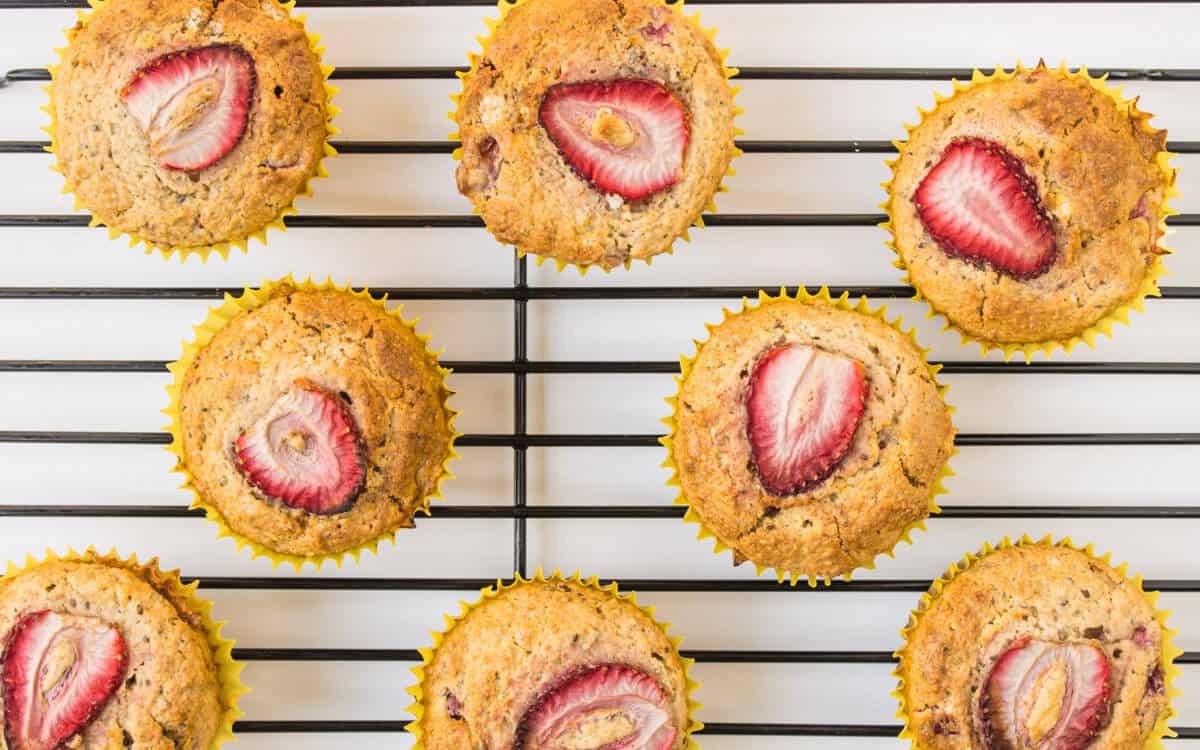 Important Tips
If you want to make this a vegan recipe, you can easily substitute eggs for flax eggs
Ensure to follow the measurements on the recipe, as I know first hand it's enticing to put more strawberries in the batter but this will make the muffins soggy. You will need to adjust your baking time to compensate for any overuse or underuse of strawberries in this case.
It's always best to let the muffins cool for 5-10 minutes on a cooling rack when they have been taken out of the oven before digging in.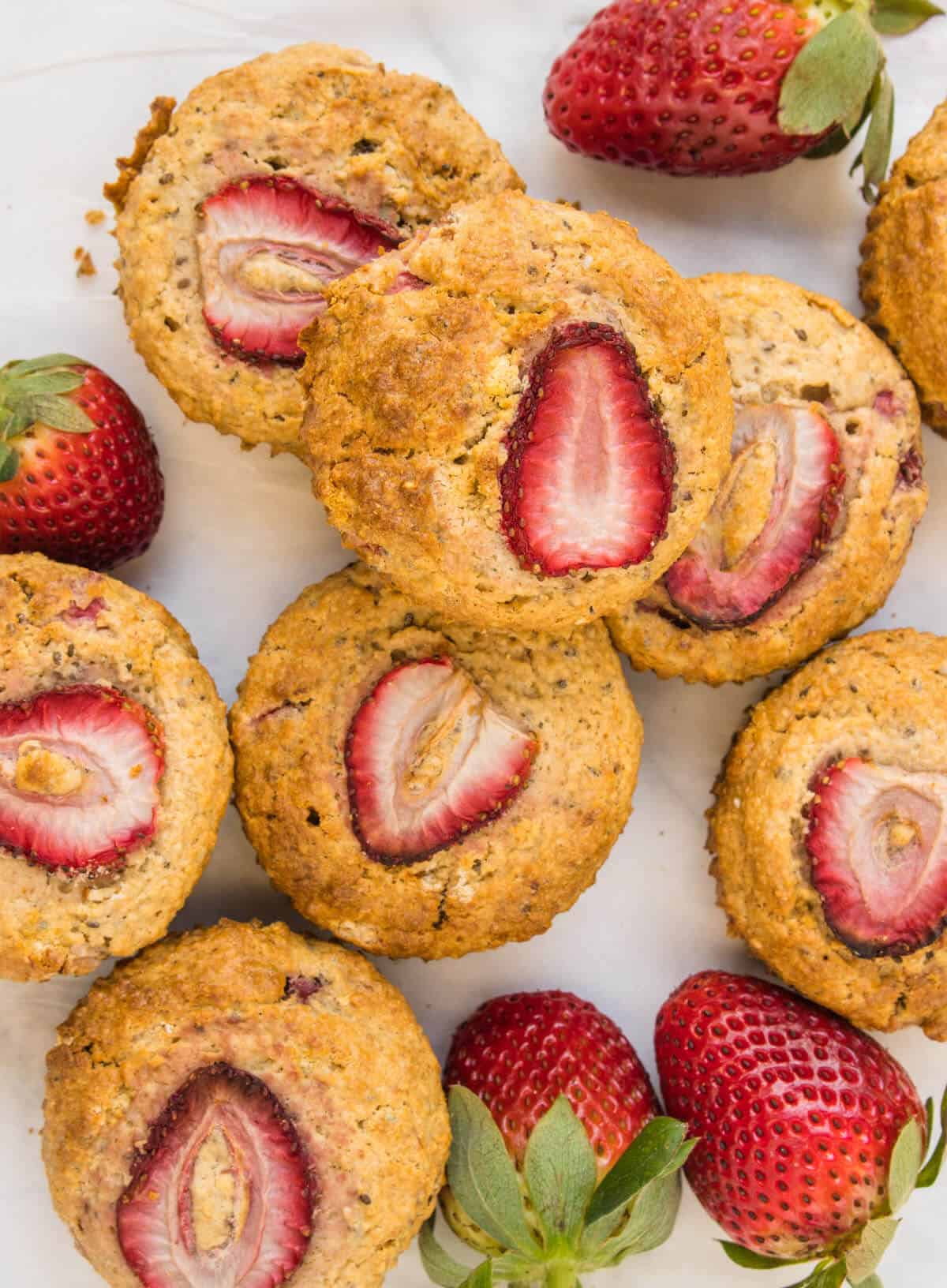 Enjoy a muffin for breakfast, a quick snack or even as a sweet treat for that 3pm sugar craving, but still sticking to a healthy option. They are also great for school lunch boxes for the kids 🙂
More Baking Recipes
I love seeing your creations and remakes, so make sure to tag me and send me a photo on Instagram so I can also share the love.
Recipe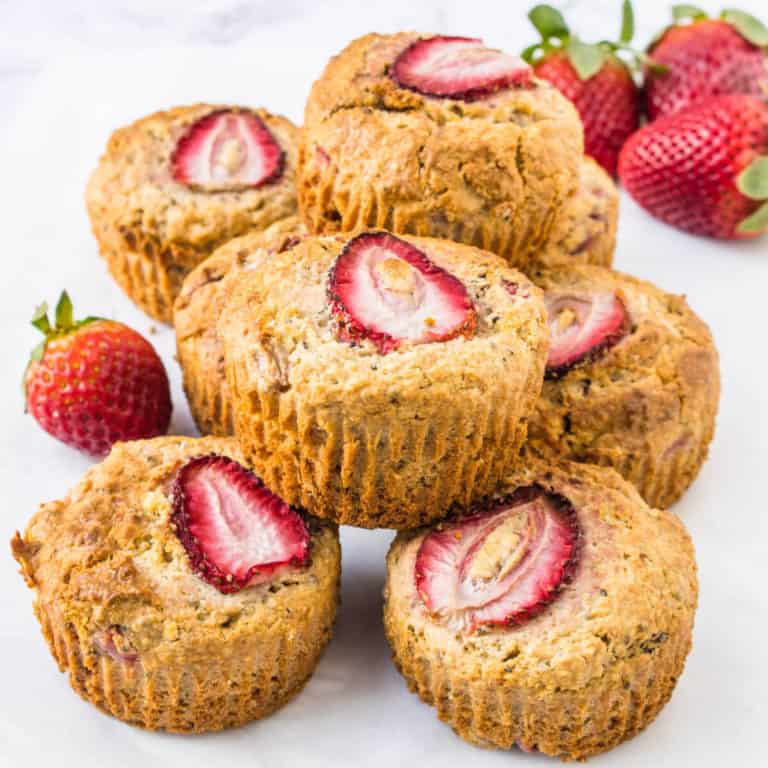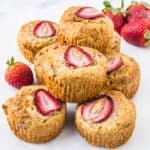 Strawberry Muffins
Print
Ingredients
100

g

strawberries

3

teaspoons

chia seeds

2

eggs

2

cups

oat flour (blended rolled oats)

¼

cup

coconut oil

3

tablespoons

rice malt syrup or honey

1

ripe banana

2

teaspoons

baking powder

¼

almond milk
Instructions
Preheat oven to 200°C/400°F

Cut strawberries into small cubes. In doing so, reserve 8 slices of strawberries for garnishing each muffin at the end.

Place all ingredients into a blender or food processor except for strawberries and blend. Once blended, add in your chopped strawberries and fold in with a spoon

Pour batter into muffin tins with muffin cups, otherwise, you will need to lightly grease your tin.

Place strawberry slices reserved as garnish on top of each muffin and press slightly into the batter.

Place the tray into the oven and cook for 30 minutes. Check if they are cooked by sticking in a toothpick and seeing if it comes out clean. Allow to cool on a cooling rack for 10 minutes before digging in and enjoying a beautiful guilt-free muffin 🙂