Jump to Recipe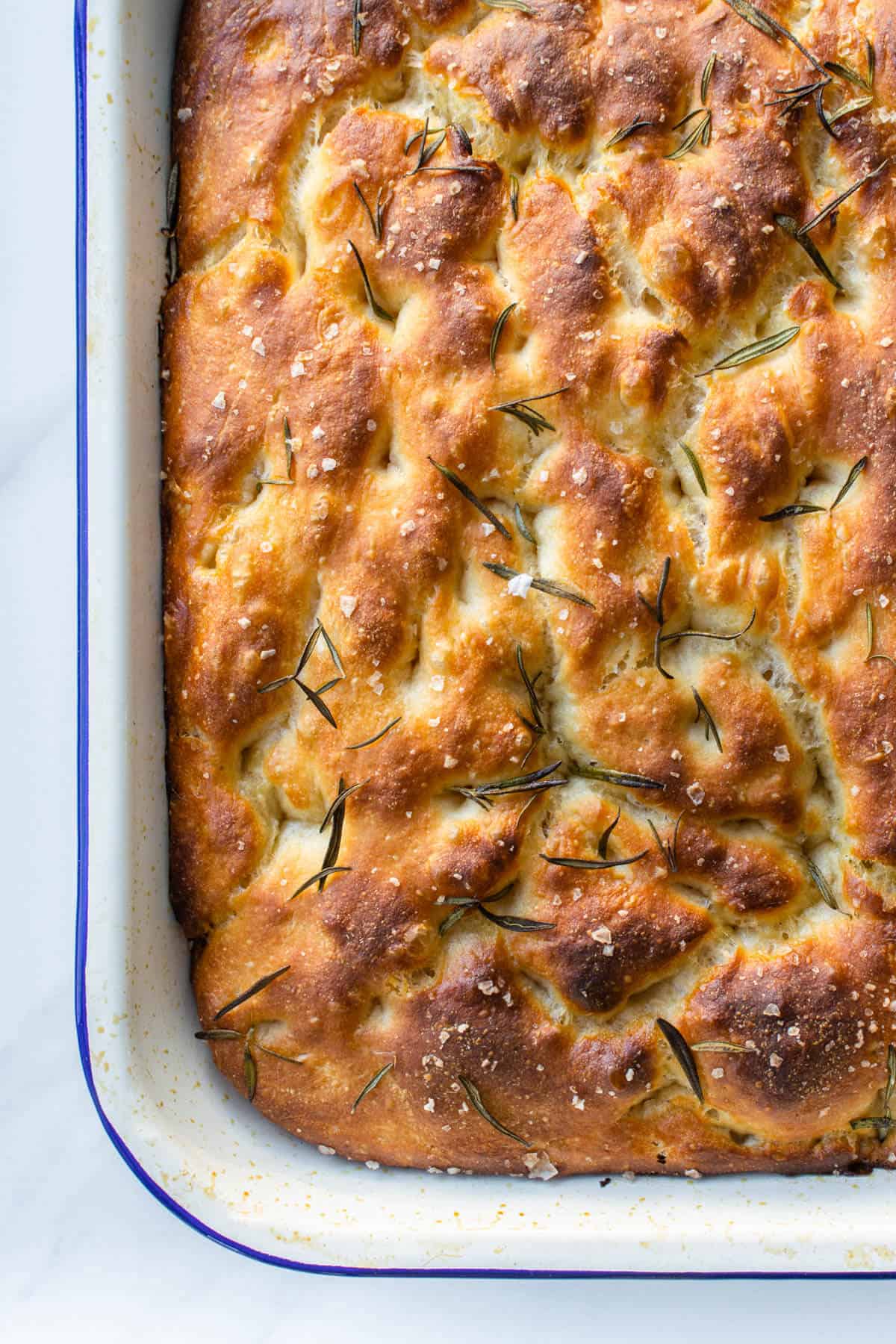 This easy No Knead Focaccia bread recipe is going to blow your mind!
It's one of the simplest recipes that barely takes any work at all, to create unbelievably tasty Italian bread!
Think crunchy on the outside, soft in the middle, perfect Focaccia Bread everytime!
The hardest part is patiently waiting for the dough to double proof which is the key to making the perfect Focaccia.
Especially for anyone new to making homemade bread, this quick No-Knead Focaccia is the optimal start as it doesn't require any kneading at all.
Jump to: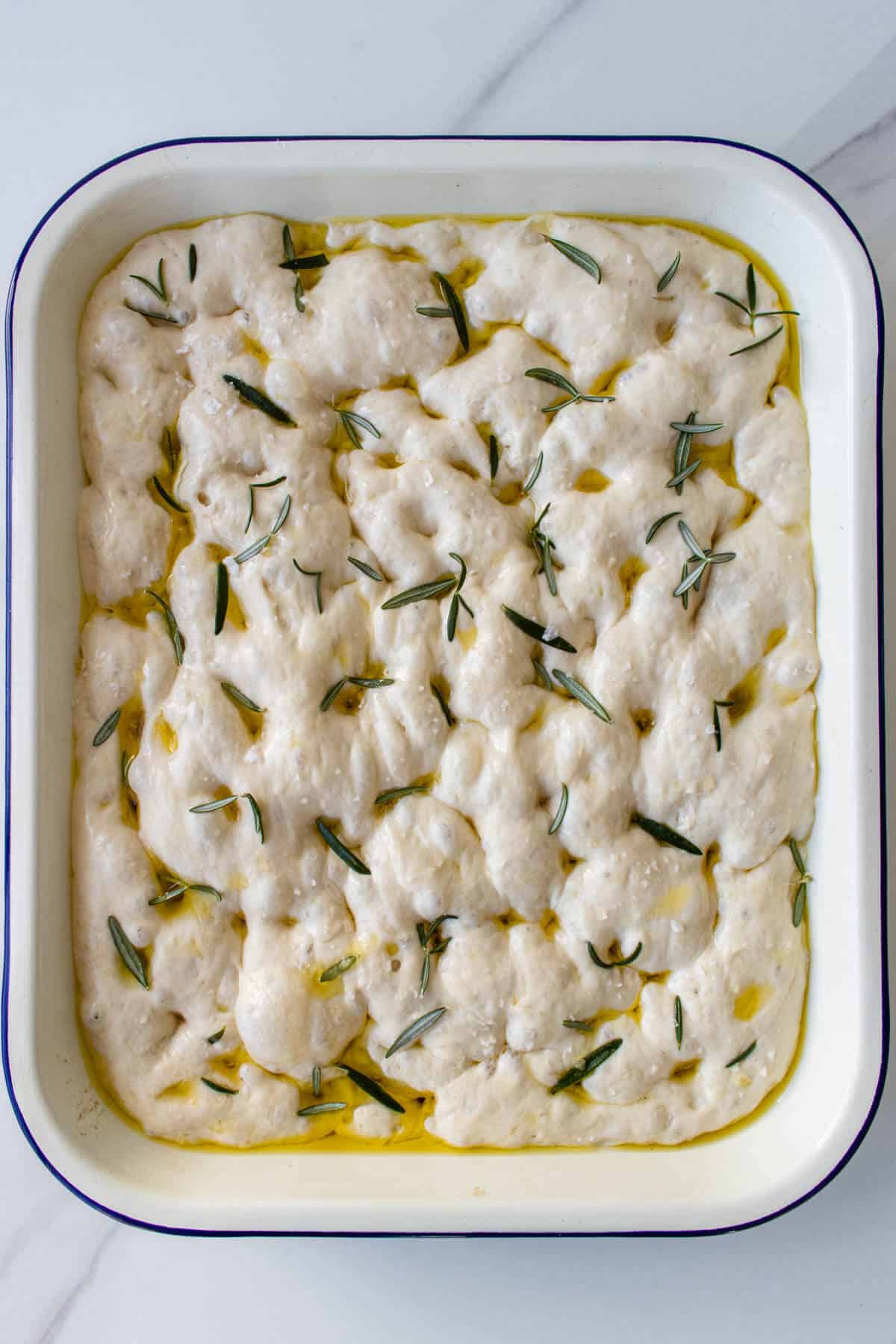 Ingredients to make No Knead Focaccia Bread
All Purpose Flour is most common and what I have used in this recipe. You can also use bread flour or OO flour
Instant Yeast to make the bread rise. Ensure to check the yeast is alive by seeing bubbles appear when added to the water. (see tips for more information)
Extra Virgin Olive Oil is used in multiple stages of the Focaccia making. It brings the signature scent and flavour
Warm water is required and is made by mixing boiling water and water
Salt is added to the dough for flavour
Sugar helps with the flavour and to make the bread brown
Toppings for the Focaccia Bread
Rosemary Leaves
Flaky salt
Thyme
Oregano
Basil leaves
Garlic
Parmigiano Reggiano Cheese
Red pepper flakes
Olives
Cherry tomatoes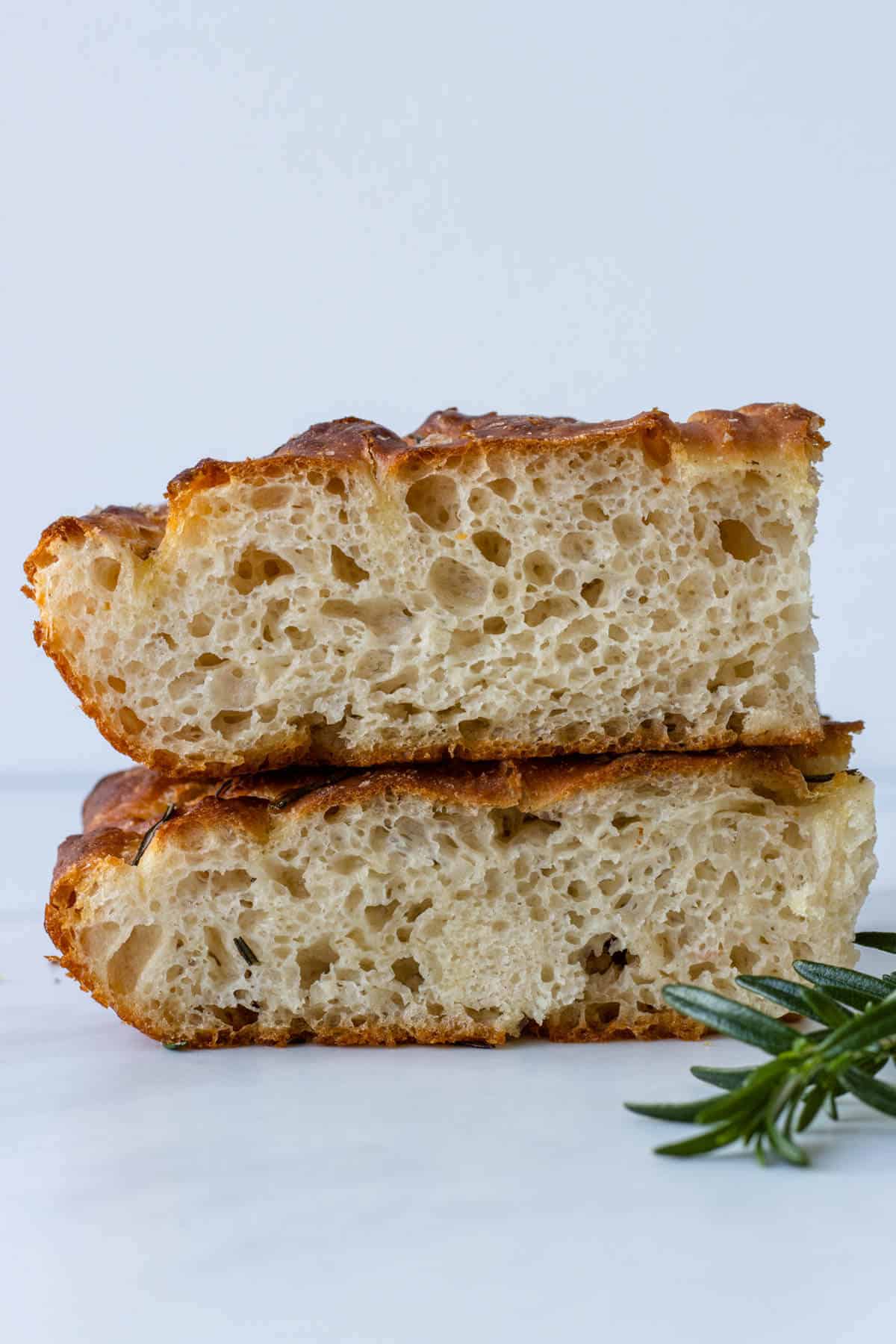 How to make No Knead Focaccia
Time needed: 15 hours and 25 minutes.
Prepare the dough

In a large bowl, add flour, salt and mix together. In a separate bowl, add warm water, sugar and instant dry yeast. Pour the yeasty water into the flour bowl and mix together with a spatula. It will be a very sticky dough.

Drizzle the top lightly with olive oil, cover with a damp tea towel or cling wrap, and place in the fridge to proof overnight (approx 10-12 hours).

The second rise

Add 2-3 tablespoon of olive oil to a non stick oven dish (you can also place baking paper in the dish too).

Add a little olive oil to your hands and move the dough into the oven dish. Carefully stretch the dough into the shape of the oven dish. Cover with either a damp tea towel or plastic wrap and leave to proof again at room temperature for 2-4 hours

Time to bake

Preheat oven to 220°C/425°F. Using oily fingers, press into the dough to make dimples all over the top. Lightly drizzle olive oil, add rosemary leaves and flaky salt.

Bake in the oven for 20-25 minutes until golden. Then remove the focaccia out of the dish straight away and let is rest for 10 minutes on a cooling rack before slicing.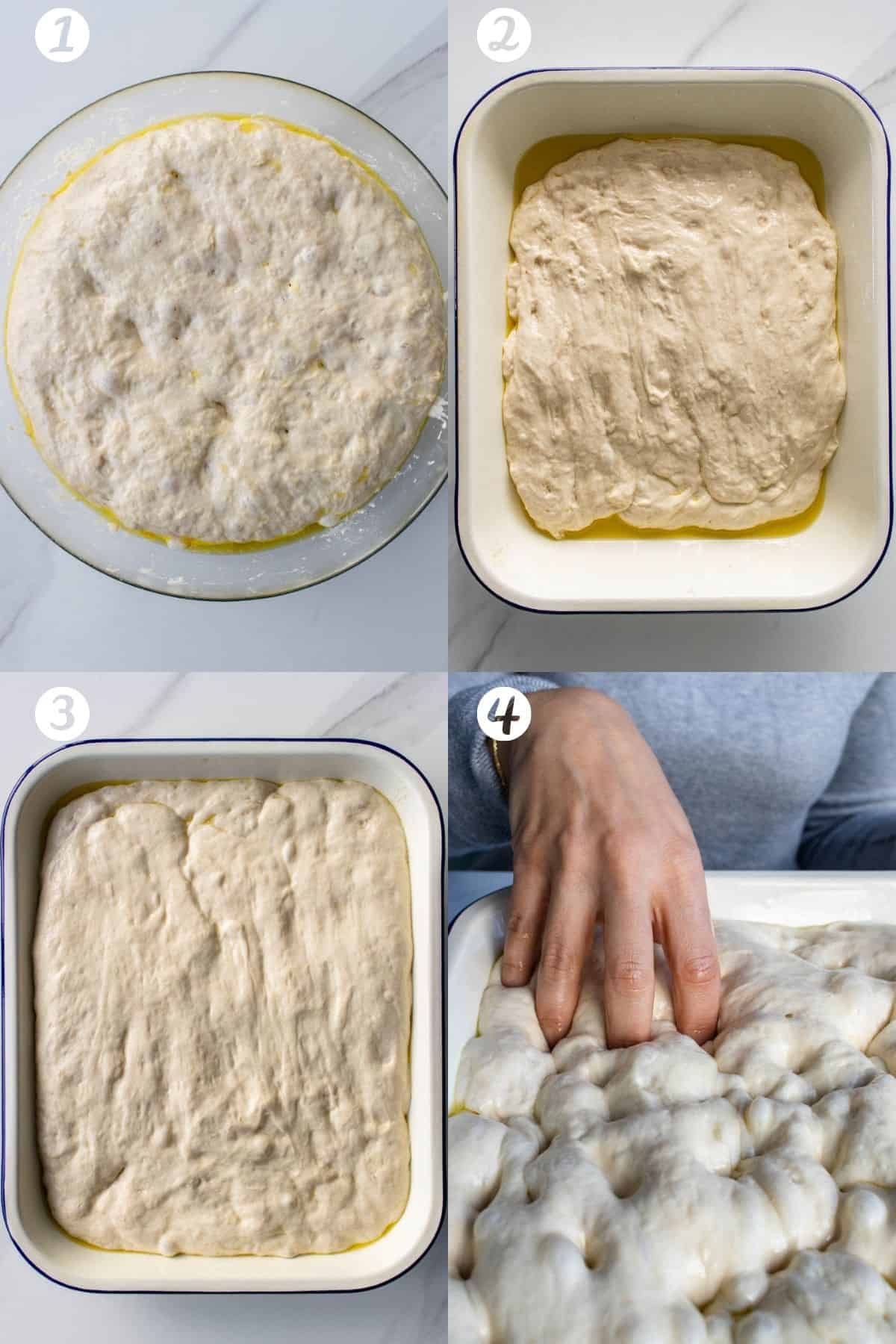 Tips to make No Knead Focaccia Recipe
When making the yeasty water, make sure that bubbles or foam appear before mixing into the flour bowl. This is to ensure the yeast is still alive. If there are no bubbles or foam, you may need to make a new batch
Make sure your oven dish is non stick as the focaccia can get stuck when it's baked and will be very hard to remove otherwise
Ensure to generously coat the oven dish with 2-3 tablespoon of olive oil. It may sound like a lot, but it's required so that the dough doesn't stick. Using baking paper or a baking sheet in the dish is also an option to prevent the dough from sticking
When handling the dough, ensure to add a little olive oil to your hands and fingers. The dough is super sticky and it will stick to your hands and fingers otherwise
When adding toppings, be careful not to add too many heavy toppings as they can prevent the dough from rising
All ovens are different in strength so cook time can slightly change. Check the colour at 20 mins, especially for a strong oven. If your oven isnt very strong, it can take up to 25-30 mins
Allow the focaccia to rest and cool down for 5-10 minutes on a cooling rack before slicing and enjoying 🙂
More Appetizer Recipes
I love seeing your creations and remakes, so be sure to tag @cookingwithayeh and share a photo on Instagram so I can share the love
Recipe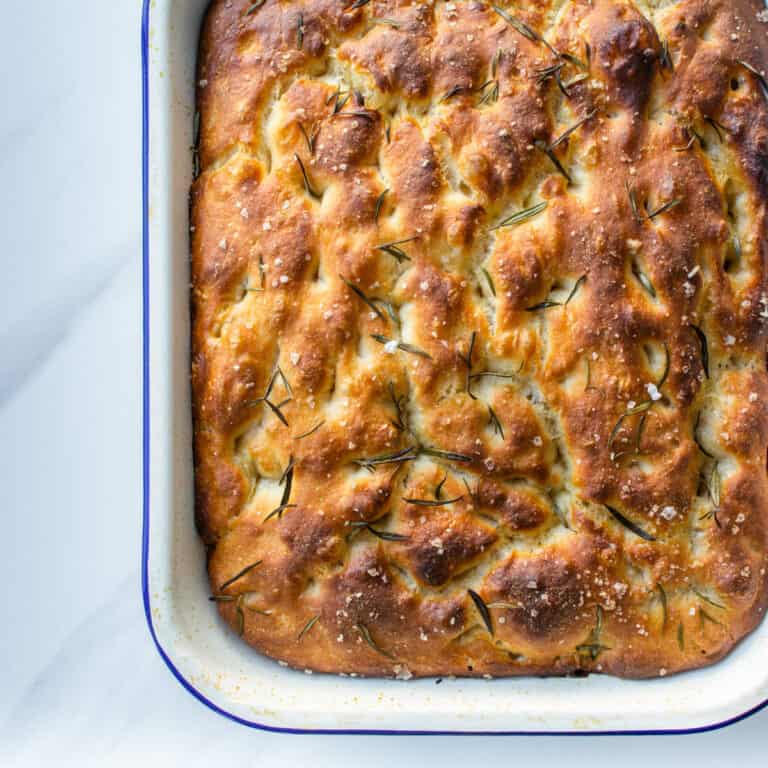 No Knead Focaccia
This easy No Knead Focaccia recipe is crunchy on the outside and soft in the middle. You will have the perfect focaccia bread everytime!
Pin
Print
Rate
Ingredients
500

g

all purpose flour (you can also use 00 or bread flour)

2

cups

warm water (1 ½ cups water, ½ cup boiling water)

2

teaspoon

instant yeast

1

teaspoon

sugar

2

teaspoon

salt

4

tablespoon

extra virgin olive oil
Toppings
1

tablespoon

extra virgin olive oil

2

sprigs fresh rosemary leaves

Flaky sea salt
Instructions
In a large bowl, add flour, salt and mix together

In a separate bowl, add warm water, sugar and instant dry yeast. Once bubbles appear, pour the yeasty water into the flour bowl and mix together with a spatula. It will be a very thick sticky dough. (Make sure to mix it well so there is no flour left at the bottom of the bowl)

Drizzle the top lightly with olive oil, cover with a damp tea towel or cling wrap, and place in the fridge to rest and rise overnight (approx 10-12 hours).

The next day, the dough should have tripled in size.

Add 2-3 tablespoon of olive oil to a non stick oven dish (approx 34 x 27 cm), making sure the sides of the dish have also been coated in oil (you can also place baking paper in the dish too)

Add a little olive oil to your hands and move the dough into the oven dish. Carefully stretch the dough into the shape of the oven dish , leveling the top to be flat

Cover with either a damp tea towel or plastic wrap and leave to proof again at room temperature for 2-4 hours

Preheat oven to 220°C/425°F

Using oily fingers, press your fingers into the dough to make dimples all over the top.

Lightly drizzle olive oil to the top, add rosemary leaves and flaky salt

Bake in the oven for 20-25 minutes until nicely golden brown. (If your oven isnt very strong, it can take 30 mins. Just keep an eye on it)

Remove from oven and move the focaccia out of the dish straight away. Let it cool for about 10 minutes on a cooling rack before slicing.

Slice and dip into balsamic vinegar and olive oil or use to make a sandwich 🙂
Nutrition
Calories:
317
kcal
|
Carbohydrates:
49
g
|
Protein:
8
g
|
Fat:
10
g
|
Saturated Fat:
1
g
|
Polyunsaturated Fat:
1
g
|
Monounsaturated Fat:
7
g
|
Sodium:
589
mg
|
Potassium:
96
mg
|
Fiber:
2
g
|
Sugar:
1
g
|
Vitamin A:
1
IU
|
Vitamin C:
1
mg
|
Calcium:
11
mg
|
Iron:
3
mg