Jump to Recipe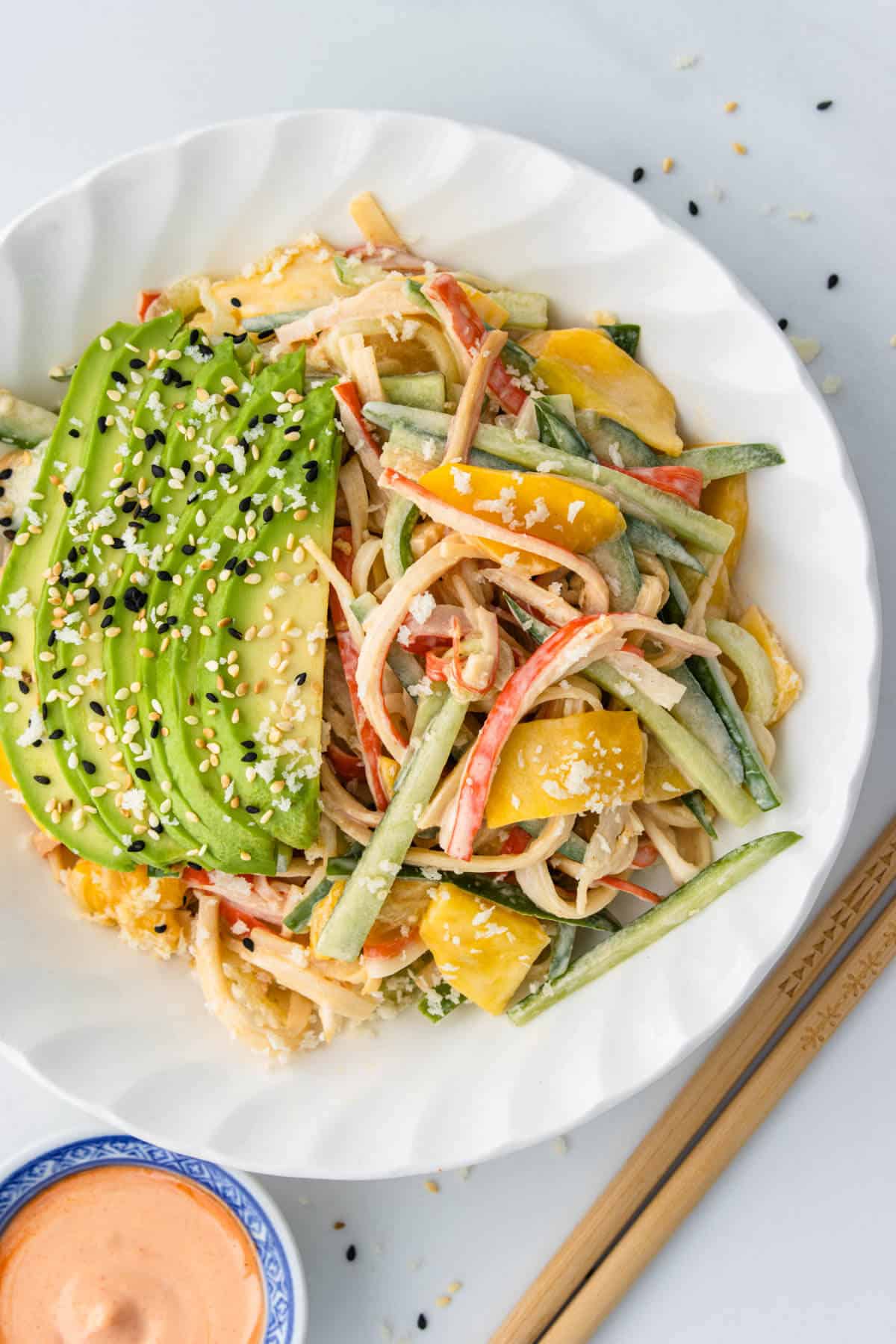 A Kani Salad is a Japanese style salad made with crab and julienned thinly sliced ingredients with a creamy spicy mayonnaise dressing. It's very popular in American Japanese restaurants.

Here I've made my take on a Kani Salad which is so easy to make and is so refreshing! You only need 3 ingredients, being cucumber, imitation crab, and mango plus the dressing.
It can all be made within 15 minutes in prep time, which makes this a great last minute meal too!

To describe the taste, it reminds me of a California sushi roll with similar flavours and ingredients, minus the rice. This makes it a low carb meal also.
Jump to: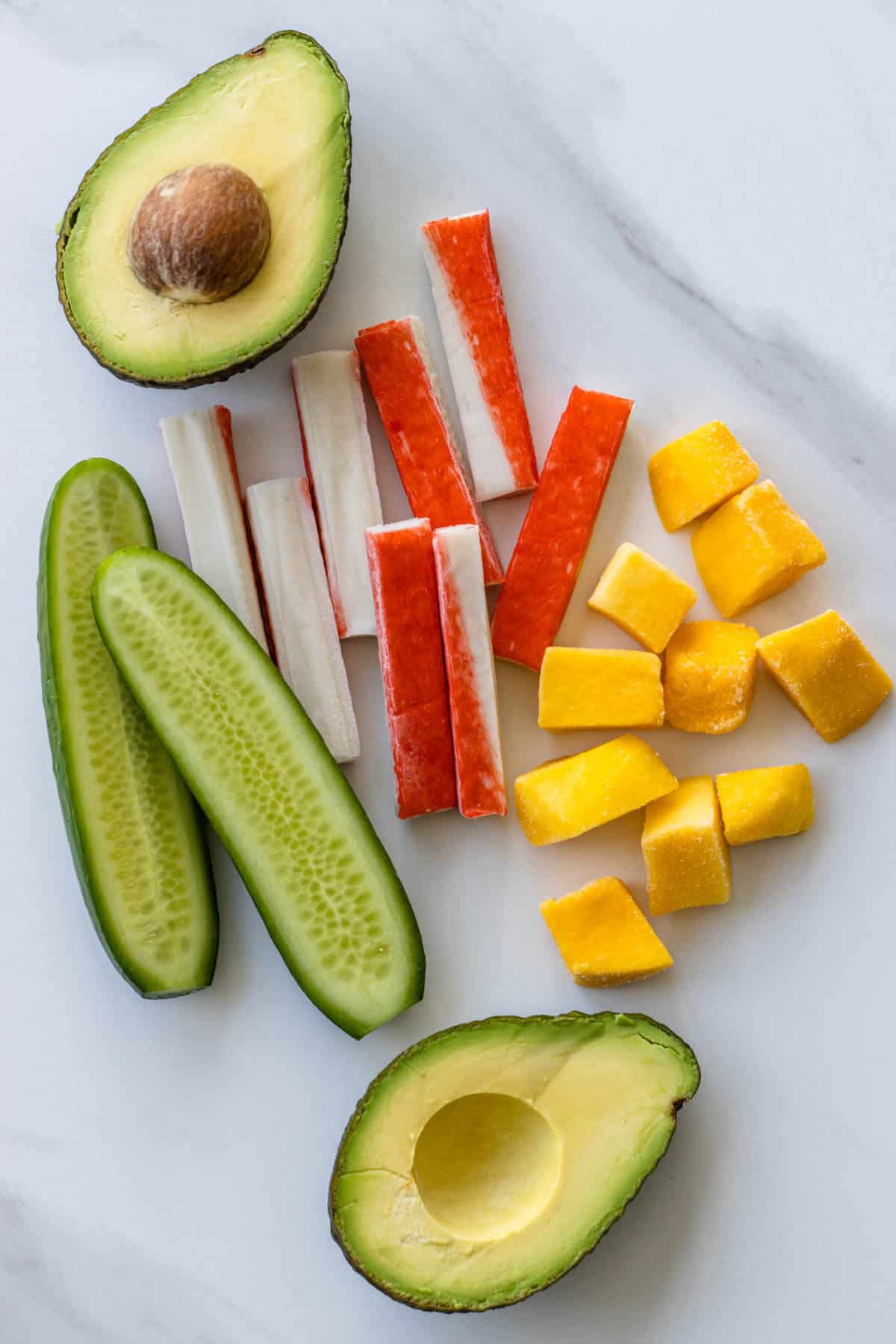 Ingredients to make this Kani Salad Recipe
Imitiation Crab Meat is the main ingredient in a Kani Salad. Also known as crab sticks or seafood sticks. Its made from Surimi which is a type of seafood.
Cucumbers I always use Persian or Lebanese cucumbers as they have a lot more flavour and are far less watery with tiny seeds.
Mango brings a beautful sweet freshness. Fresh mango is always best however when they aren't in season, frozen mango also works great.
Kewpie Japanese Mayonnaise is the tradtional mayonnaise used. Its made from egg yolk instead of whole egg.
Soy Sauce is added for its saltiness and flavour. I always prefer to use salt reduced soy sauce. You can also use Tamari for a gluten free option
Rice Wine Vinegar is added for a little acidity. White wine vinegar can also be used
Sriracha sauce is added to make the Japanese Kani Salad spicy. you can add more or less than my recipe depending on how spicy you like it
Avocado is added on top for its creaminess
Sesame Seeds I like to add toasted mix colour sesame seeds for garinsh
Panko crumbs are added on top for a little crunch to the dish and provides texture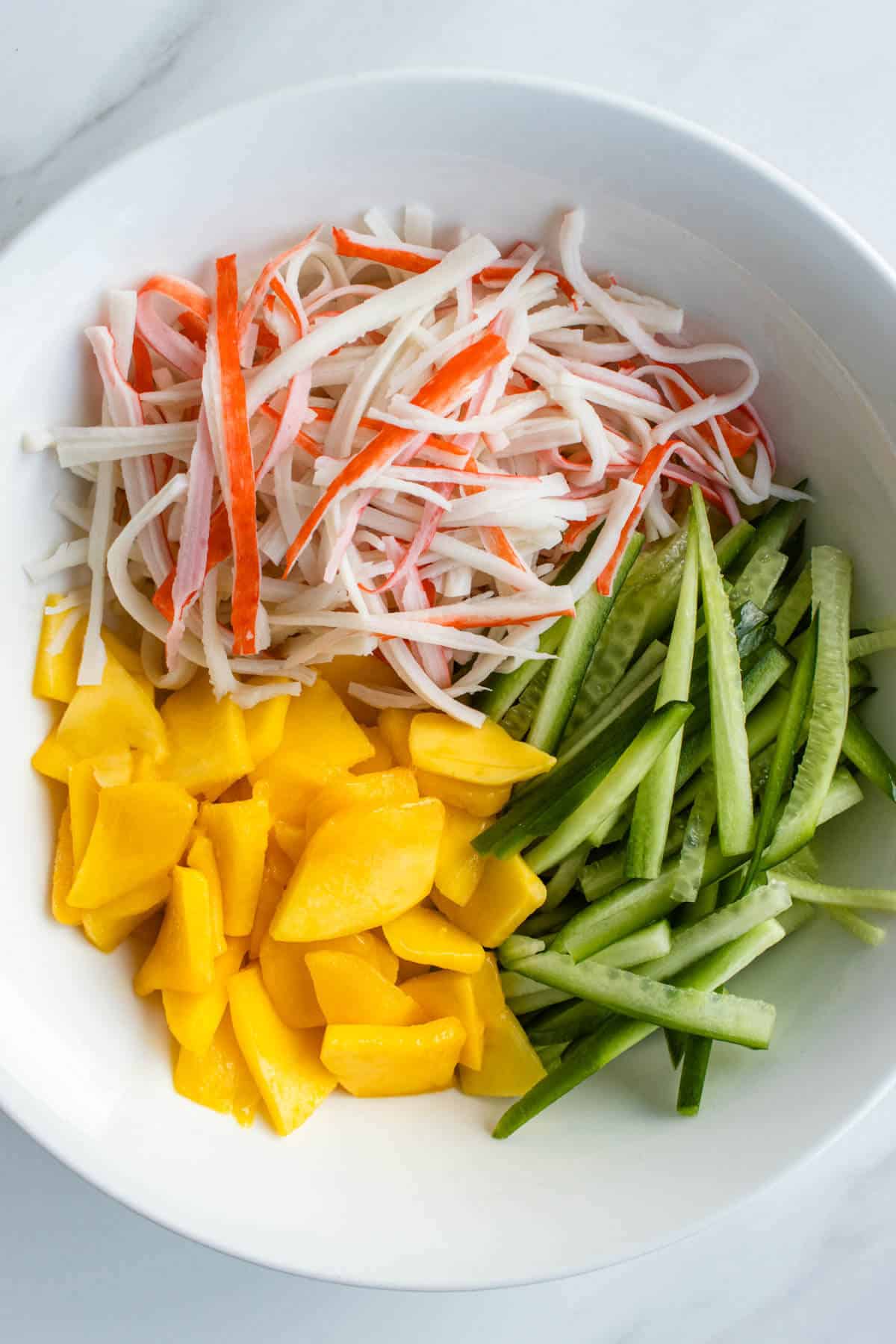 How to make a Kani Salad
Time needed: 15 minutes.
Prepare Ingredients

Cut cucumber, crab sticks, and mango into thin julienne strips. I prefer to pull thin strings of the crab sticks lengthways with my fingers (you can slice them into strips using a knife).

Add all cut ingredients to a bowl.

Make the dressing

In a separate bowl add kewpie Japanese mayonnaise, soy sauce, rice wine vinegar, and sriracha sauce ) and mix together.

Mix and serve

Pour the dressing ingredients into the salad bowl and mix until nicely coated. It should be nice and creamy.

Garnish with thin slices of avocado and top with a sprinkle of sesame seeds and panko bread crumbs for some crunch!
Tips to make this easy Spicy Kani Salad
When slicing the ingredients for the salad, you want to try and slice them all in similar lengths and sizes. This is not only for the visual look but also for the perfect texture when eating.
This way, you'll have a bit of all flavours at the same time with every bite!
Always use Persian or Lebanese cucumbers as they have a lot more flavour and are far less watery with tiny seeds.
If you can't find these cucumbers and only have large cucumbers, it's best to scoop the seeds out and not add them to the salad. The seeds can made the salad watery, especially if the seeds are large
You can slice the crab sticks with a knife but I find they are easier to handle and turn out better when they are made by pulling strings off the sticks with your fingers
I've used frozen mango as fresh mangoes aren't available during winter here in Australia. If you're using frozen mango, I find it easier to slice the mango while they're frozen. If they're fully defrosted, they will be softer and hard to slice thin
Always dress the salad right before serving so that it stays nice and crunchy. The longer it sits in the dressing, it will slowly become softer and can go soggy
Add the sesame seeds and Panko crumbs right before serving. You want to make sure they keep that crunch
FAQs
Does Kani Salad have carbs?
Kani salad is low in carbohydrates with no starchy carbs used, except for the panko bread crumbs that are added for garnish
Is Kani Salad real crab meat? 
Imitation crab is made from surimi which is fish flesh that has been deboned, washed to remove fat and unwanted bits, then minced into a paste.  While imitation crab is made from seafood, it generally contains no crab, other than a tiny amount of crab extract that is sometimes added for flavoring. Source
Is Kani Salad healthy?
Yes, however, it can be made healthier by reducing the amount of mayonnaise used or using lower fat mayonnaise.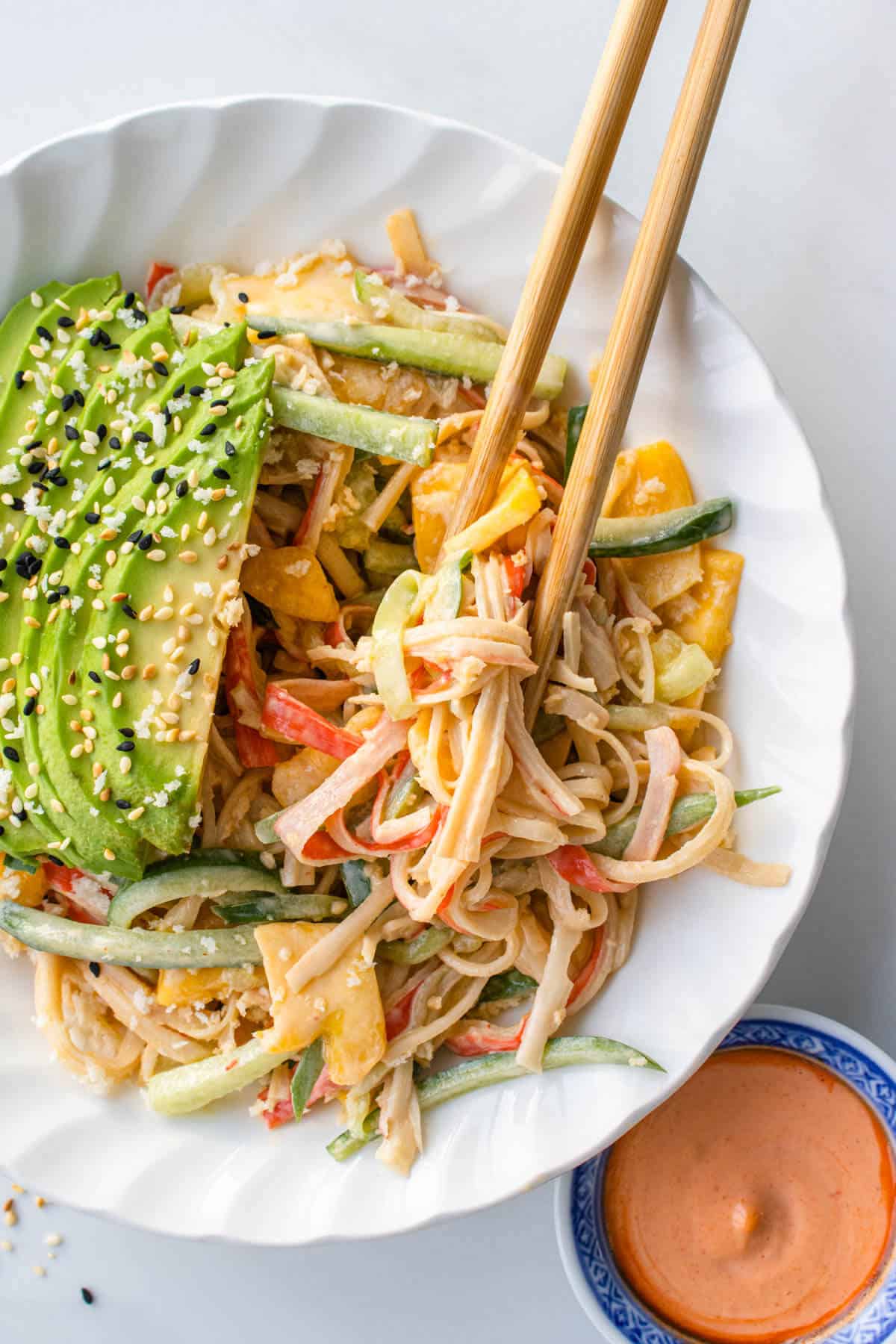 More Salad Recipes
I love seeing your creations and remakes, so be sure to tag @cookingwithayeh and share a photo on Instagram so I can share the love
Recipe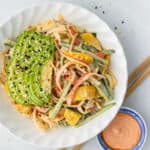 Kani Salad
This Kani Salad is light and refreshing using imitation crab together with cucumber, and mango in a creamy spicy mayonnaise dressing.
Pin
Print
Rate
Ingredients
200

g

imitation crab meat sticks 

2

Persian or Lebanese cucumbers

1

cup

fresh or frozen Mango 
Kani Salad Dressing
3-4

tablespoon

Kewpie Japanese mayonnaise

2 ½

teaspoon

soy sauce

1

teaspoon

rice wine vinegar or rice vinegar 

1

teaspoon

sriracha sauce (less or more depending how spicy you like it)
Garnish
½

avocado

2

teaspoon

toasted sesame seeds

2

teaspoon

panko bread crumbs
Instructions
Slice cucumber in half lengthways and then into julienne thin strips

With your fingers, pull thin strings of the crabs sticks lengthways. It's very similar to pulling string cheese

(you can also slice into strips using a knife buy I find it turns out better using your fingers)

Slice mango into thin slices and add to the same bowl. You'll want all 3 ingredients cut into thin slices.

Mix the dressing ingredients in a bowl and pour over the salad bowl (start by using only 3 tablespoons of mayonnaise. Only add the 4th tablespoons if its required after mixing it all in)

Mix well together so all of the salad is nicely coated with the dressing. It should be nice and creamy

Divide into 2 bowls, top each with thin slices of avocado and garnish with a sprinkle of sesame seeds and panko bread crumbs for some crunch!
Nutrition
Calories:
354
kcal
|
Carbohydrates:
27
g
|
Protein:
8
g
|
Fat:
24
g
|
Saturated Fat:
4
g
|
Polyunsaturated Fat:
11
g
|
Monounsaturated Fat:
9
g
|
Trans Fat:
1
g
|
Cholesterol:
20
mg
|
Sodium:
976
mg
|
Potassium:
358
mg
|
Fiber:
5
g
|
Sugar:
5
g
|
Vitamin A:
149
IU
|
Vitamin C:
8
mg
|
Calcium:
41
mg
|
Iron:
1
mg