These Rice Paper Dumplings are crispy on the outside, chewy and filled with flavourful goodies on the inside.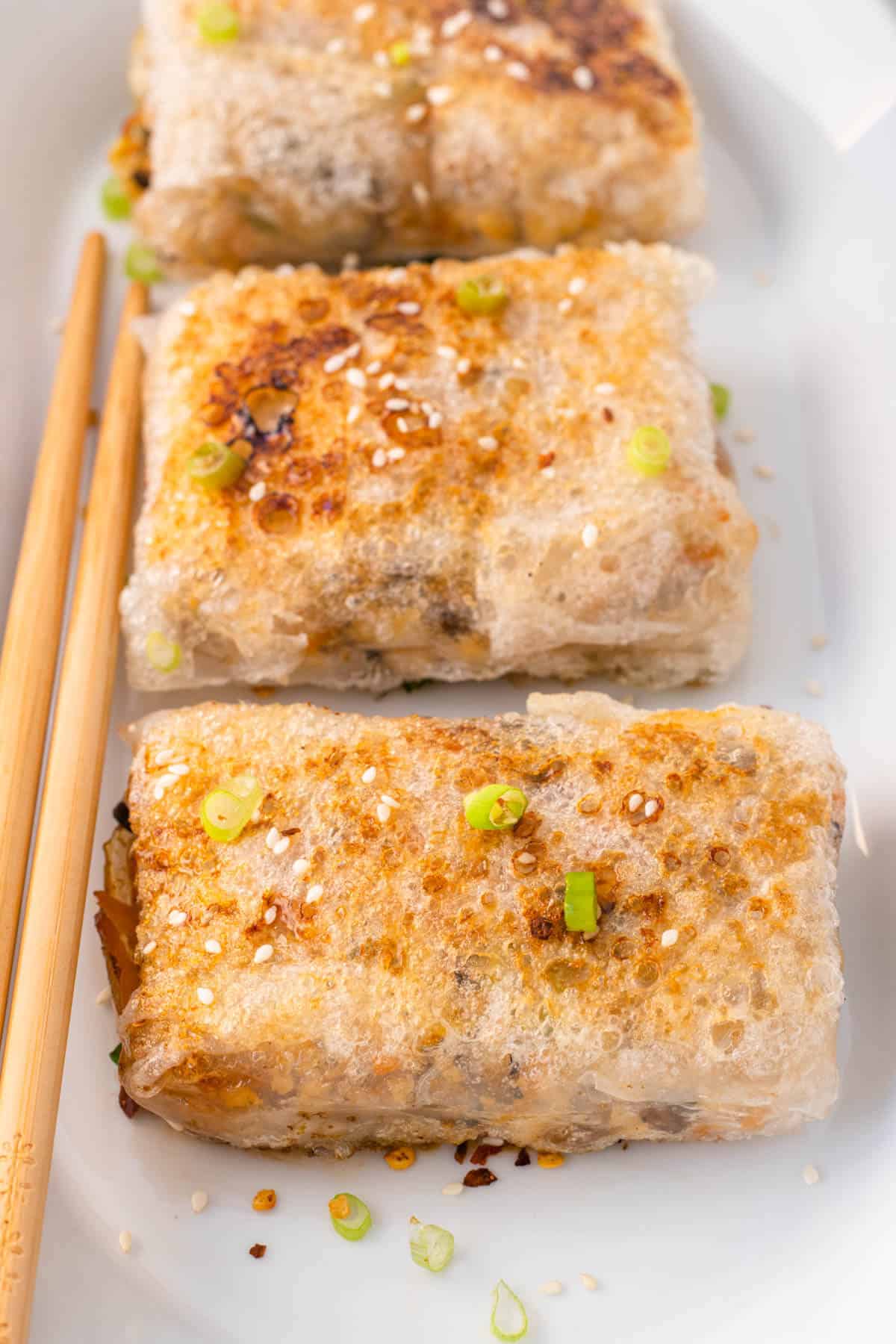 These crispy Rice Paper Dumplings are a combination of two of my favourite things combined… Dumplings and Rice Paper rolls! Then dipped into a tasty homemade Gyoza dipping sauce to make them even better 🙂
They're crispy on the outside, chewy and filled with flavourful goodies on the inside.
This recipe for Rice Paper Dumplings takes 20 minutes to make and is also vegan and gluten free, so everyone can enjoy them!
They're also much easier than making dumplings and you can change up the filling to your liking.
If you love this recipe and rice paper rolls, you have to also check out my Vegan Summer Rolls that are just as delicious.
These Rice Paper Dumplings are inspired by the lovely Lisa from Okonomi Kitchen. I saw her make on these on Tiktok, and I knew I had to try them with my own twist! They're definitely a must-try!
Table of Contents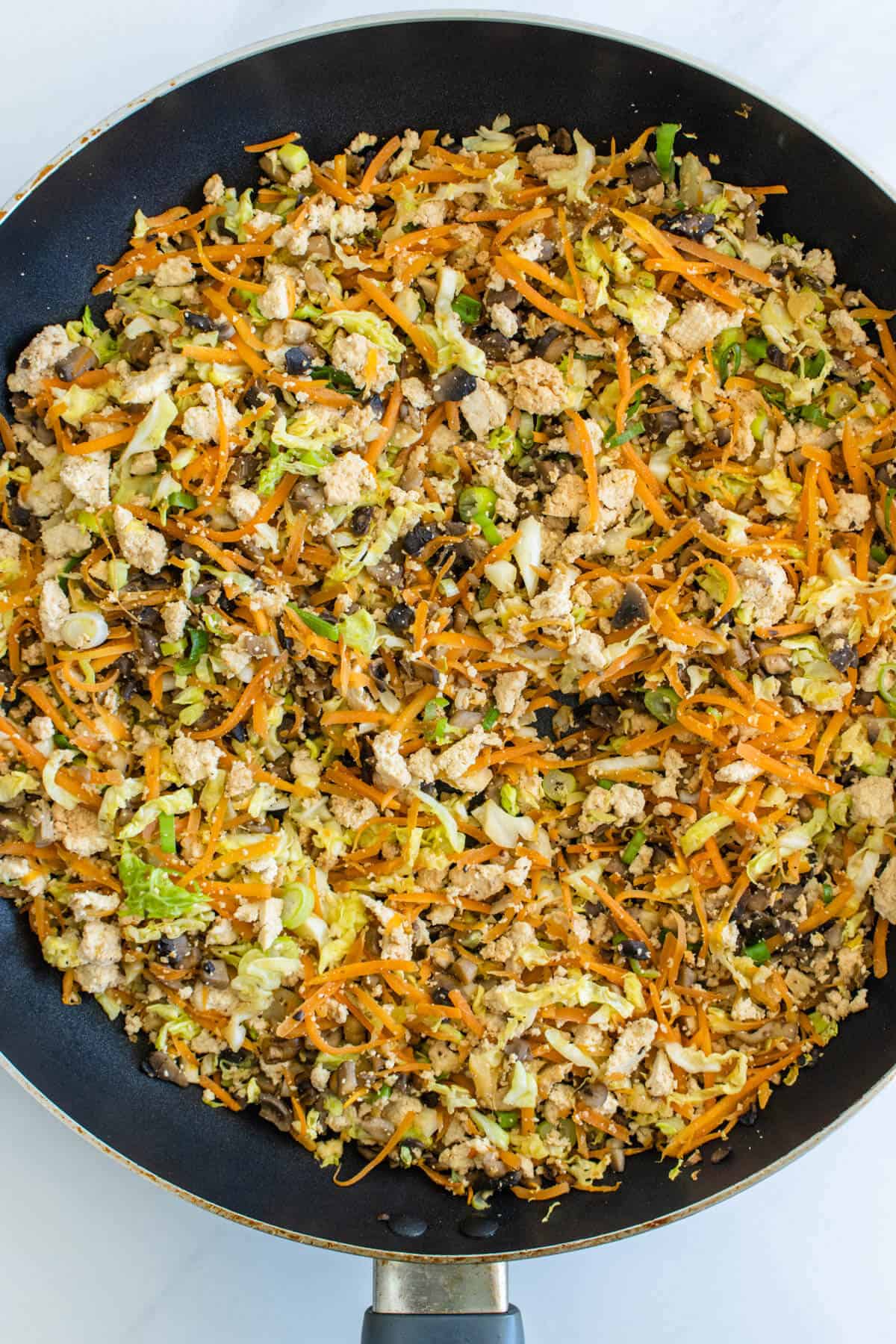 Ingredients to make Rice Wrapper Dumplings
Rice Paper Sheets / Rice Paper Wrappers are the foundation of the dumplings. You can find them at your local Asian grocer along with most supermarkets
Firm tofu is my preferred protein. You can also substitute with prawns or chicken if you're not vegan
Mushrooms have a nice umami flavour along with a meaty texture so they're great to add in the filling
Carrots give a nice sweetness and colour, just ensure you grate them finely so they cook quickly with the rest of the vegetables
Green cabbage is also great as it goes with all vegetables and gives a little crunch
Garlic and Ginger brings a beautiful flavour to the filling
Sesame oil and Soy sauce are used to flavour the filling. You don't need to add much as you will also have a dipping sauce. You can also use Tamari which is a gluten free soy sauce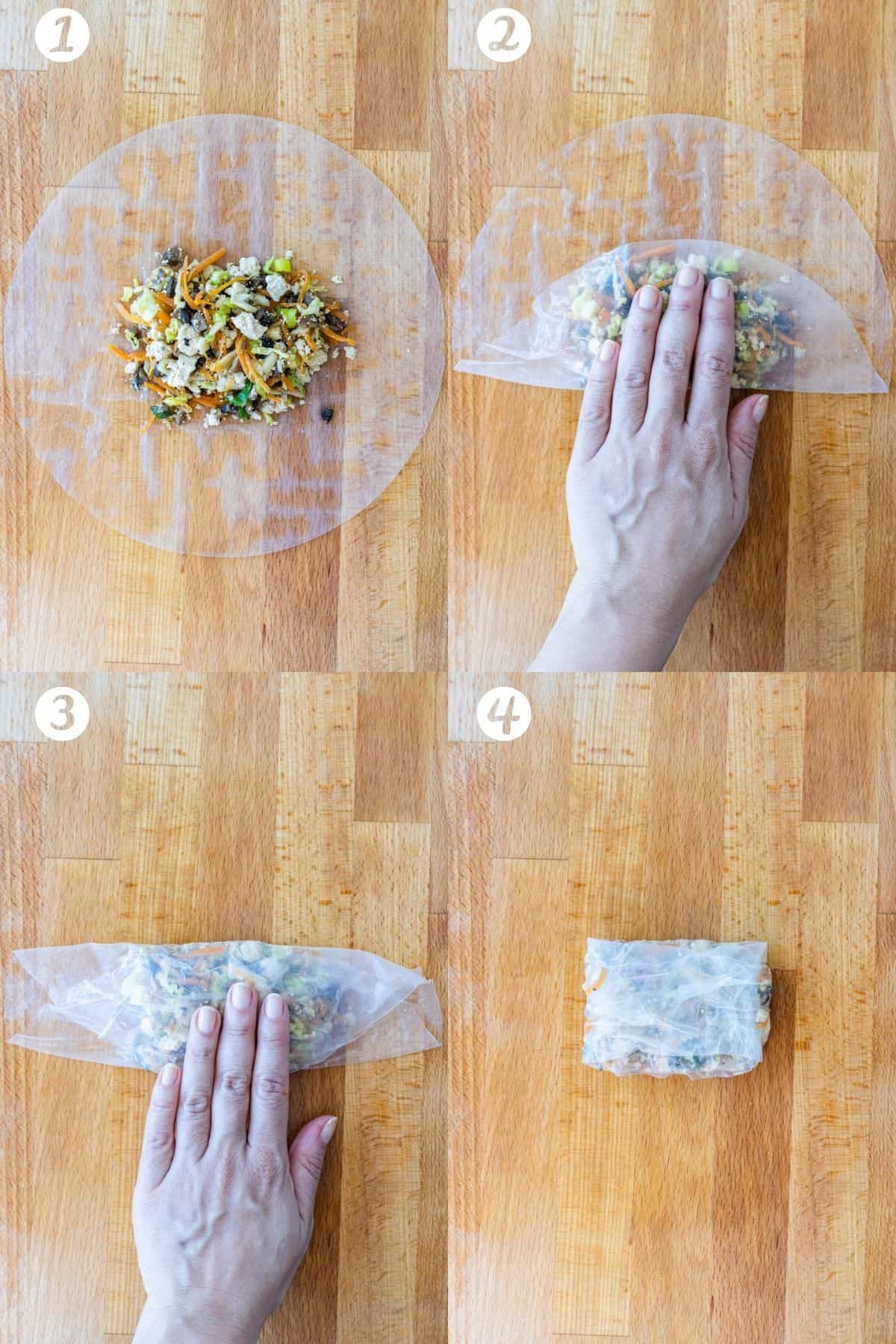 How to make Rice Paper Dumplings
Time needed: 20 minutes
Prepare filling

Shred cabbage and carrots finely. Finely dice garlic and mushrooms into small cubes. Using your fingers, crumble the tofu into small pieces


Cook filling

Sauté the mushroom for a few minutes in oil. Once browned add all the vegetables and tofu. When they're half cooked and starting to soften, season and grate in some ginger.

Add soy sauce along with a dash of sesame oil, stir through and take off the heat. Stir in chopped spring onions and set the mixture aside

Make the dumplings

Dip a rice paper sheet in water for a few seconds and place it on a damp surface.

Add a spoon of the filling mixture in the centre of the sheet in a rectangle shape.

Starting at the bottom, fold over the rice paper sheet to cover the filling. Then fold the top of the sheet over the filling, then the same with the sides so you will be left with a square/rectangle shape pocket.

Dip a second rice paper sheet in the water, place it on the damp surface, and place the pocket in the middle. Wrap the pocket the same way by folding from the bottom first and so on, to double wrap the filling.

Repeat this process until all the filling has finished

Cook the dumplings

Pan-fry the dumplings on medium heat for a few minutes on each side until lightly golden.

Serve with a dipping sauce, and enjoy your crispy Rice Paper Dumplings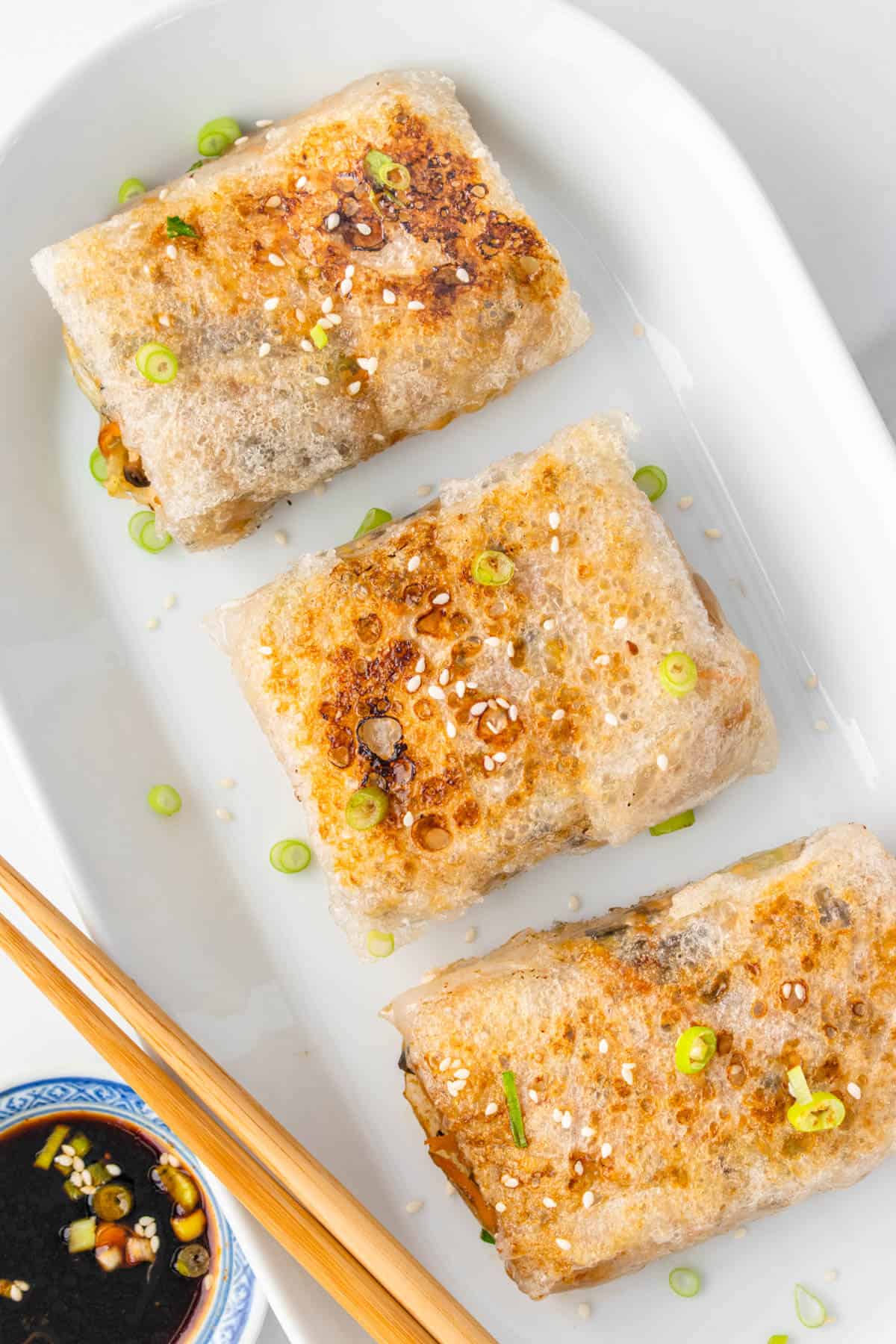 FAQs
Can you prepare the rice paper dumplings in advance?
You can prepare the filling in advance, however, the dumplings must be made and eaten fresh
Can rice paper be used for dumplings?
Yes rice paper acts as a wrapper to provide a crispy and chewy texture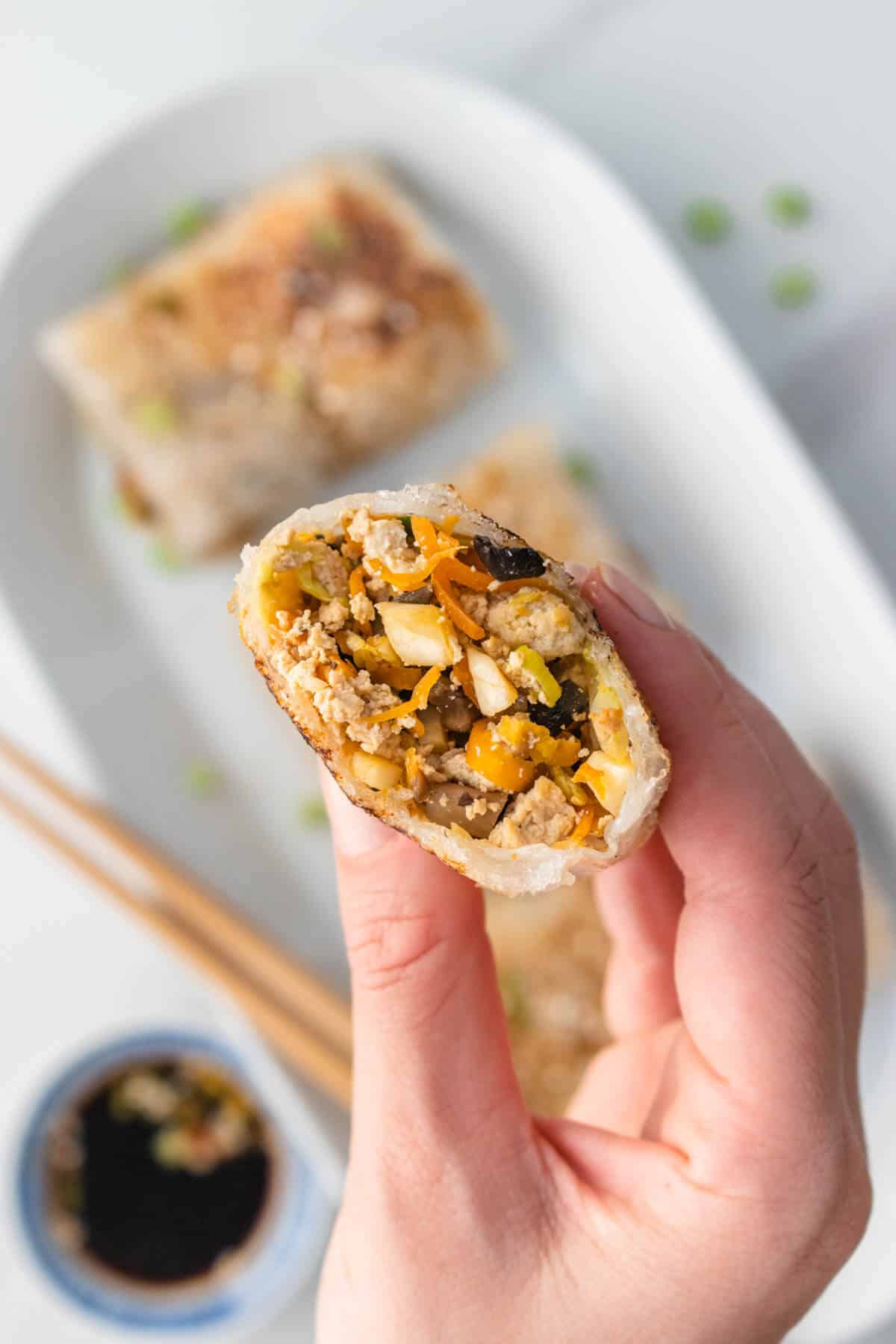 Tips to make Rice Paper Dumplings
Prepare and cut your vegetables and tofu in similar sizes so that they are mixed in well together and will cook evenly
Only dip the rice paper sheets in warm for a few seconds. They will soften more as they're handled. If they are oversoaked, they will be too sticky and won't crisp up.
When wrapping the rice paper dumplings, ensure to wrap them on a damp tea towel or a wet chopping board. This stops the sheets from sticking to the plate and ripping when being wrapped
Don't overcrowd the pan when frying the rice paper dumplings. They can easily stick together so make sure there is enough room between them
Make sure to eat them straight away whilst they're nice and crispy as they will soften. Keep them on a wire cooling rack if you are cooking in batches to keep crispy
More Crispy Recipes
I love seeing your creations and remakes, so be sure to rate the recipe, comment and share your Rice Paper Dumplings photo on Instagram so I can share the love!
Recipe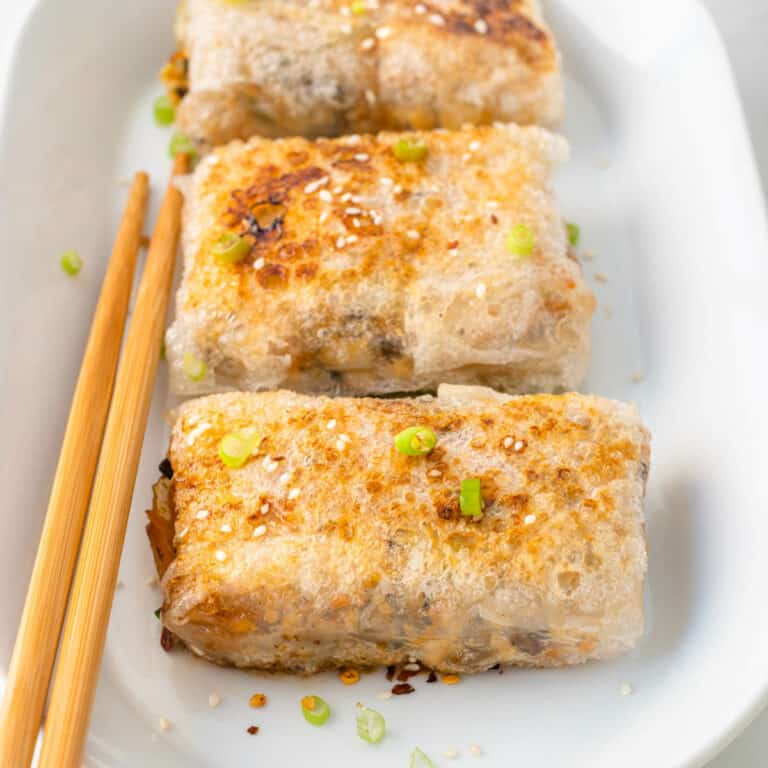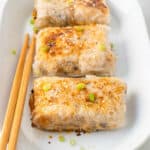 Rice Paper Dumplings
These Rice Paper Dumplings are crispy on the outside, chewy and filled with flavourful goodies on the inside
Pin
Print
Rate
Ingredients
20

rice paper sheets

180

g

firm tofu

200

g

mushrooms

2

small

carrots

¼

small

green cabbage

2

spring onions

4

garlic cloves

2

tablespoon

soy sauce

1

teaspoon

sesame oil

1

tbsp

olive oil

Salt and pepper

Ginger

Oil for frying
Instructions
Prepare your filling by shredding the cabbage and carrots finely. Finely dice the garlic and mushrooms into small cubes.

Using your fingers, crumble the tofu into small pieces

In a large pan sauté mushrooms for a few minutes in oil. Once browned add all the vegetables and tofu. When they're half cooked and starting to soften, season and grate in some ginger

Add soy sauce along with a dash of sesame oil, stir through and take off the heat. Stir in chopped spring onions and set the mixture aside to cool down

Make a dipping station with a tray of water, along with a wet chopping board or damp clean tea towel to wrap the rice paper dumplings on

Dip a rice paper sheet in water for a few seconds and place on the damp surface. Add a spoon of the filling mixture in the centre of the sheet in a rectangle shape

Starting at the bottom, fold over the rice paper sheet to cover the filling. Then fold the top of the sheet over the filling, then the same with the sides so you will be left with a square/rectangle shape pocket

Dip a second rice paper sheet in the water, place on the damp surface and place the pocket in the middle. Wrap the pocket the same way by folding from the bottom first and so on, to double wrap the filling

Repeat this process until all the filling has finished

Pan fry the dumplings in your preferred oil over a medium-high heat for a few minutes on each side until lightly golden

Serve with a dipping sauce, and enjoy your crispy Rice Paper Dumplings
Notes
Note nutritional table doesn't include frying oil as it will depend on the oil you are using
Nutrition
Calories:
132
kcal
|
Carbohydrates:
22
g
|
Protein:
5
g
|
Fat:
3
g
|
Saturated Fat:
1
g
|
Polyunsaturated Fat:
1
g
|
Monounsaturated Fat:
1
g
|
Cholesterol:
3
mg
|
Sodium:
284
mg
|
Potassium:
146
mg
|
Fiber:
2
g
|
Sugar:
1
g
|
Vitamin A:
1431
IU
|
Vitamin C:
7
mg
|
Calcium:
47
mg
|
Iron:
2
mg