This Crispy Breaded Tofu is going to change your mind on tofu! It has a delicious crispy texture on the outside and still soft in the middle, and can be baked in the oven or air fryer.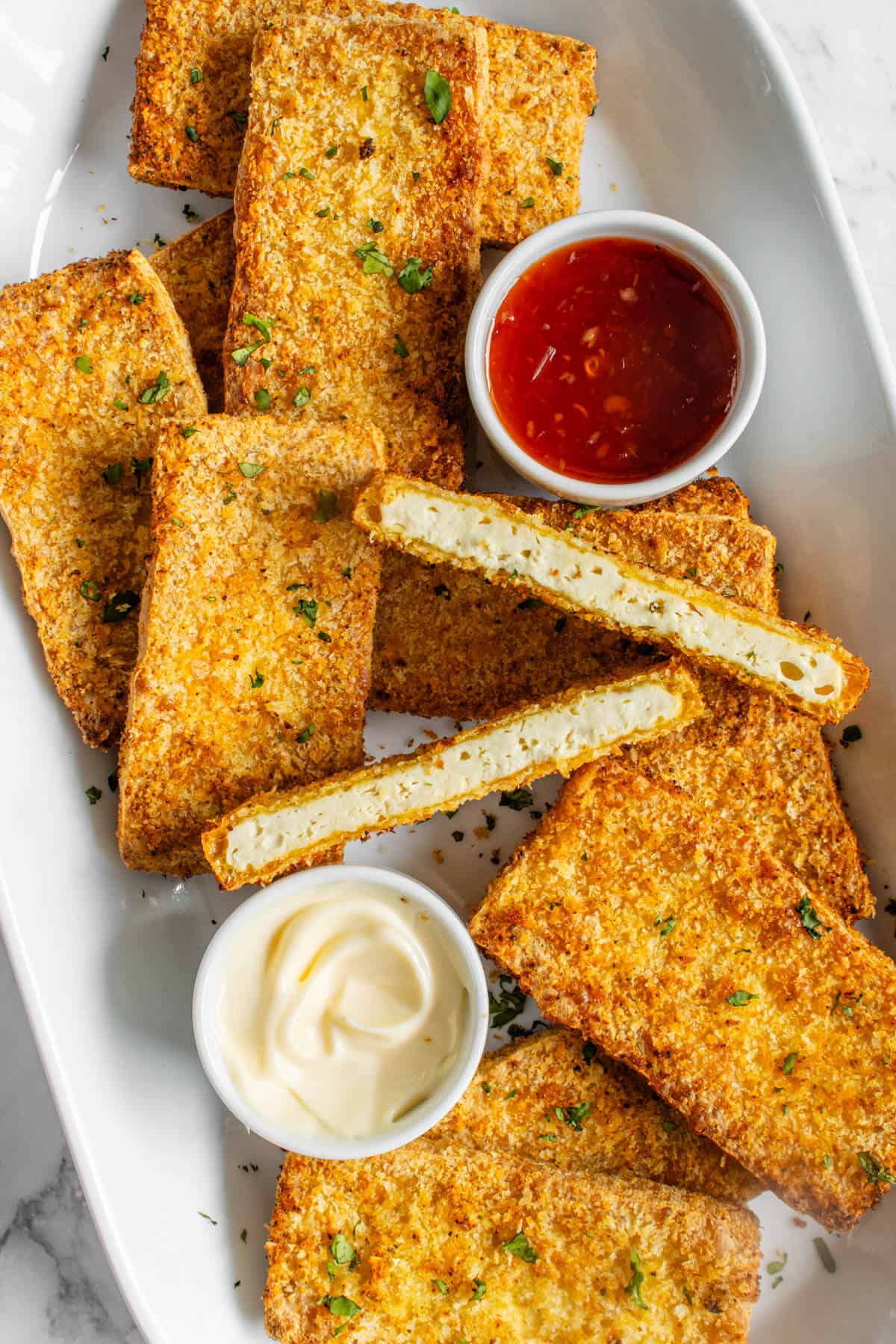 My Crispy Breaded Tofu recipe has to be one of my favorite ways to eat tofu!
Its super easy to make, not to mention delicious and you can really add it so many dishes.
Tofu is one of my go-to vegan proteins to cook and eat as it's so versatile and can be made in so many different ways. If you're not a fan of tofu or it's your first time making tofu, I'm sure this recipe will change your mind. It has a similarity to crumbed chicken, without the chicken 🙂
Some recipes I love to add it to are Rice Paper Rolls, Healthy Caesar Salad , Chopped Asian Salad, or even enjoy alone with dipping sauces and fries / chips on the side.
You can even slice it into different shapes or cubes to create Tofu nuggets! Cook this panko breaded tofu in the air fryer or oven bake it for that crispy coating. I share both methods in my recipe below.

Some more tofu recipes to check out are my Sticky Tofu, Rice Paper Dumplings and Peanut Noodles.
Table of Contents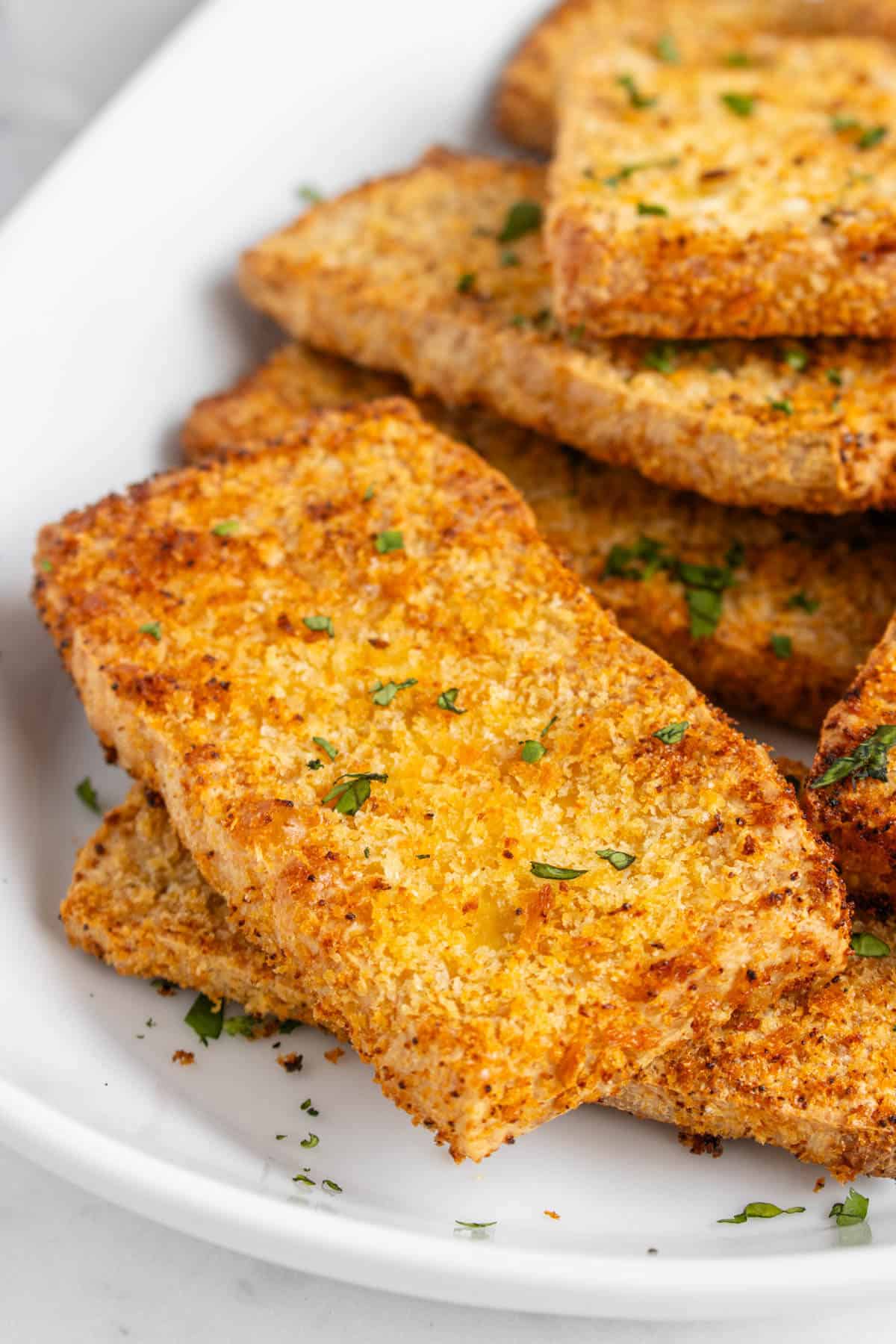 Why You'll Love This Recipe:
Crispy Coating. The breading creates a satisfyingly crunchy coating, elevating the texture of tofu and making it appealing to both kids and adults
Versatility. Tofu acts as a blank canvas, absorbing flavors exceptionally well so you can season it as you like depending on the dish
Healthy. Tofu is a great source of plant-based protein and in this recipe you can either oven bake it or make air fryer tofu which uses much less oil than deep frying or pan frying
Endless Options. You can add this crispy breaded tofu to so many dishes such as salads, sandwiches, rice and veggies or even enjoy on its own
Ingredients to make Crispy Breaded Tofu
Tofu is used as the base, providing a protein-rich, neutral taste. Firm or extra-firm tofu works best for this recipe. I also always ensure its organic and Non GMO
Breadcrumbs, I've used panko bread crumbs for an extra crunch on the crispy exterior. You can of course use regular breadcrumbs also or gluten-free breadcrumbs if needed
Seasonings here I've used salt, black pepper and garlic powder for a simple seasoning mixture as the base. You can of course add different herbs and spices depending on how you are serving it. Some of my personal favorites are smoked paprika, cumin, oregano, nutritional yeast and onion powder
Olive Oil Spray is used to coat the tofu before cooking in the oven or air fyer. This method uses much less oil and is easier to coat. You can also brush the oil on if you prefer
Sauces that you can serve this crispy tofu with are aioli, healthy caesar dressing, Gyoza Dipping Sauce, sweet chilli sauce, Peanut Sauce, mayonnaise or vegan mayo, BBQ sauce, soy sauce or tamari.
How to make Breaded Tofu
Making this crispy tofu recipe takes no time at all. Below are my easy to follow steps.
Press the tofu by wrapping the tofu block in between a clean kitchen towel or a few paper towels. Place something heavy on top such as a cast iron skillet or cookbook and leave on the side for 10-20 minutes.
Make a dipping station by adding panko breadcrumbs, garlic powder, salt and pepper in a bowl and mix together. Separately, pour the milk in a small bowl
Slice the pressed tofu into rectangular or square pieces approximately 1 centimetre in thickness
Dip each piece into the milk then into the breadcrumb mix one at a time, pressing down so the crumb sticks to all sides, then flip to coat all sides
Cook as per instructions in the recipe card below. Two options are available for the air fryer or oven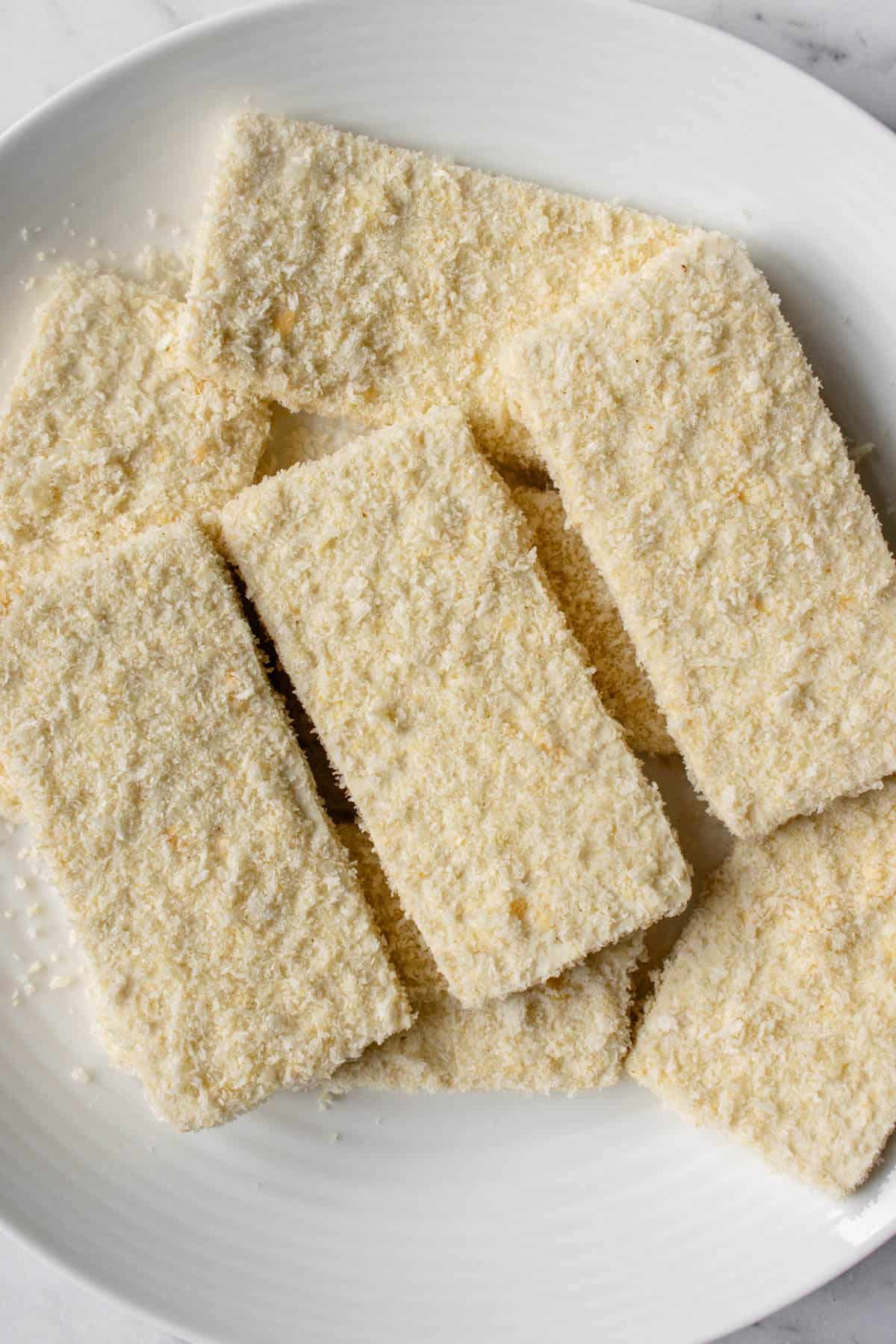 Tips and Tricks
Press the tofu for 10-20 minutes to remove the excess moisture and water. This will give you a better texture and it will also have much more flavor. You can use a clean kitchen towel or paper towels
Make sure to slice the tofu in 1cm or greater in thickness to ensure it's soft on the inside and doesn't dry out too much in the center
When crumbing the tofu, make sure to press the crumb into the tofu on all edges so it's fully coated. I like to flip it around a few times to make sure all sides are covered
Use fine breadcrumbs so they stick well. If your panko breadcrumbs are in large pieces, you can pulse them quickly in a blender or food processor so they're not too chunky or break it up with your fingers
Dont be shy and spray well with olive oil spray to give you the perfect crispy coating and color
FAQs
Why is my Tofu not crispy?
Ensure Tofu is coated well with crumb on all sides and cook it long enough so that the outer crust becomes crispy. Also, ensure to turn them over halfway so they can crisp evenly
How do you cook Tofu in a healthy way?
If baking with tofu in the oven or using an air fryer it's a healthier cooking alternative than deep frying. If pan fried you can use olive oil spray to reduce the amount of oil when cooking over medium heat
Is crispy tofu healthy?
Tofu is made from soybeans, is low in calories but high in protein and fat. It also contains many important vitamins and minerals. The crumb mixture uses breadcrumbs and spices with minimal oil to provide a healthier cooking method
What does crispy tofu taste like?
Tofu is bland on its own. That is the beauty of tofu as it absorbs flavours well so you can add your preferred seasoning
What to eat crispy tofu with?
It can be added to summer rolls, wraps, or stir fry. Served with rice and vegetables, or even enjoyed alone with dipping sauces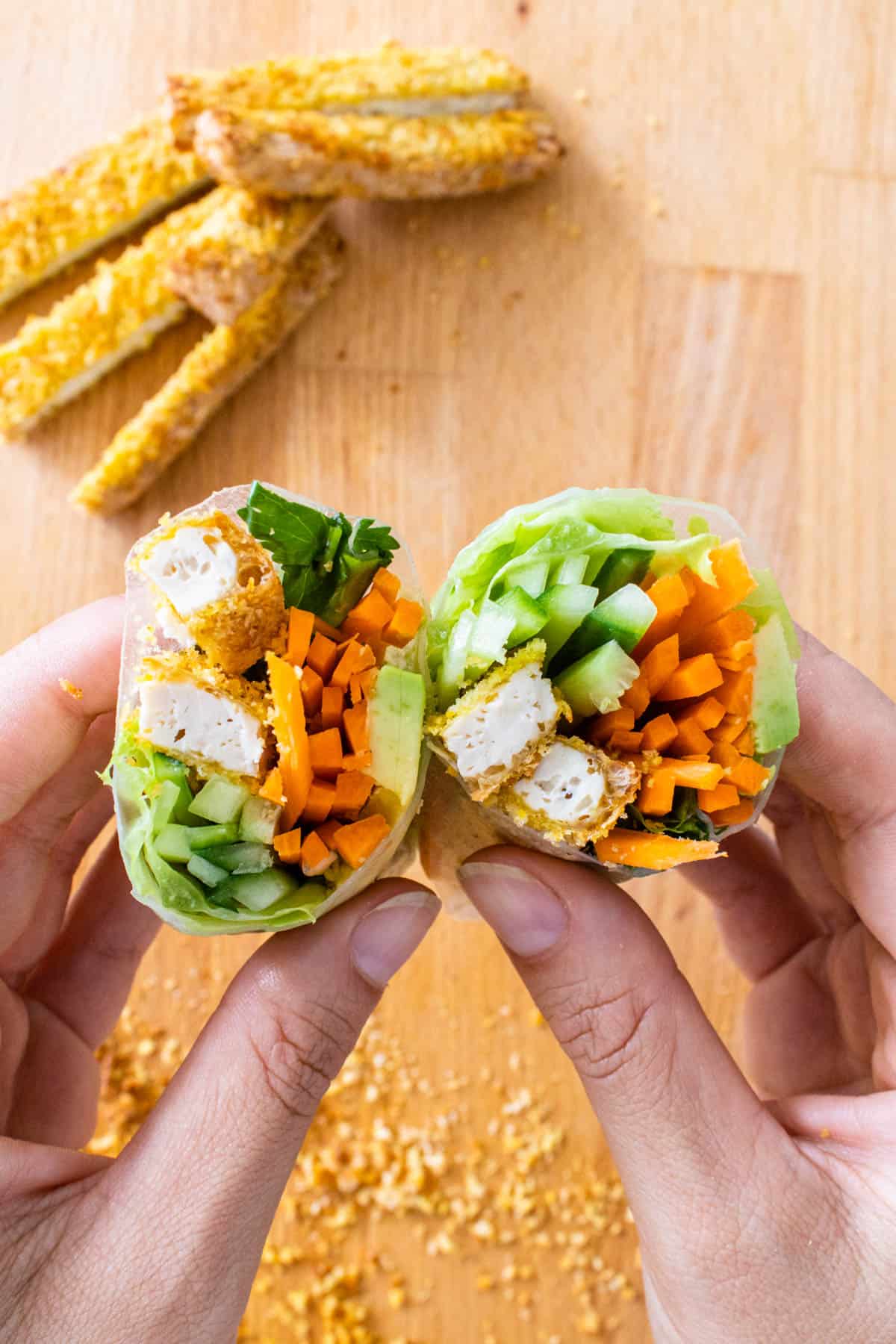 Storage and Reheating
This crispy breaded tofu is best enjoyed fresh for the ultimate crispy texture and coating
You can however store any leftover breaded tofu in an airtight container in the fridge for up to 2-3 days
Reheat in the air fryer or oven at 180°C/350°F for a few minutes until warm and crispy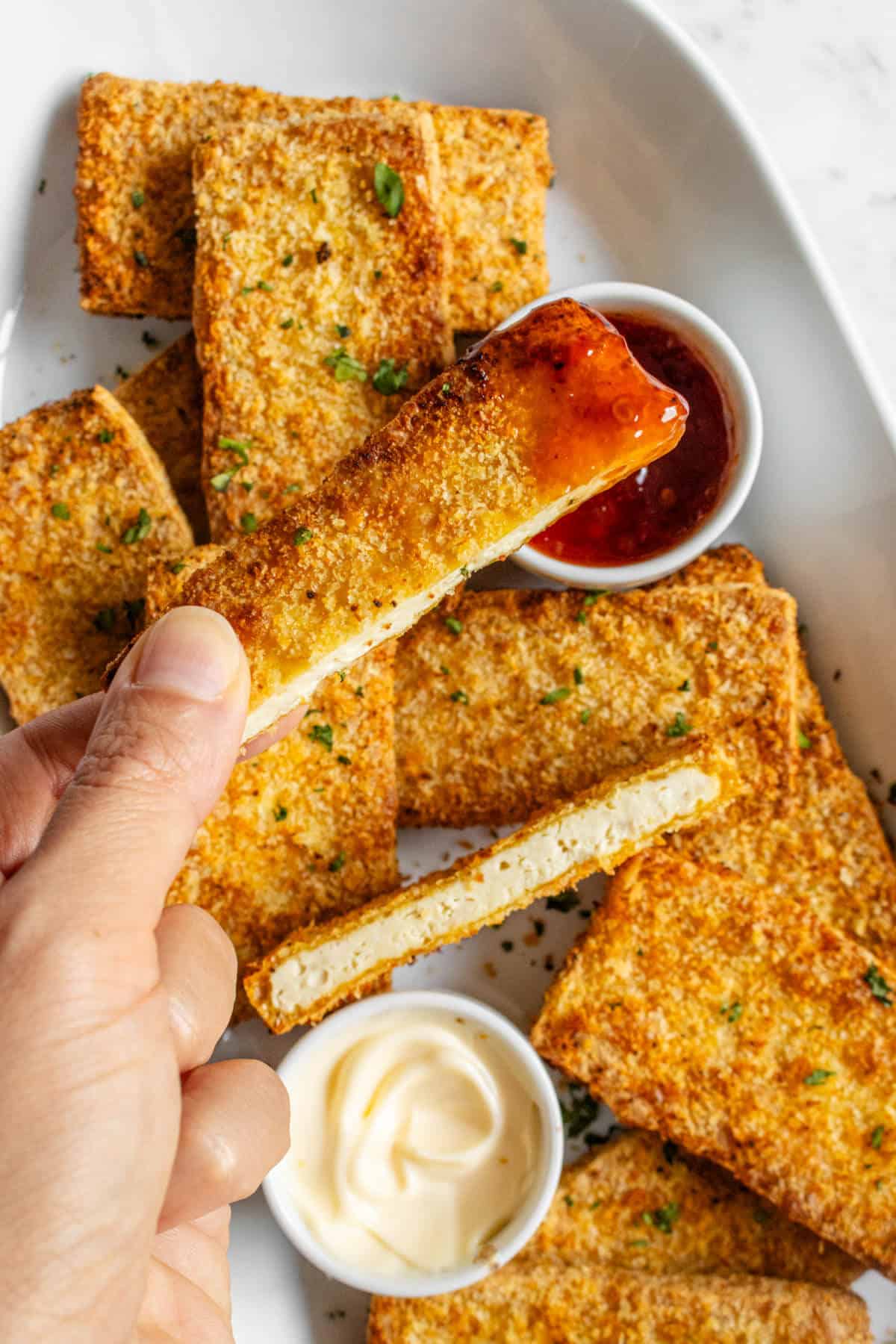 More Tofu Recipes
More Vegan Recipes
I love seeing your creations and remakes, so be sure to rate the recipe, comment and share your Crispy Breaded Tofu photo on Instagram so I can share the love!
Recipe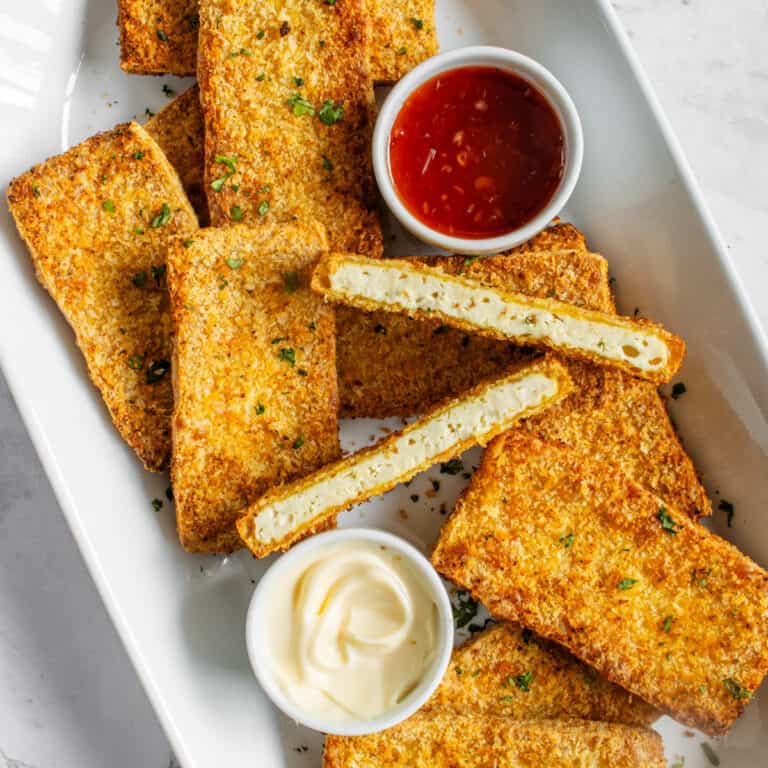 Crispy Breaded Tofu (Oven and Air Fryer)
This Crispy Breaded Tofu is going to change your mind on tofu! It has a delicious crispy texture on the outside and still soft in the middle, and can be baked in the oven or air fryer
Print
Ingredients
250 grams / 9 oz firm tofu

¼

cup

preferred milk, I've used almond milk

½

cup

panko breadcrumbs or regular breadcrumbs

2

teaspoons

garlic powder

½

teaspoon

Salt and pinch of black pepper

Olive oil spray
Instructions
Press the tofu by wrapping the tofu block in between a clean kitchen towel or a few paper towels. Place something heavy on top such as a saucepan or cookbook and leave on the side for 10-20 minutes

Make a dipping station by adding panko breadcrumbs, garlic powder, salt and pepper in a bowl and mix together. Separately, pour the milk in a small bowl

Once the tofu has been pressed, slice into rectangular or square pieces approximately 1 centimetre in thickness

Dip each piece into the milk then into the breadcrumb mix one at a time, pressing down so the crumb sticks to all sides, then flip to coat all sides.

Refer to cooking methods below:
Air Fryer
Preheat air fryer to 200°C/390°F

Spray olive oil to the air fryer base and add the tofu pieces in a single layer, making sure there is space in between each piece and they aren't touching

Spray olive oil generously to the tops of the tofu and cook for 10 minutes until tops are golden brown

Flip pieces around and again spray the tops with olive oil. Cook for 5 minutes until the tops are golden brown
Oven
Preheat the oven to 225°C/440°F

Place crumbed tofu pieces on an oven tray lined with parchment paper in a single layer making sure there is space in between each piece and they aren't touching

Generously spray the tops with olive oil and cook for 15 minutes until the tops are golden brown

Flip the pieces around, spray the tops with olive oil and cook for a further 10-15 minutes until golden brown

I love serving it on my healthy Caesar salad, in rice paper rolls, or just enjoy dipping into favourite sauces 🙂
Nutrition
Calories:
179
kcal
|
Carbohydrates:
16
g
|
Protein:
14
g
|
Fat:
7
g
|
Saturated Fat:
1
g
|
Polyunsaturated Fat:
4
g
|
Monounsaturated Fat:
2
g
|
Sodium:
739
mg
|
Potassium:
65
mg
|
Fiber:
2
g
|
Sugar:
1
g
|
Vitamin C:
0.04
mg
|
Calcium:
224
mg
|
Iron:
2
mg