This is my Creamy Pumpkin Soup recipe, which is so delicious and so creamy without using any cream! It's also vegan as well.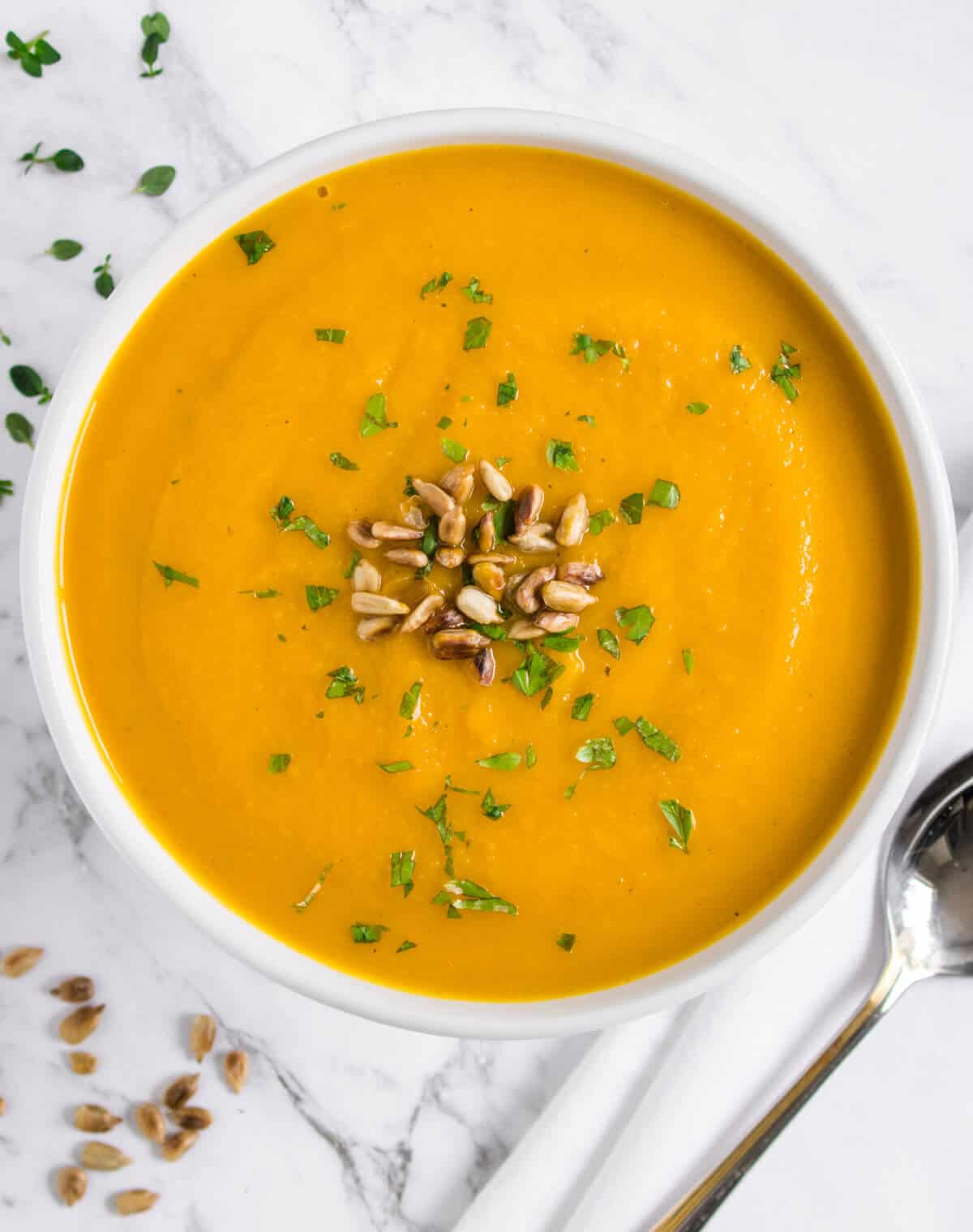 In the cooler seasons and on those unexpected cold nights, there's nothing that I crave more than a nice bowl of soup. One of my favourite soups of all time has to be Pumpkin Soup so I've created this creamy pumpkin soup recipe which is so delicious and so creamy without using any cream! It's also actually completely vegan as well.

It's definitely my go-to soup to enjoy as a main or even a smaller serving as an appetizer as it can be made in less than 40 minutes!
A popular soup you must try is my vegetable noodle soup. It's easy to make in less than 20 minutes and is vegan too!
Table of Contents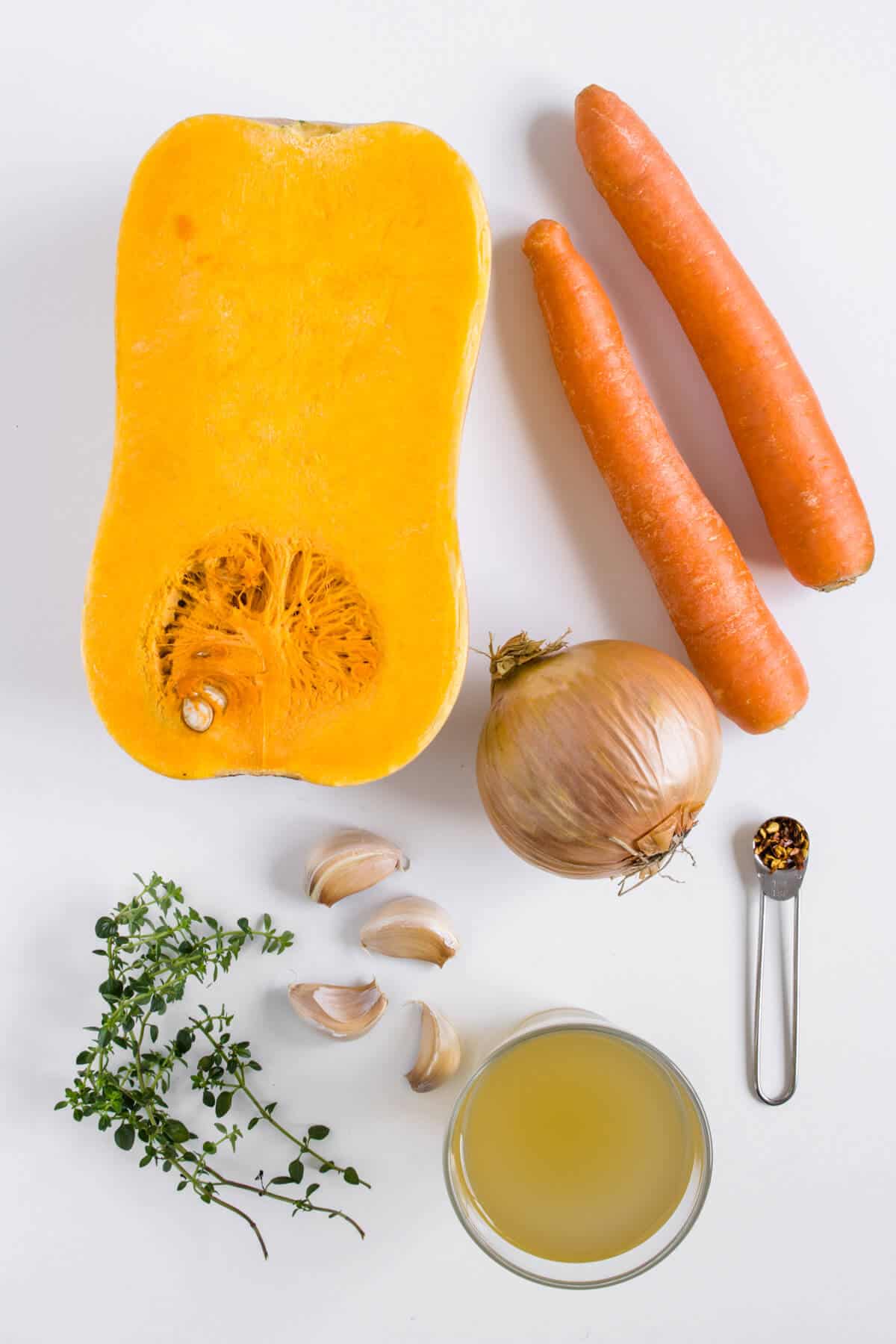 Ingredients to make Creamy Pumpkin Soup
Butternut Pumpkin Squash, I love this type of pumpkin for its naturally sweet taste. You can also use a kent pumpkin if preferred.
Carrots, not only add some depth to the soup, but they also have a beautiful sweetness once they have been roasted and caramelised.
Garlic cloves, when garlic is roasted in the oven in their peel, they become so lovely and soft with such a creamy flavour without the potent garlic flavour. Keeping the peel on whilst cooking, will keep its flavour inside and will stop it from burning.
Thyme brings a lovely aroma and flavour to the roasted veggies. You can either take the leaves off the stem or you can roast whole on the sprigs. If you leave the stem on, remember to remove before adding the leaves to the blender.
Olive Oil, extra virgin olive oil is always my preferred oil of choice especially for the roasted veggies, but you can also substitute with your preferred oil.
Vegetable stock, I like to use an organic salt reduced vegetable stock, that is if you aren't making your own vegetable stock. Vegetable stock not only adds to the amount of vegetables and nutrients you are eating but also adds to the depth of flavour rather than using water.
Onion, in this recipe I have used a brown onion but if you prefer it extra sweet use a red onion.
Toasted Pepita or Sunflower seeds, I always say when you have a creamy soup, it always tastes better with some added crunch added to the soup. Toasting the seeds just lightly on a fry pan makes the biggest difference to the seeds
Parsley, is used for garnish to add a pop of colour and flavour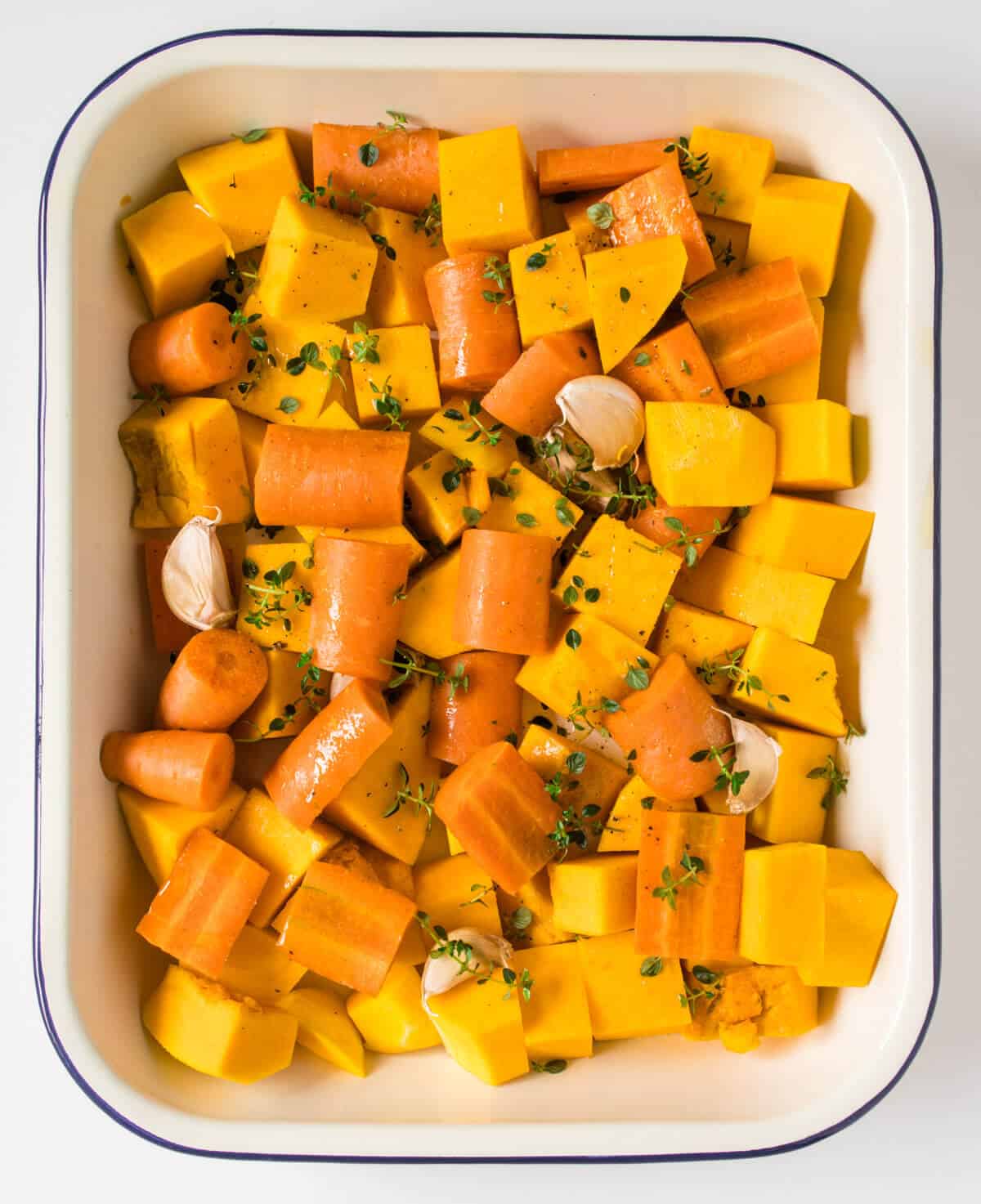 How to make a Creamy Pumpkin Soup
One of the important parts of this recipe is to roast the pumpkin, carrots and garlic in the oven with some thyme leaves. Roasting the veggies brings a beautiful caramelised flavour to the soup.
Whilst vegetables are roasting, sauté onions and then add vegetable stock to start the base of your soup. Once vegetables are roasted, add them to the stockpot and let it cook together for about 5 minutes.
Then transfer your soup to a blender and blend until a smooth consistency is achieved. Grab a spoon and you will see how beautiful and creamy the texture is.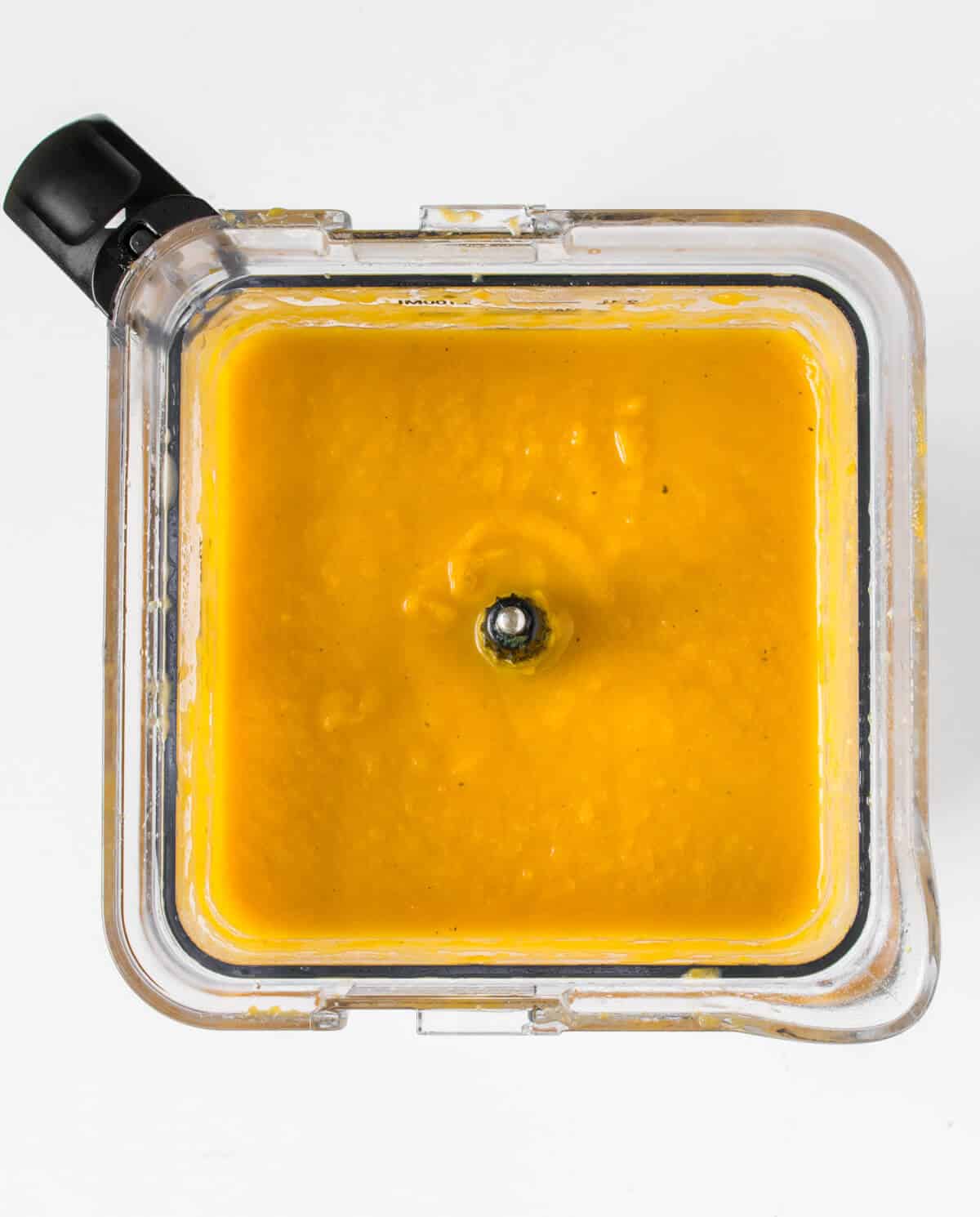 FAQs
Is pumpkin soup healthy?
Some recipes can be unhealthy if they have added cream and thickeners. My recipe, however, is super healthy as it includes three different types of vegetables along with extra nutrients from the vegetable stock. It's also made without any cream or any thickener which is a bonus
How do you thicken pumpkin soup?
This recipe doesn't call for any thickeners as it's quite a hearty and a creamy soup once it's been blended. As there are additional vegetables used, besides the pumpkin, this assists naturally with thickening the soup
What goes with pumpkin soup?
To make the soup a more filling meal, a great way to serve it is with some crusty bread on the side. There's nothing yummier than dipping in warm bread into the soup, yum!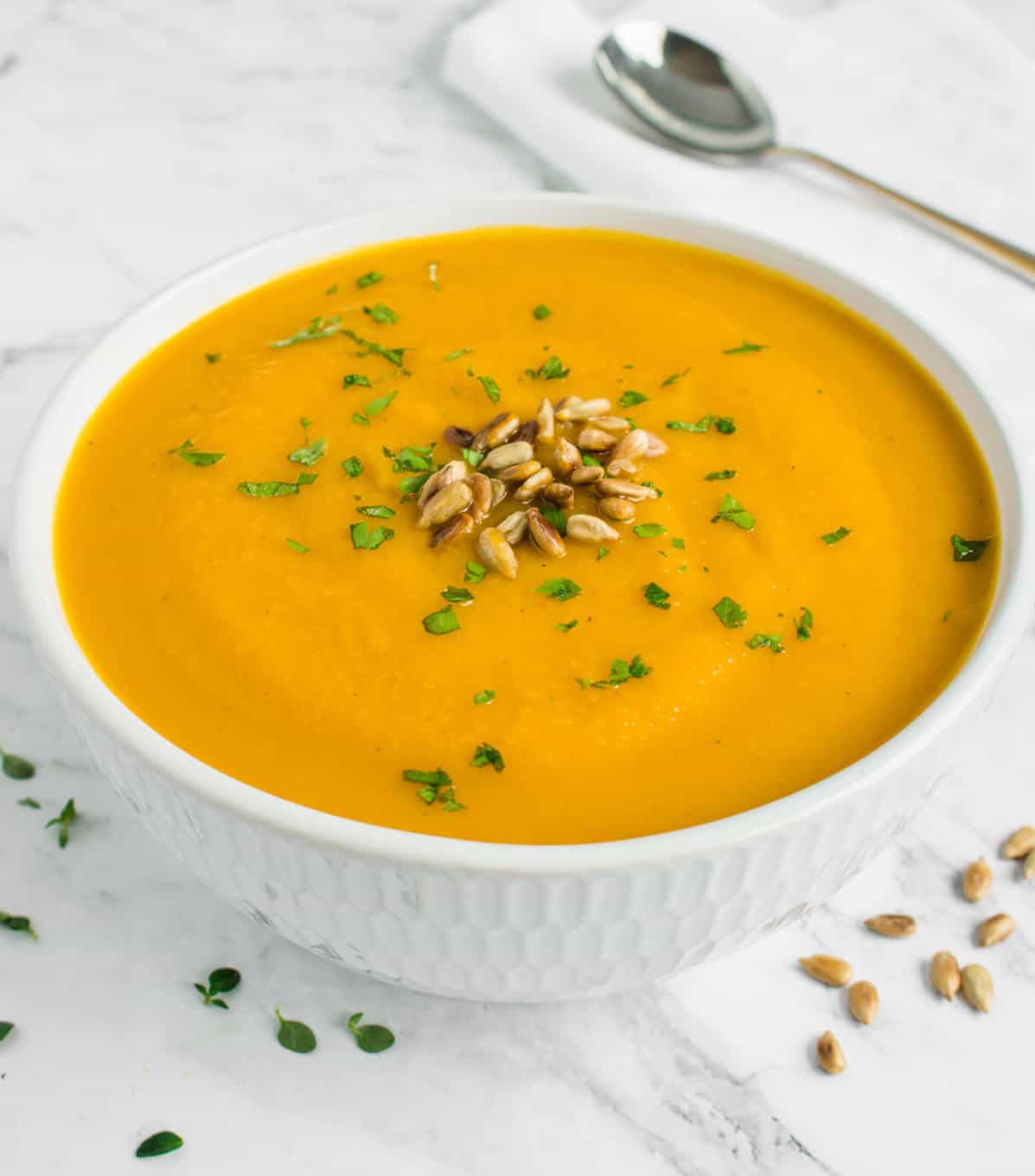 Tips and Tricks
Always make sure to check if your blender can take hot liquid and ingredients before placing the soup ingredients into the blender. If it cannot, it's best to allow the soup to cool down completely before blending to be safe.
If you don't have an oven or prefer not to use one, you can cook the vegetables in the same one pot. I would suggest sautéing the vegetables first to bring out more flavour before adding the stock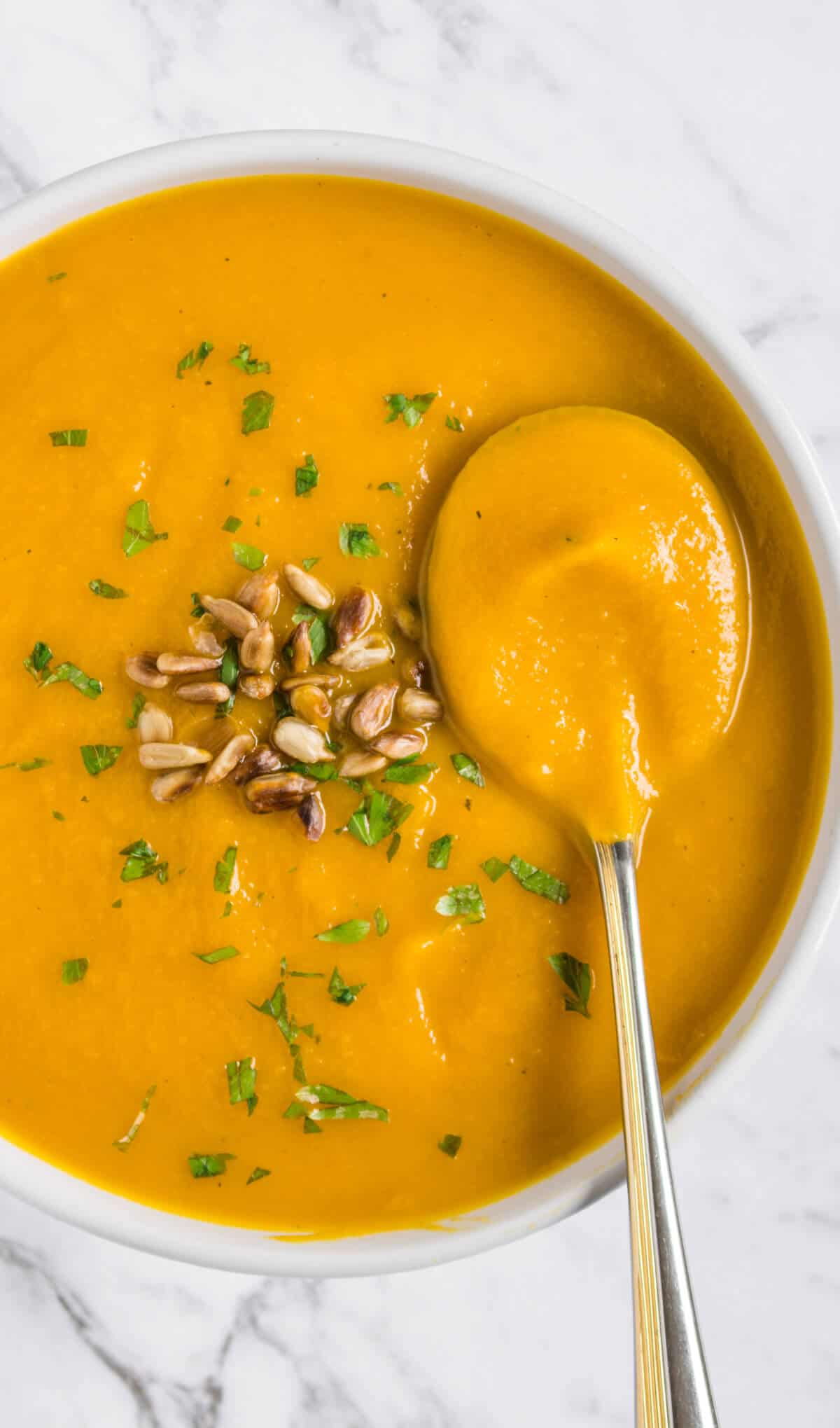 I love adding toasted seeds for a little crunch just before the soup is served. crusty bread is also a must to dip and scoop some of the soup into your mouth like a spoon. Yum and yum!
More Pumpkin Recipes
More Soup Recipes
I love seeing your creations and remakes, so be sure to rate the recipe, comment and share your Creamy Pumpkin Soup photo on Instagram so I can share the love!
Recipe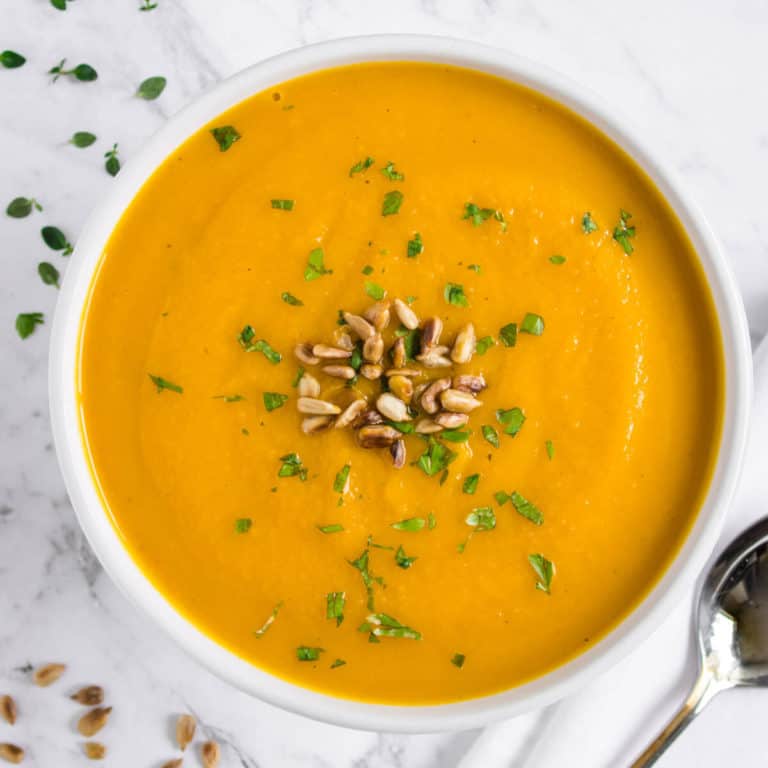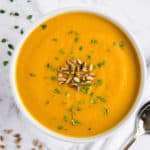 Creamy Pumpkin Soup
This is my Creamy Pumpkin Soup recipe, which is so delicious and so creamy without using any cream! It's also vegan as well.
Print
Ingredients
1

small butternut pumpkin squash (approx 1kg)

3

carrots

6

garlic cloves

5

sprigs of thyme, removed from the stem

3

tablespoon

extra virgin olive oil

1

L

vegetable stock

1

diced onion

Salt and pepper

½

teaspoon

chilli flakes (optional, more or less depending on your preference)
Garnish
Chopped parsley

Toasted pepita or sunflower seeds
Instructions
Preheat oven to 200°C/400°F

Chop pumpkin and carrots into medium sized pieces, place in an oven tray with the garlic (still in their peels). Add thyme, season with salt and pepper and drizzle over 2 tablespoons of oil. Place in the oven to cook.

Dice onion into cubes and sauté in a pot with the remaining oil

Once onion has become translucent, pour in vegetable stock, season with salt and pepper and add chilli (this is optional). Place lid on and simmer on a low heat.

Once the vegetables in the oven have softened and cooked, (approximately 30minutes) remove the garlic and keep on the side, add remaining ingredients to the stock pot and cook together for 5 minutes.

Let the pot cool slightly before adding the soup to a blender (refer important tips)

Peel garlic cloves and add to the blender

Blend until a smooth creamy consistency is achieved

Heat up back in the same pot and serve with a garnish of chopped parsley and toasted seeds for some crunch and enjoy!