Pangrattato is an Italian condiment used to take your dishes to the next level! They are breadcrumbs which have been seasoned and toasted to bring some crunch and texture to dishes such as pastas and vegetables. It's so good you'll want to add it to everything!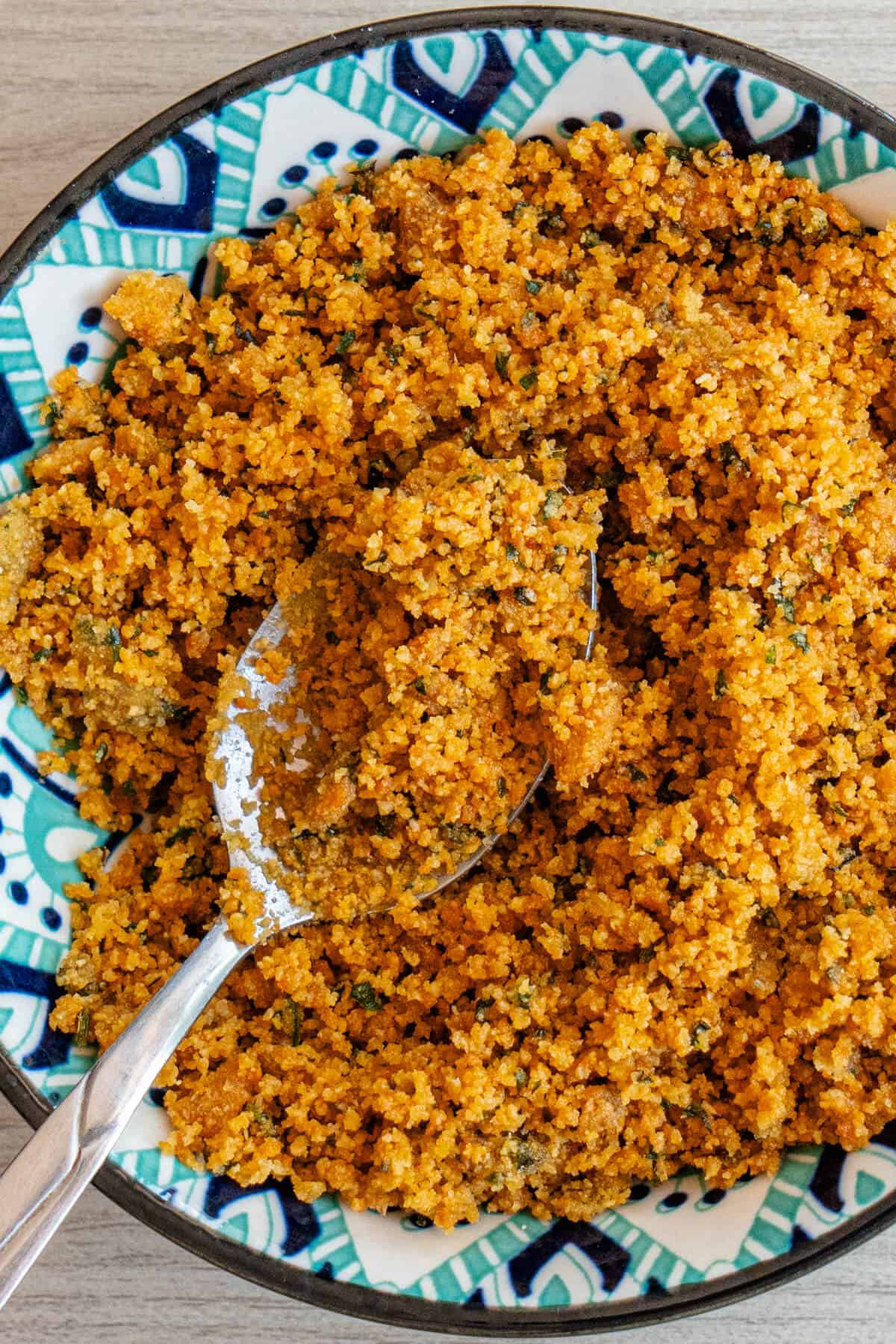 Pangrattato is a staple in my kitchen! With just a few simple ingredients, you can make it yourself in 10 minutes! It tastes so much better than anything you will buy and it's also much cheaper to make at home.

I love adding it to pasta dishes to give it a little crunch, here I've added it to my Broccoli Pasta which is a must-try! It's even great on Risotto or Soups.

I mean what's better than crispy, garlicky, cheesy breadcrumbs to make any dish taste 100 times better 🙂
You will always find pangrattato at an Italian's dinner table. My in-laws always have a bowl at family meals that we all love and pass around and add to our plates by the tablespoon!

When I travelled through the south of Italy, it was my favorite thing to see on my plate of pasta when it was served! I used to only eat it at home but it was amazing to see it served in restaurants.

You can also fully customize pangrattato to your liking by adding different herbs and seasonings, there really aren't any rules and you can leave out the cheese to make it a vegan recipe also.
Table of Contents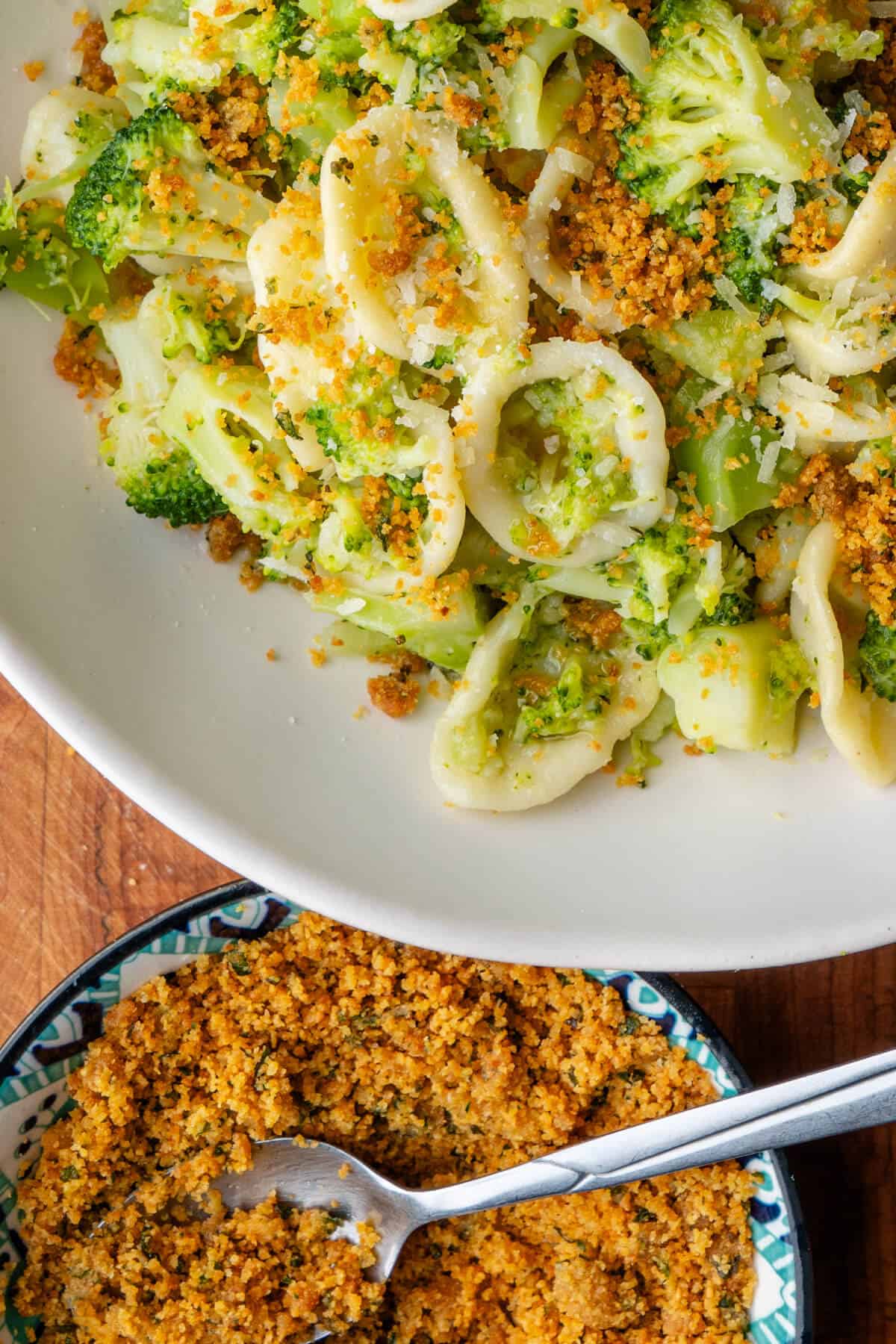 What is Pangrattato?
Pangrattato translates as 'grated bread' in Italian which are crispy flavored breadcrumbs that are used as a condiment or topping in Italian cuisine.

Traditionally known as the poor man's parmesan, Pangrattato is the process of making toasted breadcrumbs using staple ingredients, such as grated stale bread, oil olive and garlic. It's especially popular in southern Italy, in regions like Sicily, Calabria and Puglia, where it's often used as a topping for pasta dishes, vegetables and seafood.

What started as a simple parmesan substitute can also be enhanced with the addition of cheese, herbs and spices.
Why you'll love this recipe
Very easy recipe, made in 10 minutes so anyone can make it! It's also much cheaper and better than any store bought pangrattato
Level Up Dishes. Pangrattato brings a satisfying crunch to your dishes and can level up a wide range of dishes, from pasta to roasted vegetables, adding depth and complexity to each bite
Simple Pantry Staples. With just a handful of common pantry ingredients, you can make pangrattato in no time. It's an excellent way to repurpose stale bread and reduce food waste and its so cheap to make!
Customizable and Adaptable. Pangrattato allows you to get creative with flavors and textures. You can easily customize it by adding different herbs, spices, chilli flakes and cheeses. There aren't any rules and you can experiment with your favorite ingredients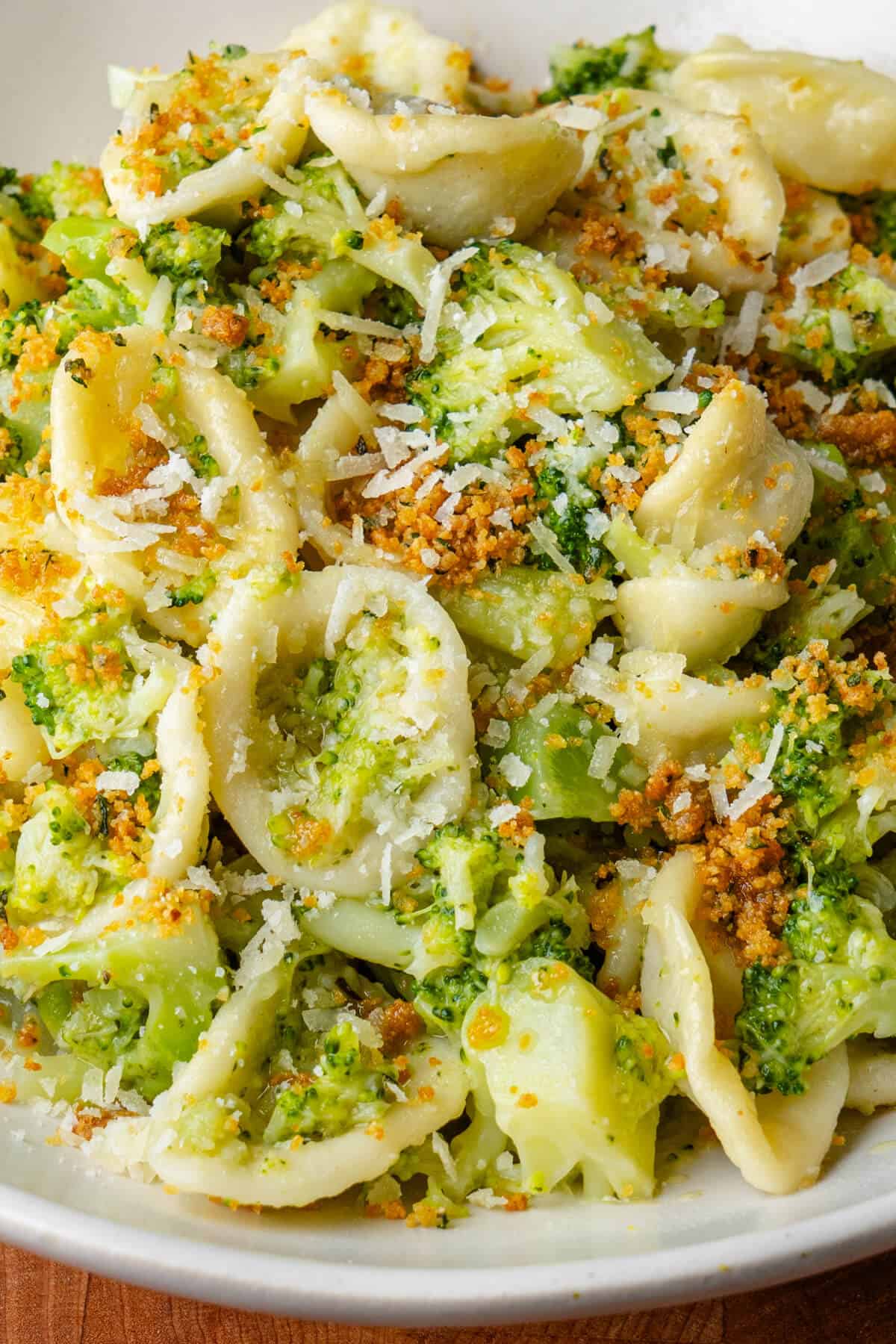 Ingredients to make Pangrattato
Stale bread / Bread crumbs is the base of pangrattato. You can use stale bread that have been pulsed in a blender or food processor. Grated breadcrumbs are also great to use when you don't have any stale bread. You can substitute different types of bread, such as sourdough bread, whole wheat or gluten-free, depending on your dietary requirements
Extra Virgin Olive oil is used to bind the breadcrumbs together and help in achieving a golden brown color. You can use butter, however its not traditional in Italian recipes
Garlic is added to flavour the olive oil as an aromatic element. I prefer to infuse the olive oil with whole garlic cloves which are then removed before serving the pangrattato. You can also leave the garlic in, or if you're not a fan of garlic, you can omit it or use garlic powder as a substitute
Parmesan cheese is finely grated and adds saltiness. Using fresh Parmigiano Reggiano cheese is always recommended. You can also use Pecorino Romano cheese or substitute with nutritional yeast to keep it vegan
Parsley is my herb of choice which is fresh and finely chopped but rosemary and thyme also work great. I personally prefer to use fresh herbs but dried herbs will also work
Optional additions. This is why I love Pangrattato as it's open to experimentation. You can add additional ingredients such as lemon zest, dried herbs, red pepper flakes, chili oil and other spices to elevate the flavour profile, the options are endless
How to make Pangrattato
Learn how to make Pangrattato in no time at all with these simple steps below.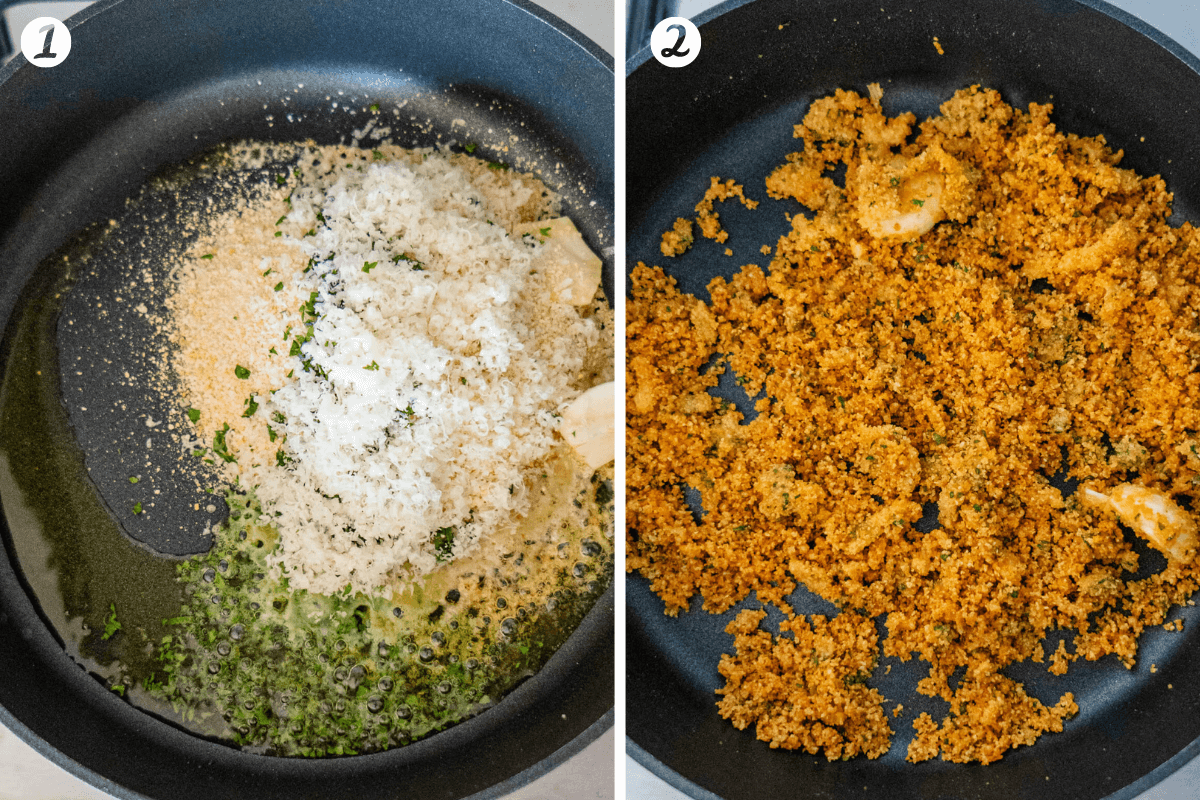 In a pan over low heat, add the olive oil with 2 whole garlic cloves (this is to infuse oil with garlic for a few minutes). Then add all ingredients being the breadcrumbs, parmesan cheese and finely chopped parsley
Stirring constantly for about 5 minutes or until golden brown and crispy. Remove whole garlic gloves and allow to cool before sprinkling over your favorite dishes
Tips and Tricks
Use stale bread as it works best for making fresh breadcrumbs for the Pangrattato, however purchased breadcrumbs still provide a crispy result in texture
Cook on a low heat as the breadcrumbs can burn very quickly. Cooking on a medium heat can burn the whole batch and you'll have to start again
You can toast the pangrattato in the oven using an oven tray. I find it easier to cook on a fry pan
If you're wishing to make a larger batch to keep for some time, leave out the parmesan cheese as this will make it spoil faster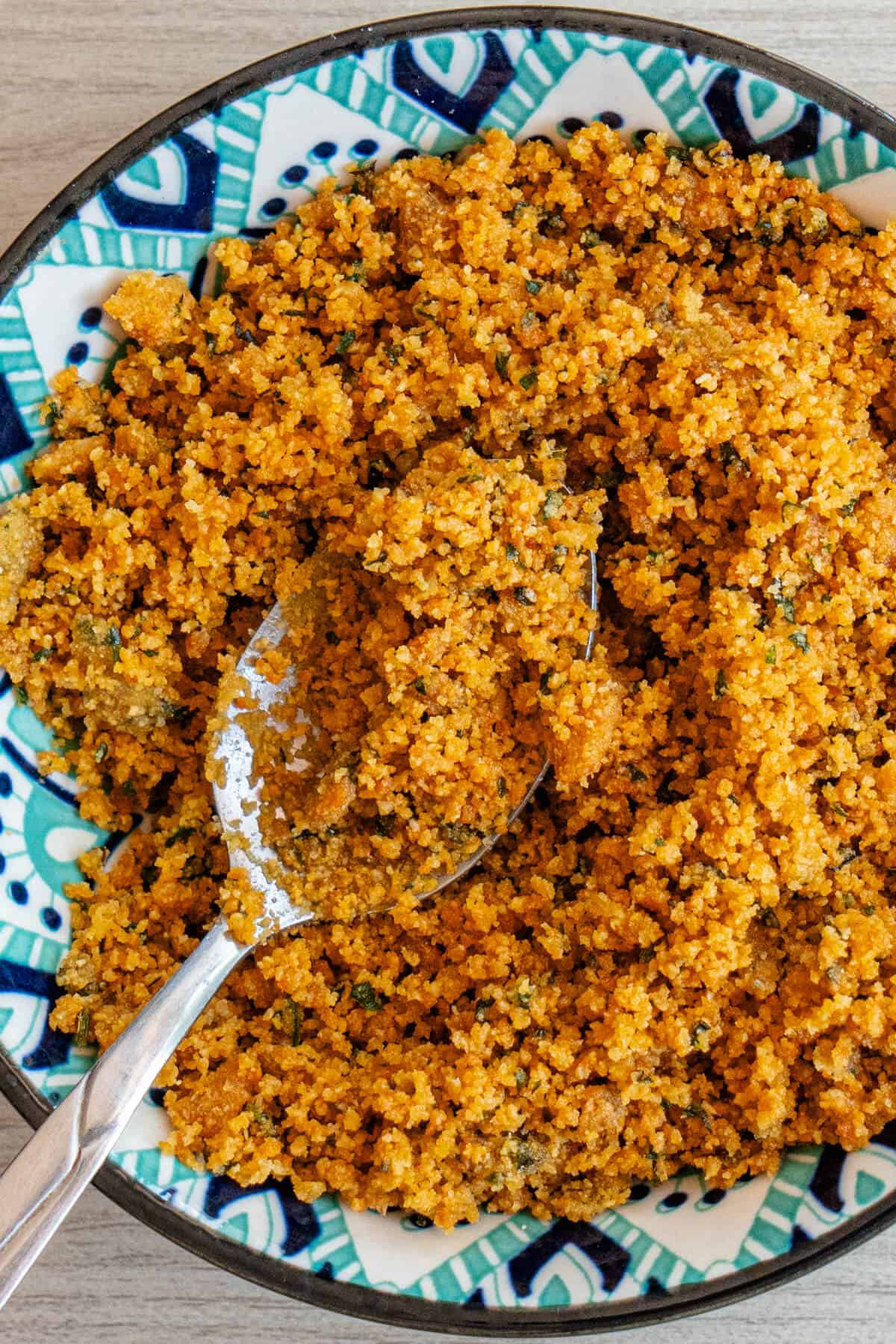 What to serve with Pangrattato
You can really add it to anything! Here are some of my favorite suggestions:
FAQs
How can I use Pangrattato in my cooking?
Pangrattato can be used as a topping for pasta dishes, salads, roasted vegetables, or even as a flavorful coating for vegetables, meat and fish. See serving suggestions linked above
Can I make Pangrattato in advance?
Ofcourse! Prepare Pangrattato ahead to save time and add a gourmet touch to your meals when hosting. Just ensure proper storage to maintain its crispness
Storage and Freezing
Once the pangrattato has cooled, transfer to an airtight container and store in the cupboard in a cool dry place or in the refrigerator for up to 2 weeks. If you are adding parmesan cheese, ensure it's kept in the fridge.
If you wish to extend its shelf life further, it can be stored in the freezer for up to 2 months. When you're ready to use the frozen pangrattato, thaw it and then its ready to eat.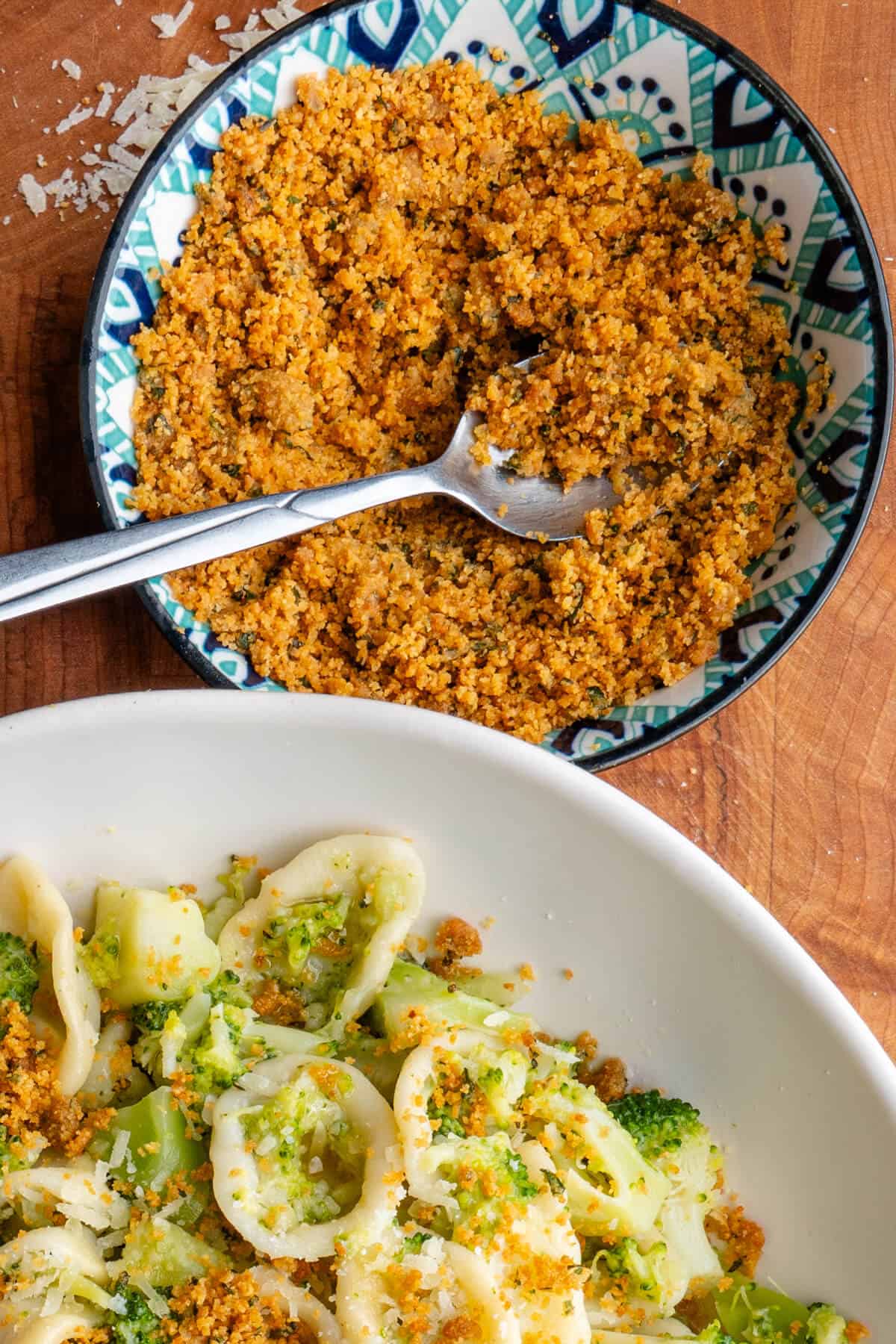 More Easy Condiments
I love seeing your creations and remakes, so be sure to rate the recipe, comment and share your Pangrattato photo on Instagram so I can share the love!
Recipe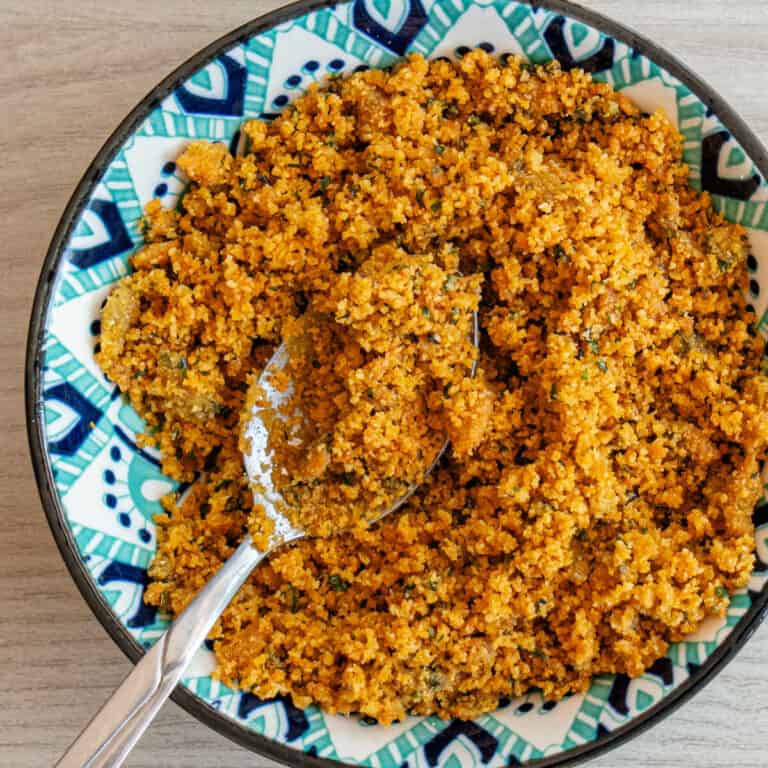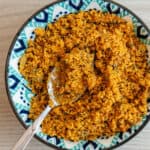 Pangrattato (Crispy Toasted Breadcrumbs)
Level up your dishes with Pangrattato, a flavorful Italian condiment made with crispy breadcrumbs and aromatic seasonings
Pin
Print
Rate
Ingredients
⅓

cup

breadcrumbs or 2-3 slices of stale bread

2

tablespoon

extra virgin olive oil

2

garlic cloves

10

grams

freshly grated Parmigiano Reggiano cheese (parmesan cheese)

Handful of fresh parsley leaves chopped finely
Instructions
If using stale bread, blitz in a food processor or blender to create the breadcrumbs.

Peel 2 garlic cloves and slice them in half

Add olive oil to a small saucepan over low heat and add the garlic cloves.

Once the oil starts to bubble add the breadcrumbs, parsley, parmesan cheese and a pinch of salt. Stir together and saute for about 5 minutes until the breadcrumbs become a golden brown color.

Remove the garlic cloves and transfer the mixture to a small serving bowl.

Serve with your favorite pasta dish, like my easy Broccoli Pasta and enjoy your crispy pangrattato!
Nutrition
Calories:
44
kcal
|
Carbohydrates:
3
g
|
Protein:
1
g
|
Fat:
3
g
|
Saturated Fat:
1
g
|
Polyunsaturated Fat:
0.4
g
|
Monounsaturated Fat:
2
g
|
Cholesterol:
1
mg
|
Sodium:
43
mg
|
Potassium:
13
mg
|
Fiber:
0.2
g
|
Sugar:
0.2
g
|
Vitamin A:
42
IU
|
Vitamin C:
1
mg
|
Calcium:
20
mg
|
Iron:
0.2
mg