Pasta e Fagioli is a traditional Italian soup with a savory tomato broth, that translates to pasta and beans. With Nonna's tips, this recipe is full of flavour and screams comfort food.
Pasta e Fagioli, which is also known as Pasta Fazool, is a very traditional Italian dish.
It's a type of dish that your Nonna (grandmother) would make you, so it screams comfort food.

I was able to ask Nonna for her tips which I've mixed with my own recipe to create the perfect meal!
If you love hearty Italian dishes, then you must also try my Vegan Bolognese and Mushroom and Pea Risotto.
Pasta e Fagioli translates to pasta and beans in Italian. It's similar to a minestrone soup with beans, vegetables, and pasta in a rich creamy sauce, what's not to love right?
You can think of it as Pasta Soup 🙂
To level up this pasta, you can top with some Pangrattato (crispy flavored breadcrumbs) for some crunch.
This recipe is also easily made Vegan too, just eliminate the parmesan cheese.
The best part is that it's all made in the one-pot which means easy cleanup. It's also made with kitchen staples most have in their fridge and pantry, so it's a great meal to make when you haven't been shopping.
Table of Contents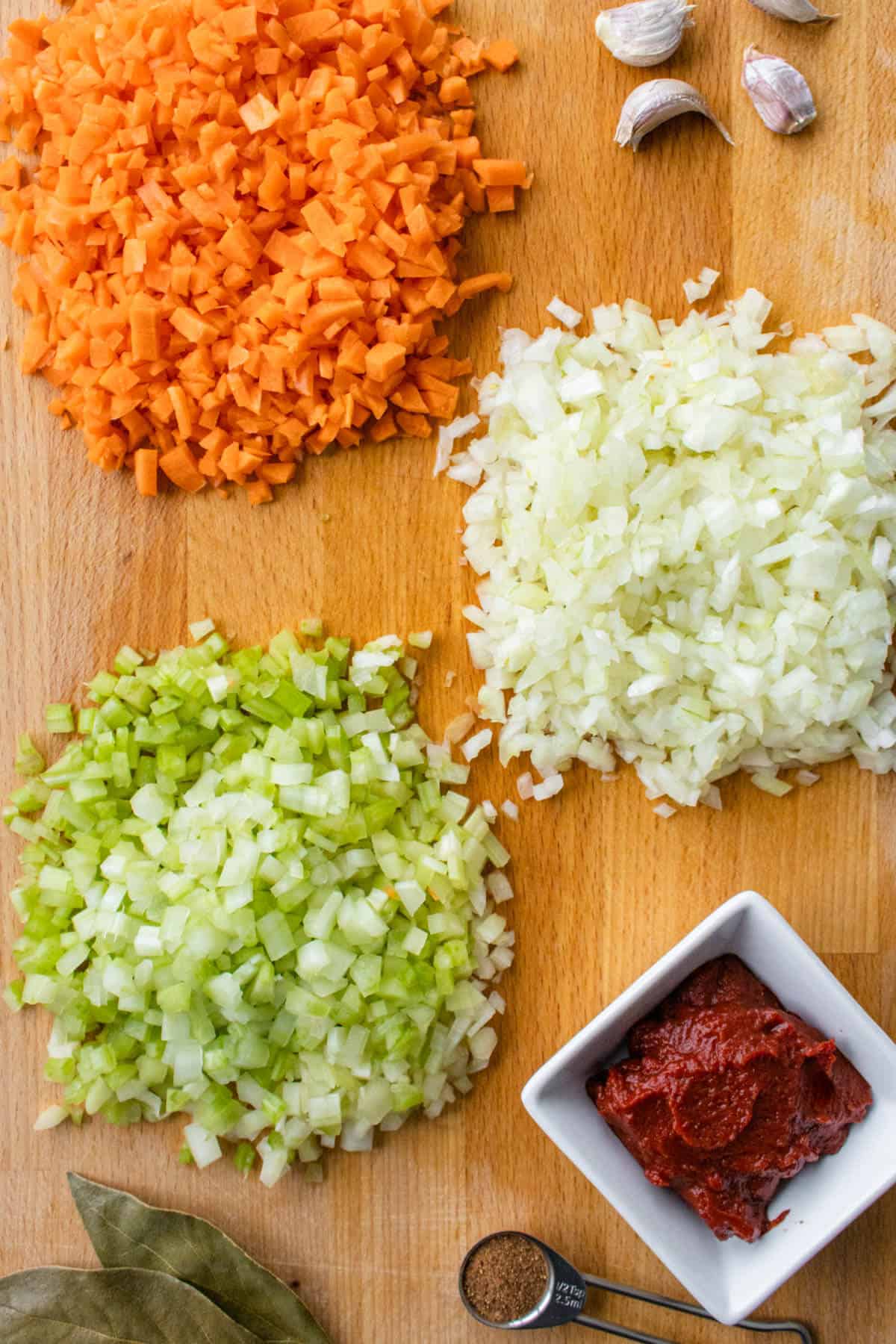 Ingredients to make Pasta e Fagioli
Fagioli Beans are the star of the dish which are also known as Borlotti beans. You can also substitute with Cannellini beans or Red Kidney beans. I've used canned beans however you can also use dried beans that have been soaked and then cooked in an instant pot.
Pasta, short pasta or pastina is the best pasta to use. I've used Orecheiette which I love as it scoops up the sauce like little buckets. You don't traditionally use long noodles
Onion, Carrots, Celery make up your soffritto which is the base of the soup
Bay leaves bring a beautiful flavour especially when sauteed with the soffritto
Garlic always make every dish taste better
Nutmeg was my Nonna's tip to bring a lovely earthiness to it
Potato is also one of Nonna's additions as it adds body and creaminess
Tomato Paste is my preference over canned tomatoes, diced tomatoes or tomato sauce as its concentrated so it has a deeper flavour
Vegetable Stock is what I've used to make it vegan and vegetarian, however, if you prefer you can use chicken broth.
Parmigiano Reggiano rind is an optional ingredient and can be eliminated to make the dish vegan friendly. Adding a small cube of the parmesan rind brings a beautiful aroma and a light cheesy depth to the sauce. It's then discarded before serving.
Extra-virgin olive oil is used of course to saute the veggies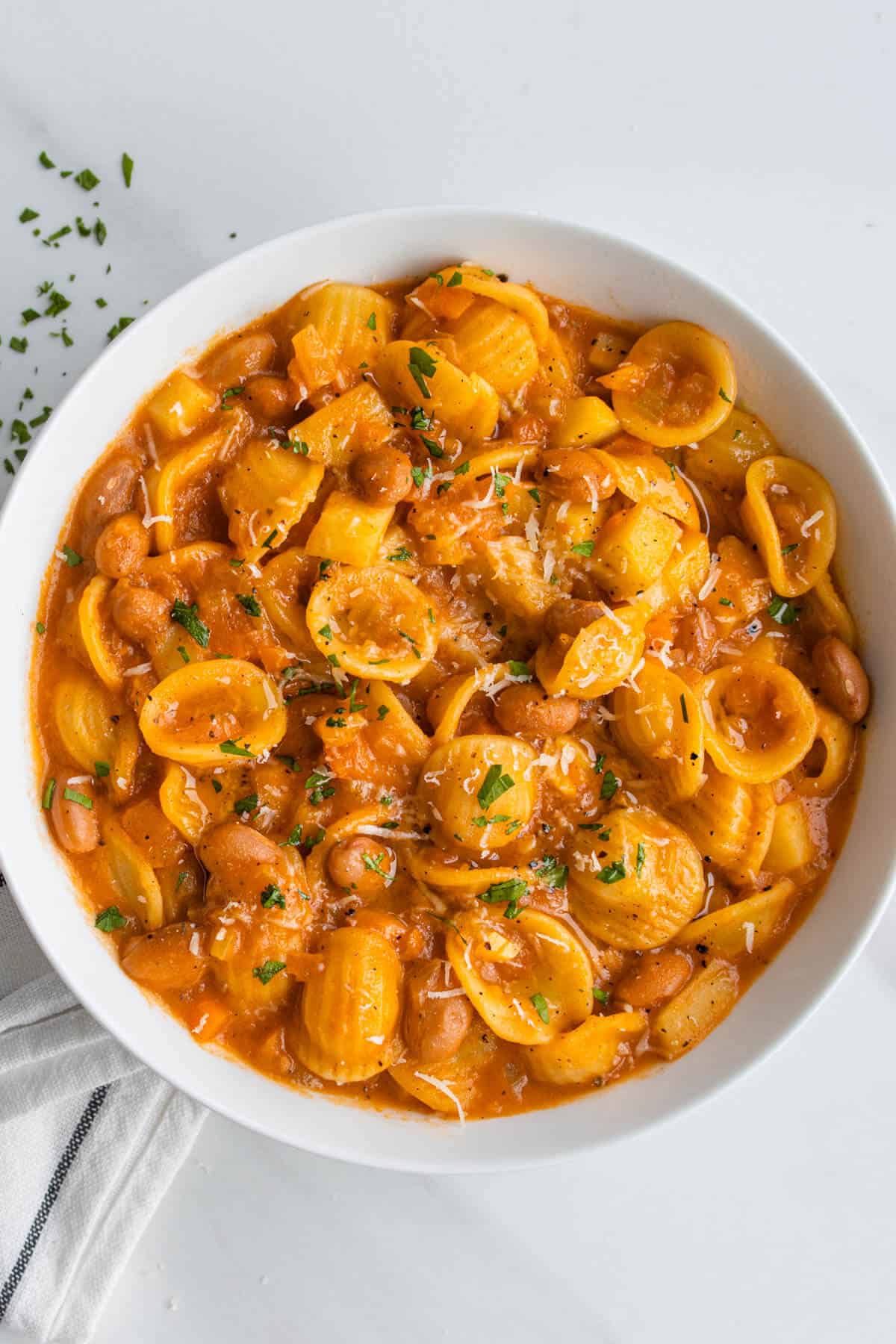 How to make Pasta e Fagioli
Make this classic Italian dish in these simple steps. Perfect for a cozy evening at home!
Prepare broth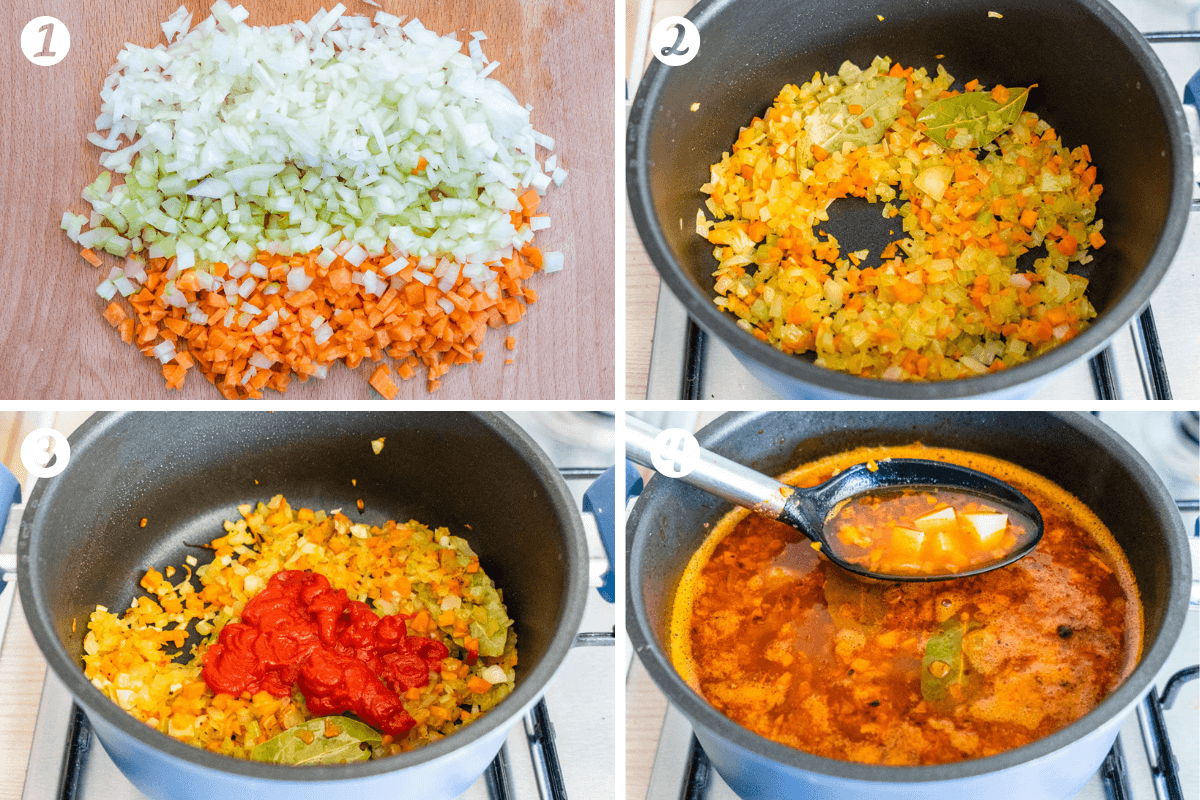 Prepare soffritto by dicing onion, carrots and celery into tiny consistent cubes
Saute soffritto with olive oil in a pot over medium heat with bay leaves and a pinch of salt
After a few minutes (when the veggies are tender), add garlic and stir together. Then add 3 tablespoons of concentrated tomato paste and saute for 3-5 minutes to fry the sauce down. If required, add a dash of olive oil to help it saute
Pour in vegetable stock and water, and season with salt and pepper. Add in a potato chopped into small cubes, nutmeg and a cube of parmesan rind (optional). Place the lid on and simmer for 10-15 minutes on medium heat
Add pasta and beans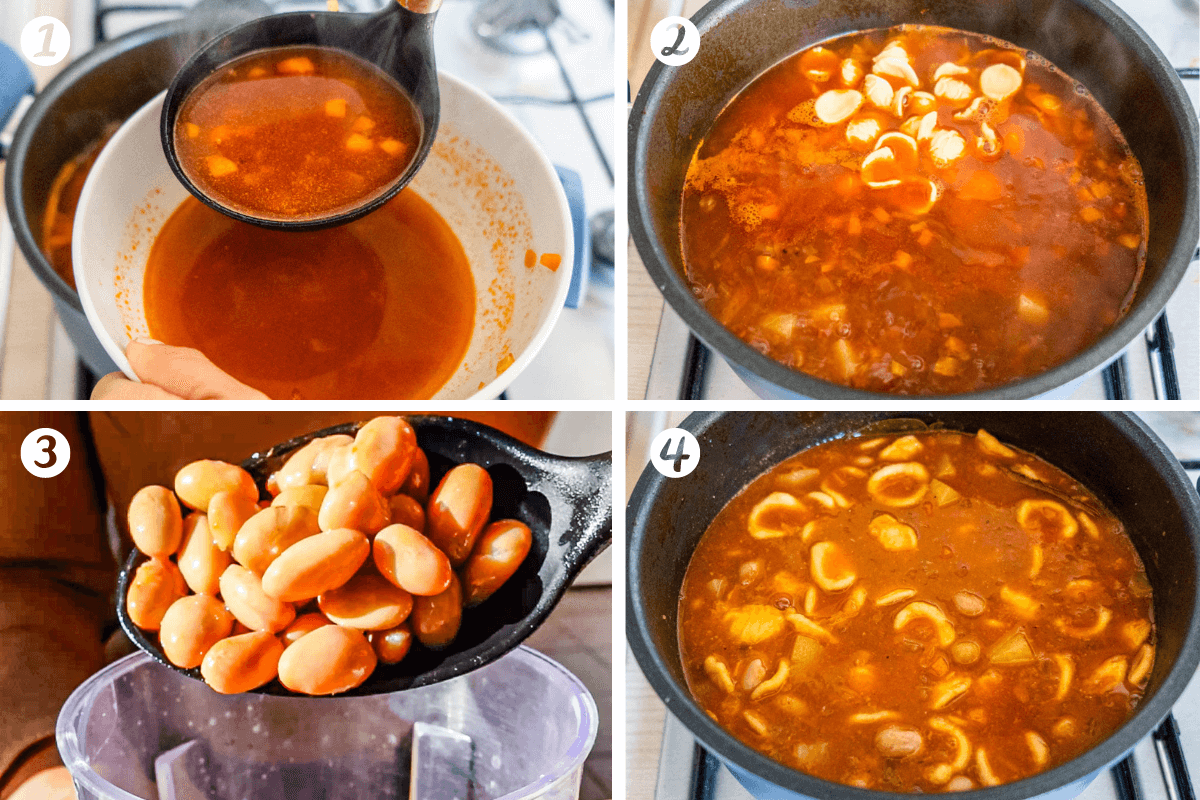 When the vegetables are cooked, remove a cup of broth from the pot and reserve it on the side for now
Add pasta and a pinch of salt, and cook with the lid on (Note, if the broth has reduced too much or the liquid is too thick you can add an extra cup of water in this step)
Drain a can of beans and add about a quarter of the beans to the reserved broth on the side. Once the broth has cooled down, blend it in a blender to create a creamy sauce
When the pasta is halfway cooked, add the beans and the creamy sauce to the pot and cook together for a few minutes. Serve it up! With some chopped parsley and freshly grated parmesan cheese. Enjoy!
Tips & Tricks
Ensure to chop the vegetables for the soffritto into tiny cubes similar in size so they all cook within the same time
Always fry the tomato paste down before adding the stock. It brings out all its beautiful flavours and it will also eliminate any raw tomato taste
I've noted in my recipe 2-3 cups of water. It's best to start with 2, and then add the 3rd cup if you find it needs it. Different pasta shapes absorb different amounts of water so you can judge if it needs more water.
Remove the bay leaves and parmesan rind before serving into bowls
Add the beans in at the end of the cooking process so they don't overcook or become mushy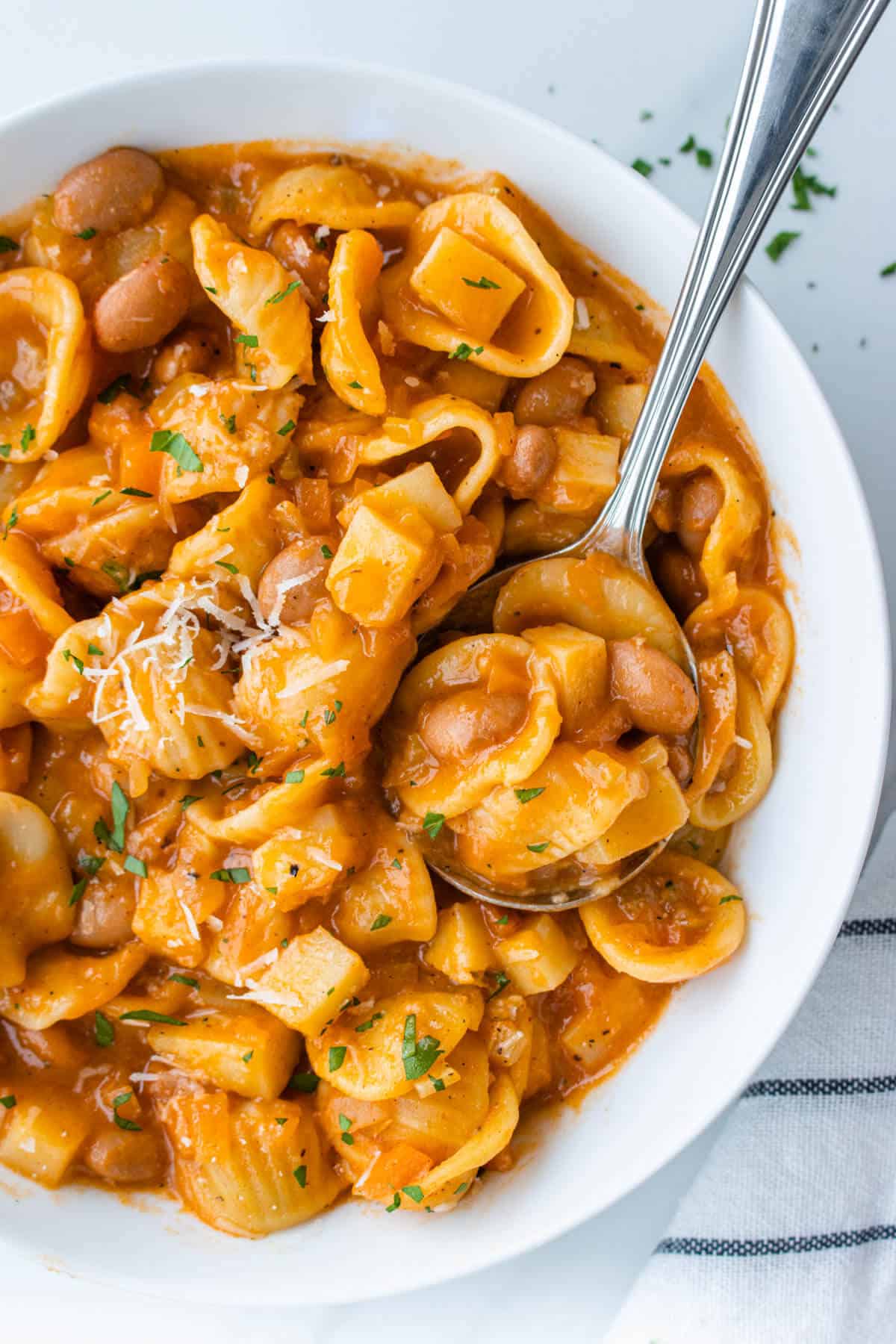 FAQs
Does Pasta e Fagioli have meat?
Some recipes use pancetta and meat, however, I've made a vegetarian and vegan-friendly recipe
Is Pasta e Fagioli healthy?
Yes, it's full of vegetables and a good source of protein and nutrients from the beans
Can you freeze Pasta e Fagioli
Yes for up to 2 - 3 months. If freezing, it's recommended to do so without pasta included as it will become soft when reheating. The vegetables would also become soft when reheating so if you know you want to freeze a batch, make sure to undercook the soup so that it will maintain a beautiful texture when you decide to reheat it in the future. Then you can boil some fresh pasta and add it to the soup.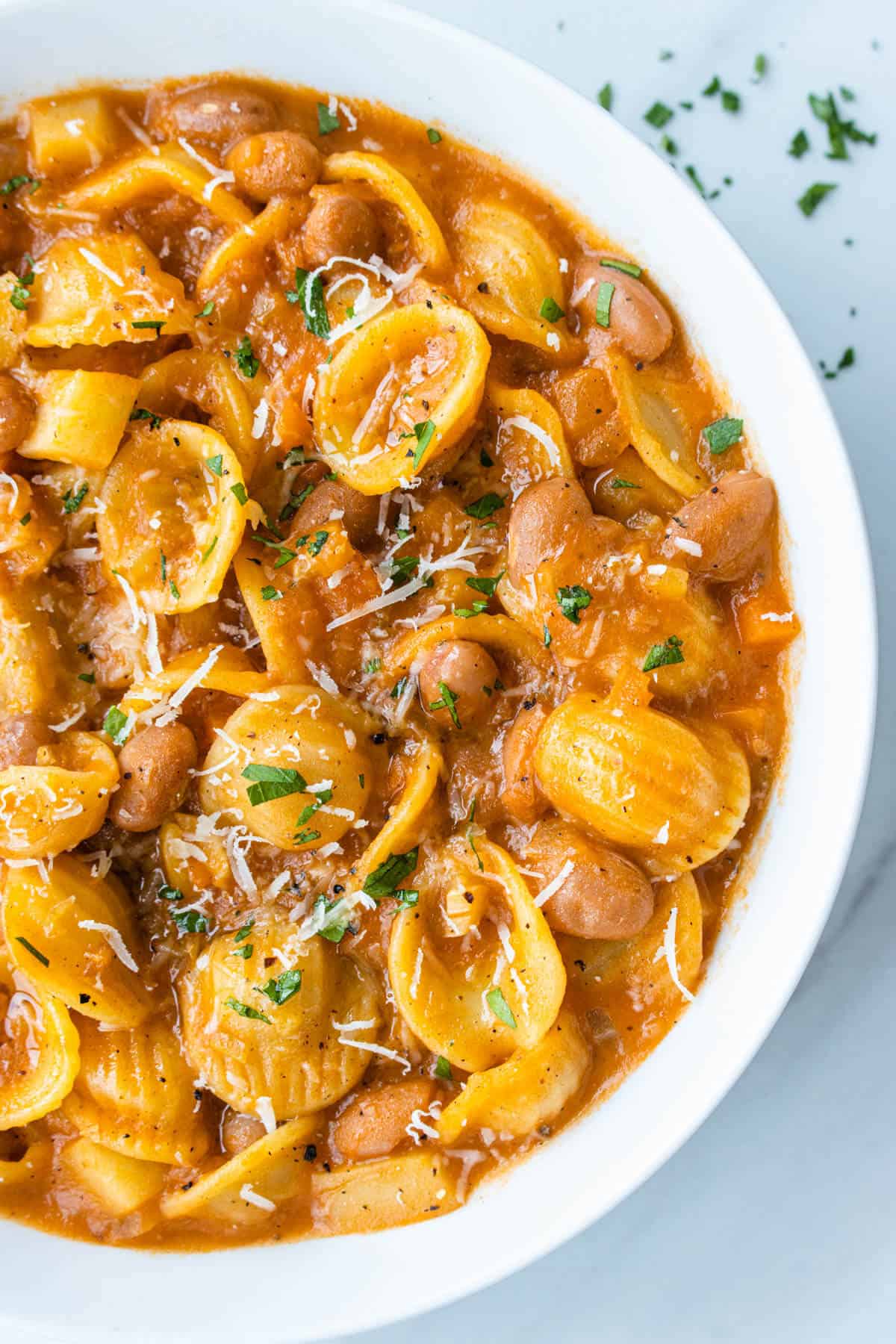 More Pasta Recipes
I love seeing your creations and remakes, so be sure to rate the recipe, comment and share your Pasta e Fagioli photo on Instagram so I can share the love!
Recipe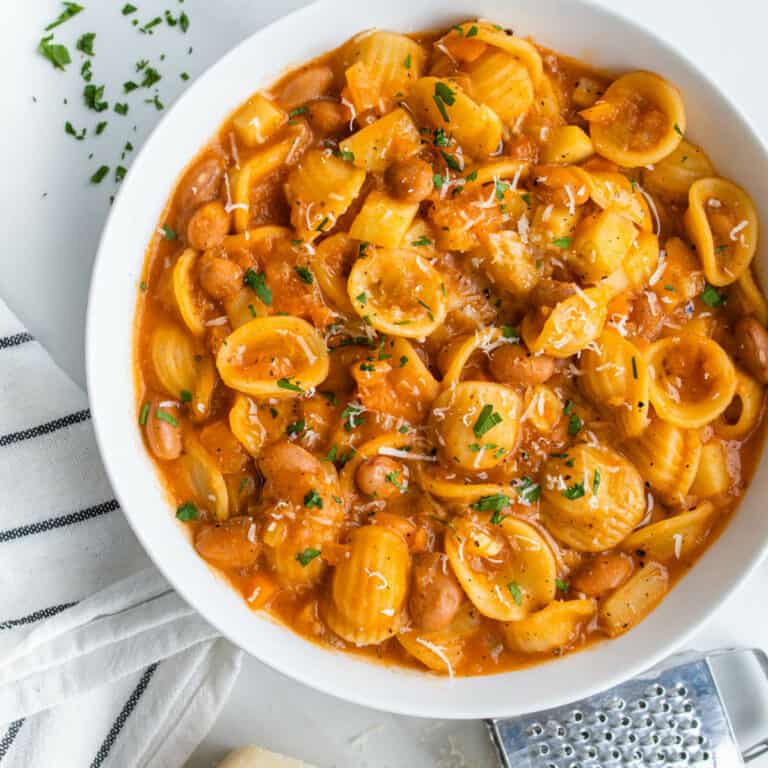 Pasta e Fagioli
Pasta e Fagioli is a traditional Italian soup with a savory tomato broth, that translates to pasta and beans. With Nonna's tips, this recipe is full of flavour and screams comfort food
Pin
Print
Rate
Ingredients
200

g

short pasta (I've used Orecchiette)

1

can

Fagioli beans / Borlotti beans (or you can use Cannellini beans or your preferred beans)

1

onion

2

medium carrots

2

medium celery sticks

2

bay leaves

4

garlic cloves 

3

tablespoon

tomato paste 

1

potato

3

cups

vegetable broth or stock

2-3

cups

water

1

teaspoon

ground nutmeg

1

tablespoon

olive oil 

1

Parmesan cheese rind cube (optional) 

Salt and pepper to taste
Garnish
Fresh herbs such as finely chopped parsley or basil leaves

Freshly grated parmesan cheese

Freshly ground black pepper

Red pepper flakes (optional)
Instructions
Dice the onion, carrots and celery into tiny cubes to make a soffritto. Saute them in olive oil in a pot over medium heat with the bay leaves and a pinch of salt

After a few minutes when the veggies are tender, add the garlic and stir together. Then add 3 tablespoons of concentrated tomato paste and saute for 3-5 minutes to fry the sauce down. If required, add a dash of olive oil to help it saute

Pour in the vegetable stock and water, season with salt and pepper. Chop the potato into small cubes and add to the pot along with the nutmeg, a cube of parmesan rind (optional) and simmer with the lid on for 10-15 mintues on medium heat

When the vegetables are cooked, remove a cup of the broth from the pot and leave it on the side to cool down

Add the pasta a pinch of salt and cook with the lid on (note you can add an extra cup of water at this time if the sauce has reduced too much or liquid is too thick)

While the pasta is cooking, drain the can of beans and add a quarter of the beans to the reserved broth on the side. Blend it in a blender to create a creamy sauce

When the pasta is half way cooked, add the beans and the creamy sauce to the pot and allow it to cook together for a few minutes.

Remove the bay leaves and parmesan rind. Serve your Pasta e Fagioli soup with a sprinkle of chopped parsley and freshly grated Parmigiano Reggiano cheese
Nutrition
Calories:
389
kcal
|
Carbohydrates:
73
g
|
Protein:
15
g
|
Fat:
5
g
|
Saturated Fat:
1
g
|
Polyunsaturated Fat:
1
g
|
Monounsaturated Fat:
3
g
|
Sodium:
612
mg
|
Potassium:
856
mg
|
Fiber:
11
g
|
Sugar:
7
g
|
Vitamin A:
5543
IU
|
Vitamin C:
18
mg
|
Calcium:
80
mg
|
Iron:
3
mg