This Lemon Garlic Pasta is quick and easy, only needing 5 ingredients and 15 minutes to make. It's light yet creamy, without any cream.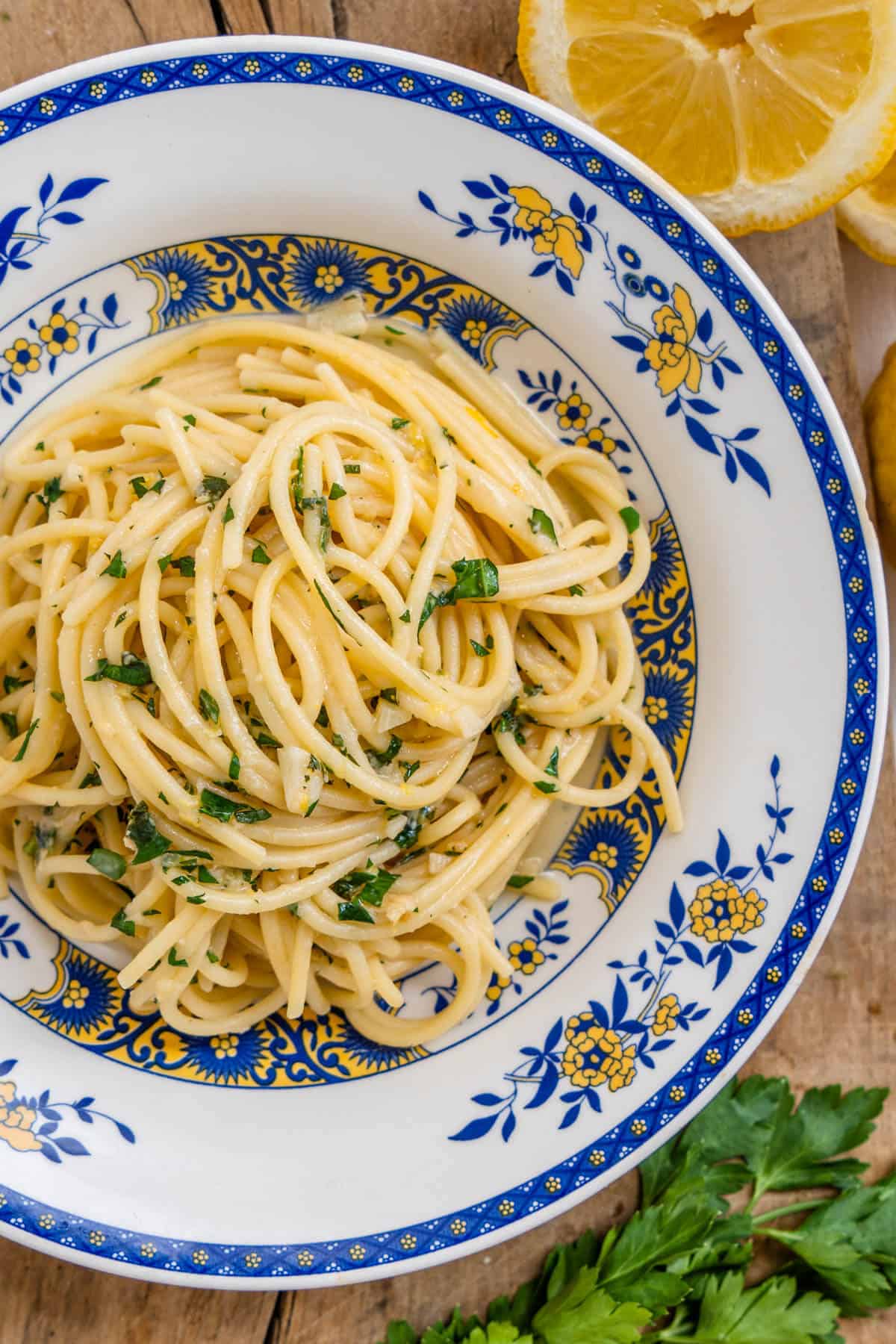 This Lemon Garlic Pasta is going to blow your mind with how easy it is! It's creamy and garlicky with a lemon tang.
Many recipes use butter and cream, however, my recipe does not. You can achieve silky creamy pasta without cream, that's much lighter and healthier too 🙂
Lemon Pasta, also known as Pasta al Limone, is a common pasta dish in Italy. Spending time in Italy, I've learned that classic Italian cuisine uses few simple ingredients. With just a handful of good quality ingredients, you can create the most amazing dish!
To level up this pasta, you can top with some Pangrattato (crispy flavored breadcrumbs) for some crunch.
If you love lemons like me then you must try my Limoncello Spritz. It's light, refreshing, and perfect to serve as an aperitif!
I was lucky enough to make this Lemon Garlic Pasta whilst traveling in Sicily. Sicily is well known for its amazing lemons and I was fortunate to have a huge tree in the house I was staying in. They're super sweet and not too acidic which makes them perfect for making this lemon pasta recipe.
If you don't have Sicilian lemons, don't worry! You can still cook an amazing lemon pasta that will impress everyone 🙂
Table of Contents
Ingredients to make Lemon Garlic Pasta
Lemon of course is the hero of the dish! Try and use an organic or good quality lemon as you will be using the zest and the fresh lemon juice. If you have a lemon tree, that's even better 🙂
Pasta traditionally long pasta noodles are used to make lemon pasta. I've used spaghetti, you can also use capellini, linguine, or even angel hair pasta
Parmigiano Reggiano or parmesan cheese is used to create a beautiful creamy sauce without using any heavy cream! Always best to grate the cheese yourself rather than using pre grated cheese
Garlic for my fellow garlic lovers is used to infuse the olive oil
Extra virgin olive oil is always my preference rather than using butter. Use a good quality olive oil and make sure to cook on low heat
Parsley is tossed in right at the end for freshness and a pop of colour, fresh herbs are always best
Red pepper flakes or chilli flakes can also be added to give the pasta a kick of spice
Pasta al Limone is traditionally served and eaten alone as is. You can of course make variations and add veggies or protein. Some green vegetables that would suit it are spinach, broccoli, zucchini asparagus or even peas. You can also serve with your favourite protein such as salmon, shrimp/prawns or chicken too.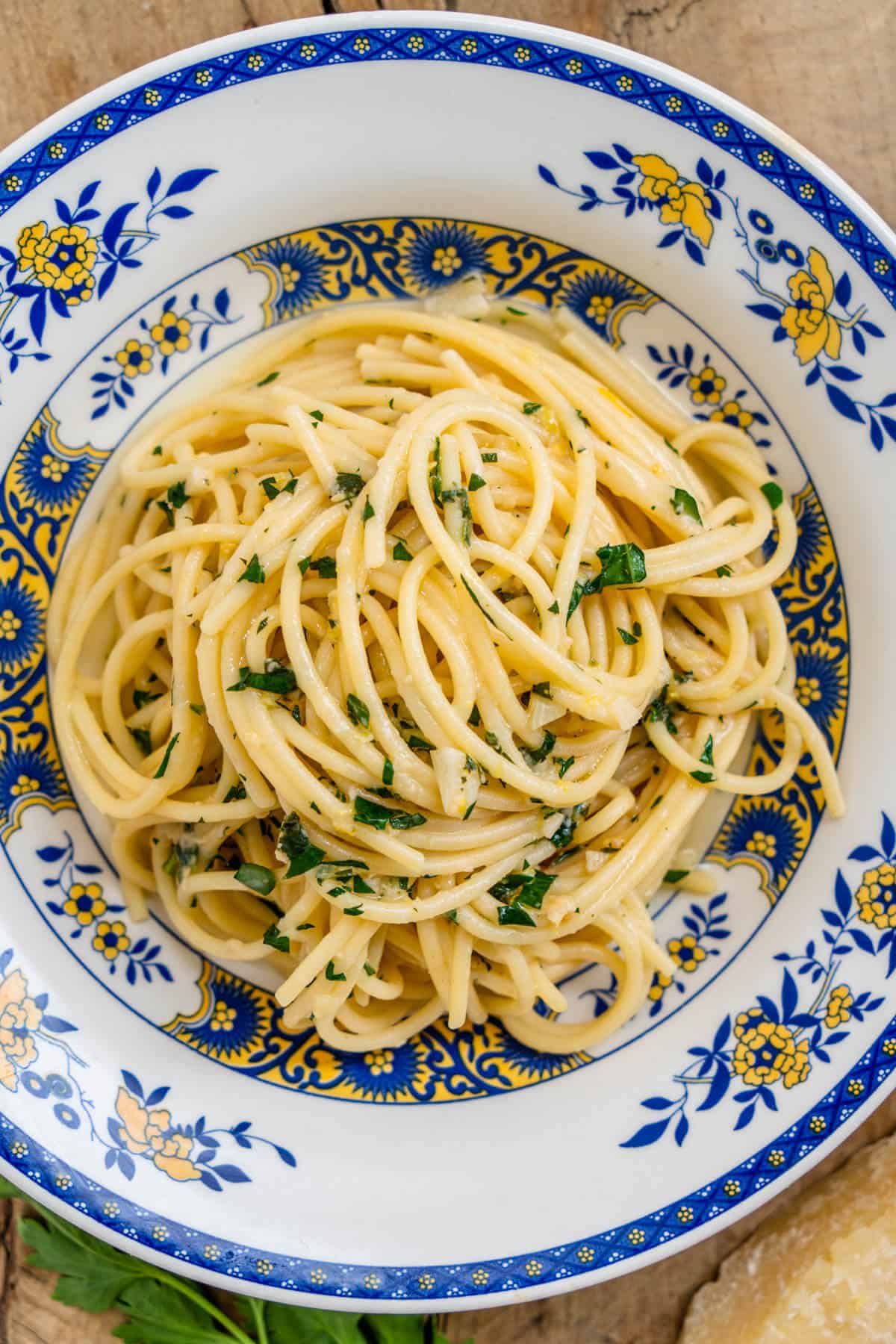 How to make Lemon Garlic Pasta
Making this Lemon Pasta is so easy and perfect for those quick dinner nights.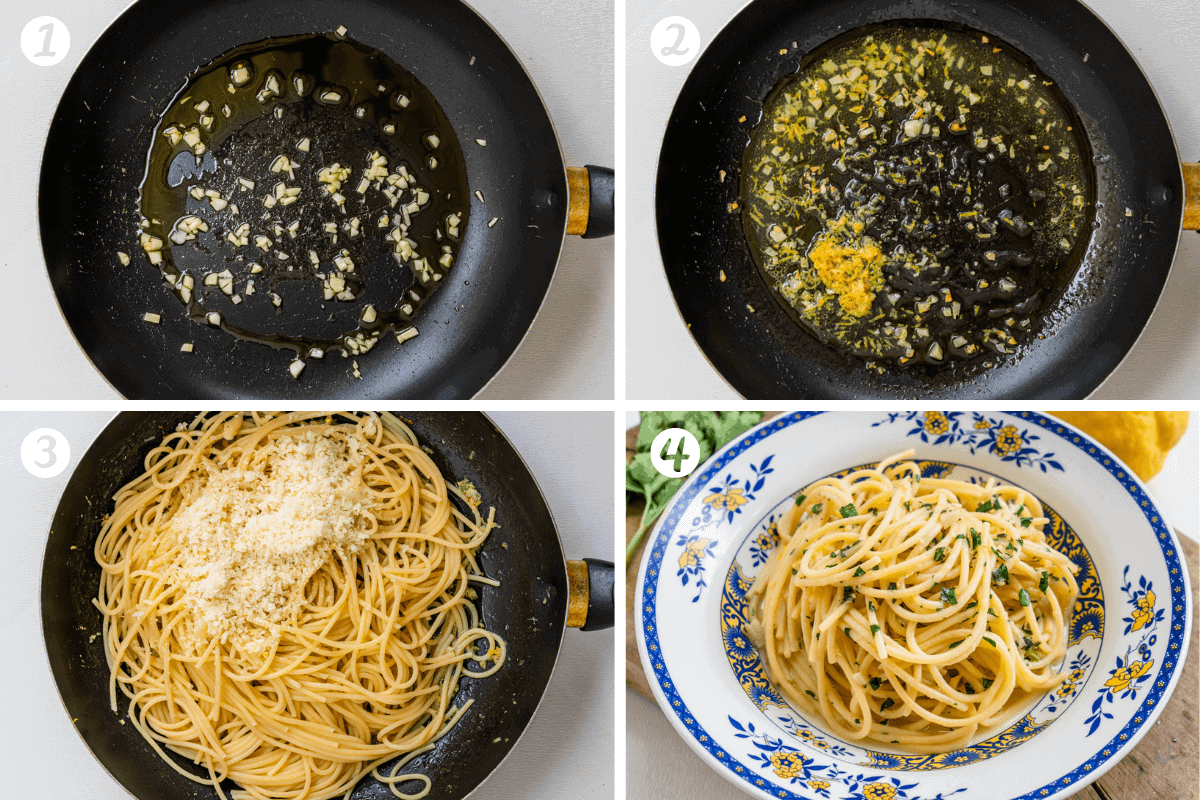 In a large pot, boil heavily salted water. Add the pasta and cook for a couple of minutes less than indicated on the package. Whilst the pasta is cooking, saute garlic in olive oil on a low heat
Add lemon zest and lemon juice to the pan with a ladle of pasta water and allow to simmer on low heat
When the pasta is ready, add straight to the pan with ½ a cup of pasta water. Add grated parmesan cheese and mix through
Stir in the chopped parsley and its ready to serve! Add a light drizzle of olive oil with more parmesan cheese and enjoy!
Tips for Lemon Garlic Pasta Recipe
Use good quality ingredients. As Pasta Al Limone only uses a handful of ingredients try and use good quality ingredients which will give the dish more flavor. I typically like to purchase the Parmigiano Reggiano cheese from an Italian deli or local market
Roll out the lemon. Rolling the lemon on a table first is a great way to loosen the lemon juice inside so you can get the most of your lemons
Use a cheese grater or microplane grater to zest the lemon. Ensure not to grate the white part of the lemon which is quite bitter
Reserve some pasta water. Pasta water is key to making the creamy sauce! So make sure to reserve some as the starchy water which was used to cook pasta
Add more pasta water if the sauce is too dry. When mixing in the cheese, add more pasta water if you notice the sauce is too dry
Always grate your own parmesan cheese rather than using pre grated cheese. Its best to grate the parmesan finely which will help it melt a lot quicker rather than becoming clumpy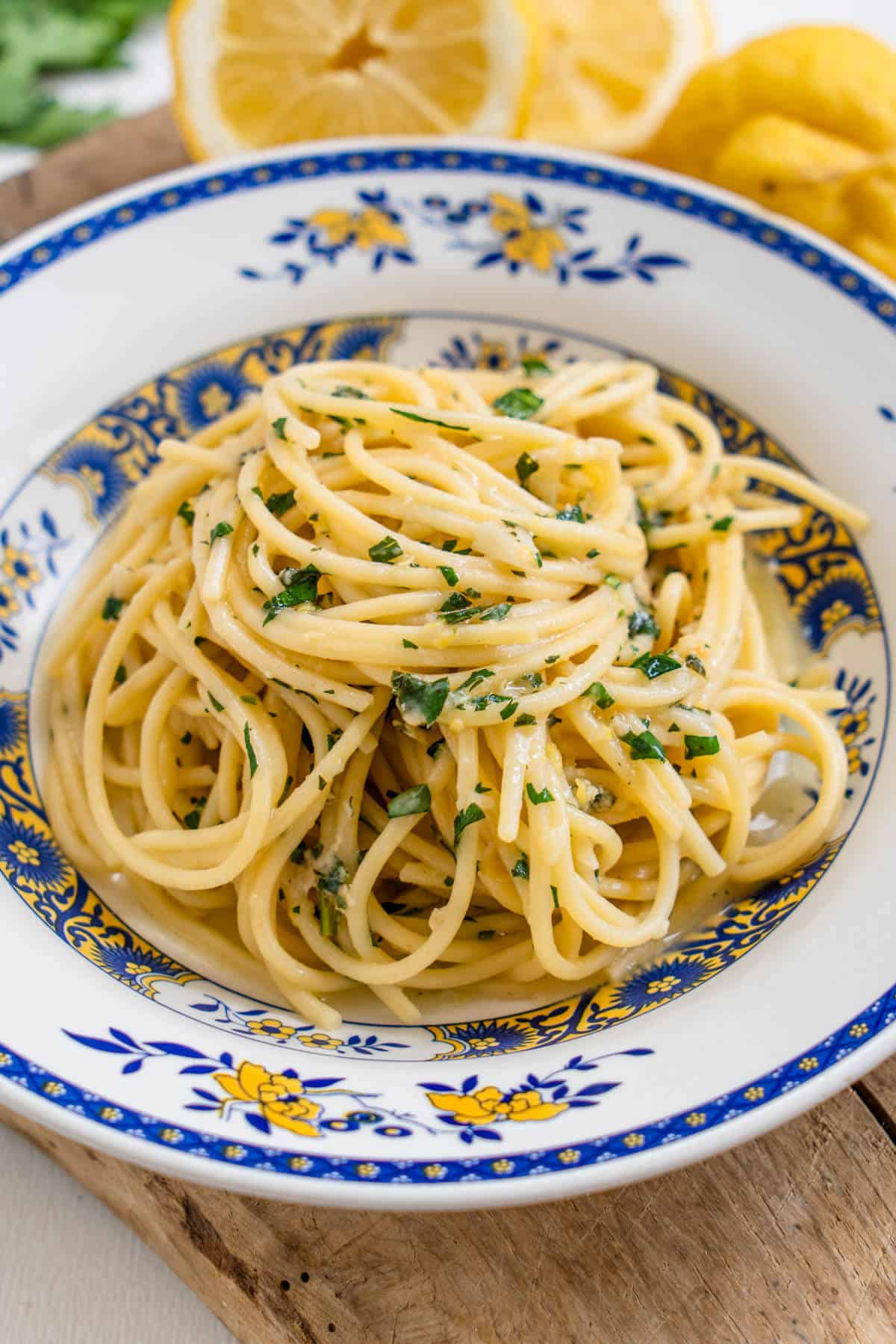 More Pasta Recipes
I love seeing your creations and remakes, so be sure to rate the recipe, comment and share your Lemon Garlic Pasta (Pasta Al Limone) photo on Instagram so I can share the love!
Recipe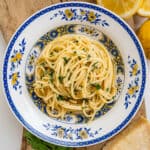 Lemon Garlic Pasta (Pasta Al Limone)
This Lemon Garlic Pasta is quick and easy, only needing 5 ingredients and 15 minutes to make. It's light yet creamy, without any cream. 
Print
Ingredients
180

g

pasta (I've used spaghetti)

1

lemon

50

g

finely grated parmigiano reggiano (parmesan cheese) or more to taste

4

garlic cloves diced

2

tablespoons

olive oil
Garnish
Handful chopped fresh parsley

Extra parmigiano reggiano cheese, olive oil and red pepper flakes (optional)
Instructions
In a large pot, boil heavily salted water. Add the pasta and cook for a couple of minutes less than indicated on the package

Whilst the pasta is cooking, saute the garlic in olive oil in a large skillet. Cook on a low heat so that it infuses the oil and doesn't burn it

Using a microplane or cheese grater, grate the zest of the lemon. Once done, squeeze the juice of the same lemon and remove any seeds

Add the lemon zest and juice to the pan with a ladle of pasta water

When the pasta is ready, add straight to the pan with ½ cup of pasta water to allow it to finish cooking in the pan over medium heat

Add the grated parmigiano cheese and mix through continuously. If the pasta is too dry, add another ladle of pasta water and keep stirring for a couple of minutes to create a lovely creamy silky sauce

Stir in the chopped parsley and its ready to serve! Add a light drizzle of olive oil with more parmigiano cheese and enjoy your Lemon Garlic Pasta
Nutrition
Calories:
580
kcal
|
Carbohydrates:
75
g
|
Protein:
22
g
|
Fat:
22
g
|
Saturated Fat:
6
g
|
Polyunsaturated Fat:
2
g
|
Monounsaturated Fat:
12
g
|
Cholesterol:
17
mg
|
Sodium:
408
mg
|
Potassium:
322
mg
|
Fiber:
5
g
|
Sugar:
4
g
|
Vitamin A:
208
IU
|
Vitamin C:
30
mg
|
Calcium:
340
mg
|
Iron:
2
mg