Looking for a healthy banana bread recipe? This recipe is made with whole foods and is naturally sweetened. Packed with fiber, protein, and essential nutrients, it's time to upgrade your traditional banana bread with this healthier and delicious option!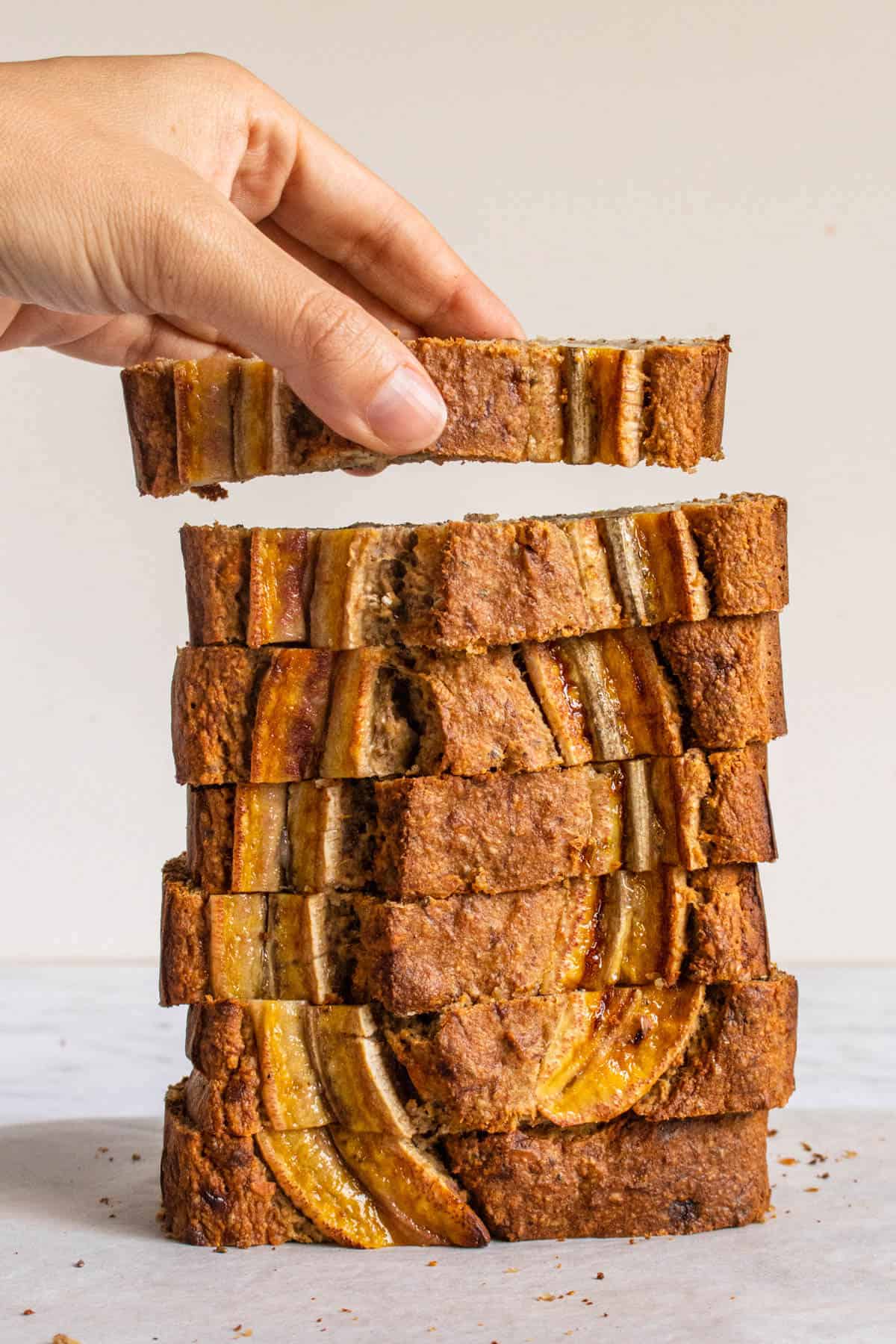 Banana Bread has always been one of my favourite things to eat as a snack, slice for breakfast, or even enjoy as afternoon tea.
Traditionally, banana bread can include a high amount of sugar and butter. So I've created my own healthy version without using any added sugars or butter, still keeping a beautiful flavour and moist texture. The batter is also made with whole grains by using rolled oats and chia seeds.
This recipe is a regular in my house, and I'm sure it will be in your home too 🙂
You can also add chocolate chips to make this a chocolate chip banana bread!
Have some ripe bananas or love banana flavor? You must try my Chocolate Chip Banana muffins, 4 Ingredients Cookies or Banana Chocolate Slice. Just delicious!
Table of Contents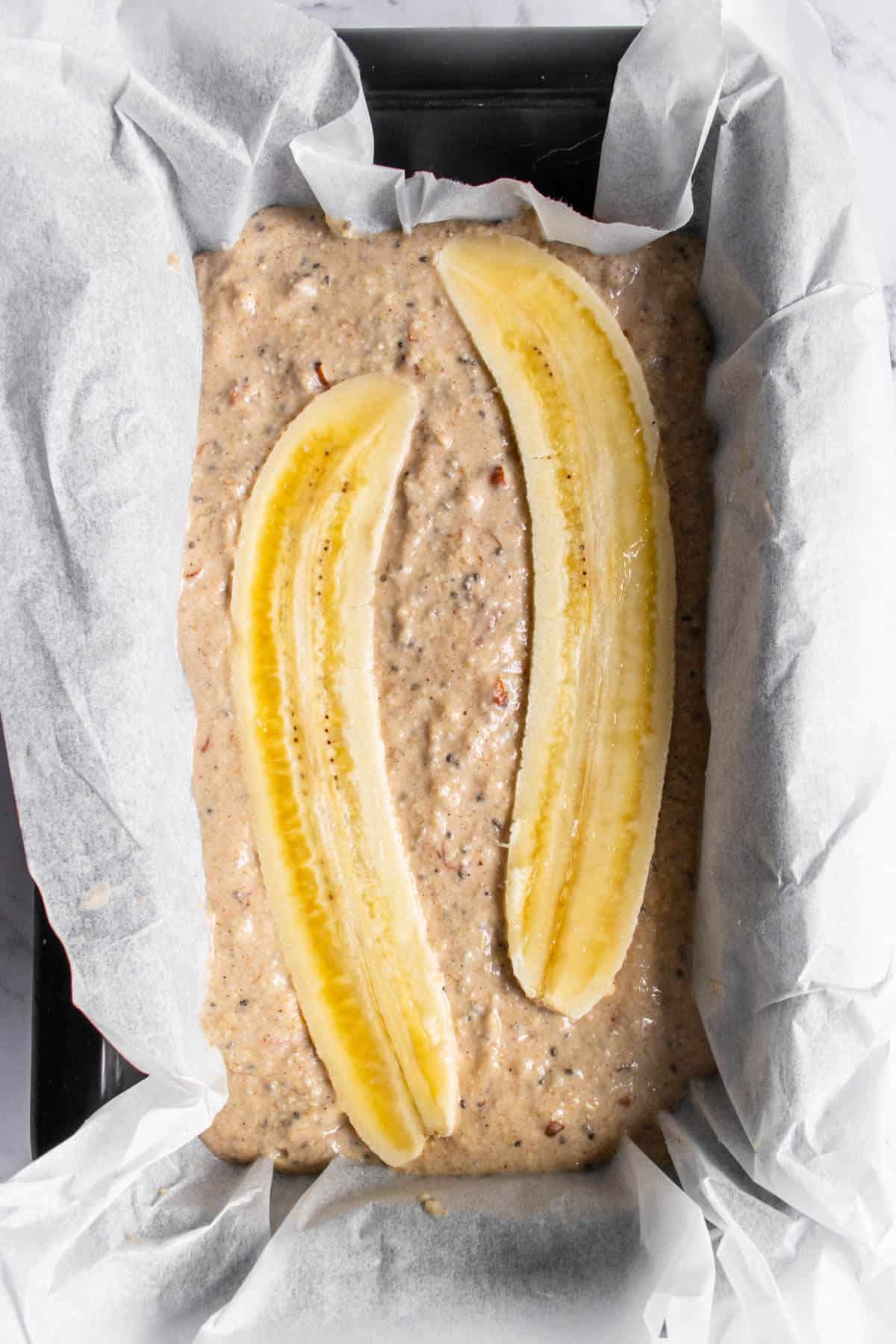 Ingredients to make Healthy Banana Bread
All the ingredients used in my recipe are whole-foods which makes this recipe super healthy
Bananas are the star of this recipe! But the most crucial thing to remember is to use ripe bananas. The browner and spottier they are, the more natural sweetness they bring
Rolled oats, for this recipe I use oat flour as the base rather than all purpose flour or whole wheat flour. I create my own oat flour by blending regular rolled oats to form the flour. To make the recipe gluten free, ensure you are using gluten-free rolled oats
Baking powder is essential to help the banana bread rise along with creating a fluffy texture
Walnuts are a super yummy component as they not only taste great, but they bring a nice crunch and different texture from the nuts. Pecans would be so yummy too
Chia seeds, are my secret touch for a few reasons. They're not only a superfood and provide extra protein, fiber and omega 3's, however, they also help bind the mixture together and play a role in keeping the banana bread moist
Egg, I've used 1 egg in this recipe however you can make this dish completely vegan by replacing it with a flax egg
Coconut oil is my preferred oil for banana bread and all of my baking. I like the subtle taste and also the health benefits, however if you don't like coconut oil, you can substitute with your preferred oil
Pure Maple Syrup is used as it's a natural sweetener, rather than using sugar. It also has a slight caramel taste. You can also substitute for honey, rice malt syrup or agave
Milk, I use almond or oat milk however any dairy-free milk or regular milk will work
Ground cinnamon, lastly a touch of cinnamon for its subtle beautiful smell and taste
Vanilla extract great addition to enhance flavours
How to make Healthy Banana Bread
This healthy banana bread recipe is incredibly easy to make. With just a few simple steps, you'll have a tasty and nutritious treat that's perfect for breakfast, snack time, or even dessert.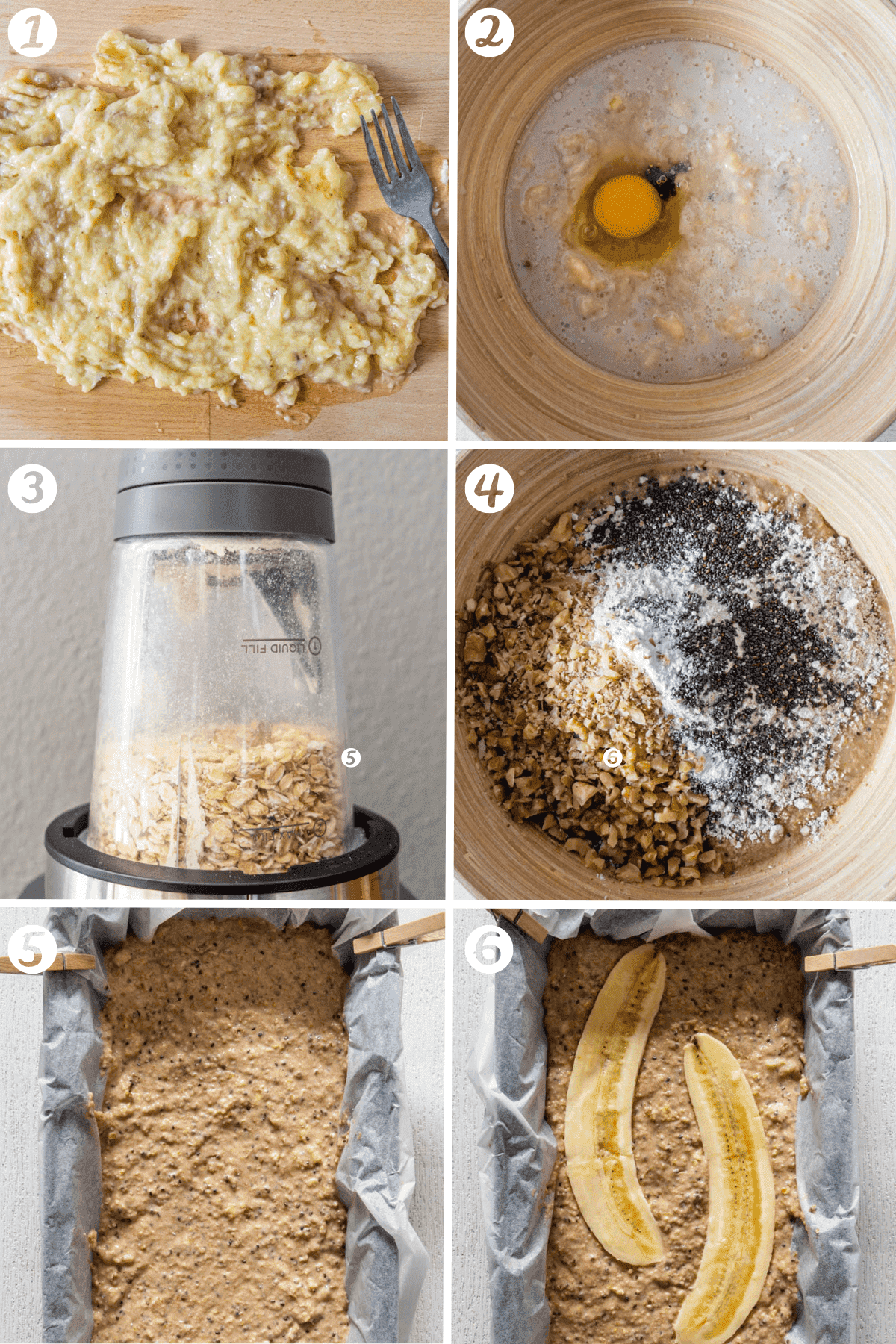 Preheat oven to 180°C/350°F. Start by mashing ripe bananas with the back of a fork and add to a big bowl
Add all wet ingredients and mix well (egg, coconut oil, maple syrup or honey, almond milk and vanilla extract) and give it a mix
Blend oats in a blender to create oat flour consistency and add to the bowl
Add all remaining dry ingredients and mix well (baking powder, chopped walnuts, chia seeds and cinnamon)
Pour into a lined baking tin and flatten the top with a spatula. I like to also give the tin a couple of taps on the table so the mixture evens out
Garnish with an additional banana on top (optional). Slice in half lengthways and slightly press into the batter before placing in the oven

Bake for 45 minutes and check that it's cooked by sticking a toothpick inside and see if it comes out clean. Let it rest in the tin for 10 minutes before removing, then place on a cooling rack for a further 10 minutes before slicing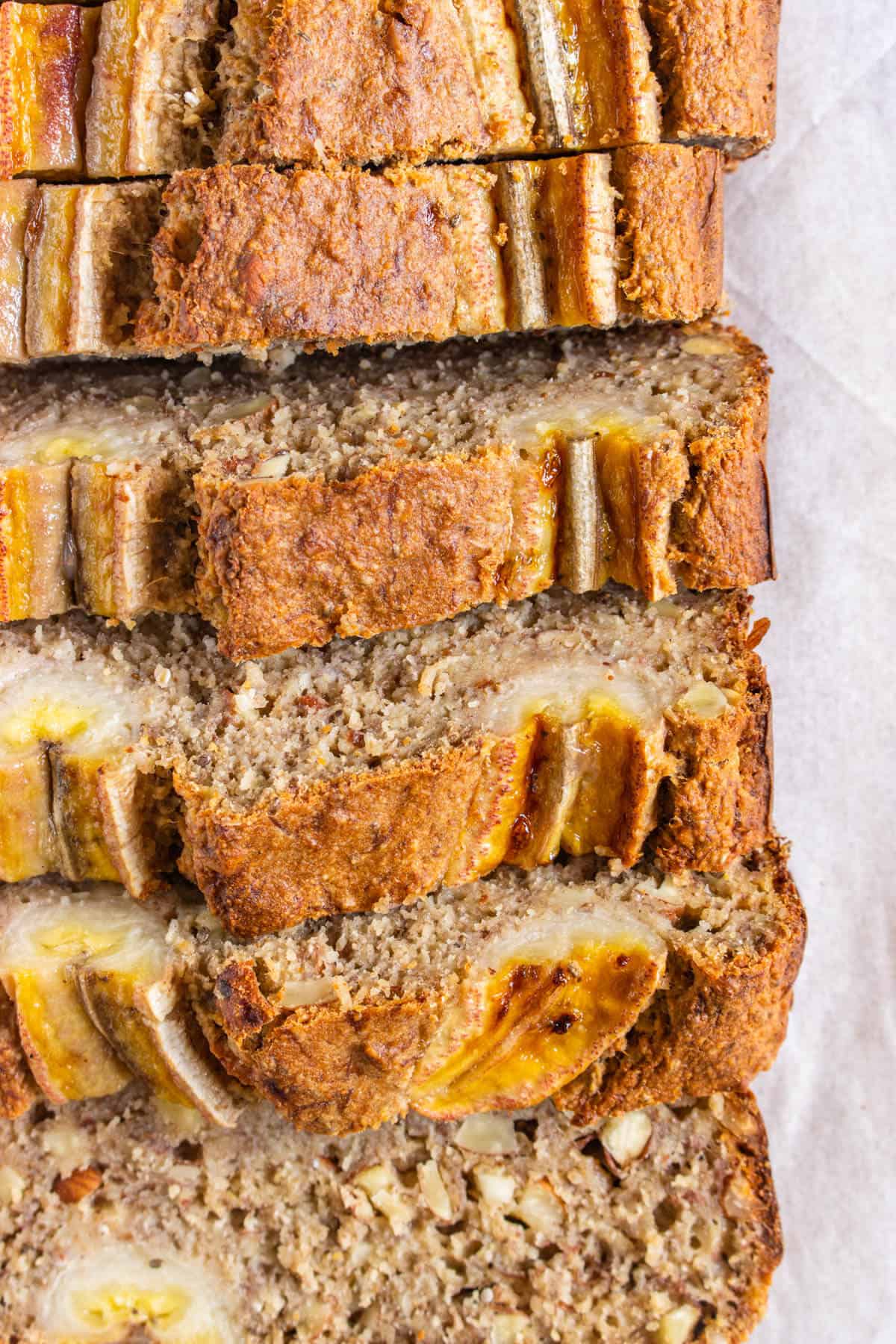 Tips & Tricks
Use overripe bananas, the riper the bananas, the sweeter and more flavorful your banana bread will be. If you have bananas that are turning brown and spotty, don't throw them away!
A crucial step is to allow the banana bread to cool in its baking tin when removed from the oven for 10 minutes. Once removed, its best to also allow it to rest on a cooling rack for a further 10 minutes minimum before slicing.
It stores in the fridge for about 5 days...if it lasts that long! Keep in an airtight container. Toast or heat in the microwave or toaster oven and it's as good as newly baked!
FAQs
Can I add chocolate chips to the banana bread?
Yes, you can also add chocolate chips to make this a chocolate chip banana bread!
Can I freeze banana bread?
Yes, banana bread can be frozen for up to 2-3 months. Wrap in plastic wrap or place it in a freezer bag, zip lock bag or container. Before serving, thaw the bread to room temperature
How do I know when the banana bread is fully cooked?
Check the banana bread is cooked by sticking a toothpick inside and see if it comes out clean. If the toothpick comes out wet, then it needs longer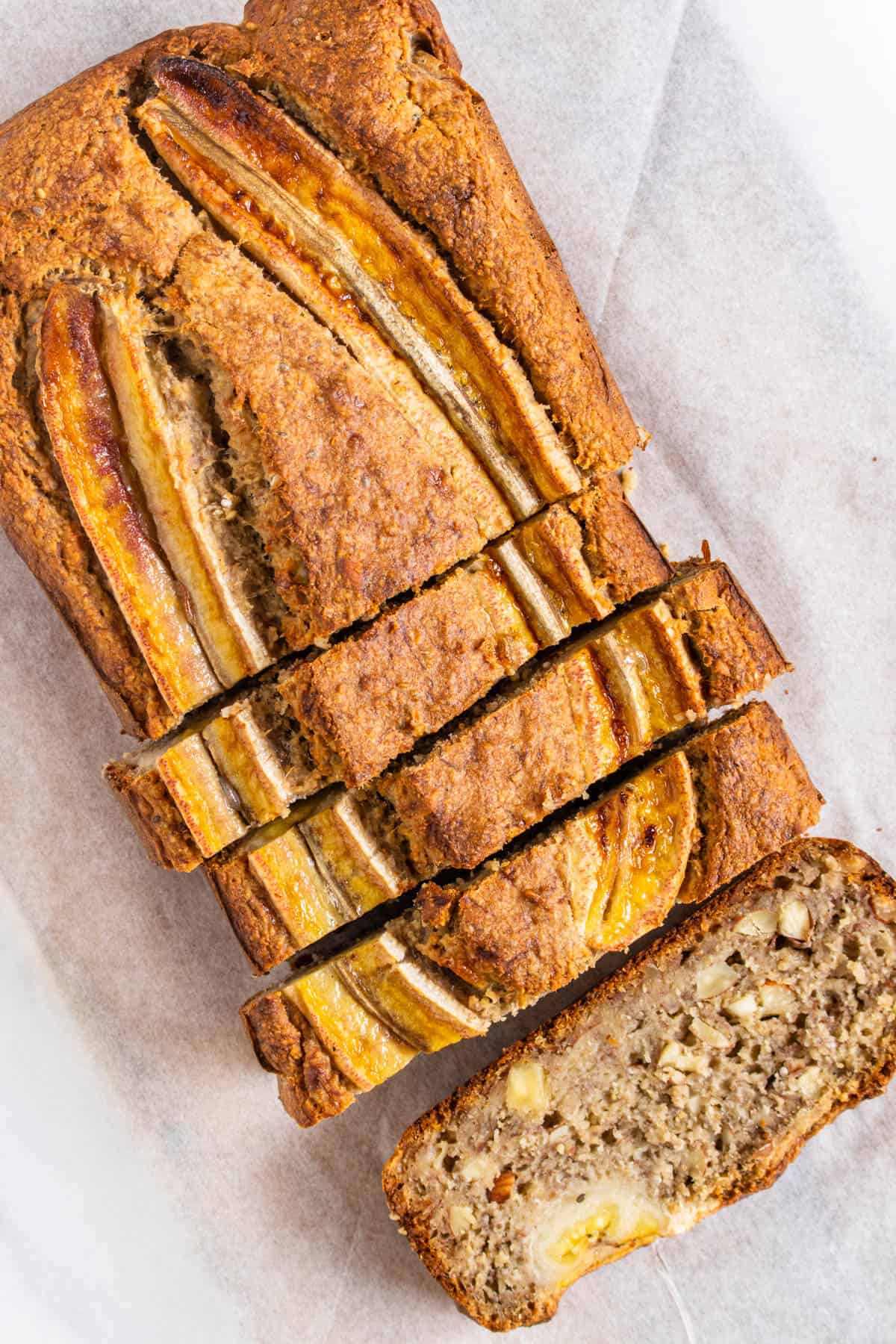 More Baking Recipes
More Bread Recipes
I love seeing your creations and remakes, so be sure to rate the recipe, comment and share your Healthy Banana Bread photo on Instagram so I can share the love!
Recipe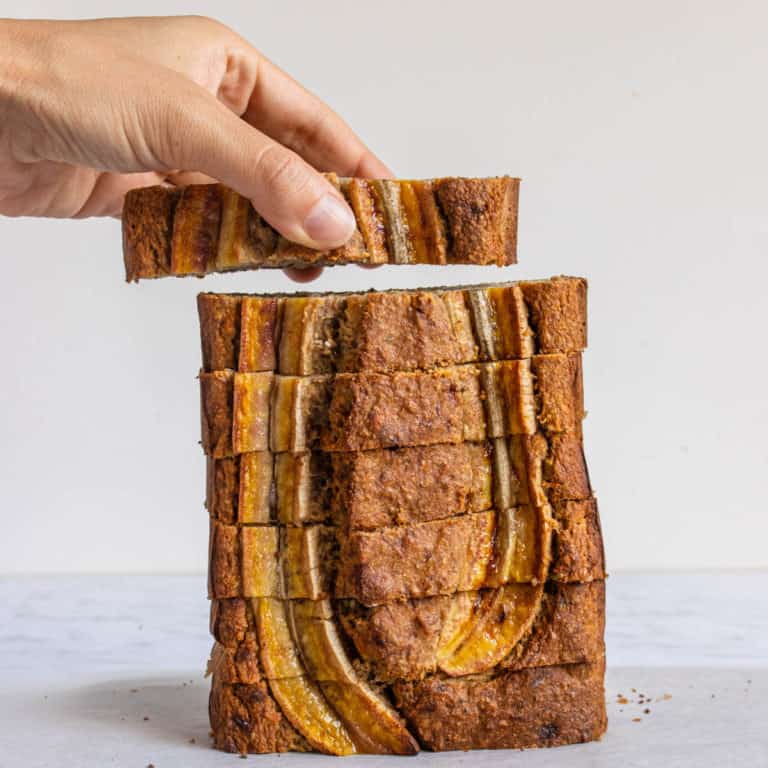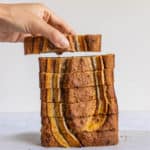 Healthy Banana Bread
This Healthy Banana Bread recipe is made with whole foods and is naturally sweetened. Packed with fiber, protein, and essential nutrients this a healthier and delicious option
Print
Ingredients
Dry Ingredients
2

cups

rolled oats

2

teaspoon

baking powder

½

cup

chopped walnuts

2

tablespoon

chia seeds

½

teaspoon

ground cinnamon
Wet Ingredients
3

ripe bananas

1

extra banana for garnish

1

egg or flax egg

4

tablespoon

melted coconut oil

2

tablespoon

pure maple syrup or honey

½

cup

almond milk

Dash of vanilla extract
Instructions
Preheat your oven to 180°C/350°F

Mash bananas and add to a large mixing bowl

Add all wet ingredients to the bowl and stir together

Blend oats in a blender to create oat flour consistency and add to the bowl

Add all remaining dry ingredients and mix well

Pour into a lined loaf pan and for garnish slice a banana in half lengthways and slightly press into the batter before placing in the oven for 45 minutes to 1 hour (depending on oven strength)

Check that it's cooked by sticking a toothpick inside and see if it comes out clean

Let it rest in the tin for 10 minutes before removing, then place on a cooling rack for a further 10 minutes before slicing
Nutrition
Calories:
260
kcal
|
Carbohydrates:
28
g
|
Protein:
6
g
|
Fat:
16
g
|
Saturated Fat:
6
g
|
Trans Fat:
1
g
|
Cholesterol:
16
mg
|
Sodium:
112
mg
|
Potassium:
296
mg
|
Fiber:
5
g
|
Sugar:
9
g
|
Vitamin A:
58
IU
|
Vitamin C:
4
mg
|
Calcium:
106
mg
|
Iron:
2
mg