Believe me when I say, these Parmesan Crusted Potatoes are totally worth the hype!! They are golden and crispy, packed with a cheesy, garlicky flavor and will be your new favorite way to eat potatoes. Yep they really taste like perfection!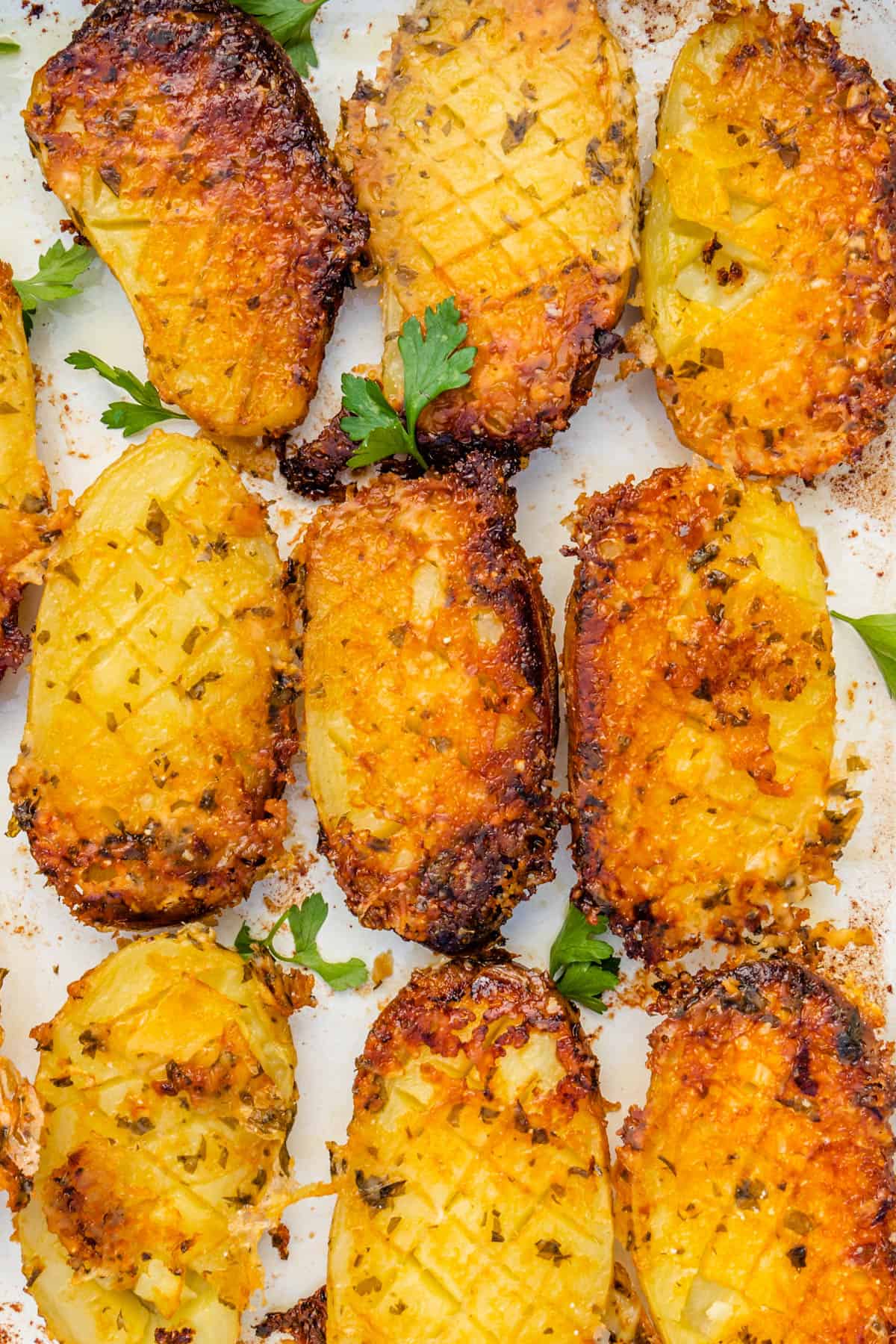 I don't know about you, but I love love love potatoes! No, I mean it! They are probably my favorite veggies and I love them cooked in basically any way.

I was totally surprised by how good these were! They're also super easy to make too which is a bonus.
You can also try this same method of a parmesan crust with other veggies, like I have with these Parmesan Carrots ....YUM!
These crispy parmesan roasted potatoes make the perfect side dish to serve over the holidays, a bbq, or a dinner party, and great for Sunday dinner.
I kept seeing these parmesan crusted potatoes trending all over social media and Tiktok and now I can see why! Roasted parmesan potatoes aren't a new thing, they have been around for years…but the step of dipping the potatoes into extra parmesan before they are roasted is a game changer! It gives a golden crust that becomes crispy and just so so good! Run, don't walk and try these!
Table of Contents
Ingredients and Substitutions
Potatoes, I've used Yukon gold potatoes which are great for roasting. Try and use small to medium sized potatoes. I like to leave the skin on myself when making crispy parmesan potatoes, but this is optional if you're not a fan. Russet potatoes and red potatoes will also work too
Extra virgin olive oil, as always is my preference. Melted butter is also really common in this recipe, but if you've been here for a while, you'll know I'm an olive oil girl 🙂 The flavor just works so well with the garlic and parmesan
Garlic cloves are grated and used for the marinade. I always prefer fresh garlic rather than garlic powder which tastes so good once roasted
Fresh parsley leaves give a lovely fresh color and flavor to the parmesan roasted potatoes. If you can't get your hands on fresh parsley, dried parsley will be fine to use too. Other dried herbs you can alternatively use are oregano, chives, rosemary, thyme or Italian seasoning
Parmesan cheese...well you can't have parmesan crusted potatoes without parmesan right! It's always best to buy a block of fresh Parmigiano Reggiano cheese and grate it yourself. It will give you so much more flavor trust me!

You can also substitute it with a vegan parmesan cheese to keep it a plant based recipe
Red pepper flakes are added for a little kick! They won't be too spicy unless you add more and want them to be 🙂 But if you prefer to leave the chili out, add cracked black pepper instead
Sea salt is also added to the marinade. You can also add a sprinkle of flakey salt upon serving them too, you won't need too much as the cheese is nice and salty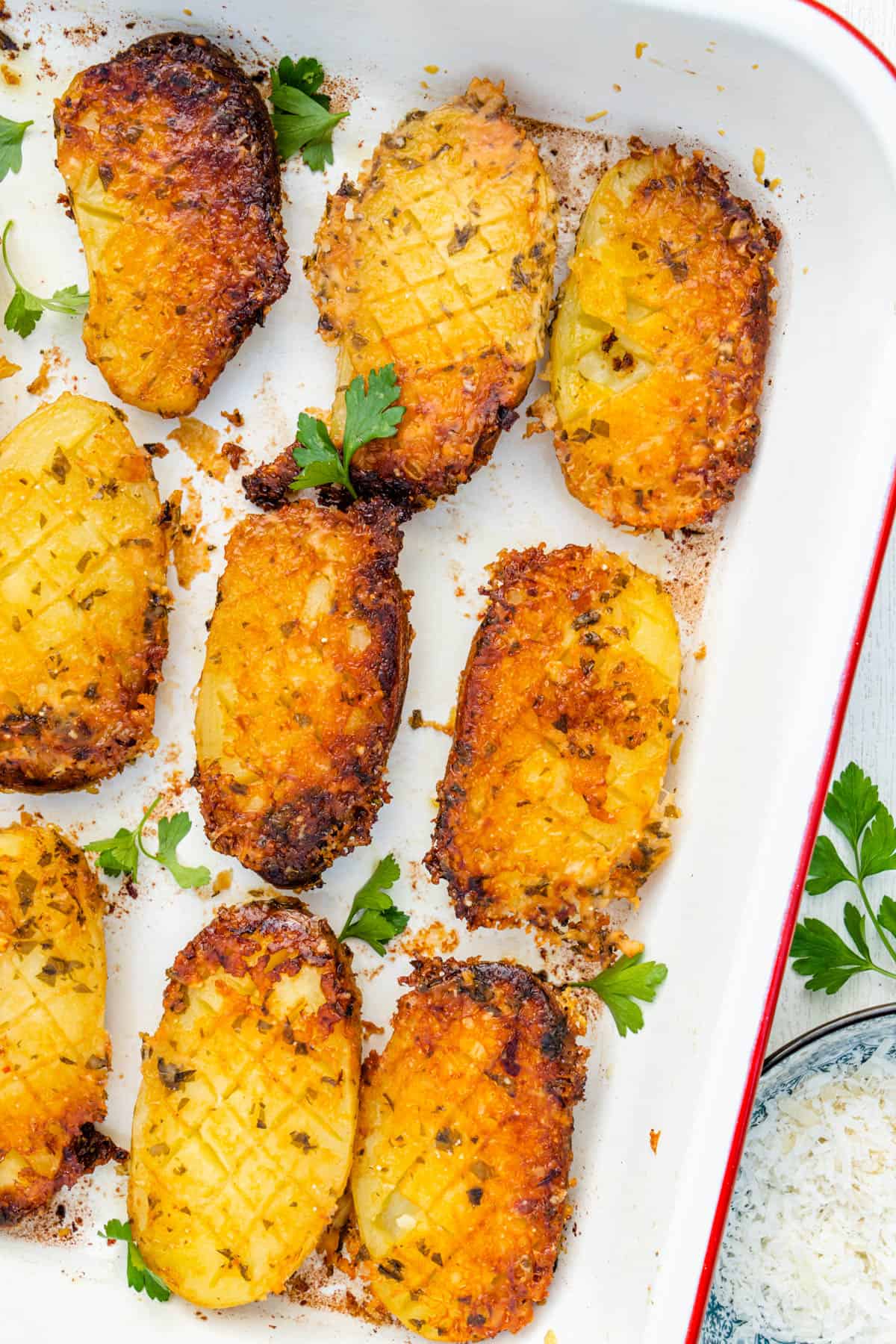 How to make Parmesan Crusted Potatoes
These popular parmesan crusted potatoes are easy to make and pack a punch of flavor! Here are my simple steps below.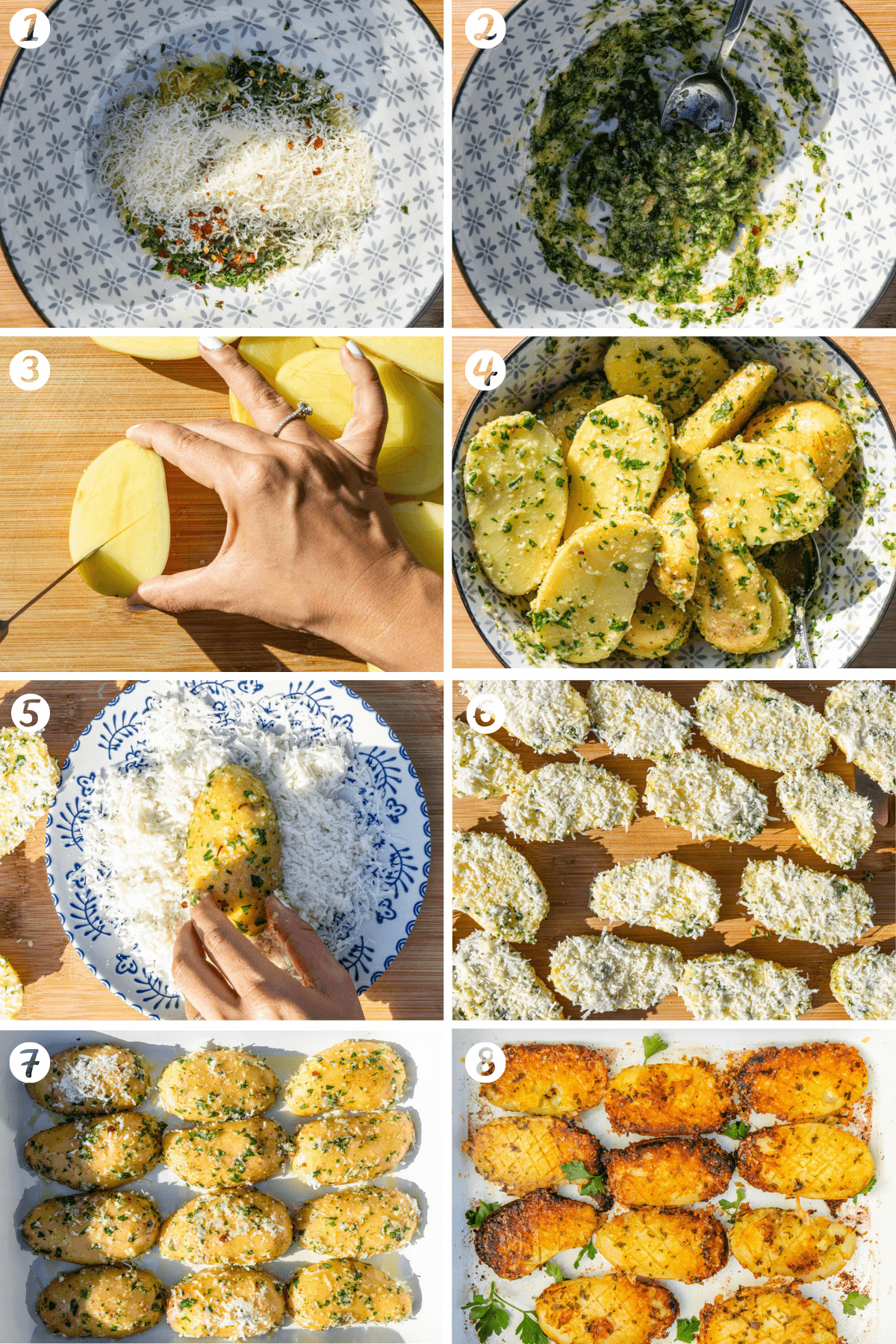 Start with a large bowl and add olive oil, garlic, parsley, salt, red pepper flakes and half of the grated parmesan cheese
Give it a good mix, it should be a thick paste consistency
Prepare the potatoes by slicing them in half, then scoring them with diagonal slits along the inside. Turn the potatoes and make diagonal slits the other way crossing over the first slices
Toss the potatoes into the marinade bowl and give it a good mix so they are coated on both sides
To a plate add the remaining parmesan cheese and then dip the cut side of the potatoes into the parmesan (this will give you that beautiful crust!)
The potatoes should be covered with parmesan on the inside, just like in the image above
Oil a baking sheet and place potatoes facing downwards. Brush on any leftover mixture and bake in the oven for 40-50 minutes
The potatoes should be cooked tender all the way through with a lovely golden coating. Now it's ready to serve!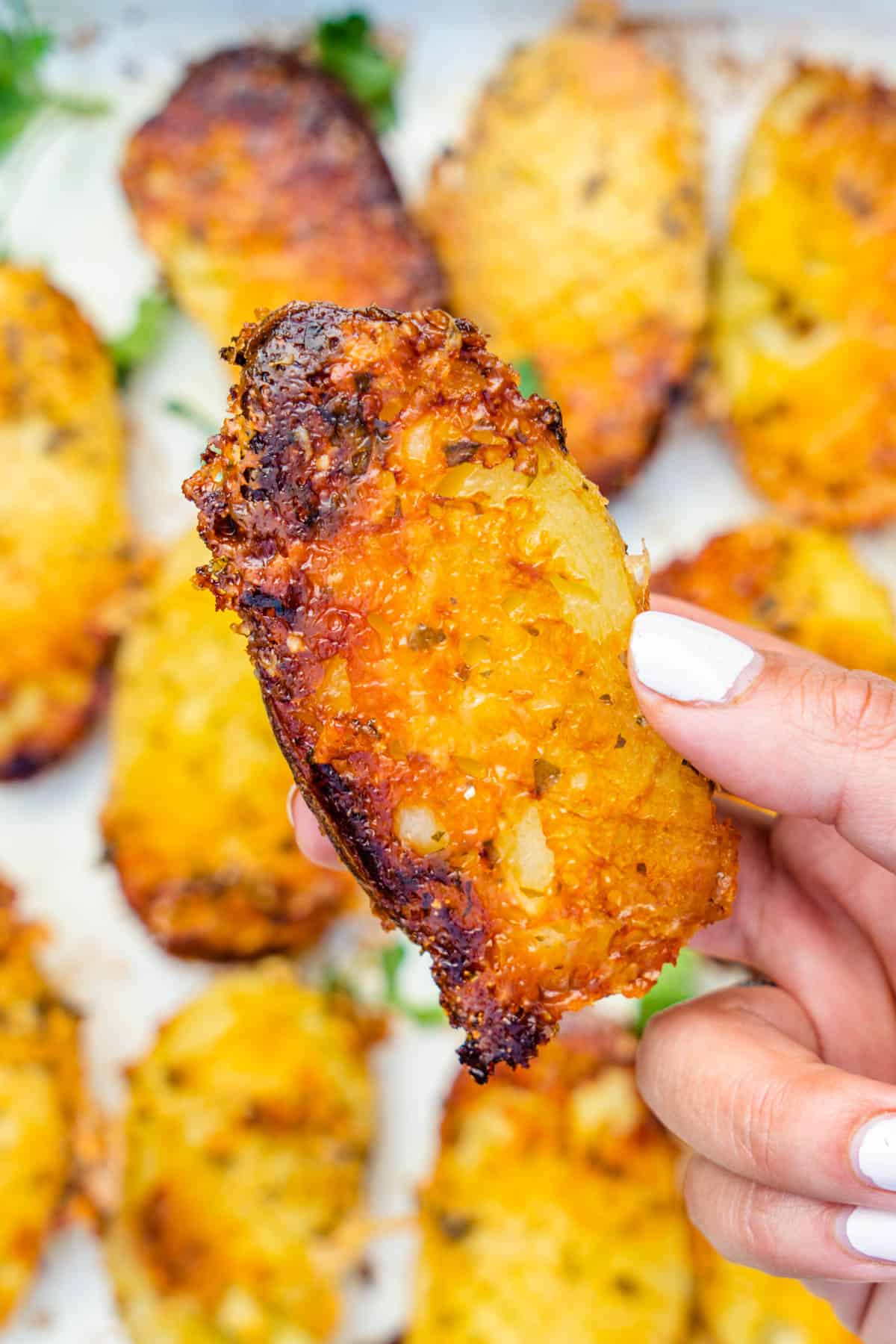 Tips and Tricks
Buy a block of fresh Parmigiano Reggiano cheese and grate it yourself! It has so much more flavor this way than buying pre-grated cheeses. I buy mine from a local Italian grocer
Ensure to finely grate the parmesan cheese. This will give you better coverage and a better crust. Looking back at my parmesan roasted potatoes now, I would have grated it even more finely if I could rewind the clock
Make sure you face the potatoes down on the baking pan in an even single layer. This will create a golden crust on the insides of the potatoes once you bake them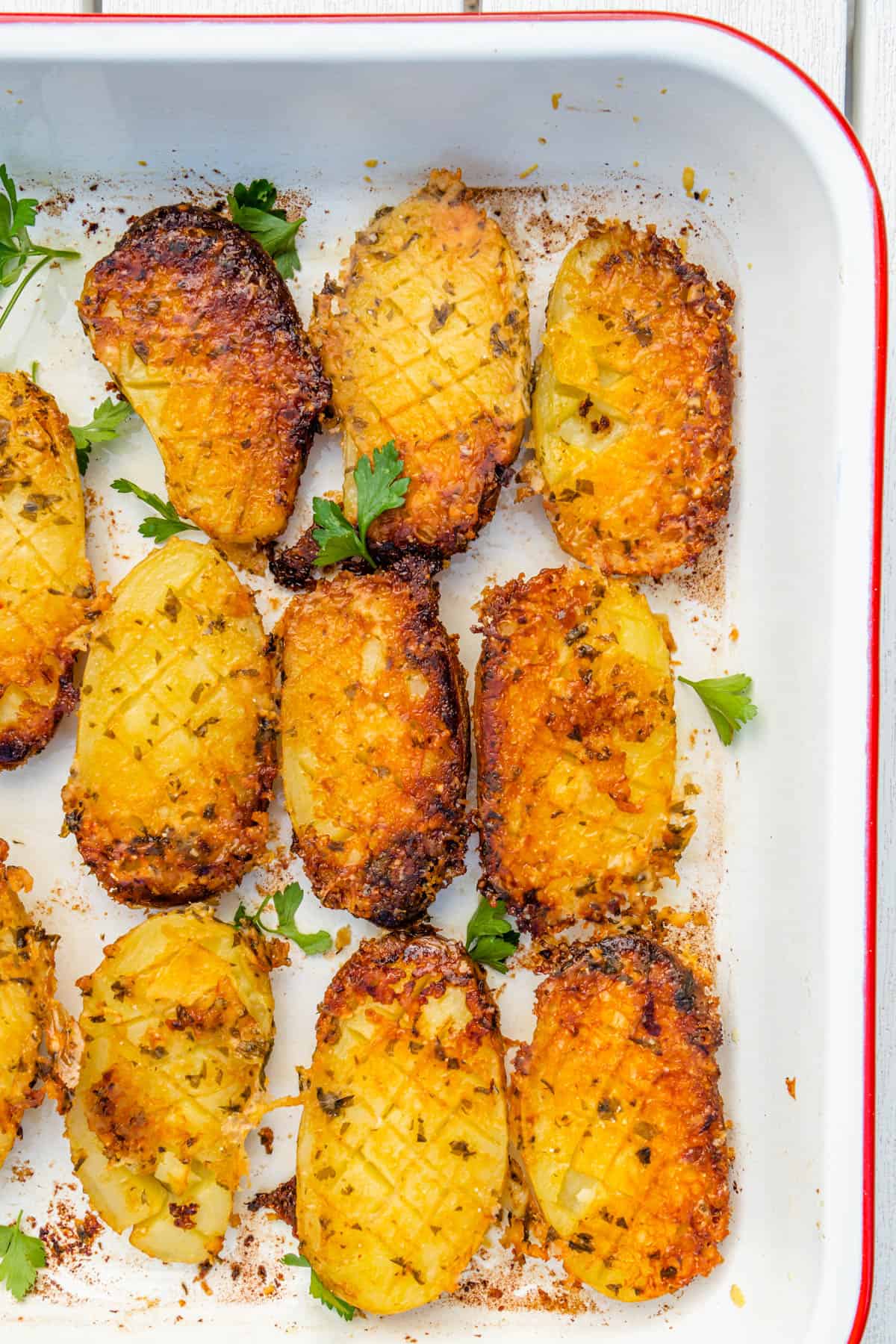 More Potato Recipes
I love seeing your creations and remakes, so be sure to rate the recipe, comment and share your Parmesan Crusted Potatoes photo on Instagram so I can share the love!
Recipe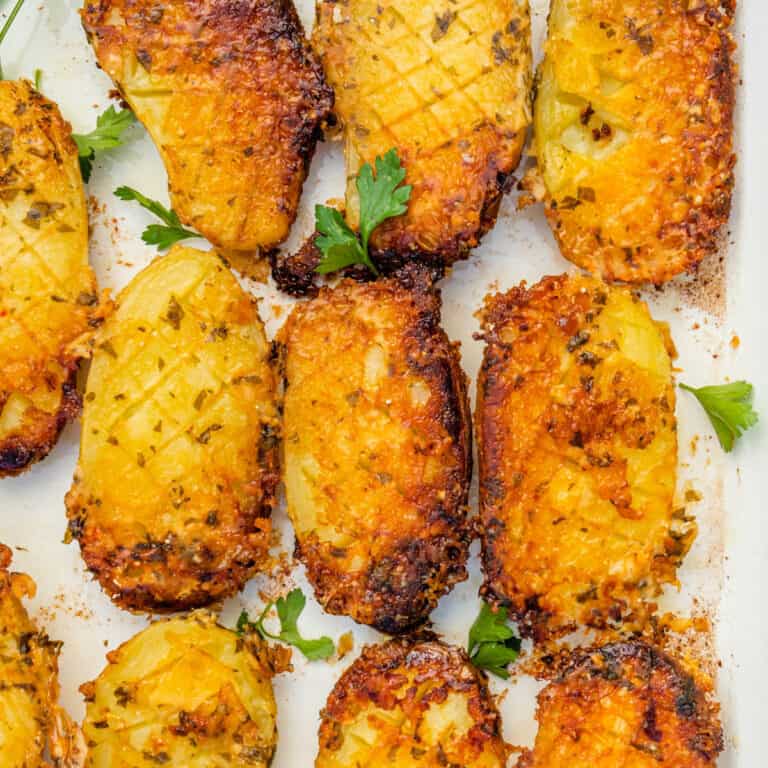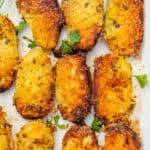 Parmesan Crusted Potatoes
These Parmesan Crusted Potatoes will be your new favorite way to eat potatoes. They are golden and crispy and taste like perfection!
Pin
Print
Rate
Ingredients
1

kg

small to medium potatoes washed (I've used yukon gold potatoes)

3-4

tablespoon

extra virgin olive oil

2

large garlic cloves grated

Handful of parsley leaves chopped

120

g

freshly grated Parmesan cheese - ensure its finely grated (Parmigiano Reggiano cheese)

Good pinch of red pepper flakes

Sea salt
Instructions
Preheat oven to 180°C/350°F

In a large bowl add the olive oil, garlic, parsley, salt, red pepper flakes and half of the finely grated parmesan cheese. Stir and there's your marinade. It should be a thick paste

Slice the potatoes in half, then score them by making diagonal slits along the inside pieces, without cutting all the way though. Turn the potatoes, and make diagonal slits the other way crossing over the first slices

Place the potatoes in the bowl with the marinade and make sure they're all nicely coated on both sides

Pour the remaining grated parmesan cheese onto a plate, then dip the cut side of the potatoes into the parmesan for an extra crust

Add a drizzle of olive oil or cooking spray to a baking dish, then place the potatoes cut facing down in an even layer. Brush on any leftover mixture and bake in the oven for 40-50 minutes (until they're cooked tender all the way the through with a lovely golden brown crust)

Serve them up and enjoy your crispy roasted Parmesan Crusted Potatoes
Nutrition
Calories:
218
kcal
|
Carbohydrates:
23
g
|
Protein:
8
g
|
Fat:
11
g
|
Saturated Fat:
3
g
|
Polyunsaturated Fat:
1
g
|
Monounsaturated Fat:
6
g
|
Cholesterol:
10
mg
|
Sodium:
249
mg
|
Potassium:
546
mg
|
Fiber:
3
g
|
Sugar:
1
g
|
Vitamin A:
166
IU
|
Vitamin C:
26
mg
|
Calcium:
195
mg
|
Iron:
1
mg