This Miso Dressing is that good you'll want to drink it! It's full of umami flavor with a tang from the ginger to freshen it up. You can add it to salads, poke bowls, veggies, and also different proteins.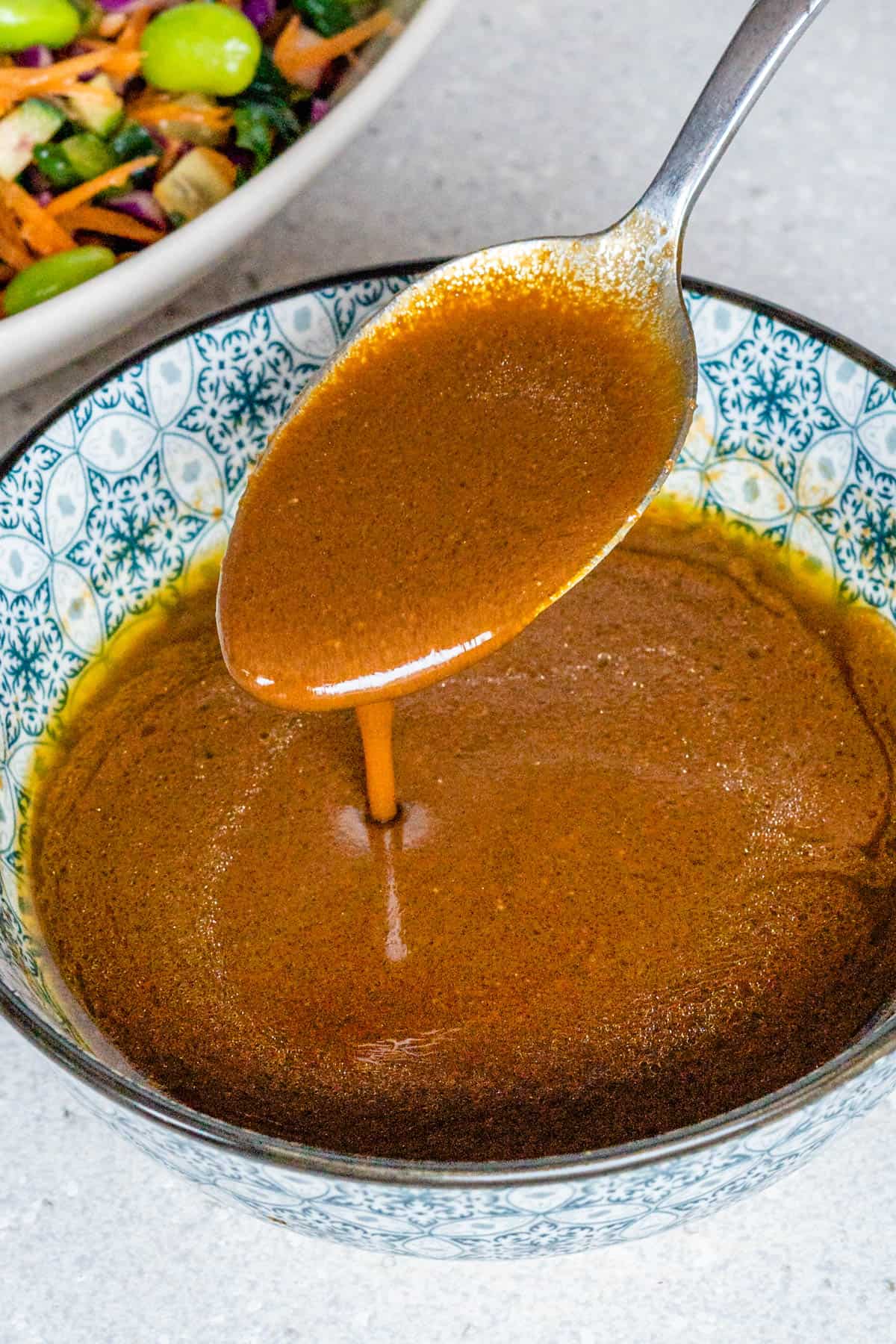 This Miso salad dressing is super easy to make in less than 5 minutes. You just add the ingredients to a bowl or mason jar, whisk together and it's done! Its also vegan and can easily be gluten free too!

The Japanese inspired dressing is also great on poke bowls, steamed or sautéed vegetables, buddha bowls and protein such as tofu, fish or chicken. It pairs so well with my Chopped Asian Salad which I can eat on repeat!
I absolutely love this miso ginger dressing! What I love is that it's one of those dressings you can add to so many dishes. I usually make a batch and keep it in the fridge as a staple so it's ready to go when I need it.
If you love Japanese cuisine like I do, you will love this dressing. It's the perfect mix of saltines from the miso and soy, along with acidity from the citrus, and tang from the fresh ginger. The miso paste however is the star with its beautiful umami flavor that's so distinct and will make your taste buds dance!
Table of Contents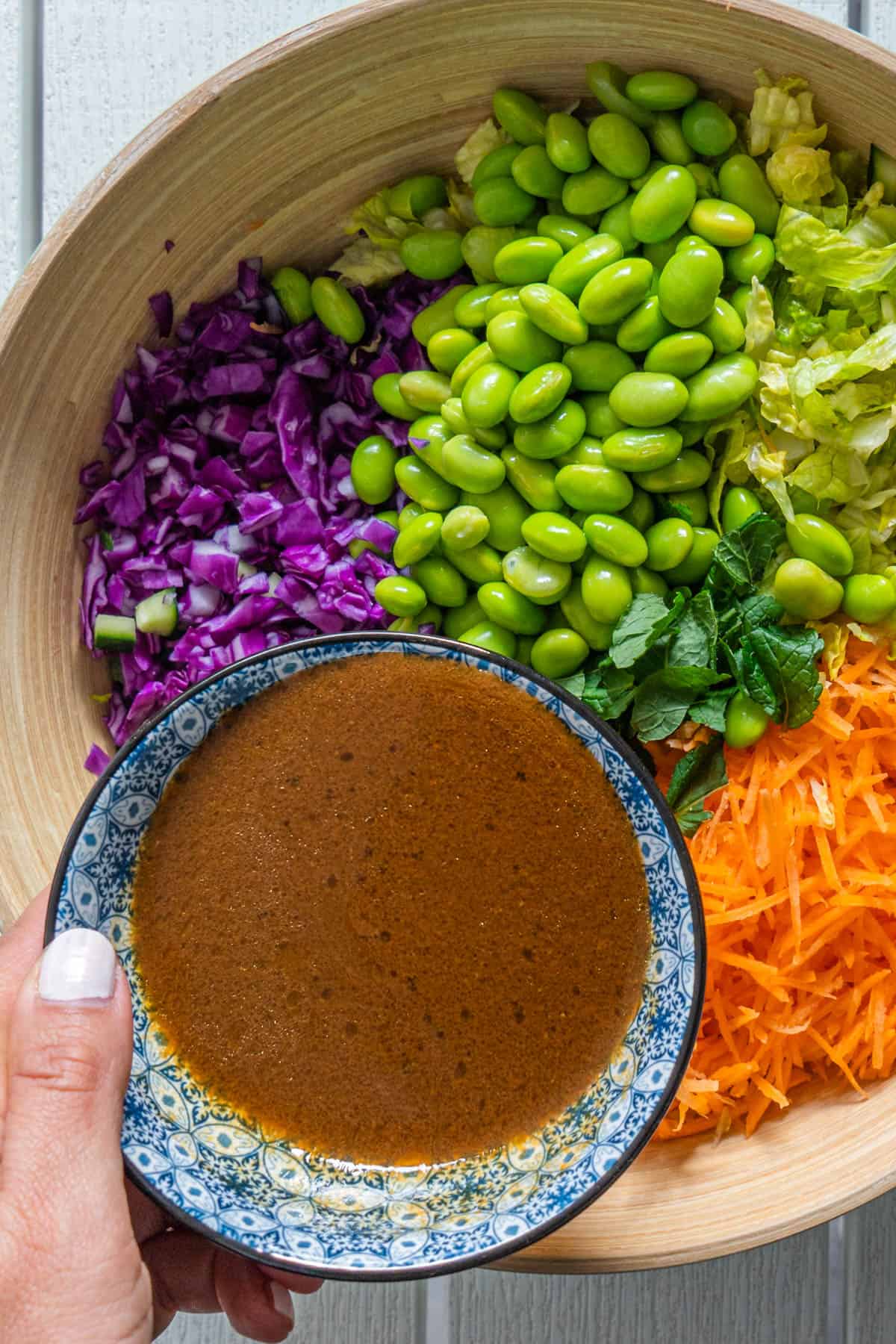 What is Miso?
Miso is a traditional Japanese paste which is made from fermented soybeans. It brings a lovely depth and umami flavor to sauces, marinades, salad dressings and soups. I can never visit a Japanese or sushi restaurant without ordering a warm bowl of miso soup yum!
Not only does miso paste taste amazing, but it's also so good for you too! It's full of nutrients and vitamins and is contains probiotics which are great for digestion and gut health.
There are 3 different types of Miso - White Miso, Yellow Miso and Red Miso. I've used White Miso in this recipe which has a milder taste. Red Miso has been fermented longer so the taste is much stronger, the Yellow Miso is in between.
Ingredients and Substitutions
Miso paste is the star of the dressing! Its packed with a lovely umami flavor that makes the dressing. I've used white miso paste in this recipe which has a milder taste (more information on miso paste above)
Ginger is always the key to my heart! I love ginger and usually double the amount in this recipe. I also prefer fresh ginger for its nice fresh tang
Soy sauce adds more depth and saltiness. You can also use tamari instead to keep the miso dressing gluten free too. I prefer using salt reduced soy sauce which has less sodium
Rice vinegar adds a light sweet acidity. Apple cider vinegar is also a great alternative
Lemon or lime juice adds a lovely citrusy taste. If you like it on the sour side, use lime over lemon which will be sweeter
Sesame oil adds a lovely nuttiness. It's quite strong so you don't need to add much. I've used regular sesame oil but you can use toasted sesame oil which is made from toasted sesame seeds. This has a stronger taste though
Extra virgin olive oil is always the base to my salad dressings as my preference. You can also substitute with your preferred oil

*If you are looking at using this miso ginger dressing for a marinade or for glazing proteins, you can reduce the amount of olive oil used which will thicken the sauce
Optional to add maple syrup, honey or agave for some sweetness. Sugar will also work too. I personally prefer the miso salad dressing on the salty side, but a touch of sweetness can balance the salt out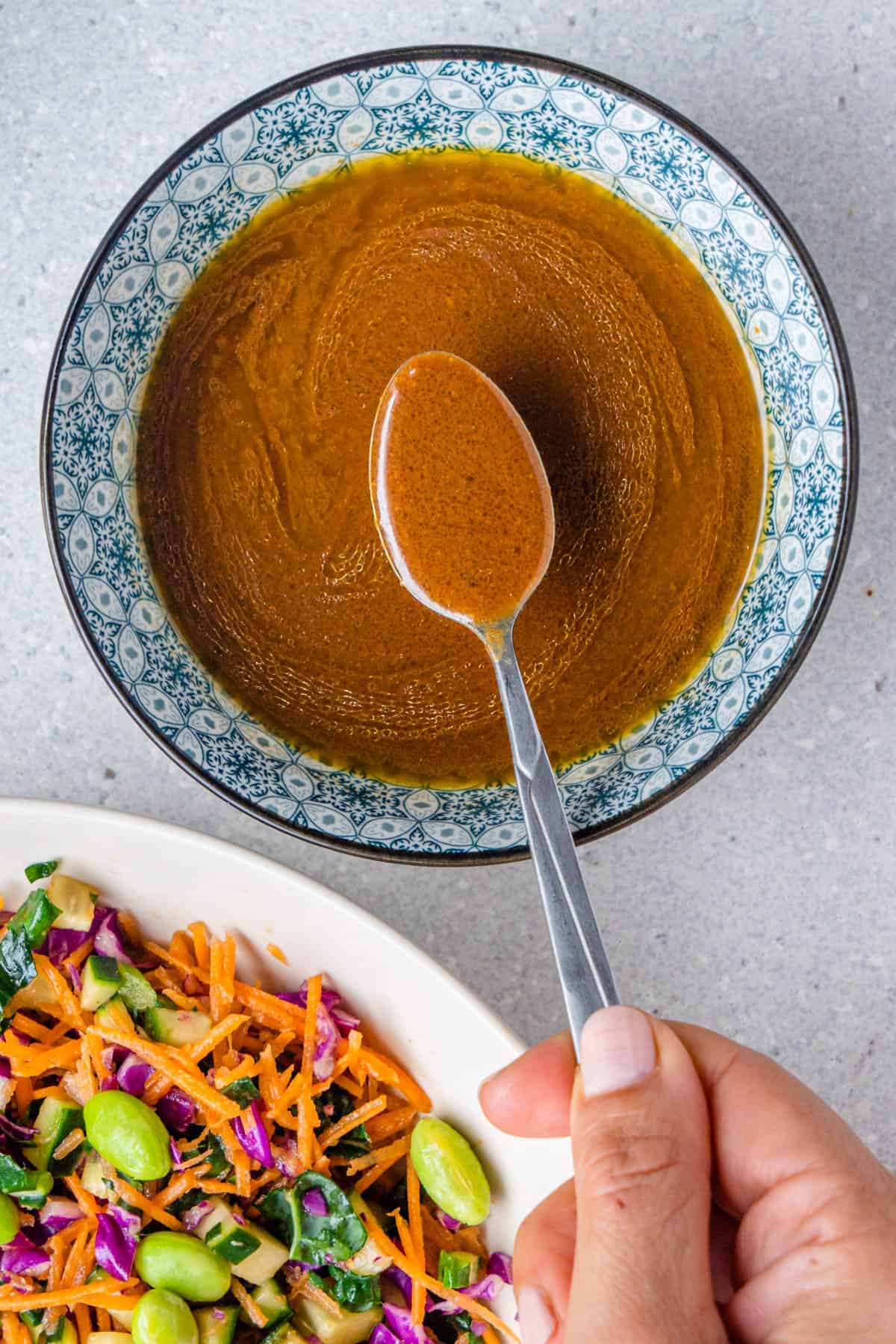 How to make Miso Dressing
Here is how you make this delicious Miso Dressing in a few simple steps.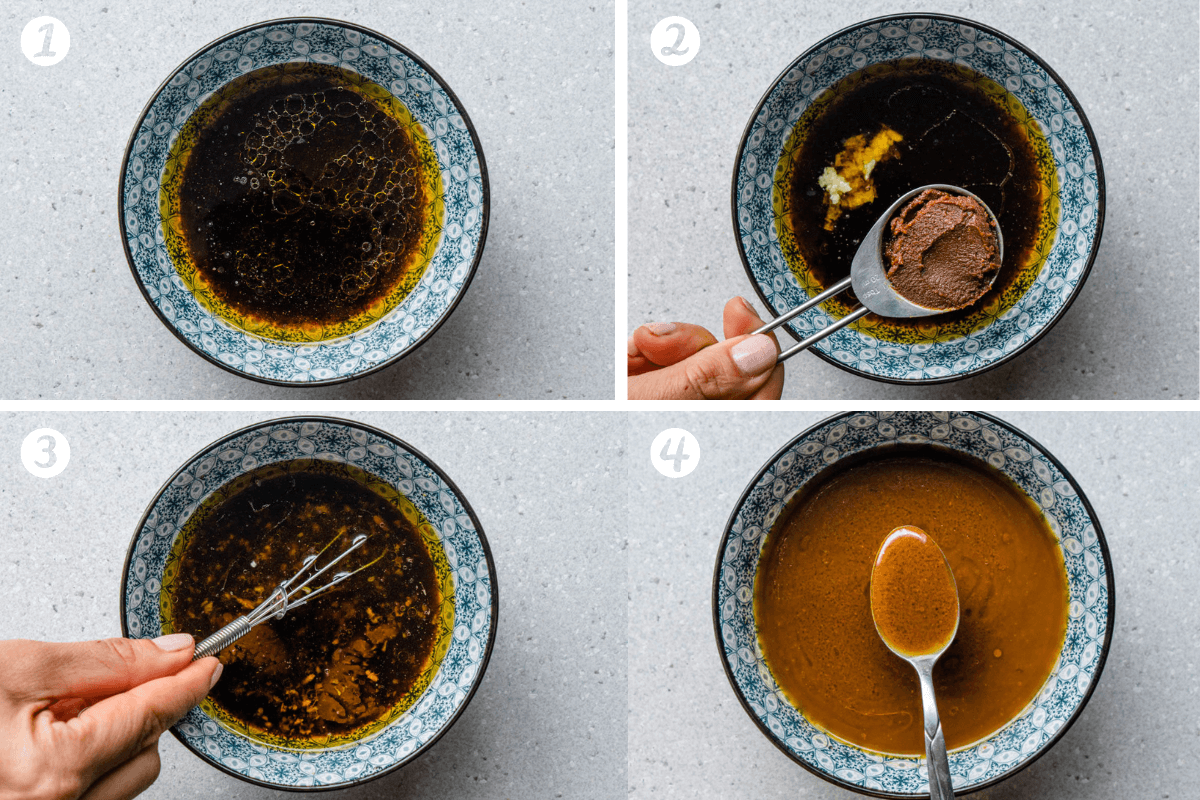 Add liquid ingredients (soy sauce, sesame oil, lemon juice, olive oil, rice wine vinegar) to a small mixing bowl
Finely grate in some ginger and add the miso paste
Whisk until well combined, making sure there are no clumps
And its done! Make sure to give it taste. If its too thick for your liking, you can add a dash of water to thin it out. Or if you like it more on the sweeter side, just add some honey or maple syrup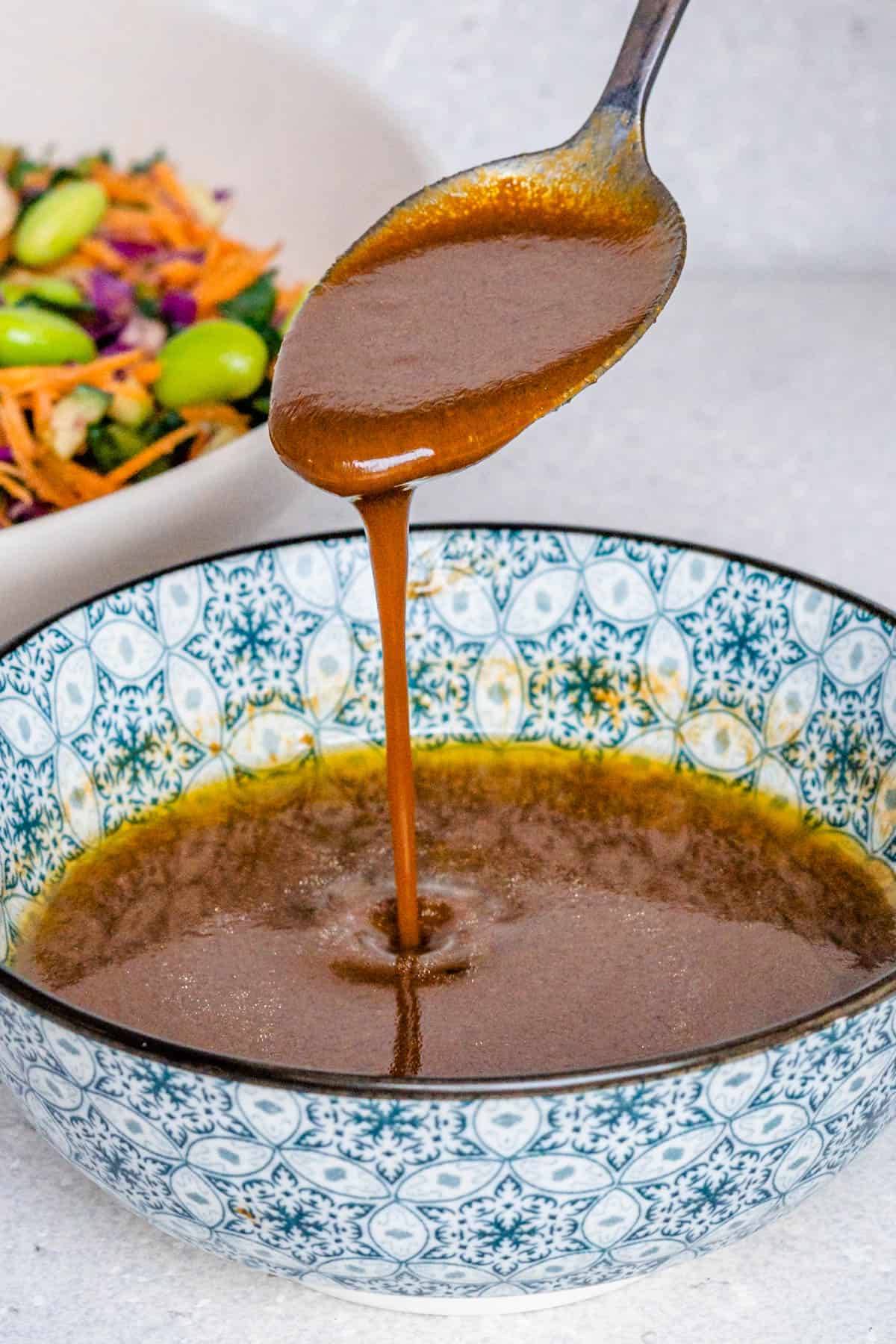 Tips and Tricks
Use high quality miso paste which does not have any preservatives and is GMO free
Ensure to whisk the dressing well until there are no clumps. You can also blend in a mini food processor or use an emulsion blender but I find a whisk works fine
Taste the dressing! We all have different taste buds so it's always best to taste dressings before adding to your salad or dish. I have some notes on the recipe where you can add some sweetness if you prefer
If using the miso dressing for dishes other than a salad, I'd suggest to reduce the olive oil amount which will then to more of a sauce than a miso salad dressing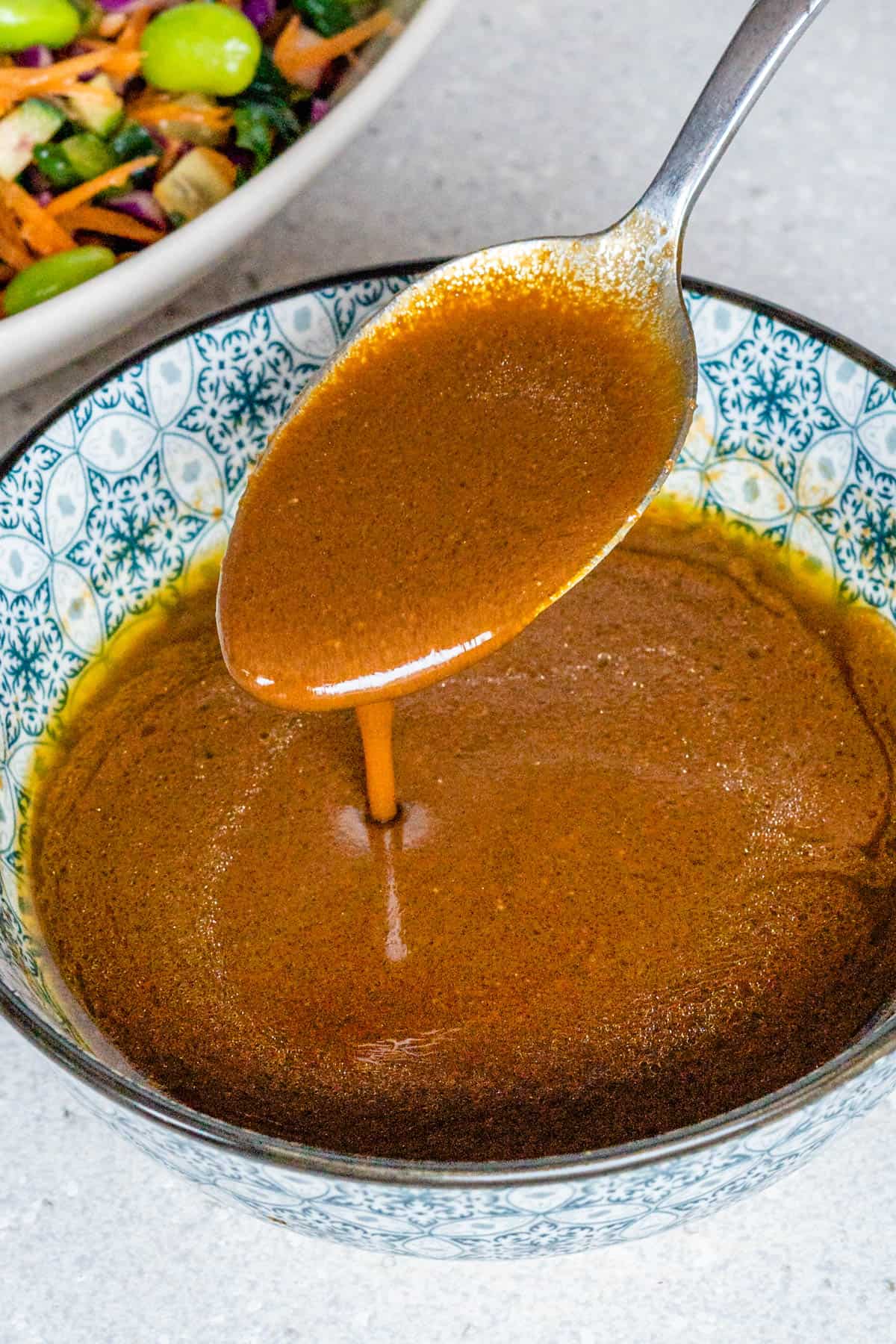 More Asian Recipes
I love seeing your creations and remakes, so be sure to rate the recipe, comment and share your Miso Dressing photo on Instagram so I can share the love!
Recipe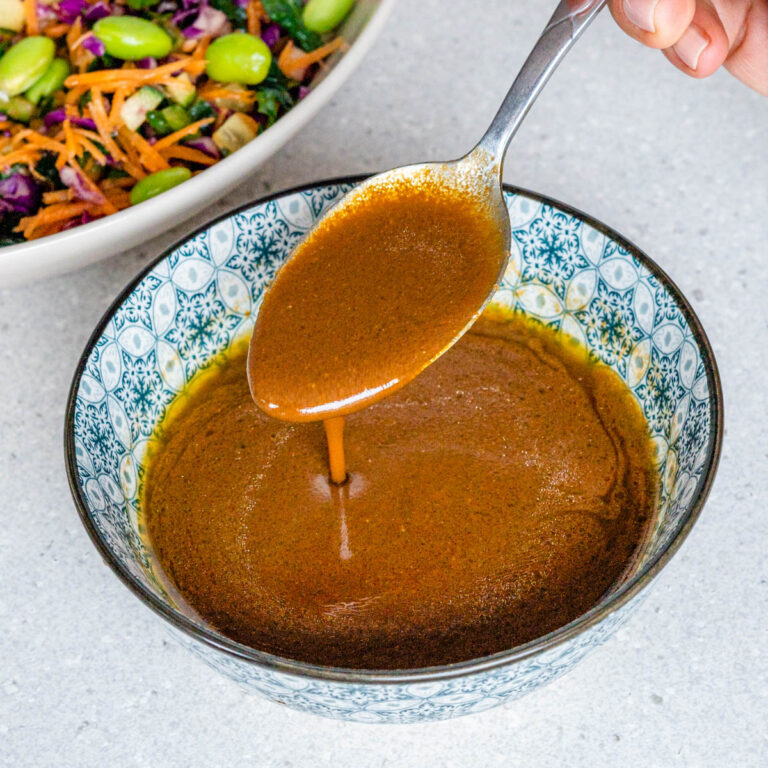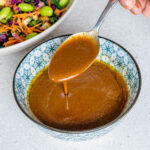 Miso Dressing
This Miso Dressing is full of umami flavor with a tang of ginger to freshen it up. You can add it to salads, poke bowls, veggies, and different proteins
Pin
Print
Rate
Ingredients
2

tablespoon

white miso paste

½

teaspoon

grated ginger (or more if you love ginger like I do)

4

tablespoon

extra virgin olive oil

1

tablespoon

sesame oil

1

tablespoon

rice wine vinegar

2

tablespoon

soy sauce or tamari (I use salt reduced)

½

lemon or lime juice

1-2

teaspoon

water (if needed)

***Optional add 1 teaspoon honey/maple syrup if you prefer it on the sweeter side
Instructions
In a bowl or mason jar, add the liquids which are the olive oil, soy sauce, sesame oil, rice wine vinegar and the lime or lemon juice

Add the miso paste, finely grate in the ginger and whisk until well combined and there are no clumps. You can also use a blender or food processor.

Drizzle this Miso Dressing over a salad such as my chopped asian salad and enjoy!

** Give it a taste, if its too thick for your liking, you can add a dash of water to thin it out. You can also add honey or maple syrup if you desire a sweeter taste
Nutrition
Calories:
145
kcal
|
Carbohydrates:
3
g
|
Protein:
2
g
|
Fat:
14
g
|
Saturated Fat:
2
g
|
Polyunsaturated Fat:
3
g
|
Monounsaturated Fat:
9
g
|
Sodium:
485
mg
|
Potassium:
53
mg
|
Fiber:
1
g
|
Sugar:
1
g
|
Vitamin A:
8
IU
|
Vitamin C:
6
mg
|
Calcium:
9
mg
|
Iron:
0.4
mg