This Limoncello Spritz is going to be your new favourite cocktail. It's refreshing, light, and is the perfect summer drink!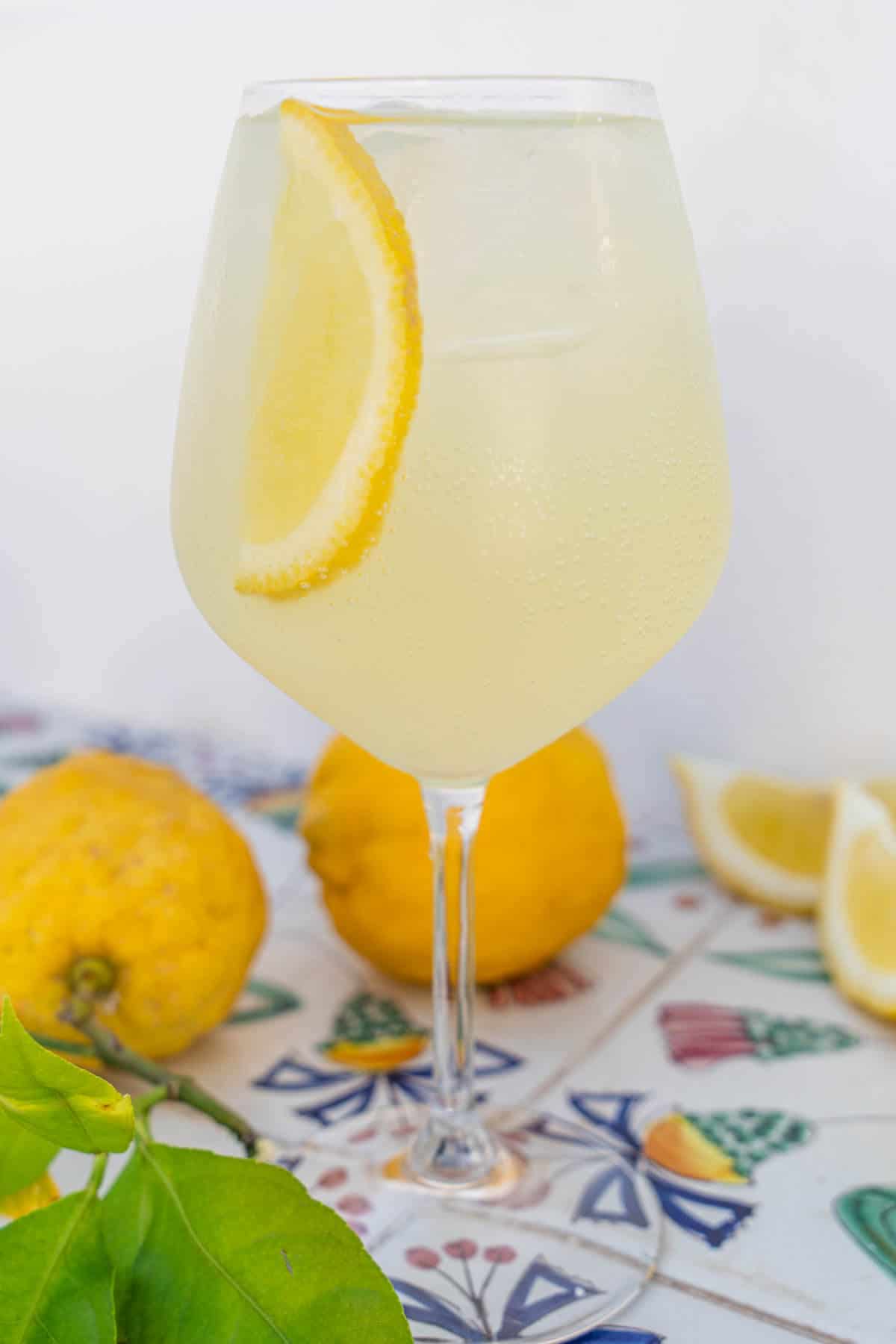 This Limoncello Spritz makes the perfect summer drink. Think of it as lemonade, but better!
You only need 3 simple ingredients to make this Italian cocktail which is a bonus too.
Drink this beautiful drink, close your eyes, and it will transport you straight to Italy!
If you've travelled to Italy, especially through summer, you will know that they take their aperitif time very seriously 🙂
Whether it's after a long day at work or on the beach, Italians love to catch up on a terrace and have a drink before dinner. It's usually served with a few snacks such as nuts, potato chips or olives, especially within their happy hour.
Want to create an Italian night? Make this spritz for aperitif and serve with some Focaccia and Bread Dipping Oil followed by my Lemon Garlic Pasta.
Table of Contents
A very popular aperitif is an Aperol Spritz which has a beautiful orange colour I'm sure you would have seen or heard of. However, there are many other spritz flavours to try too! A Limoncello Spritz is a much lighter and crisp flavour that has quickly jumped to one of my favourite drinks!
I was lucky enough to make this while travelling in Sicily, where they are known for their glorious lemons.
Through summer, you will see an abundance of lemon trees everywhere through Sicily, the Amalfi Coast and Sorrento!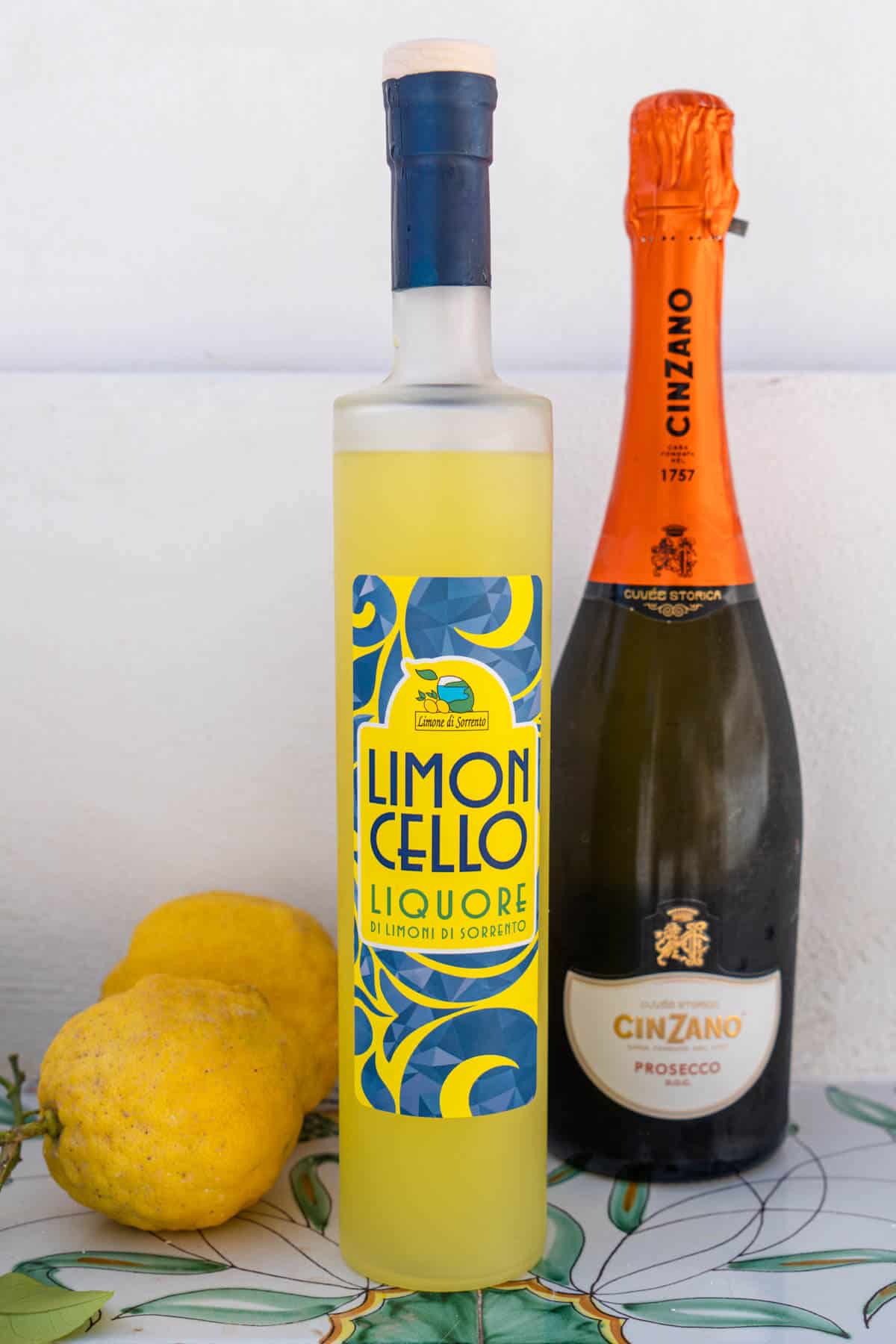 What is Limoncello?
Limoncello is a popular lemon Italian liqueur, usually produced in southern Italy where they are known for their lemons. Usually through the Amalfi Coast, Sorrento, Capri and Sicily.
It has a bright lemon flavor which is sort of sweet, sour and a little bitter at the same time. It's made from lemon zest and peels and fresh lemon juice, sugar and alcohol.
You can enjoy sipping it on its own or adding it to other drinks and Italian cocktails such as this Limoncello Spritz.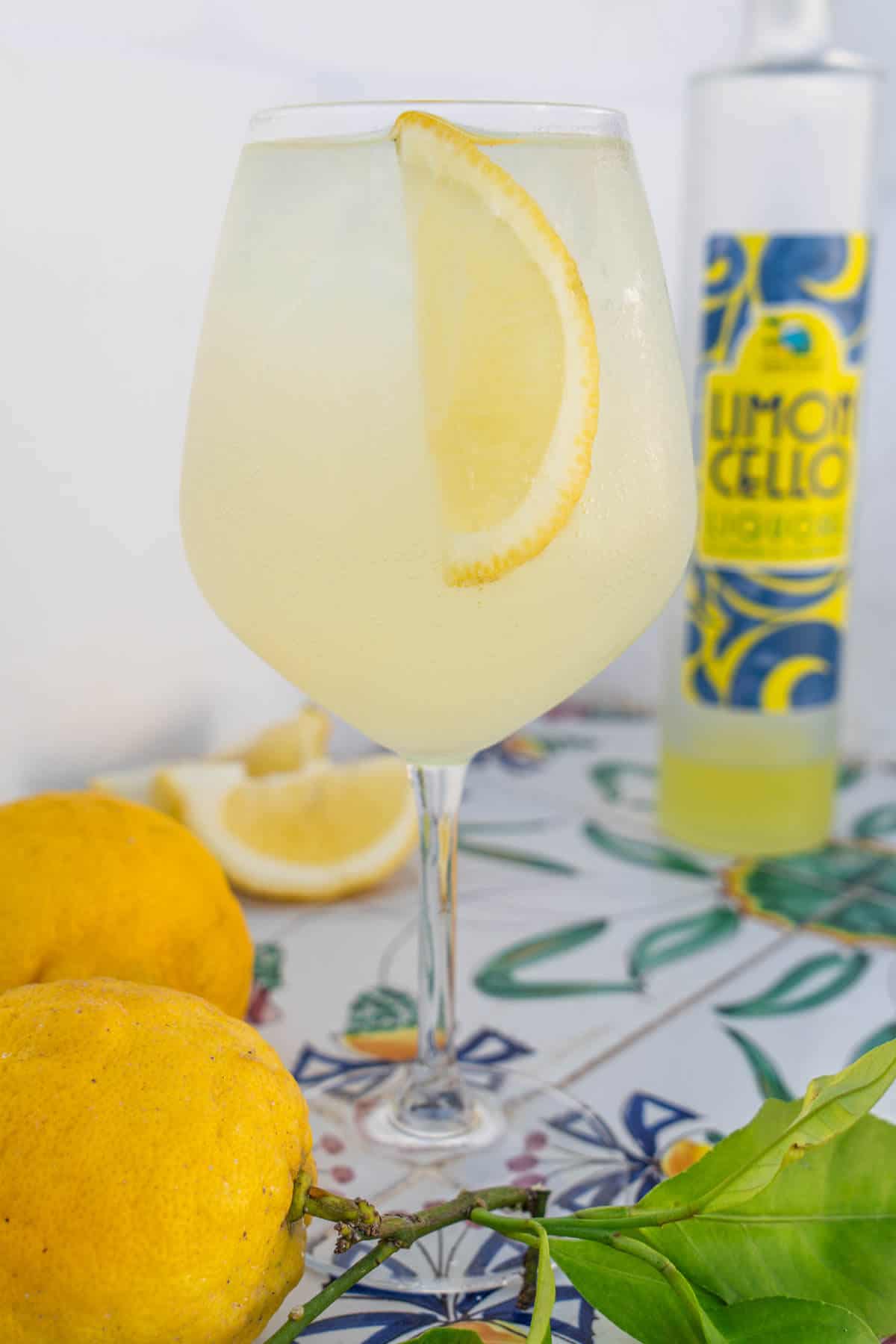 Ingredients to make Limoncello Spritz
Limoncello is of course the star of the drink! It's an Italian lemon liqueur with a strong citrus lemon flavour. You can purchase these liqueurs at liquor stores or Italian grocers and supermarkets. The better the quality of the limoncello, the better the cocktail will taste
Prosecco is the other main ingredient which is a crisp Italian sparkling wine, similar to a cuvee. It can be drunk on its own and also used to make different cocktails and spritz. If you cant find Prosecco, use a different sparkling white wine
Soda water is the third ingredient which tones down the alcohol and gives it extra fizz. Club soda will also work or tonic water, which however will make it a little sweeter. Sparkling water is another alternative however it isn't as fizzy
Garnish your Limoncello spritzer with lemon slices or fresh herbs such as basil, fresh mint, rosemary or even thyme
How to make Limoncello Spritz
The recipe for making a Limoncello Spritz is really simple and follows a 3-2-1 ratio.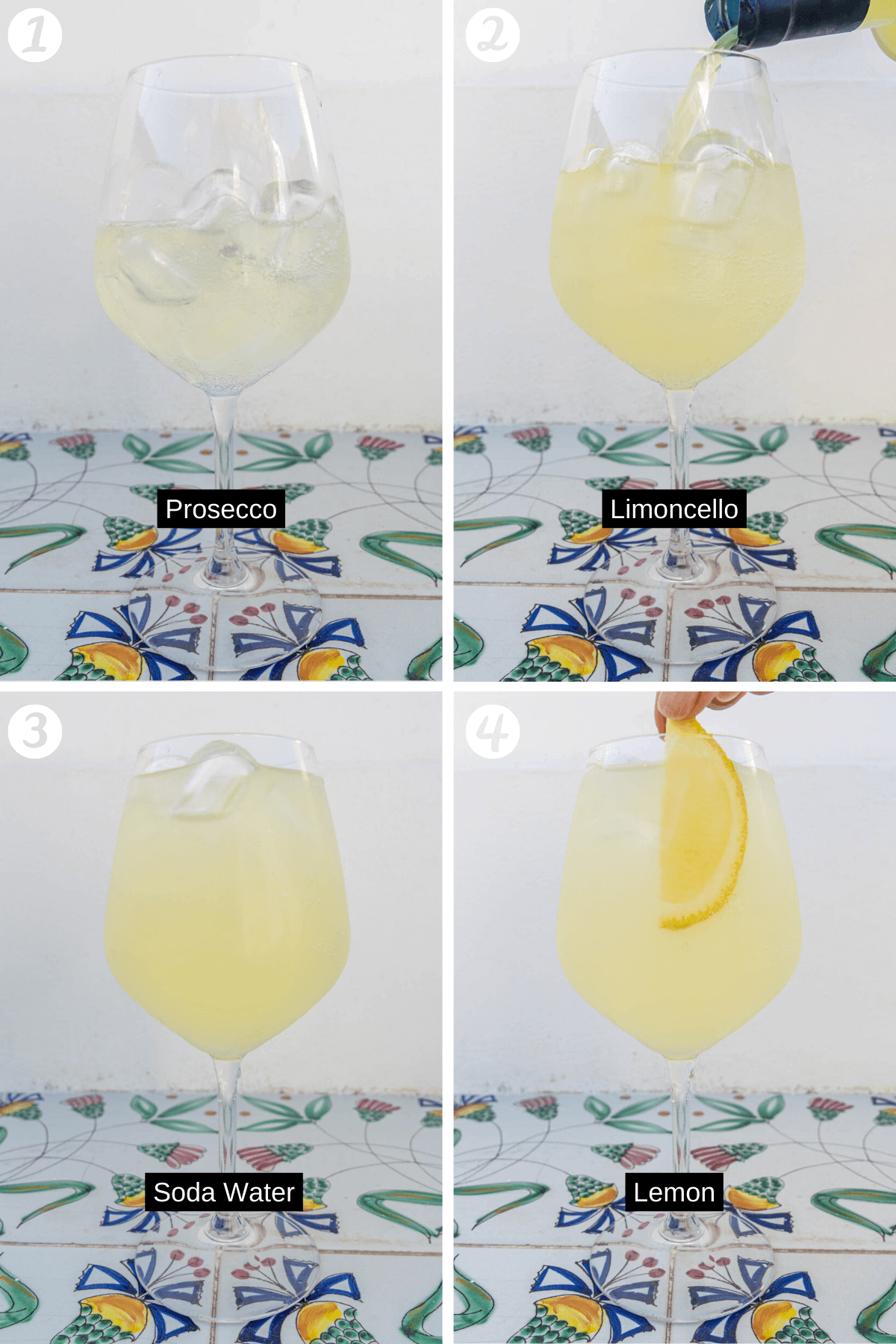 You'll need three parts prosecco, two parts limoncello, and one part soda water.
If you're having a Summer Party, a great idea is to make a pitcher of Limoncello Spritz!
I'd recommend adding the ice cubes into the wine glasses upon serving so it doesn't become watery.
Your guests will love this refreshing cocktail, especially on a hot summer day!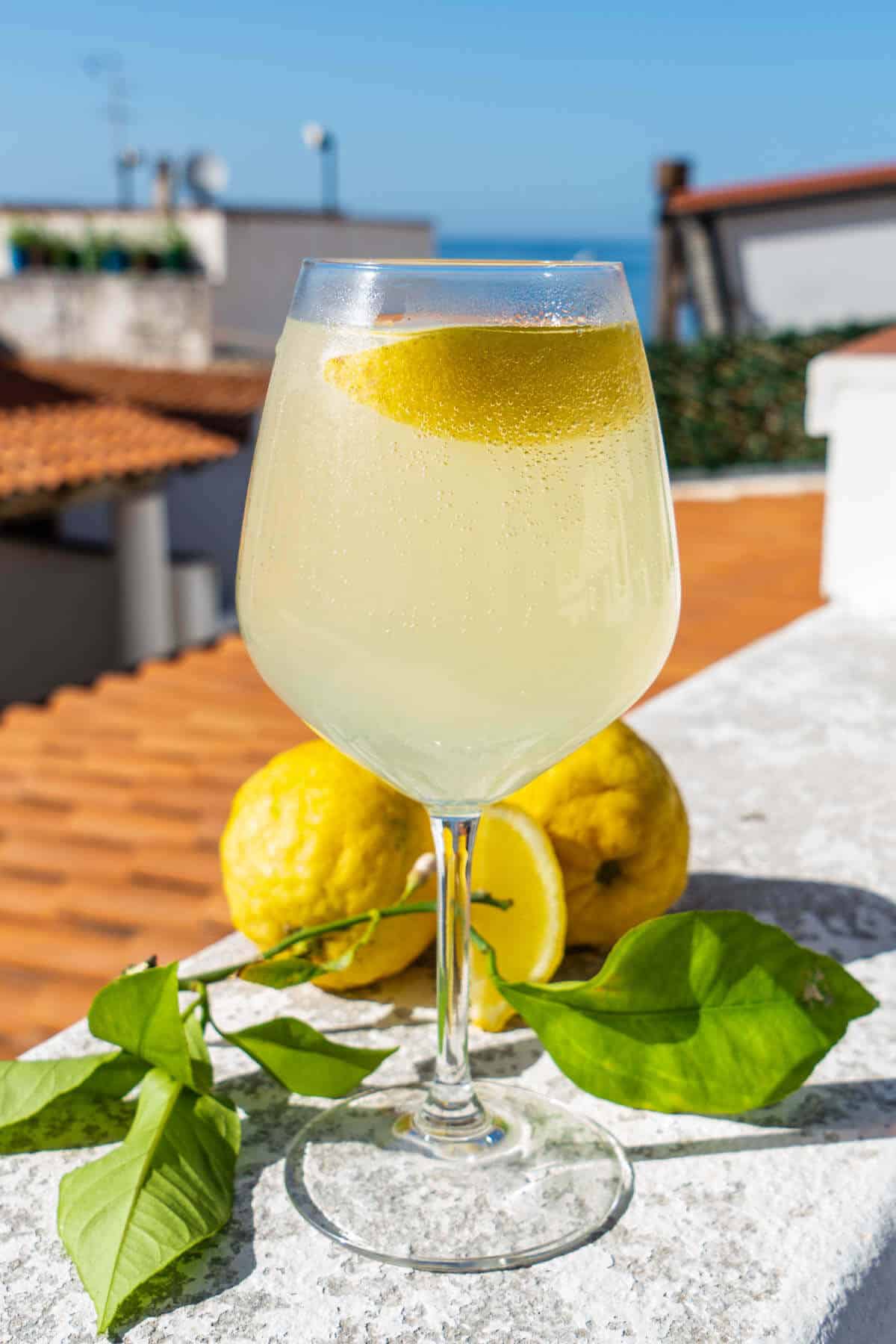 FAQs
What is the best way to drink limoncello?
Limoncello is best served when it's nice and cold from the fridge or freezer. Its usually served in a small shot glass after a meal as it can help with digestion.
Where is limoncello from?
Limoncello is mainly produced in the South of Italy where most of the Italian lemon trees are grown. Areas such as the Amalfi Coast, Sorrento, Capri, Napoli and Sicily all produce Limoncello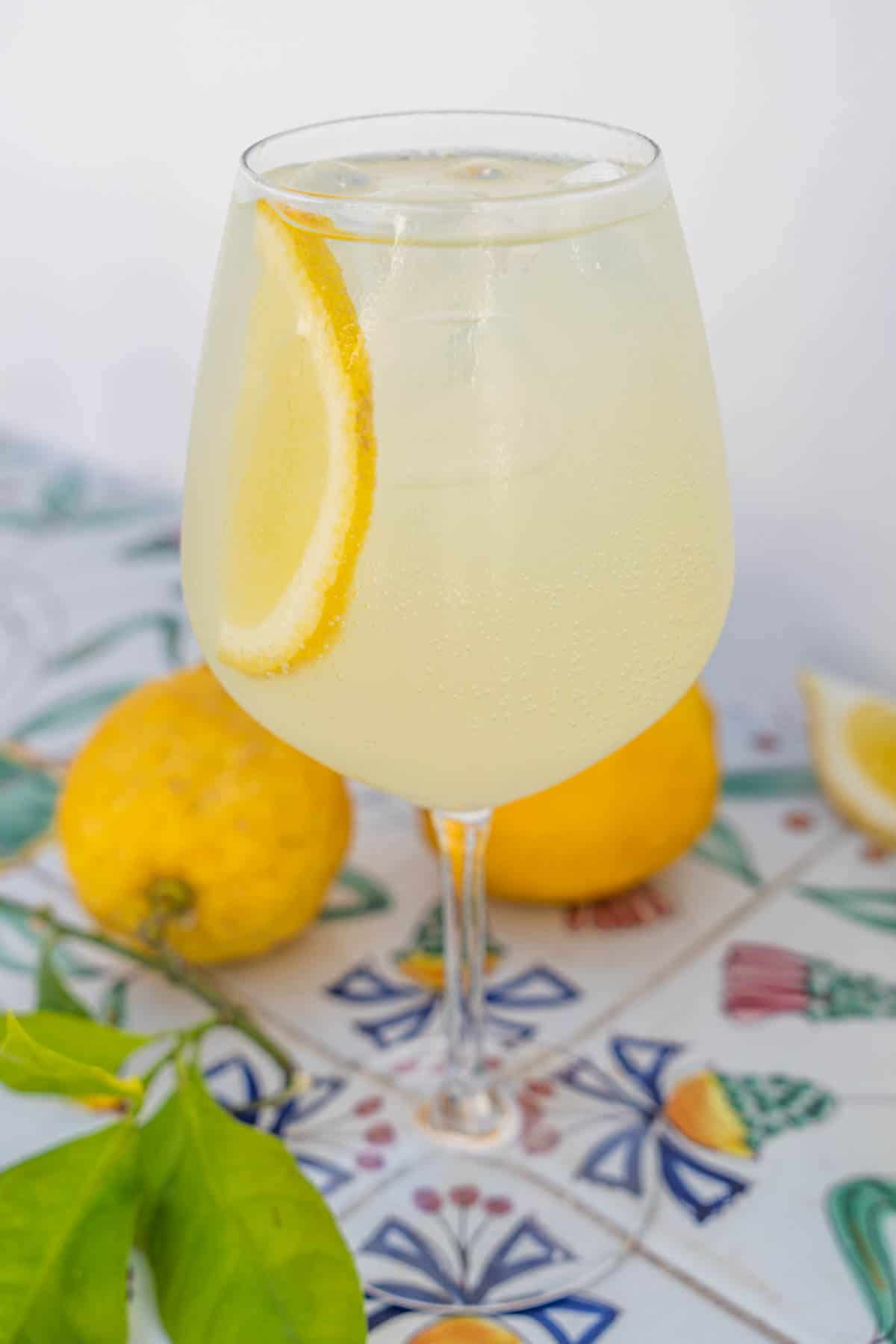 More Summer Recipes
I love seeing your creations and remakes, so be sure to rate the recipe, comment and share your Limoncello Spritz photo on Instagram so I can share the love!
Recipe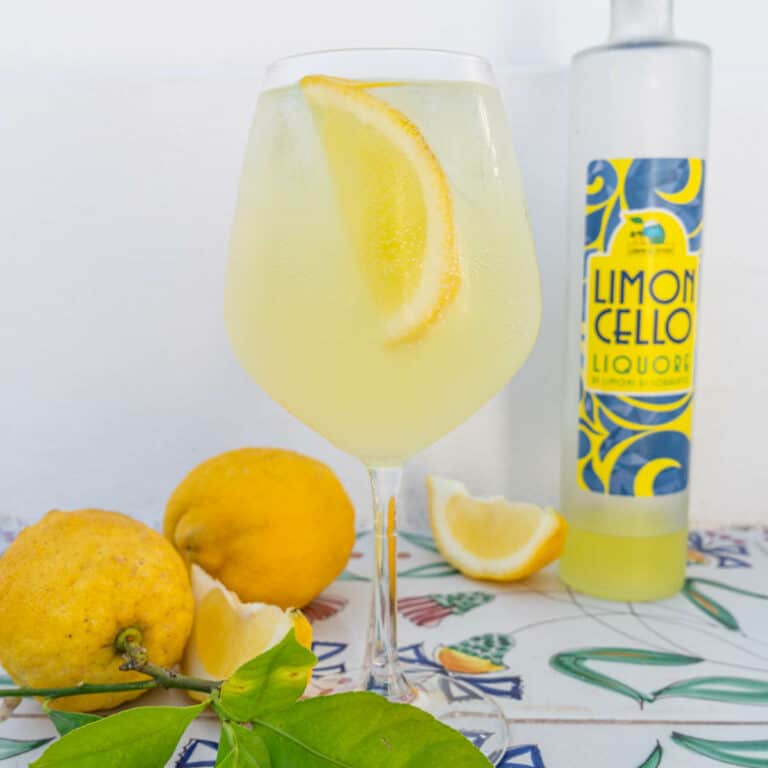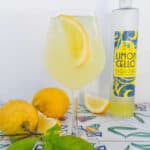 Limoncello Spritz
This Limoncello Spritz is going to be your new favourite cocktail. It's refreshing, light, and is the perfect summer drink!
Pin
Print
Rate
Ingredients
3

shots

prosecco

2

shots

limoncello

1

shot

soda water
Garnish
Lemon slice or fresh herbs
Instructions
Fill a wine glass with ice and pour in three parts prosecco, 2 parts limoncello, and one part soda water

Stir together and garnish with a lemon slice or fresh herbs and enjoy your fresh limoncello spritz!
Nutrition
Calories:
388
kcal
|
Carbohydrates:
36
g
|
Protein:
0.1
g
|
Sodium:
19
mg
|
Potassium:
118
mg
|
Sugar:
36
g
|
Calcium:
14
mg
|
Iron:
1
mg