Jump to Recipe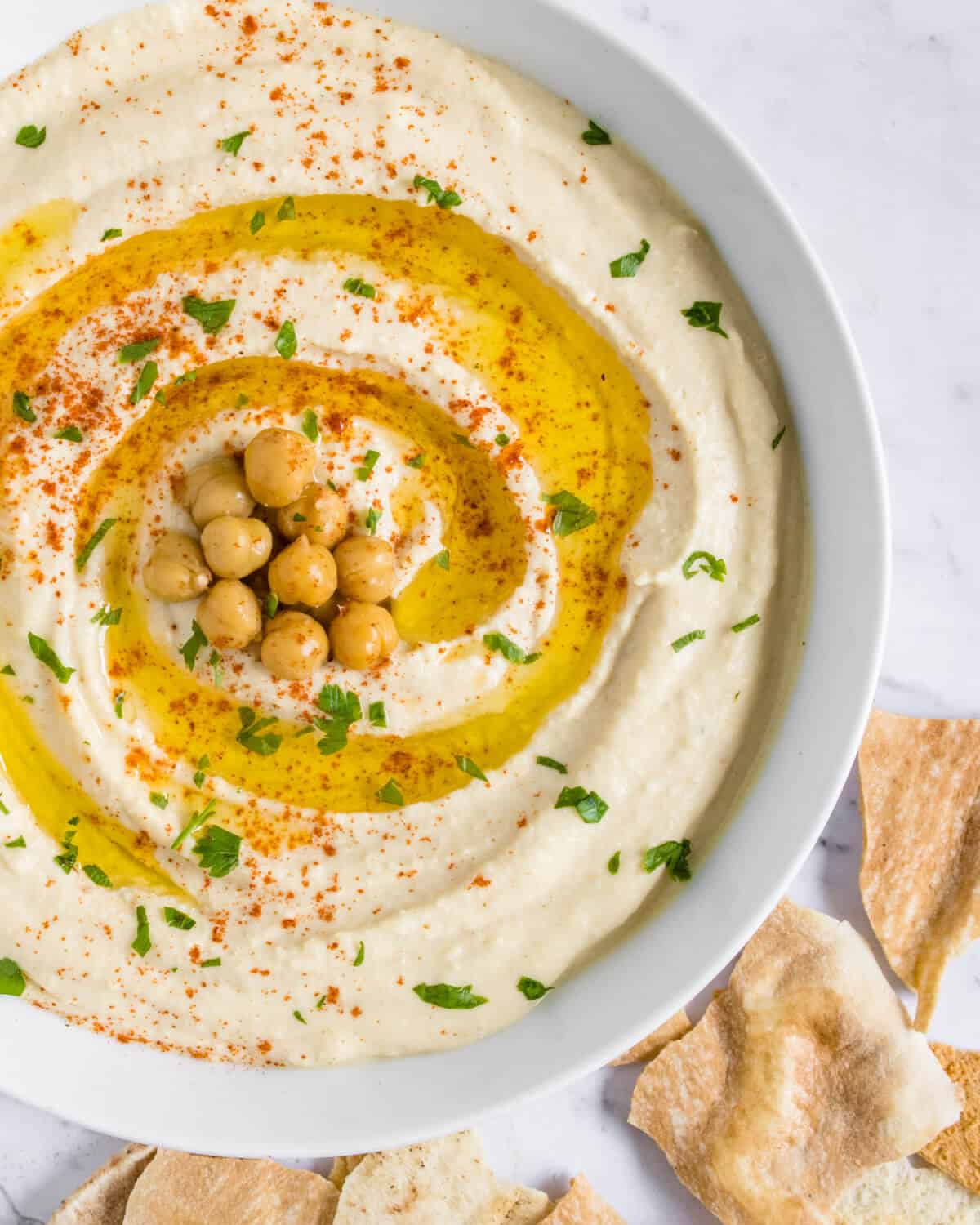 Hummus is definitely one of the most frequent dishes I make in my home, at least every fortnight. I love having it as a snack with veggie sticks and pita chips, serving as an appetizer, or even as a spread in sandwiches and wraps.
Homemade hummus tastes a thousand times better than store bought hummus, plus it's an easy recipe, all you need is a blender, 5 ingredients and it takes 10 minutes to make.
I guarantee that when you start making your own, you will never buy it again!
Hummus is delicious, super healthy with so many nutrients, and full of protein from the chickpeas so it also keeps you full. It's also a vegan recipe.
This middle eastern dish has inspired me to make other hummus variations such as my Beetroot Hummus and Avocado Hummus.
Jump to: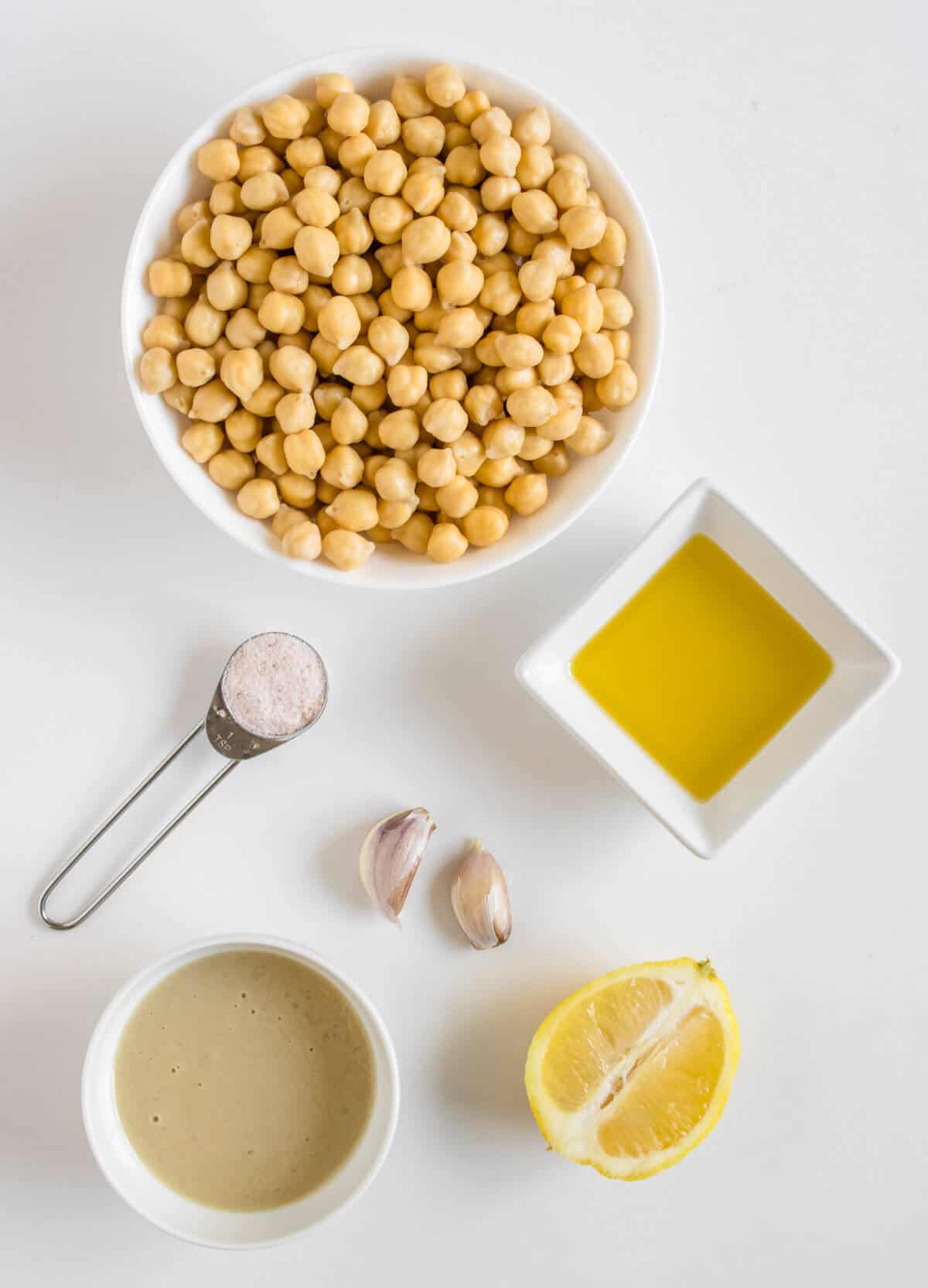 Ingredients to make homemade Hummus Recipe
Chickpeas, are the main star in making Hummus. You can use canned or dried chickpeas that have been soaked and cooked
Tahini one of the key ingredients and important for the overall texture and flavour profile of the hummus. Make sure to check the label to ensure that sesame is the only ingredient
Fresh lemon juice to provide some freshness and acidity to the dish
Garlic cloves, I like to add 1-2 cloves however if you are a garlic lover, feel free to add more
Olive oil adds to the silkiness and a good drizzle is needed for garnish. I like to use extra virgin olive oil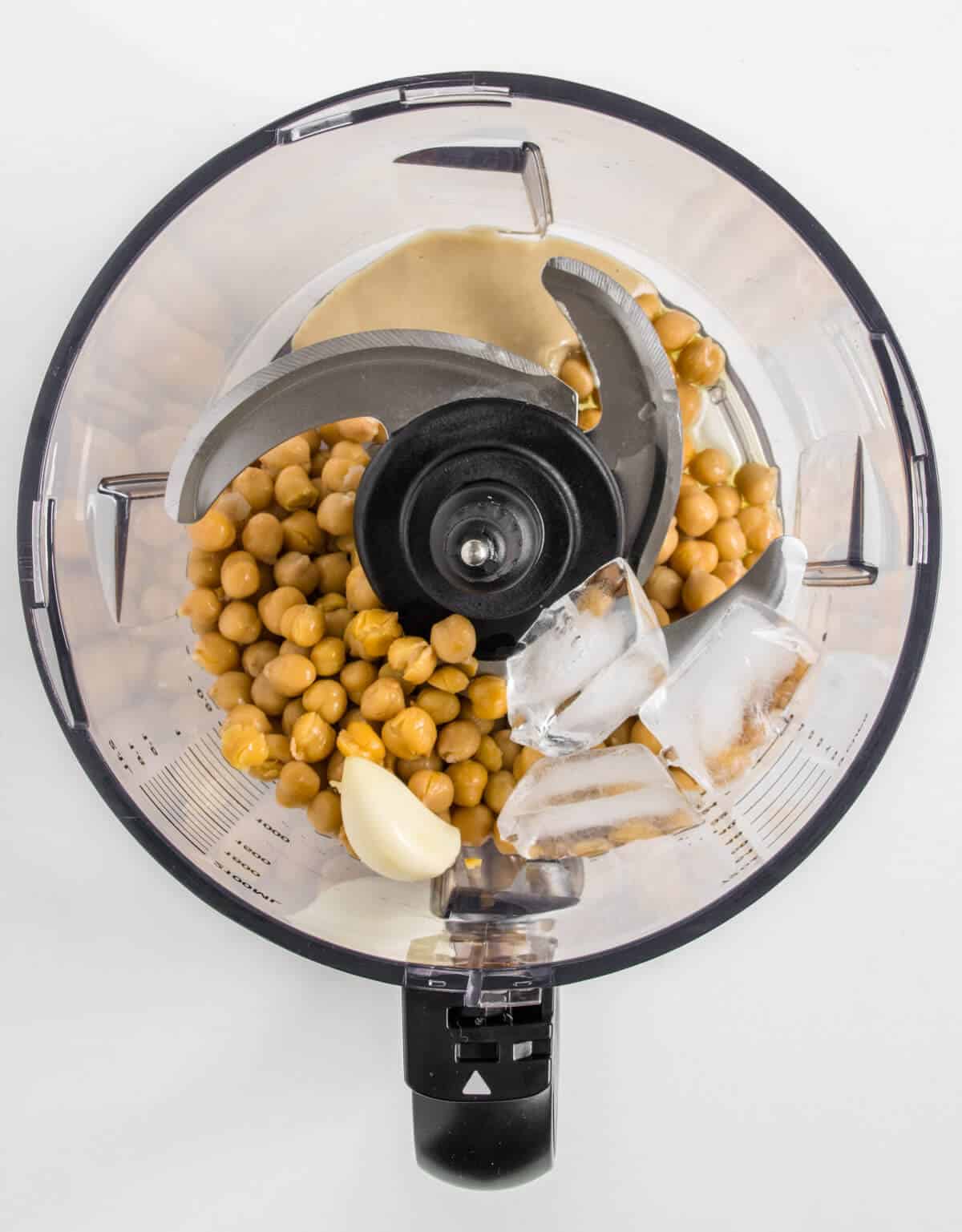 How to peel chickpeas quickly
To make your hummus extra creamy, the key is to peel your chickpeas. I have to admit I don't do this every single time I make it, however, when I do have a little extra time and add this step, it turns out soooo much smoother and creamier.
Rather than peeling every chickpea one by one, here is the technique I've been doing to speed up the process.
Soak dry chickpeas overnight in cold water
The next day, rinse under water and boil in fresh water in a pot on medium heat
Add 1 teaspoon baking soda as water starts to boil. Remove any foam that appears on the top
Cook dried chickpeas until very soft, approximately 25 minutes. Drain and rinse under cold water
Add cooked chickpeas to a bowl, fill with cold water and with your hands, toss the chickpeas through the water massaging them for a minute. You will notice all the skins just fall right off and rise to the top of the water.
Pour the water out into the sink, the first lot of skins will easily fall out with the water as they float. Fill the bowl with water again and repeat this step 3-4 times to remove the remaining skins. It will only take a few minutes to do this as the skins float to the top which makes them easier to separate from all the chickpeas.
Ensure you discard the skins and throw them in the bin rather than down the sink.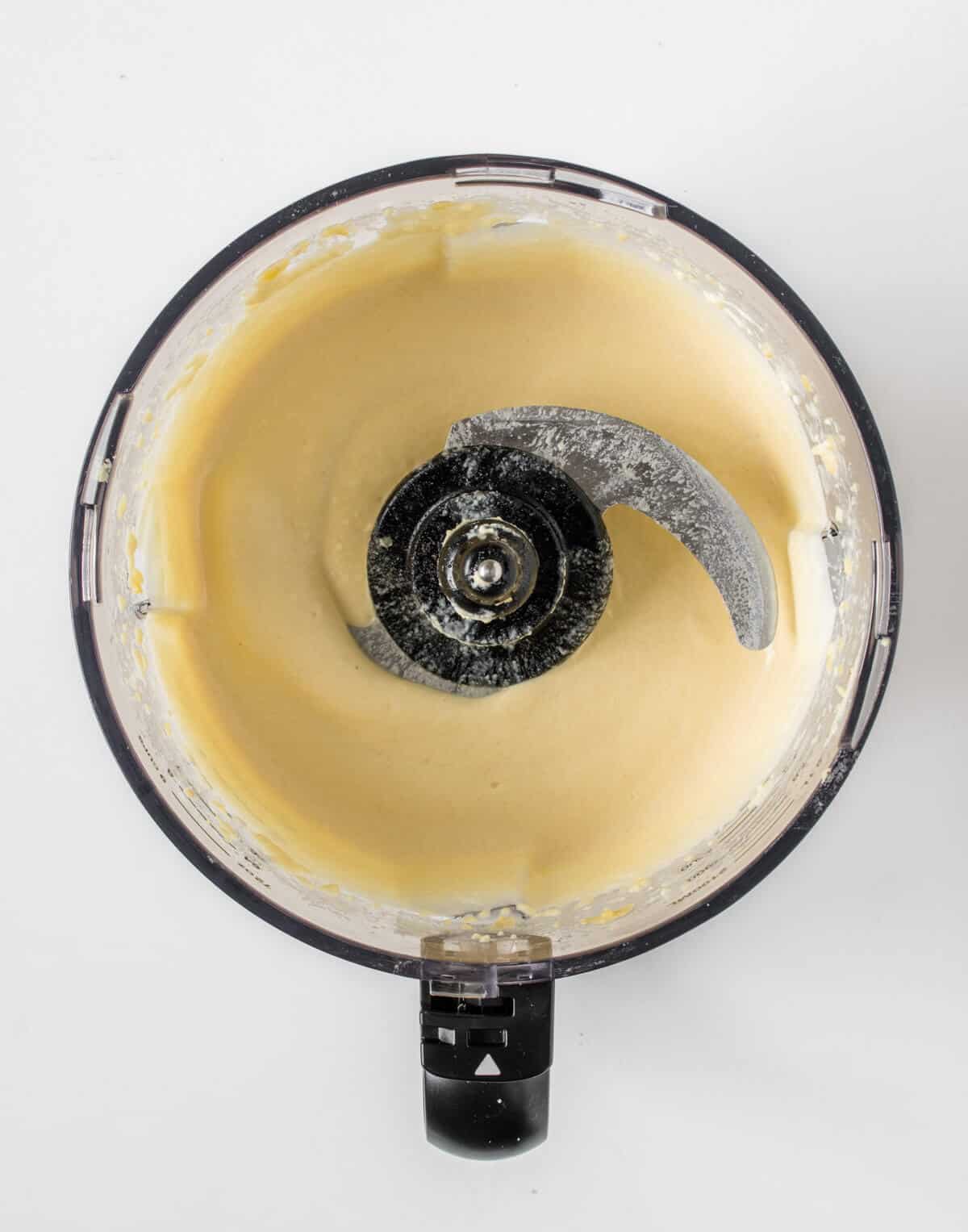 Tips for easy Hummus Recipe
When blending, be sure to add a couple of ice cubes, I've found that this helps in making the hummus more creamy. Start with 2 and add more if needed as its always easier to add something in, than if you've added to much
Adding a splash of cold ice water helps with the blending process
If you are using canned chickpeas, use the liquid in the can instead of water as it gives extra flavour
If using canned chickpeas and they are on the harder side with a bite to them, I'd still recommend boiling them first with baking soda to soften and so skins will easily peel off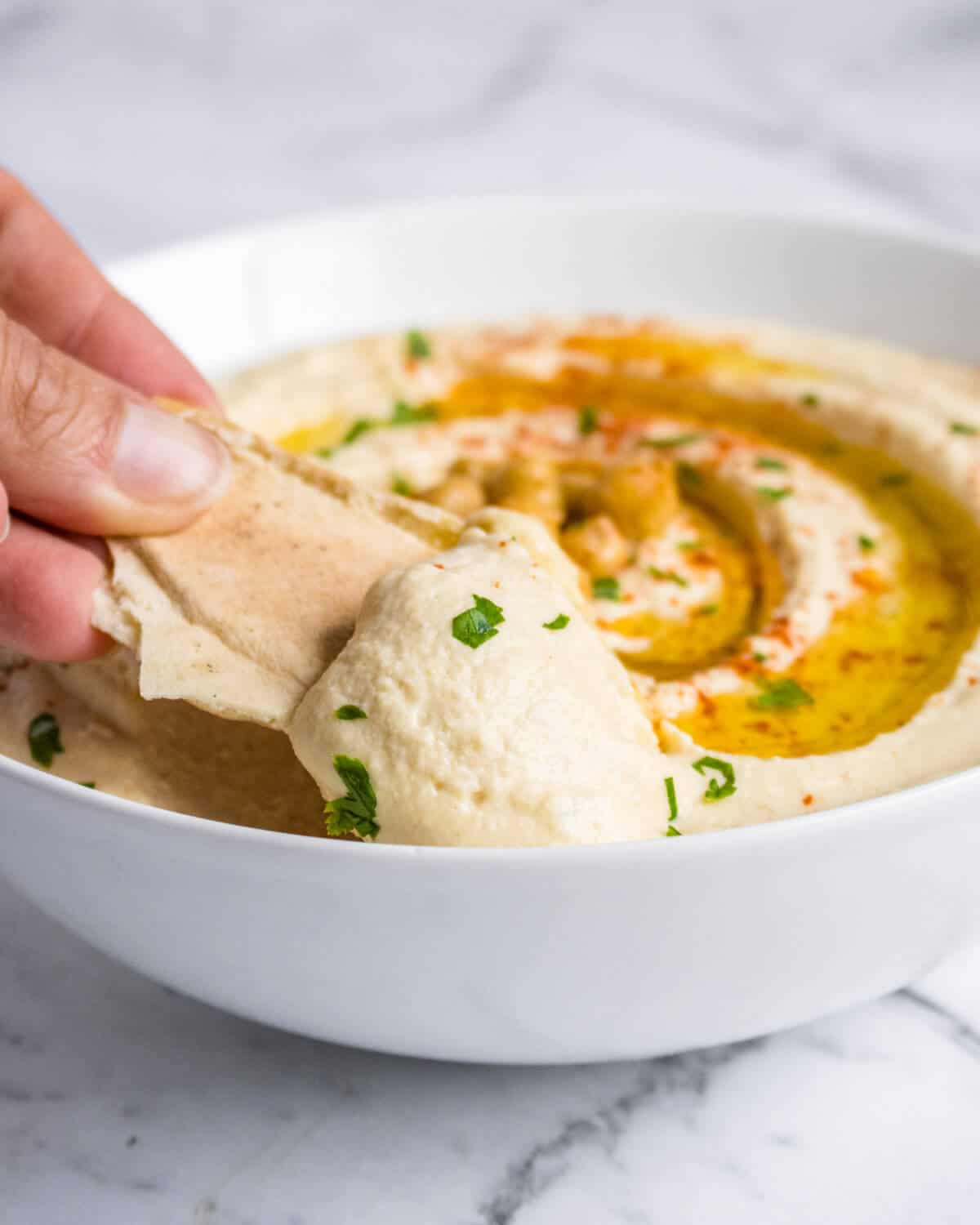 FAQs
Why is my hummus grainy?
Because the chickpeas haven't been blended enough. This is due to the outer skin layer of the chickpeas which sometimes need a little longer time to blend.
How do you make hummus creamier?
Add 2 to 3 ice cubes when blending to make the hummus more creamy. Start with 2 and add more if needed.
How long does hummus last?
3 -4 days in the fridge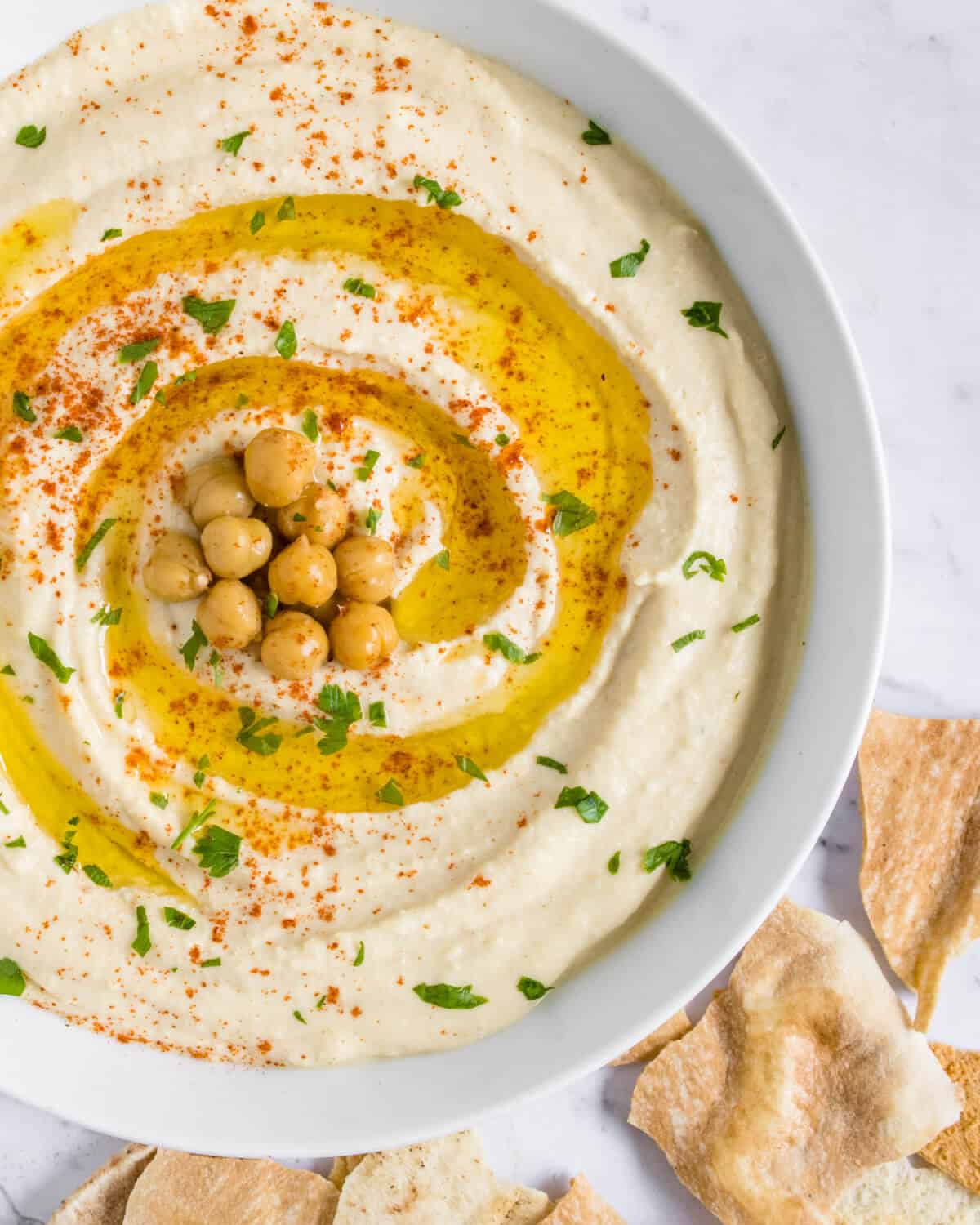 Garnish with some chickpeas, paprika, olive oil, and chopped fresh parsley. Serve with pita bread chips, crackers, or veggie sticks and enjoy as a great appetizer for any gathering or occasion!
Making a design or well in the middle with the back of a spoon will take the dish to another level with your garnish on top too.
More Chickpea Recipes
I love seeing your creations and remakes, so make sure to tag me and send me a photo on Instagram so I can also share the love.
Recipe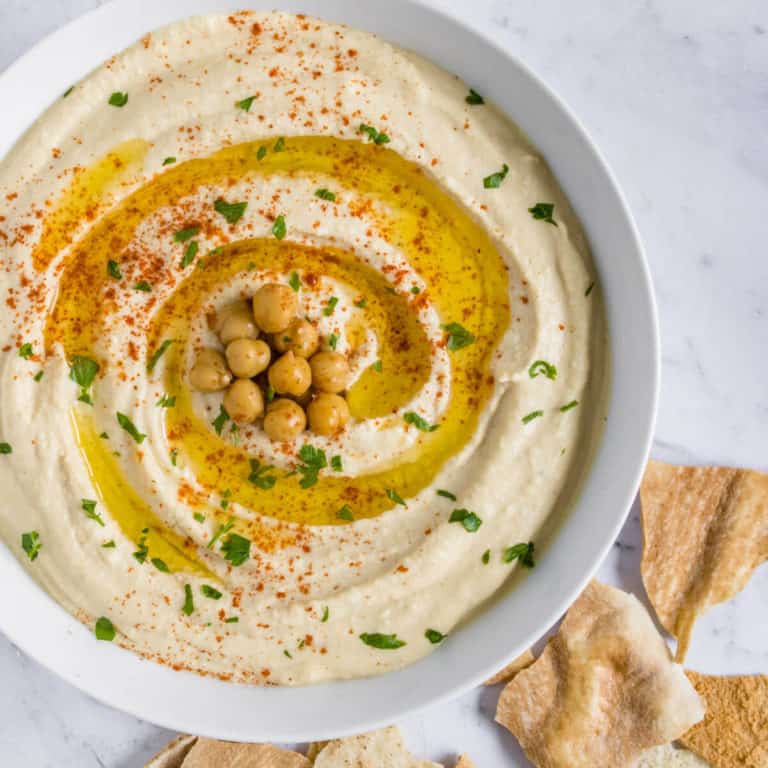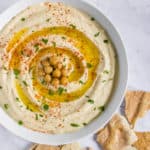 Hummus Recipe
This homemade hummus recipe is so creamy and healthy, with so many nutrients and protein from chickpeas. It's the perfect appetizer or snack.
Pin
Print
Rate
Ingredients
1

cup

dried chickpeas or 2 cups cooked chickpeas (they can be canned)

2

heaped tbsp

tahini

½

lemon

1-2

garlic cloves

3

tbs

extra virgin olive oil

2

ice cubes

Sea salt

Tiny splash of cold water
Garnish
Extra chickpeas

Paprika

Drizzle of extra virgin olive oil

Chopped parsley
Instructions
If using canned chickpeas, skip to step 7 (check notes in my tips above)

If using dried chickpeas, soak dry chickpeas overnight in cold water. Ensure they are in a large bowl as they will double or triple in size

The next day, rinse under water and boil in fresh water in a pot medium on heat.

Add 1 teaspoon baking soda to the pot once it starts to boil. Keep an eye and remove any foam that appears on the top

Cook until chickpeas are very soft, approximately 25 minutes. Drain and rinse under cold water

If wishing to peel chickpeas, refer to instructions on how to peel chickpeas quickly in notes above.

Add chickpeas to a blender or food processor. Add tahini, juice of the lemon, garlic, extra virgin olive oil, sea salt, ice cubes and splash of water. Blend until a smooth texture is achieved. If it's too grainy or thick, add a splash more cold water or another ice cube to help it smoothen.

Serve in a bowl and with a spoon create a well or dipped design on the top. Garnish with extra chickpeas, sprinkle of smoked paprika, drizzle of extra virgin olive oil and some chopped parsley. Serve alongside crispy pita chips and some chopped veggie sticks and enjoy!
Nutrition
Calories:
195
kcal
|
Carbohydrates:
21
g
|
Protein:
7
g
|
Fat:
10
g
|
Saturated Fat:
1
g
|
Polyunsaturated Fat:
2
g
|
Monounsaturated Fat:
6
g
|
Sodium:
16
mg
|
Potassium:
315
mg
|
Fiber:
6
g
|
Sugar:
4
g
|
Vitamin A:
163
IU
|
Vitamin C:
7
mg
|
Calcium:
40
mg
|
Iron:
2
mg