These easy healthy Anzac biscuits are my spin on the traditional recipe which are crunchy along with being vegan.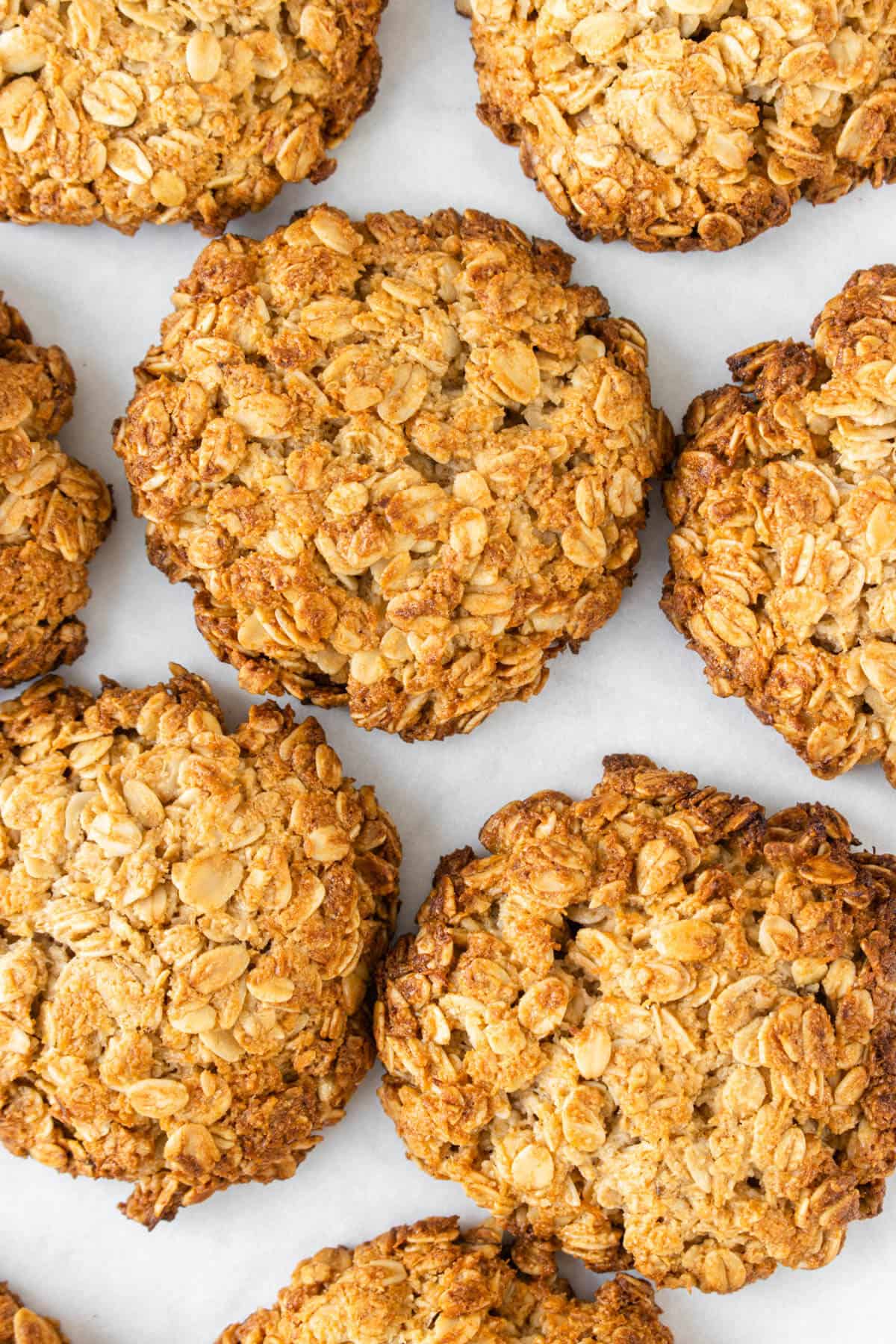 These Healthy Anzac Biscuits are my spin on the classic recipe which has always been one of my favorites since childhood. They're an Australian and New Zealand biscuit that is traditionally made to commemorate Anzac Day.
I'm sharing my healthier version of the iconic biscuit which is super easy to make in less than 25 minutes, which is also vegan.

They're golden with a caramel flavor making them perfect to eat with your morning or afternoon coffee and tea.

The traditional biscuit has a crunchy texture which I have to admit is my preferred way of making them. There's a huge divide on whether people like them chewy or crunchy, but not to worry as you can alter to your liking with the cooking time. These are a crunchier version however they can be made softer when baked less.
If you love cookies as much as me, then you must also try my healthy 4 Ingredient Cookies.
Table of Contents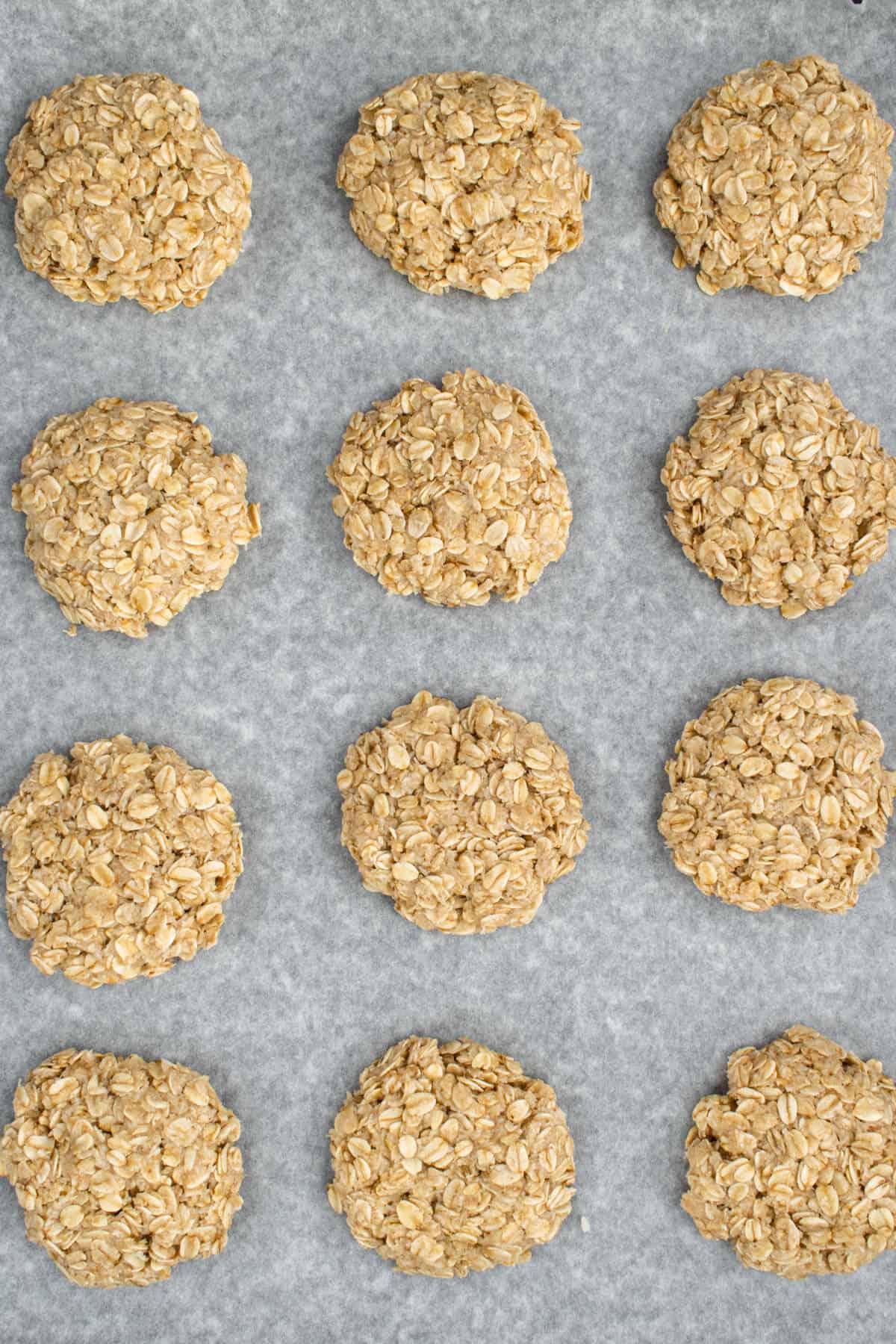 What is Anzac Day
Anzac Day falls on 25 April and is one of Australia's important national occasions. It marks the anniversary of the first major military action fought by Australian and New Zealand forces during the First World War. Source
It has been known that Anzac biscuits were sent by wives to soldiers abroad during the war as the ingredients do not spoil easily and the biscuits can keep well for a long period of time.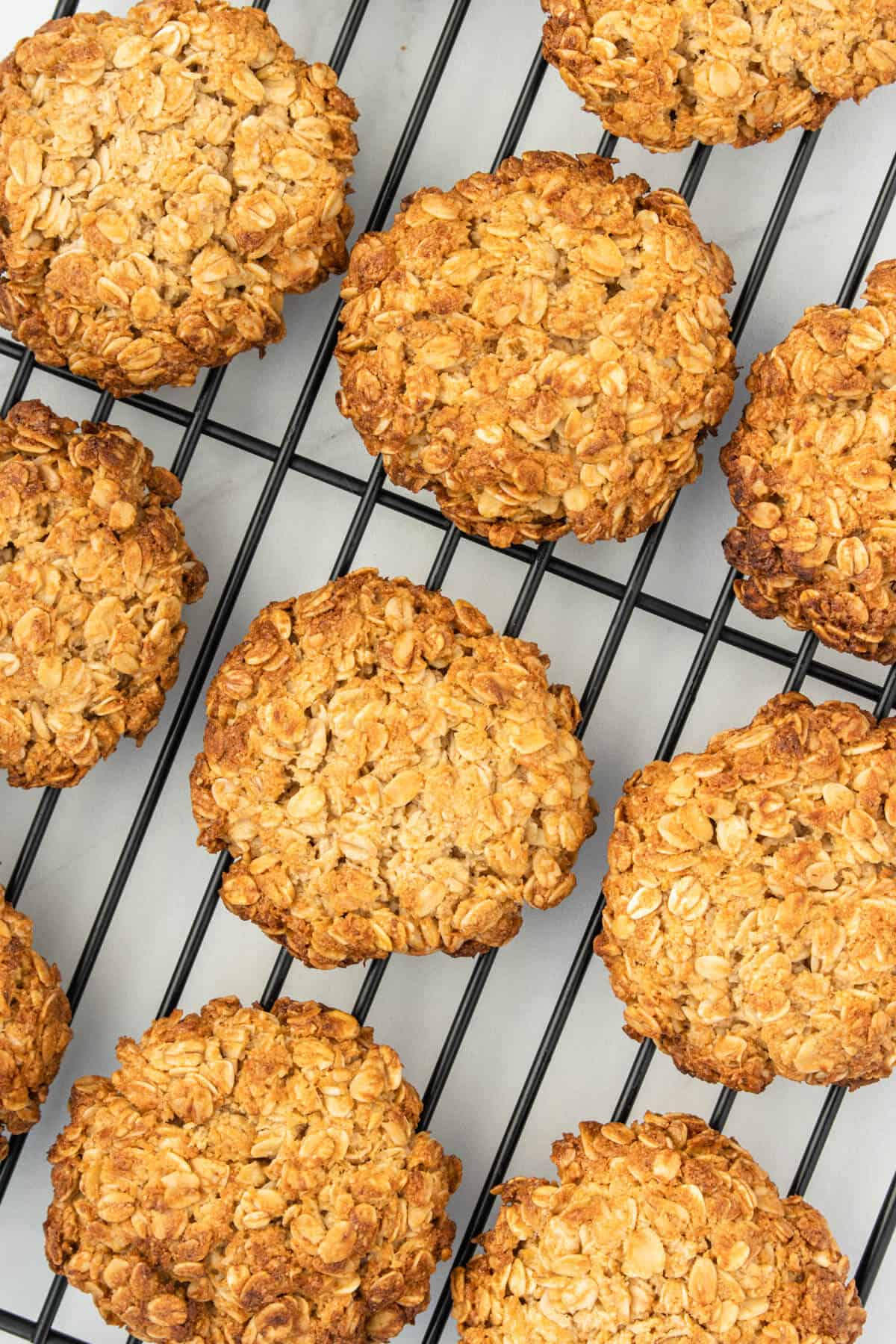 Ingredients to Make Healthy Anzac Biscuits
Rolled oats are the main ingredient in making Anzac Biscuits. Ensure you use traditional rolled oats and not quick or instant oats.
Desiccated Coconut, gives a nice little crunch to the Anzac Biscuits
Coconut oil is my preferred oil for most of my baking. I like the subtle taste and also the health benefits
Rice malt syrup or Pure Maple Syrup is used as they're a natural sweetener, rather than using sugar or golden syrup. They also have a slight caramel taste.
Vanilla extract gives a nice subtle smell and flavour
Baking powder helps the biscuits rise when baked
Water is added to assist the mixture to bind, you will only need a small amount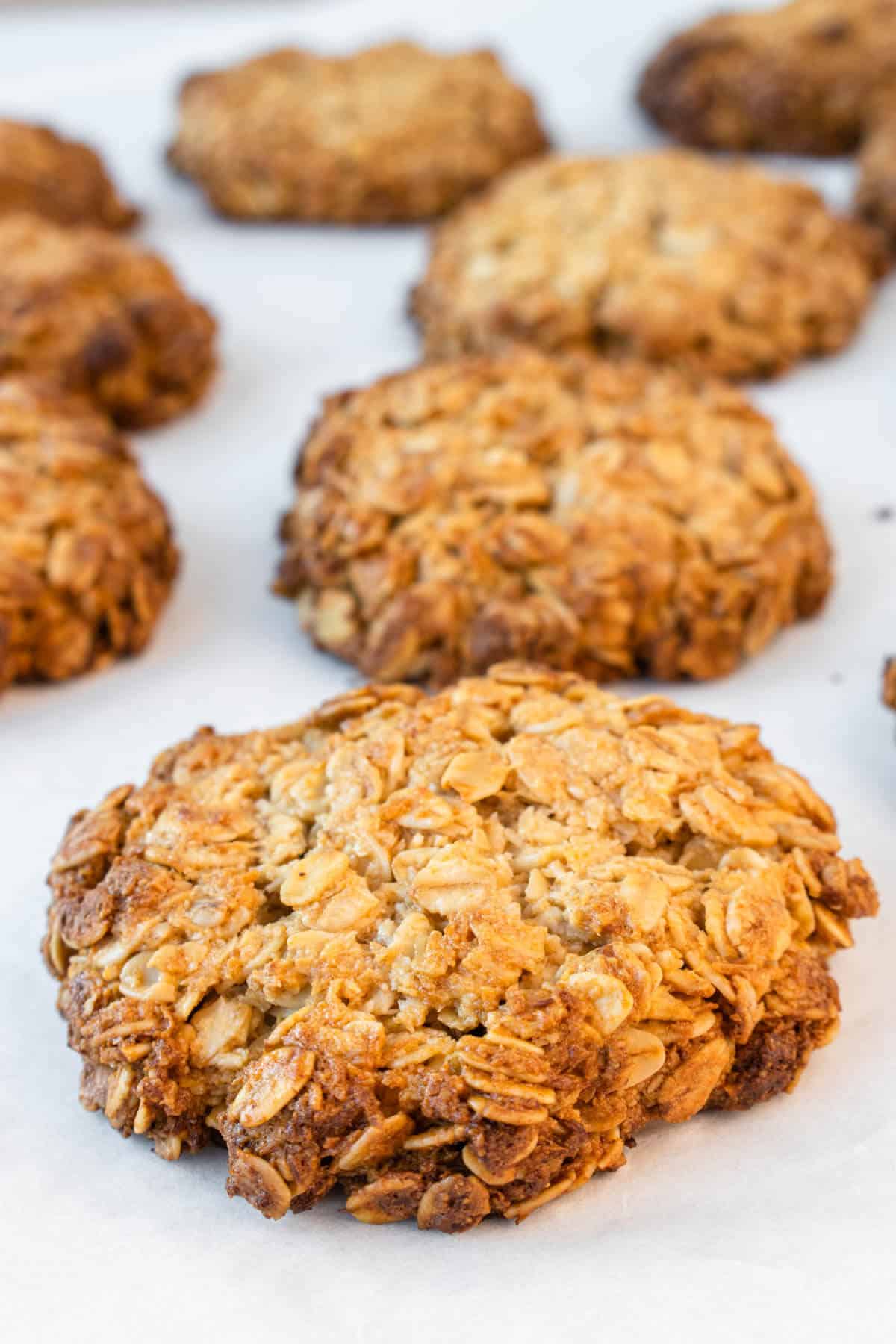 How to Make Anzac Biscuits
Time needed: 25 minutes
Preheat oven to 180°C/350°F

Add dry ingredients in a bowl and mix together

In a separate small bowl add wet ingredients and mix together

Add wet ingredients to the dry bowl ingredients and mix until well combined

Roll mixture into 12 equal balls, place on a baking tray and gently flatten each ball into a round biscuit shape

Put in the oven for 10 minutes for a softer biscuit or up to 15 minutes for a crunchy biscuit. Bear in mind, Anzac biscuits will become harder the longer they are kept.

Remove from oven and rest on the baking tray for 5 minutes followed by 5 minutes on a cooling rack then enjoy!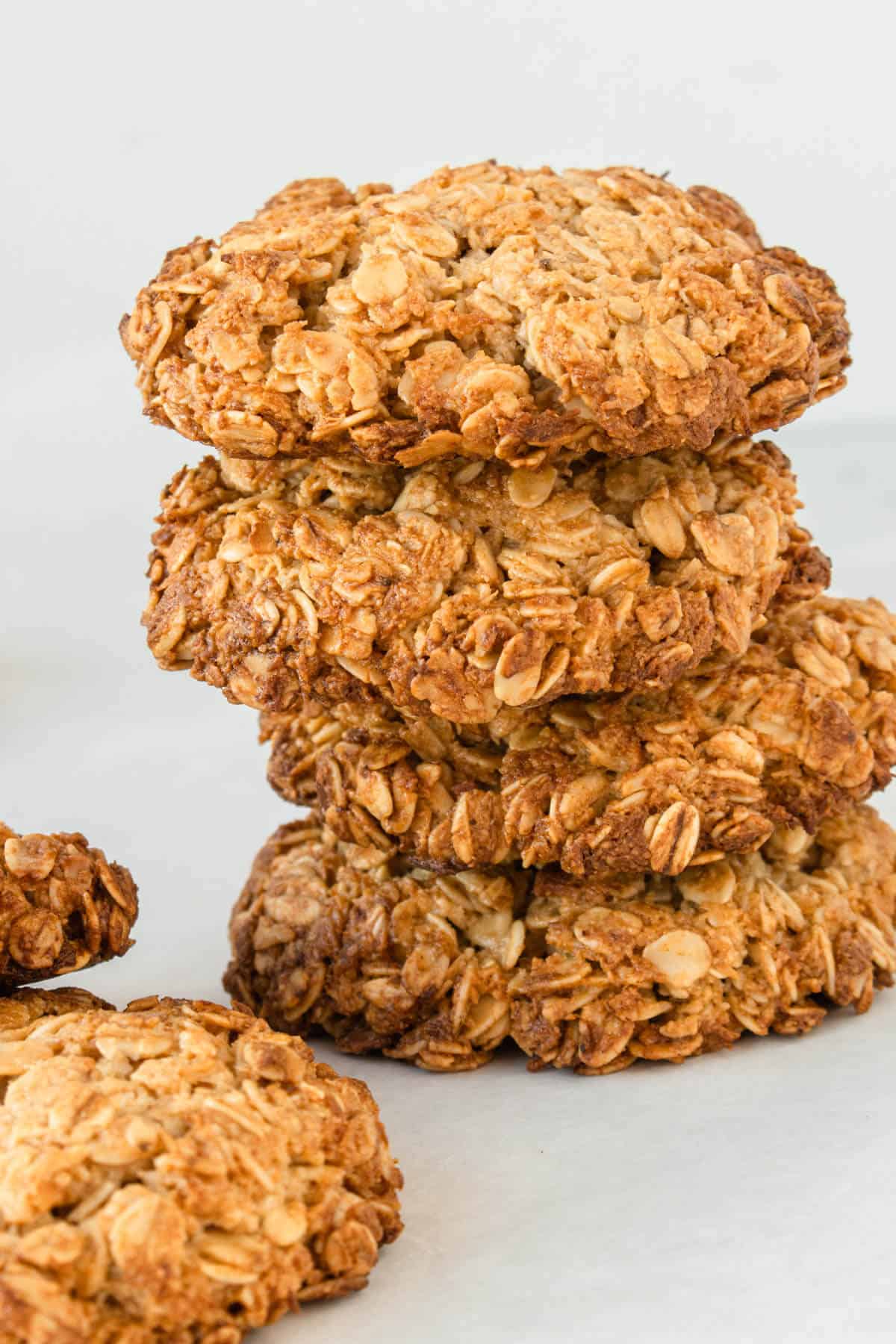 Important Tips for Crunchy Anzac Biscuits
The longer the biscuits are baked, the crunchy and harder they become. I've cooked these for 15 minutes as I prefer mine crunchy however if you like softer Anzac biscuits, reduce the time to 10 minutes. Remember with Anzac biscuits, the longer they are left to rest they will harden.
Press the mixture with your hands when rolling into balls to help it stick together. Be gentle when flattening the mixture into round shapes so that they don't crumble
Make sure to allow the biscuits to cool down before removing them off the tray so that they don't break apart. Then ensure to follow the full resting time as per the recipe below
More Baking Recipes
Recipe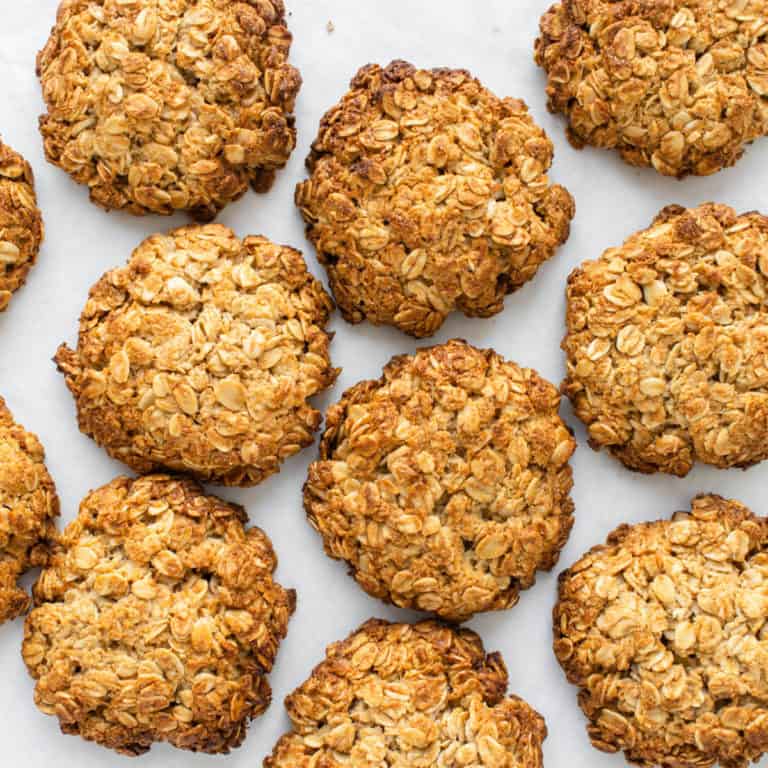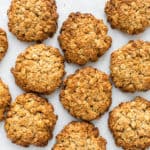 Healthy Anzac Biscuits
These easy healthy Anzac biscuits are my spin on the traditional recipe that can be made crunchy or chewy and are also vegan.
Print
Ingredients
3

cups

rolled oats

¾

cup

desiccated coconut

2

teaspoon

baking powder

¼

cup

melted coconut oil 

⅓

cup

rice malt syrup or maple syrup

1

teaspoon

vanilla extract

2

tablespoon

warm water

Pinch of salt
Instructions
Preheat oven to 180°C/350°F

Blend 1 cup of the rolled oats in a blender into a fine oat flour

Add rolled oats, oat flour, coconut, baking powder and salt in a large bowl and mix

In a separate small bowl, add the melted coconut oil, maple syrup, vanilla and water and mix 

Add the wet ingredients to the dry bowl and with a large spoon mix until well combined

Scoop a heaped tablespoon (or you can also use a cookie scooper) of the mixture into one of your hands and press into a ball shape using both hands. It helps if your hands are a little wet. 

Add the balls to a baking tray lined with baking paper, making sure to leave some gaps in between 

With your fingers and hands, gently flatten each ball into a round biscuit shape. Be super gentle when doing so as the mixture can break easily 

Put in the oven for 10 minutes for a softer biscuit or up to 15 minutes for a crunchy biscuit if you prefer them like me 🙂 Bear in mind, this recipe is for a crunchier biscuit.

Rest biscuits on the tray for 5 minutes then on a cooling rack for an extra 5 minutes.

The longer they are left, the more crunchy they will become!
Nutrition
Calories:
177
kcal
|
Carbohydrates:
22
g
|
Protein:
3
g
|
Fat:
9
g
|
Saturated Fat:
7
g
|
Sodium:
84
mg
|
Potassium:
103
mg
|
Fiber:
3
g
|
Sugar:
6
g
|
Vitamin C:
1
mg
|
Calcium:
57
mg
|
Iron:
1
mg