This simple Pumpkin Pasta Sauce is so creamy and full of flavor without needing any cream! One of the key parts is using not one, but two heads of roasted garlic….Yep, you read right TWO!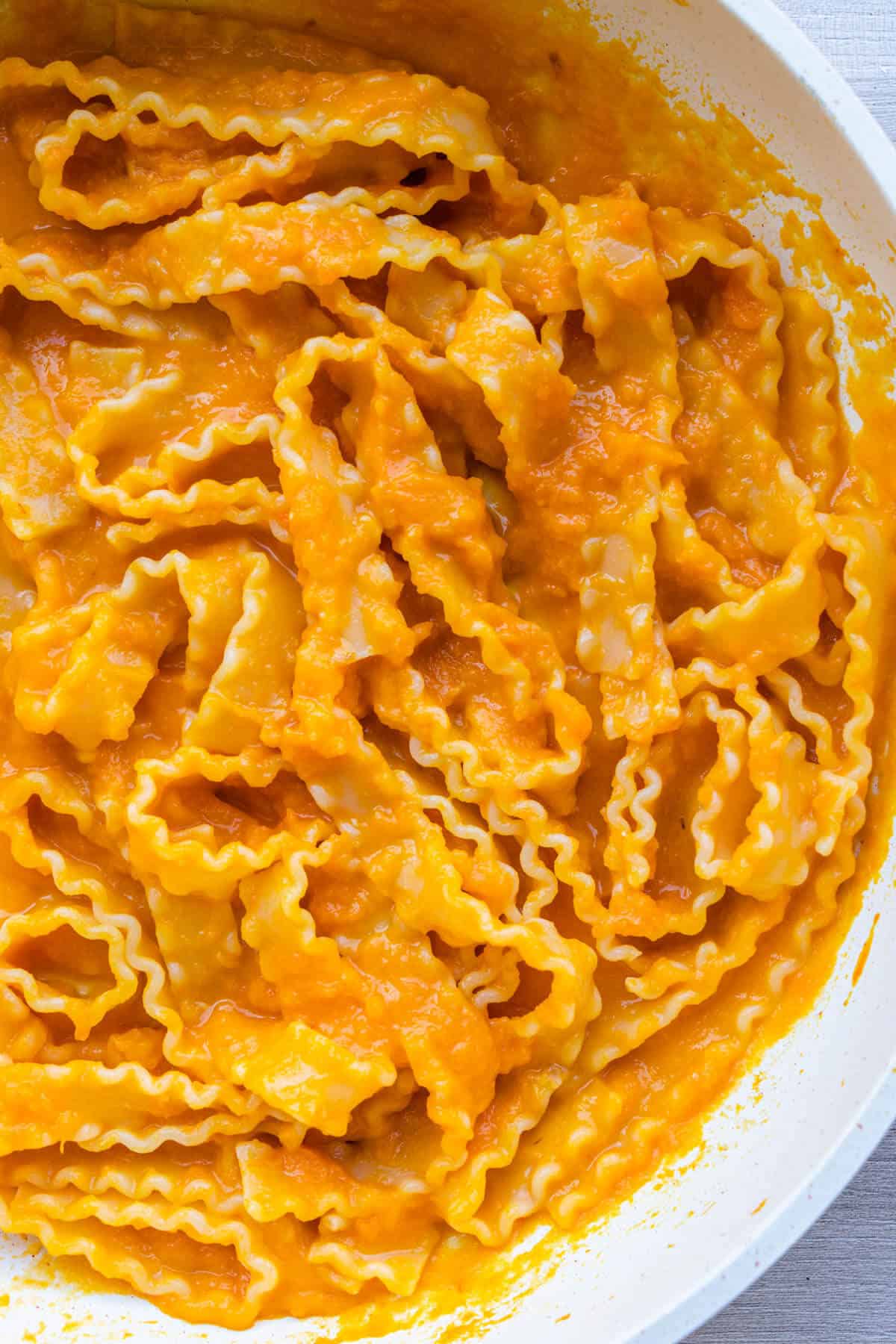 The recipe is also really easy to make and you can easily make it vegan too.
Rather than using canned pumpkin puree, you roast the pumpkin in the oven with the garlic. There's just something that roasting the vegetables does which brings out the best flavors!

Both the pumpkin and garlic become soft and caramelised and work so well together in this pumpkin pasta sauce. The garlic especially becomes subtle and you won't have that harsh garlic taste.
Need some more pumpkin recipes over fall? Then you must try my popular Pumpkin Feta Pasta and Creamy Pumpkin Soup.
I definitely prefer pumpkin in savory dishes, but there's something about the spices such as cinnamon and nutmeg that work so well with pumpkin right! I've also shared a Pumpkin Pancakes recipe, definitely worth a try 🙂
Why you'll love this recipe
Family Favorite. When pumpkins are in season, this sauce has been a staple in my family gatherings and pairs perfectly when combined with pasta
Nutritious Twist. Pumpkins offer a dose of vitamins and antioxidants, making this sauce a healthy choice
No Cream. This recipe uses creamy roasted garlic with pasta water and parmesan cheese over heavy cream to create a luxurious texture
Table of Contents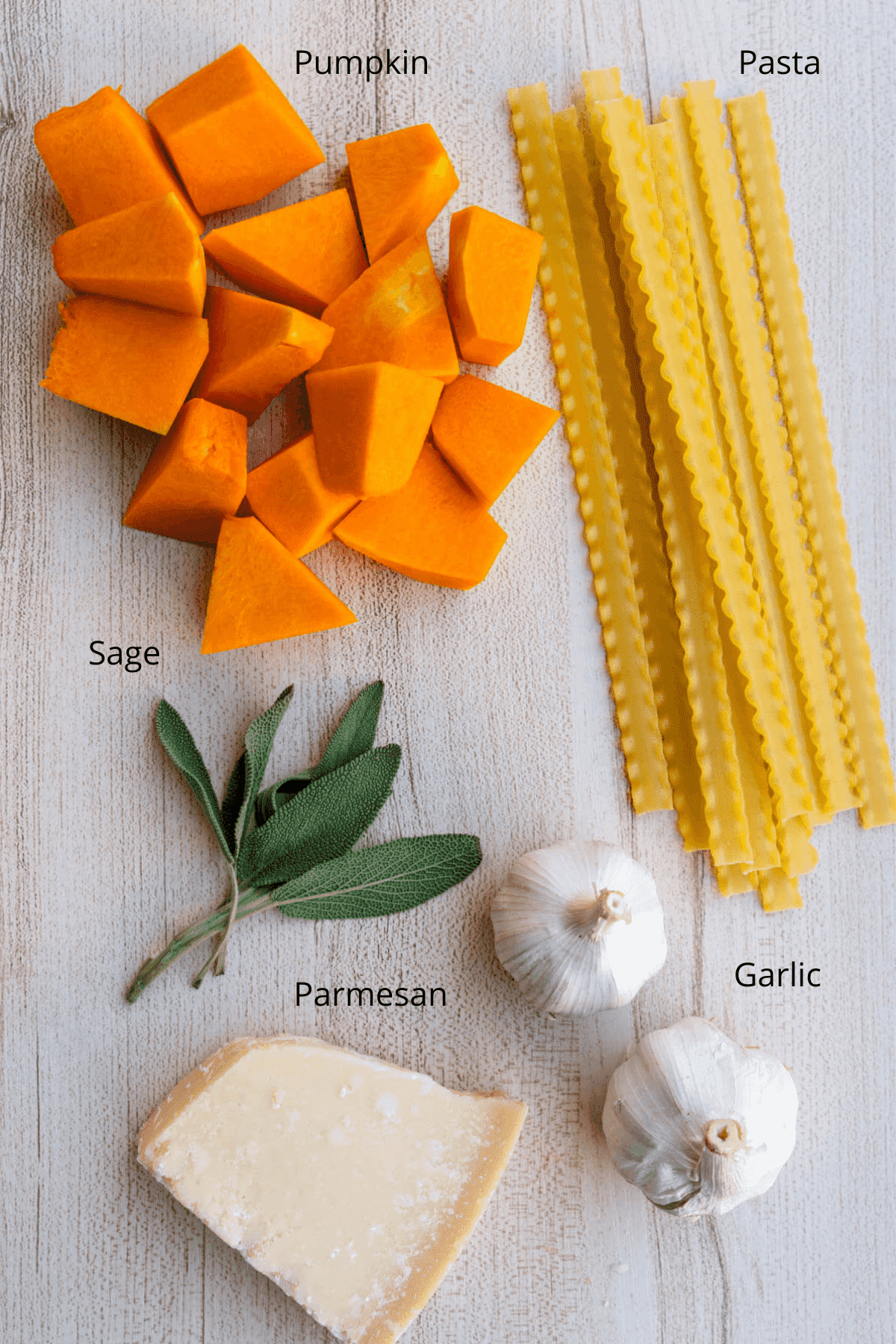 Ingredients to make Creamy Pumpkin Pasta Sauce
Pumpkin is of course the star so I always prefer to use fresh pumpkin rather than pumpkin puree. You can also use butternut squash for a sweeter taste
Pasta, you can really use any type of pasta shape whether short pasta such as rigatoni or macaroni or long noodles like spaghetti or linguine, here I've used mafalde. For extra protein, you can use a gluten-free pasta such as chickpea pasta
Garlic for all my fellow garlic girls so we're using 2 whole heads rather than garlic cloves. When garlic is roasted whole it becomes so lovely and caramelised and not strong or potent. You can reduce it to one head of garlic and one onion if you don't like a strong garlic flavor
Extra virgin olive oil is always the oil I prefer to use especially for the roasted veggies
Fresh sage leaves are sautéed in the saucepan which infuses the oil and then the crispy leaves are yummy to eat with the pasta. You can also use butter but I prefer it with olive oil
Red pepper flakes / chili flakes are added for some heat to the pumpkin sauce
Parmigiano Reggiano cheese makes the sauce even creamier. To keep it as a vegan pumpkin pasta sauce or dairy-free, use either vegan parmesan cheese or nutritional yeast or omit the cheese altogether
Variations and Serving Suggestions
Herbal Infusion. You can substitute the sage for either thyme or rosemary or for some extra depth use a mixture of these
Enhance the sauce with a pinch of Nutmeg for a comforting flavor
I love to Garnish with crispy sage leaves, parmesan cheese, chili flakes and some ground black pepper. Alternatively you can garnish with parmesan cheese, toasted pumpkin seeds and a drizzle of extra virgin olive oil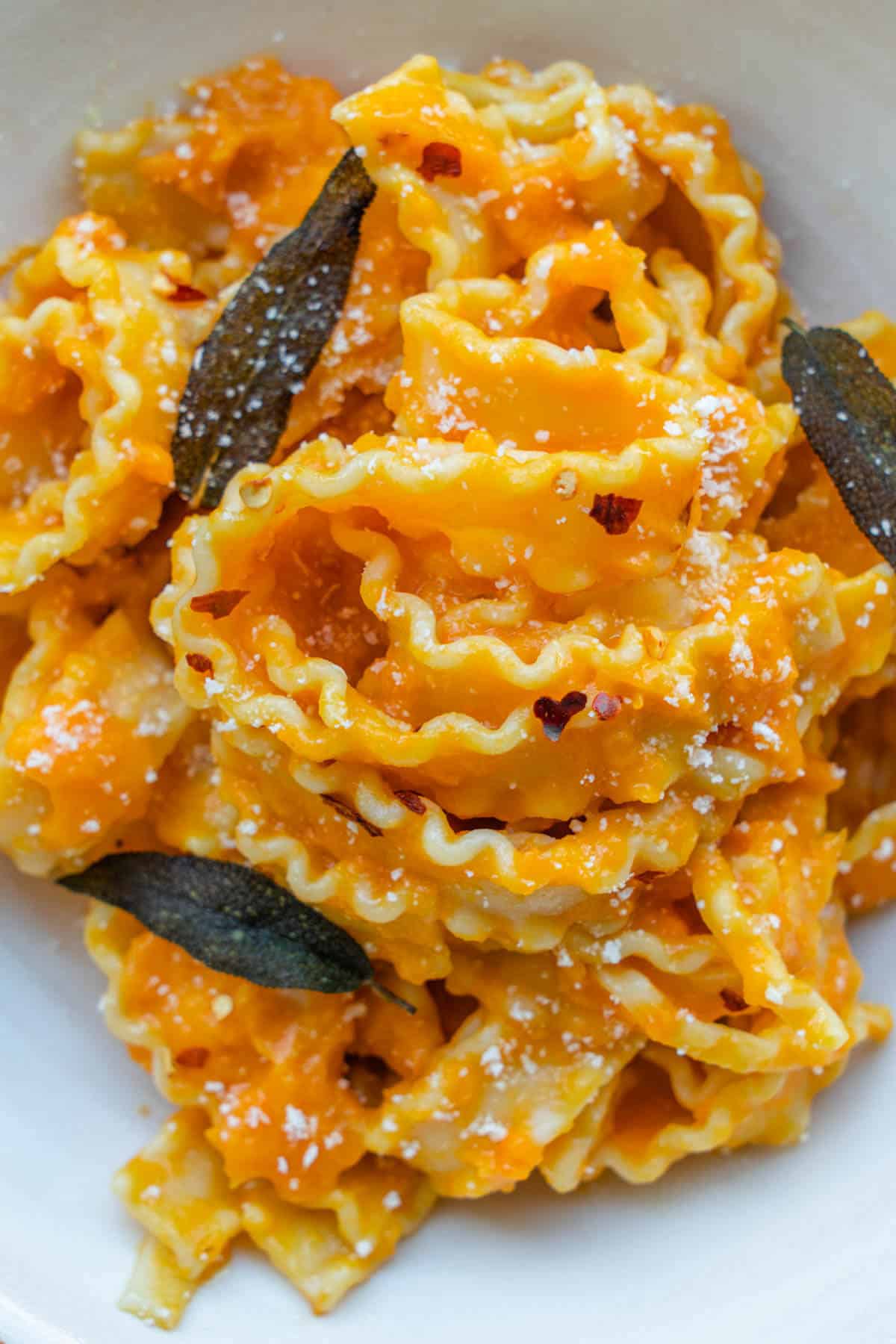 How to make Pumpkin Pasta Sauce (Without Cream)
Nothing beats a homemade pumpkin sauce for the fall and winter seasons. This sauce is easy to make and a wonderful topping for pasta. Here are my simple steps.
Pumpkin Sauce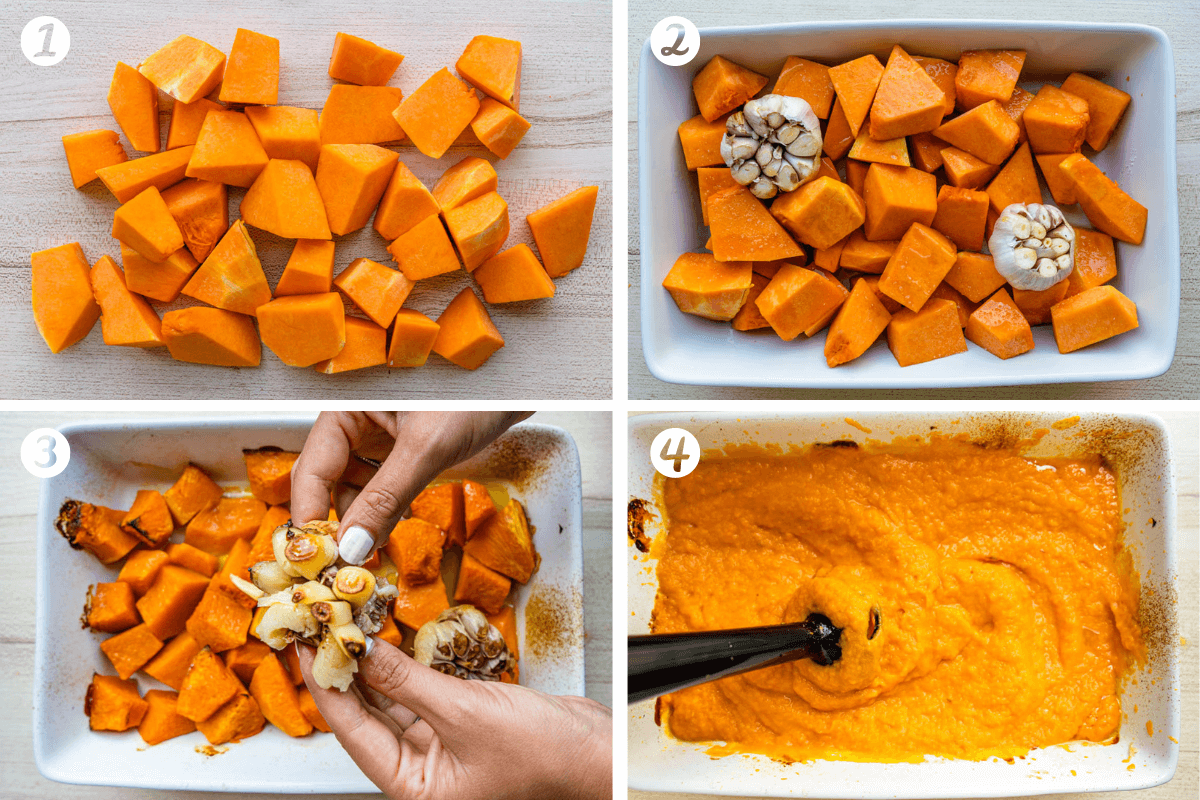 Preheat oven to 200°C/400°F. Chop pumpkin into pieces with skins off and chop the top off two garlic heads
Place pumpkin and garlic in a baking dish, season with olive oil and salt, and massage to coat them well. Bake for 45 minutes
Allow to cool slightly before squeezing the garlic bulbs into the baking dish
Blend pumpkin and garlic until smooth
Pasta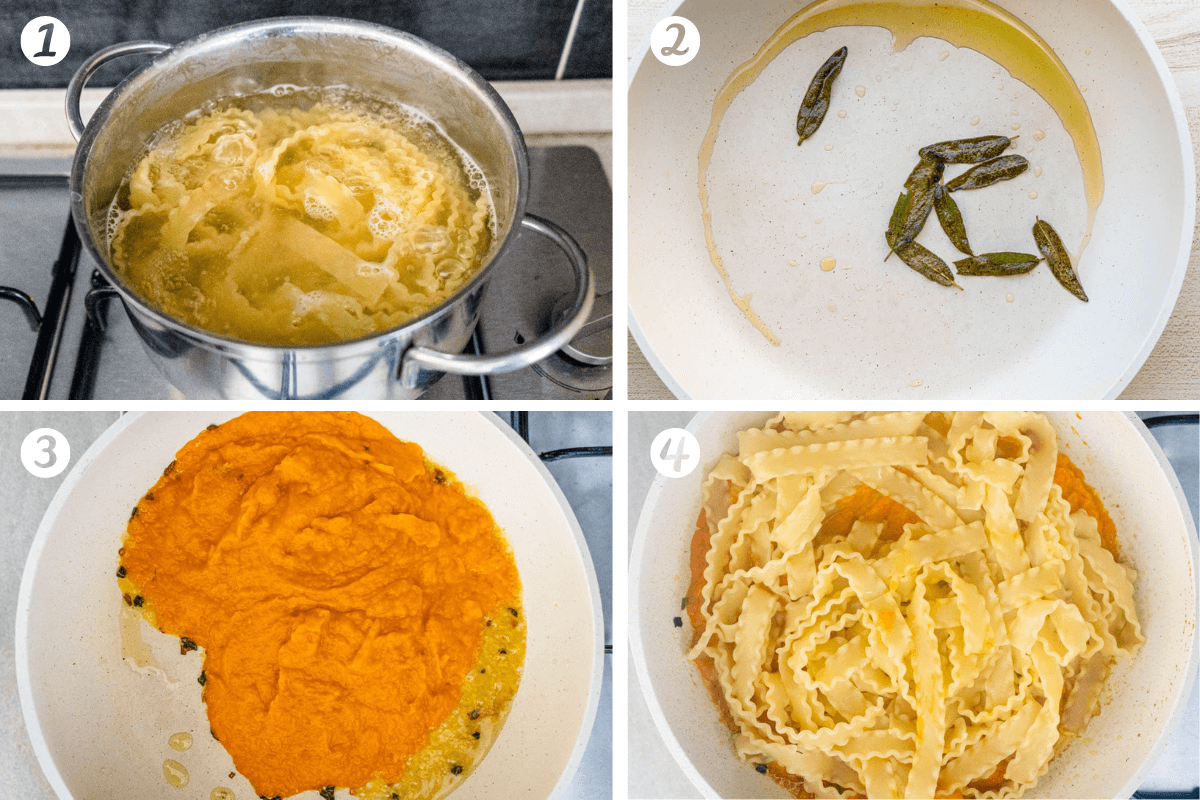 In a large pot of salted water, cook pasta al dente, drain and save some pasta water on the side
In a saucepan, saute sage leaves with olive oil for a few minutes
Remove sage leaves once crisp and add red pepper flakes on medium-low heat. Add the pumpkin puree with some pasta water to simmer
Add cooked pasta to the pan, grated parmesan cheese, and some pasta water. Gently stir until nice and creamy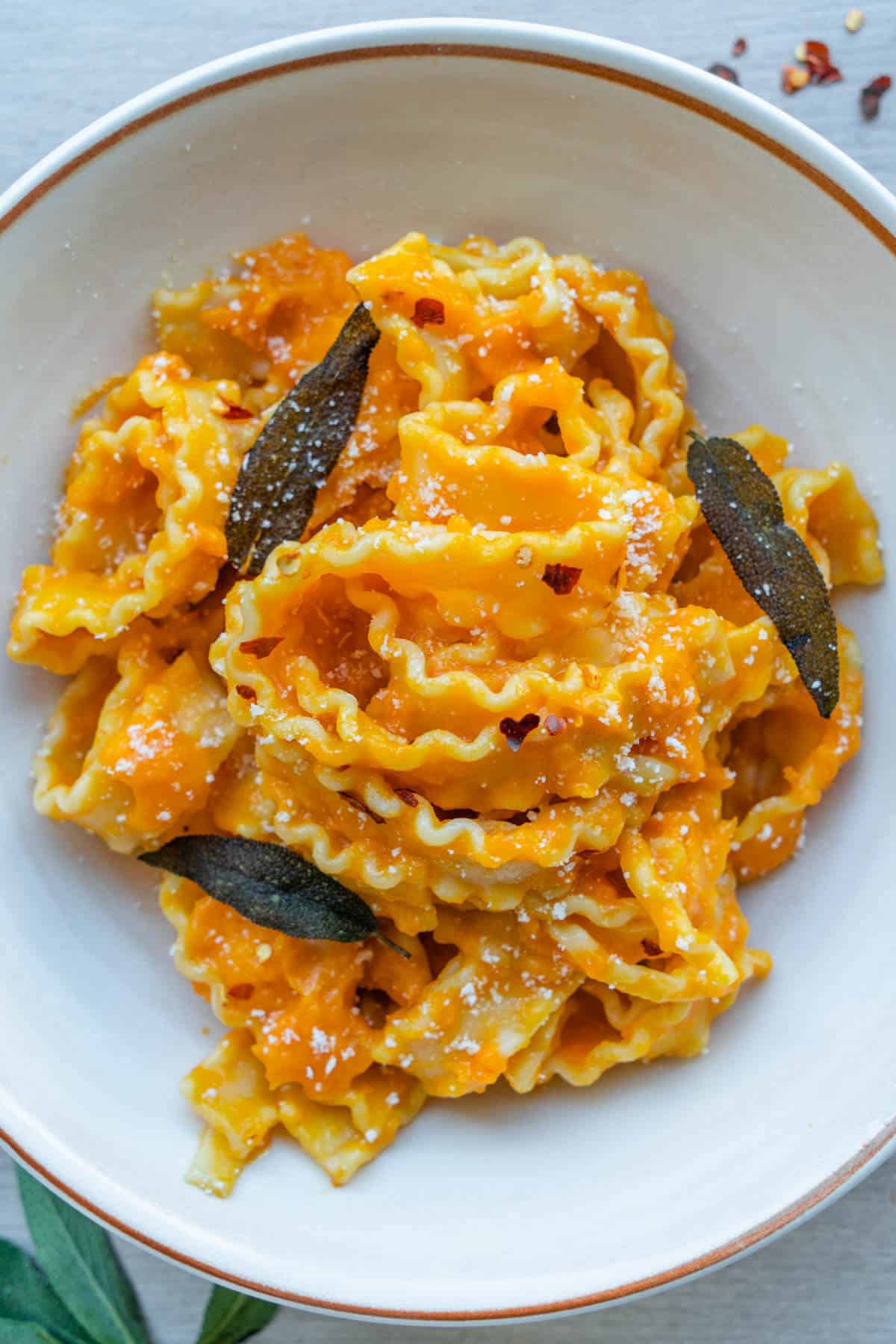 FAQs
What goes well with pumpkin pasta sauce?
This Pumpkin Pasta Sauce goes well with any type of pasta shape. Whether its short pasta like penne or rigatoni or long pasta such as fettuccine or pappardelle pasta as the creamy pumpkin sauce will creep into all the grooves
Why do people put pasta water back in?
By adding some of the reserved pasta water back to the pan, the starch in the water helps emulsify the sauce. It helps the sauce become silky and will glue itself to the pasta
How long will this Pumpkin Pasta Sauce keep?
Store in the refrigerator in an air-tight container and will keep for 3-4 days. To reheat, it's always best to heat in a pan with a splash of water. In my experience the microwave will dry out the sauce 

You can also freeze the remaining pumpkin pasta sauce you didn't use for next time!
Tips to make Pumpkin Pasta Sauce
Don't cut the pumpkin pieces into very small pieces as they can dry out in the oven. You'll want them to be in cubes or chunks
Ensure to rub olive oil on the top of the garlic heads to make sure they don't burn
Keep an eye on the sage leaves so they don't burn when fried
Make sure to reserve some pasta water. This helps the sauce become nice and silky rather than too thick
Grate Parmigiano Reggiano cheese finely so it melts in the pan easily. If it's grated too thick, it can clump up when it melts in the pasta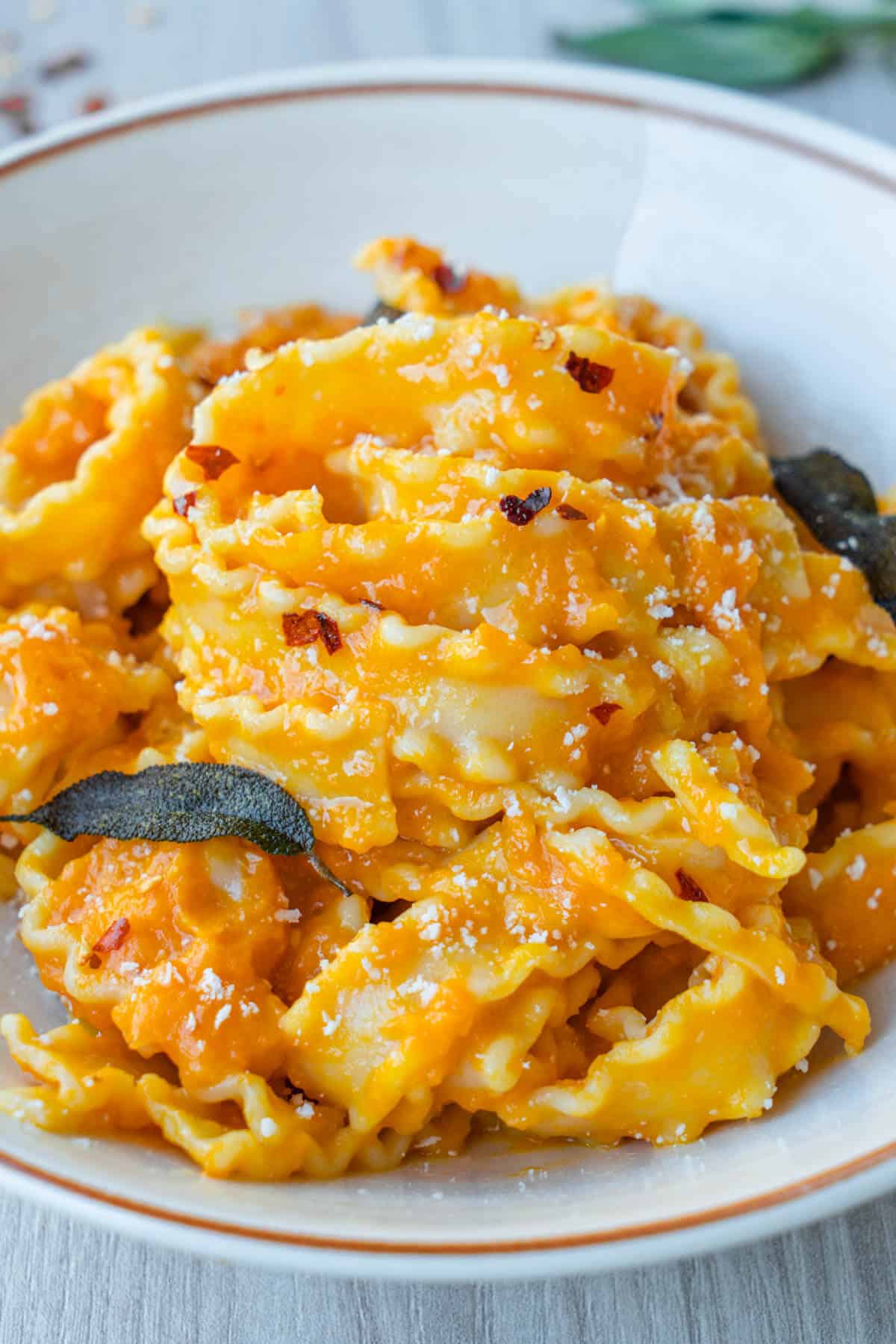 More Pumpkin Recipes
More Pasta Recipes
I love seeing your creations and remakes, so be sure to rate the recipe, comment and share your Pumpkin Pasta Sauce photo on Instagram so I can share the love!
Recipe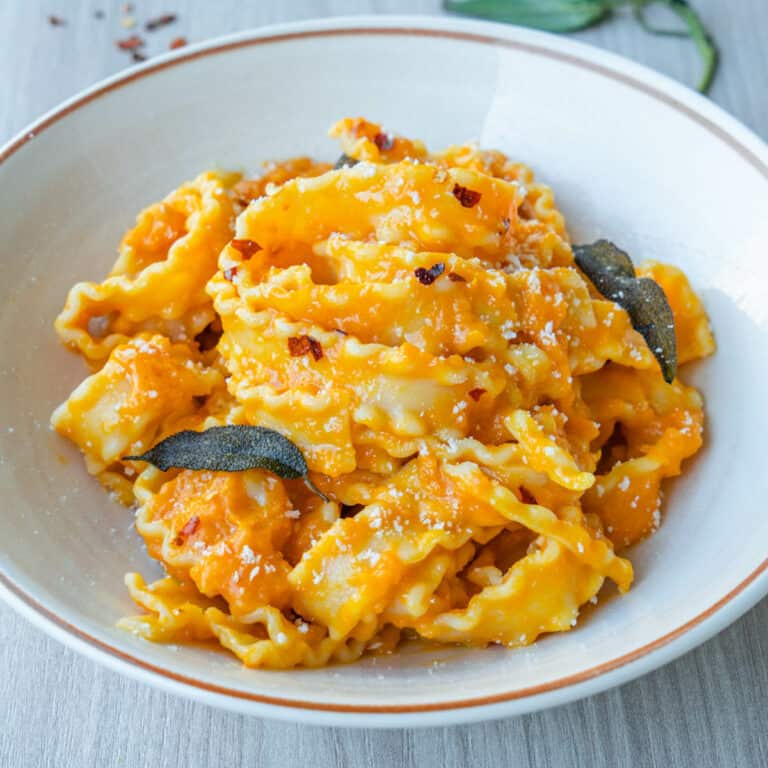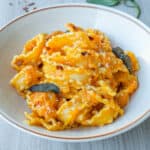 Pumpkin Pasta Sauce (Without Cream)
This fall-inspired recipe is a combination of roasted pumpkin and garlic, which creates a creamy Pumpkin Pasta Sauce that is full of flavour
Print
Ingredients
360

g

pasta

1

kg

pumpkin

2

whole heads of garlic

2-3

tablespoon

olive oil

Handful sage leaves

1

teaspoon

red pepper flakes (more or less depending how spicy you like it)

80

g

Parmigiano Reggiano cheese

Salt and cracked black pepper
Instructions
Preheat the oven to 200°C/400°F

Chop pumpkin into pieces, cut the skin off and place in a baking dish. Chop the top off the garlic heads and place into the same dish

Drizzle 2 tablespoons of olive oil over the pumpkin and garlic and season with salt. Massage the oil into the vegetables so they are all nicely coated and bake in the oven for about 45 minutes. Check with a fork or toothpick that the pumpkin has softened

Allow to cool slightly then squeeze the garlic bulbs so that the flesh pops out and into the pumpkin dish. Using an immersion blender or blender, blend the pumpkin and garlic until smooth and there are no chunks

Boil pasta in heavily salted water. At the same time, saute the sage leaves in a skillet over medium heat with a spoon of olive oil for a few minutes

Remove the sage leaves once crisp and add the red pepper flakes. After a minute add the pumpkin puree with a ladle of pasta water

When the pasta is almost cooked and al dente, add pasta straight to the pan. Add grated parmesan cheese along with a ladle of reserved pasta water. Gently mix until well combined, adding more pasta water if needed or if too thick

Top with the crispy sage leaves, freshly grated parmesan cheese and ground black pepper and enjoy your delicious pumpkin pasta !
Nutrition
Calories:
547
kcal
|
Carbohydrates:
85
g
|
Protein:
22
g
|
Fat:
14
g
|
Saturated Fat:
5
g
|
Polyunsaturated Fat:
1
g
|
Monounsaturated Fat:
7
g
|
Cholesterol:
14
mg
|
Sodium:
337
mg
|
Potassium:
1096
mg
|
Fiber:
5
g
|
Sugar:
10
g
|
Vitamin A:
21587
IU
|
Vitamin C:
23
mg
|
Calcium:
329
mg
|
Iron:
4
mg