This Pumpkin Feta Pasta recipe celebrates classic flavours and is super creamy. Perfect dinner for the family which is easy to make.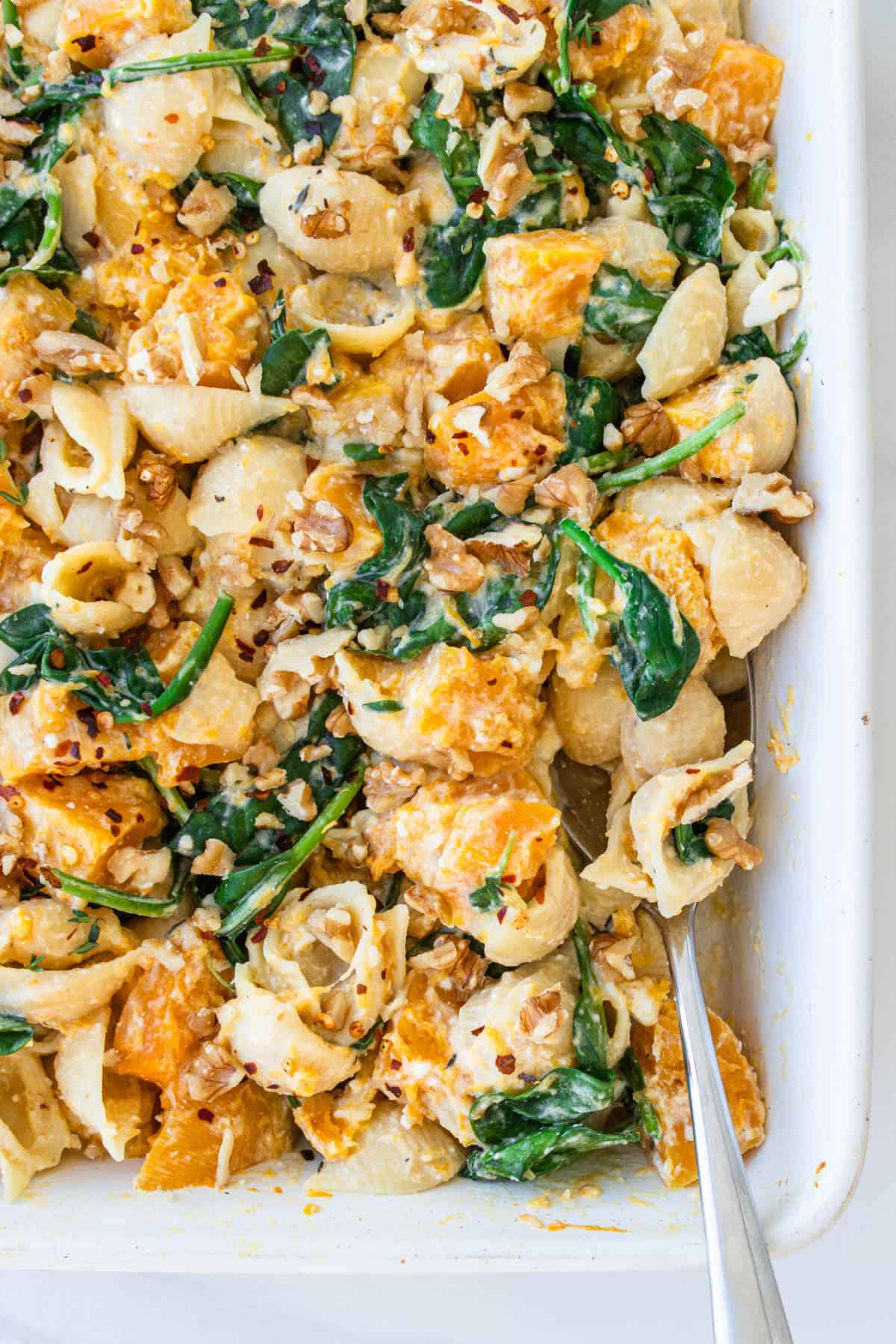 One of my favourite combinations has always been pumpkin and feta so I had to turn it into a pasta with this baked Pumpkin Feta Pasta!

The sweetness of the pumpkin, the saltiness of the feta along with spinach and walnuts are a perfect match.
Another delicious pasta to try is my Creamy Pumpkin Pasta which is the perfect Fall dish, which has NO cream!
The best part, it's easy to make in 25 minutes being the perfect weeknight main dish for the family.
This recipe is definitely a crowd-pleaser just like the viral Baked Feta Pasta which took the world by storm earlier this year and is still one of my go-to pasta dishes.
If you're looking for some popular alternatives, check out my Baked Feta Pasta with Mushrooms and Baked Goats Cheese Pasta.
Table of Contents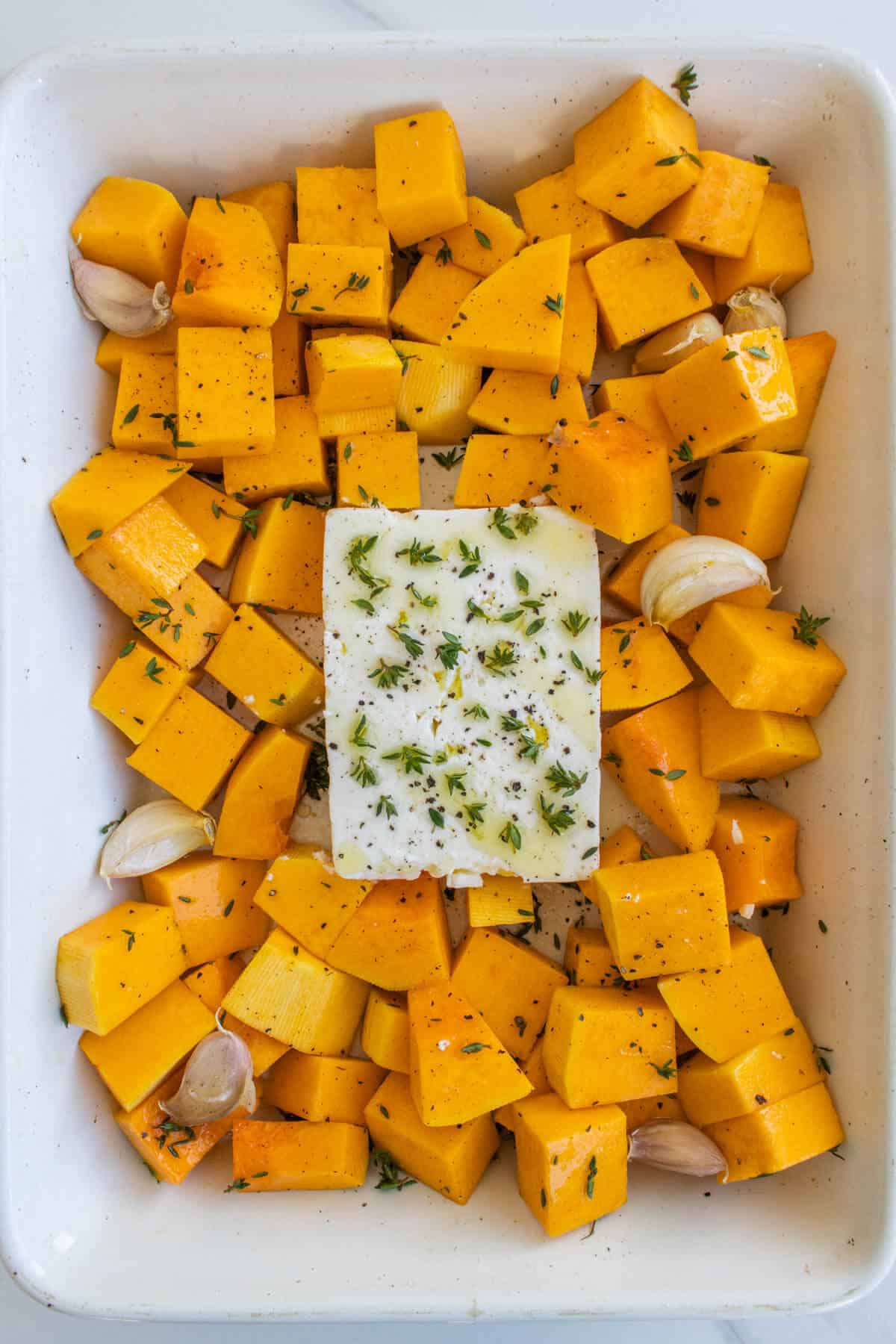 Ingredients to make Pumpkin Feta Pasta
Pumpkin, I'm choosing to use butternut pumpkin squash for its sweetness especially when they are in season
Feta Cheese is the star of this dish! I prefer to use Persian or Bulgarian feta as I find it more creamy and less salty than Greek feta.
Garlic, I love using purple garlic as I find them juicier and milder in flavour
Extra virgin olive oil is my favourite oil to use, especially in this recipe. It plays a huge part in the sauce and pairs well with all the flavours
Pasta, I've used large shells in this recipe. I love that their shape holds in some of the sauce and veggies and it's also similar in size to all the ingredients
Thyme is my preferred herb as I find it works great with pumpkin and feta
Spinach is a great veggie to add as it pairs well and brings a pop of green with added nutrients
Walnuts, I love adding at the end for a little crunch and nuttiness
Chilli flakes at the end are optional but they add a nice kick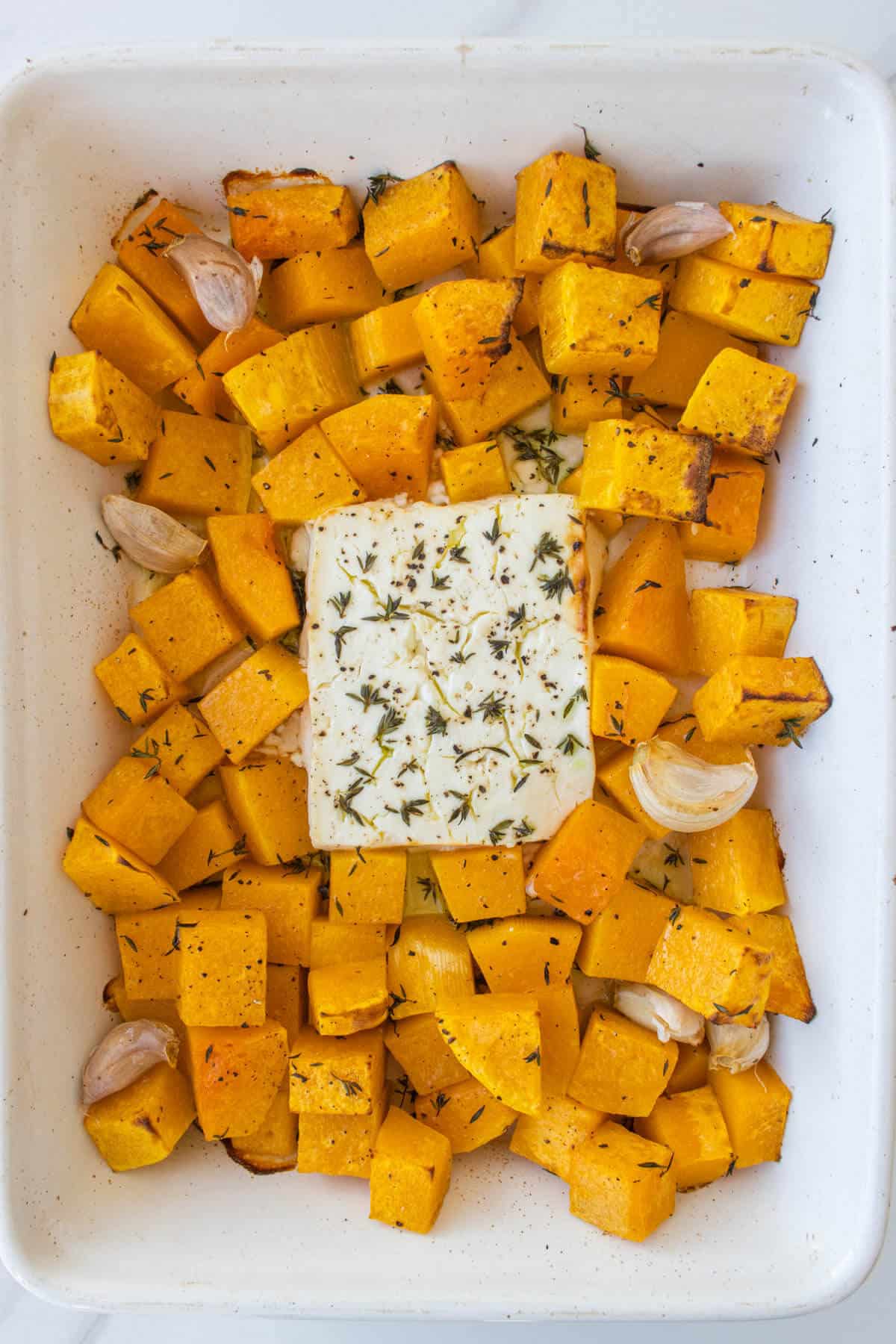 Tips to make this Creamy Pumpkin Feta Pasta
Ensure to place the block of feta whole in the middle of the oven tray. If it's broken up, it will burn too quickly and won't bring out the same creamy sauce.
Don't cut the pumpkin pieces too small as they can become overcooked and mushy which will make them lose their shape and texture.
Garlic cloves are best to be left whole in their skins. Once roasted, they bring out the most beautiful subtle flavour and creaminess. If they are peeled or cut, they can burn in the oven and won't be creamy.
The spinach doesn't need to be cooked as once it's added to the dish with the hot pasta, the heat from the pasta and pasta water will wilt the spinach.
Ensure you add the pasta fairly quickly while the feta is still warm. This will ensure the creaminess will then come together with the pasta. The feta will start to harden once it cools.
Pasta water is very important as it helps create a silky sauce. Without it, it will be a little dry and won't have the same creaminess so make sure to keep some aside when cooking your pasta.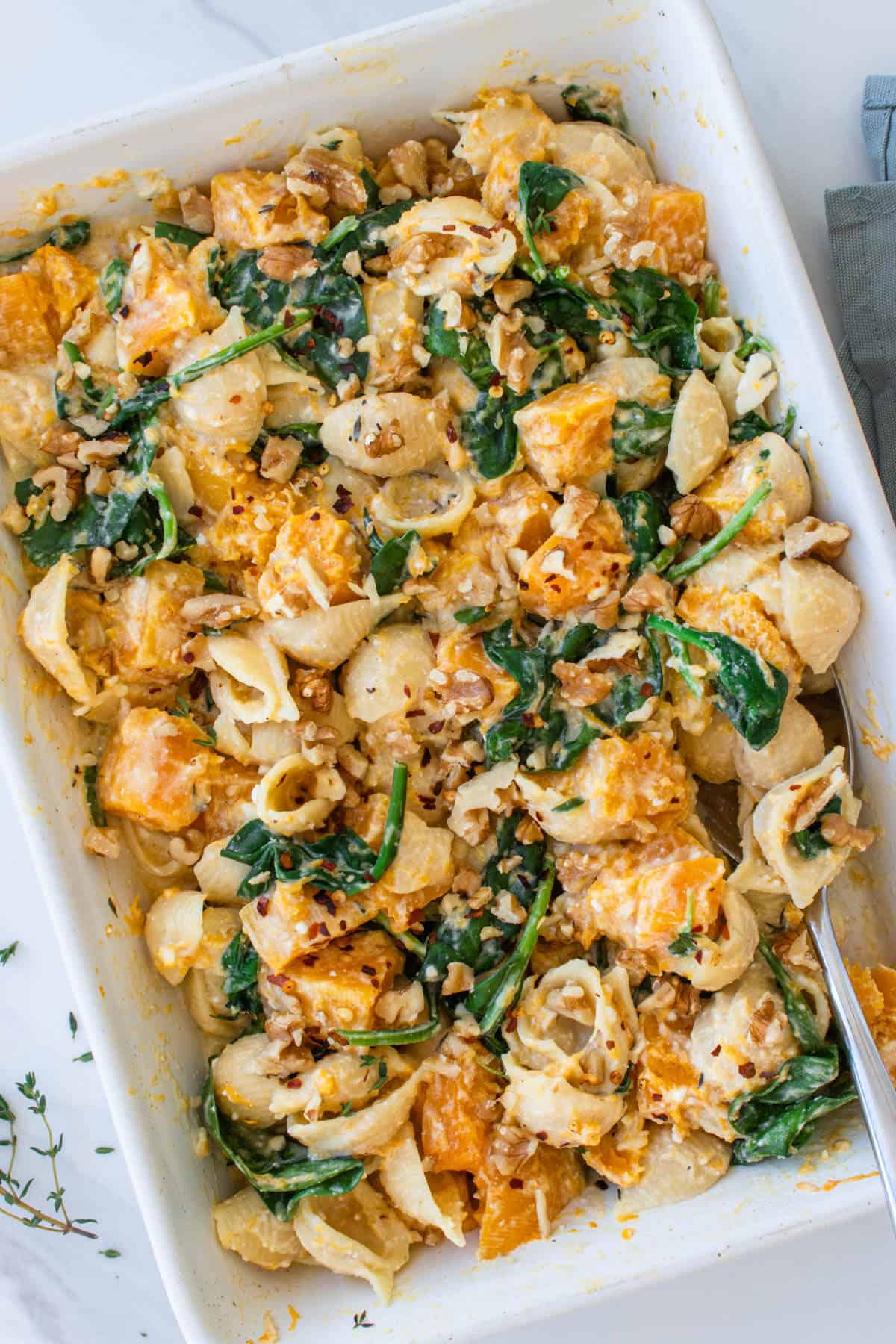 The classic flavours of pumpkin spinach feta and walnuts just level up this pasta and will no doubt become a regular in your house.
More Pumpkin Recipes
More Pasta Recipes
I love seeing your creations and remakes, so be sure to rate the recipe, comment and share your Pumpkin Feta Pasta photo on Instagram so I can share the love!
Recipe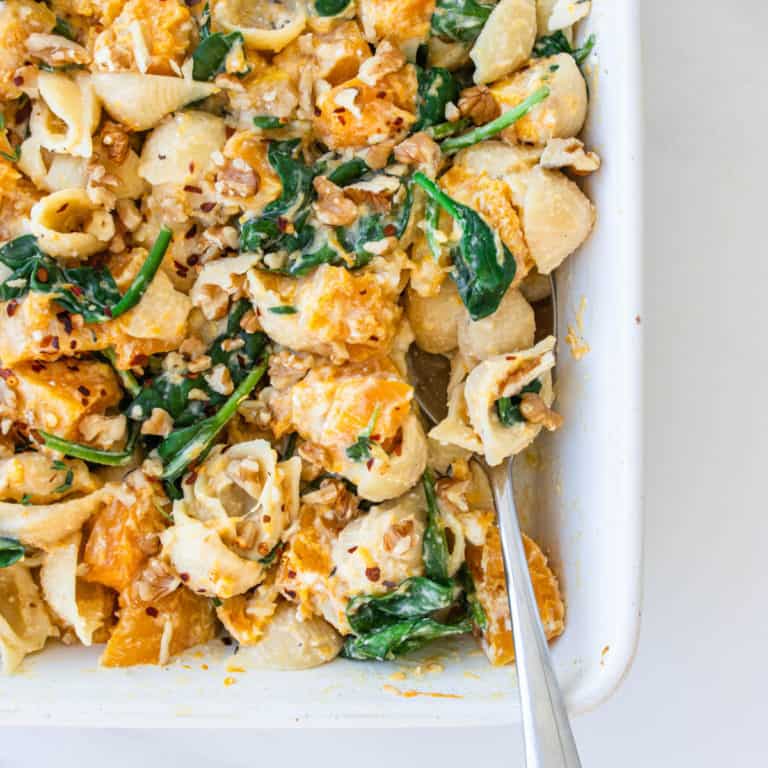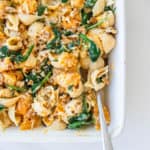 Pumpkin Feta Pasta
This Pumpkin Feta Pasta recipe celebrates classic flavours and is super creamy. Perfect dinner for the family which is easy to make.
Print
Ingredients
360

g

pasta shells

1

kg

butternut squash pumpkin

8

garlic cloves 

180

g

feta cheese (I've used Bulgarian feta)

2

big handfuls baby spinach

1

handful walnuts

¼

cup

extra virgin olive oil 

8

sprigs of thyme 

Salt and pepper to taste 

Chilli flakes (optional)
Instructions
Preheat oven to 200°C/400°F

Peel and chop butternut squash pumpkin into 2cm cubes and add to an oven safe dish.

Add garlic cloves in their skins, thyme leaves and olive oil. Season with salt and pepper and mix all together so oil is covering all the ingredients.

Add the block of feta in the middle of the dish and place all the pumpkin mixture around it evenly.

Season the feta with thyme leaves and a drizzle of extra olive oil.

Put in the oven for 25 minutes until pumpkin is cooked and feta has softened

When the pumpkin has 10 minutes left on the cooking time, start to cook the pasta in heavily salted water. As always, don't forget to save some pasta water on the side

Remove oven dish and gently peel garlic cloves from their skin. Using a fork, mash the garlic cloves in the same oven tray

Break up the feta cheese and stir into the mixture.

Add spinach then top with the cooked pasta with a good splash of pasta water

Mix together to create a beautiful creamy sauce. If it's too thick or dry, add more pasta water 

Top with chilli flakes and crumbled walnuts right before serving so that they stay nice and crunchy 🙂