This is my Healthy Gingerbread Biscuits recipe that you can enjoy with your friends and family without the guilt.
Nothing smells more like Christmas than a fresh batch of Gingerbread Biscuits baking in the oven! I must admit, I never used to be a huge fan of them until I started experimenting and making them myself with the right amount of spices.
Now I'm in love with them and I'm sure you will be too when you try my easy recipe!
With just a few little substitutions, I've made a healthier version of Gingerbread biscuits that you can enjoy without the guilt. The only downfall is once you've had one, you'll keep going back for another 🙂

They're perfect to make and pack as little Christmas treats to share with your friends and family. They're also fantastic on the side with a coffee or tea. This recipe is also a vegan so anyone can enjoy them.
Table of Contents
Video Tutorial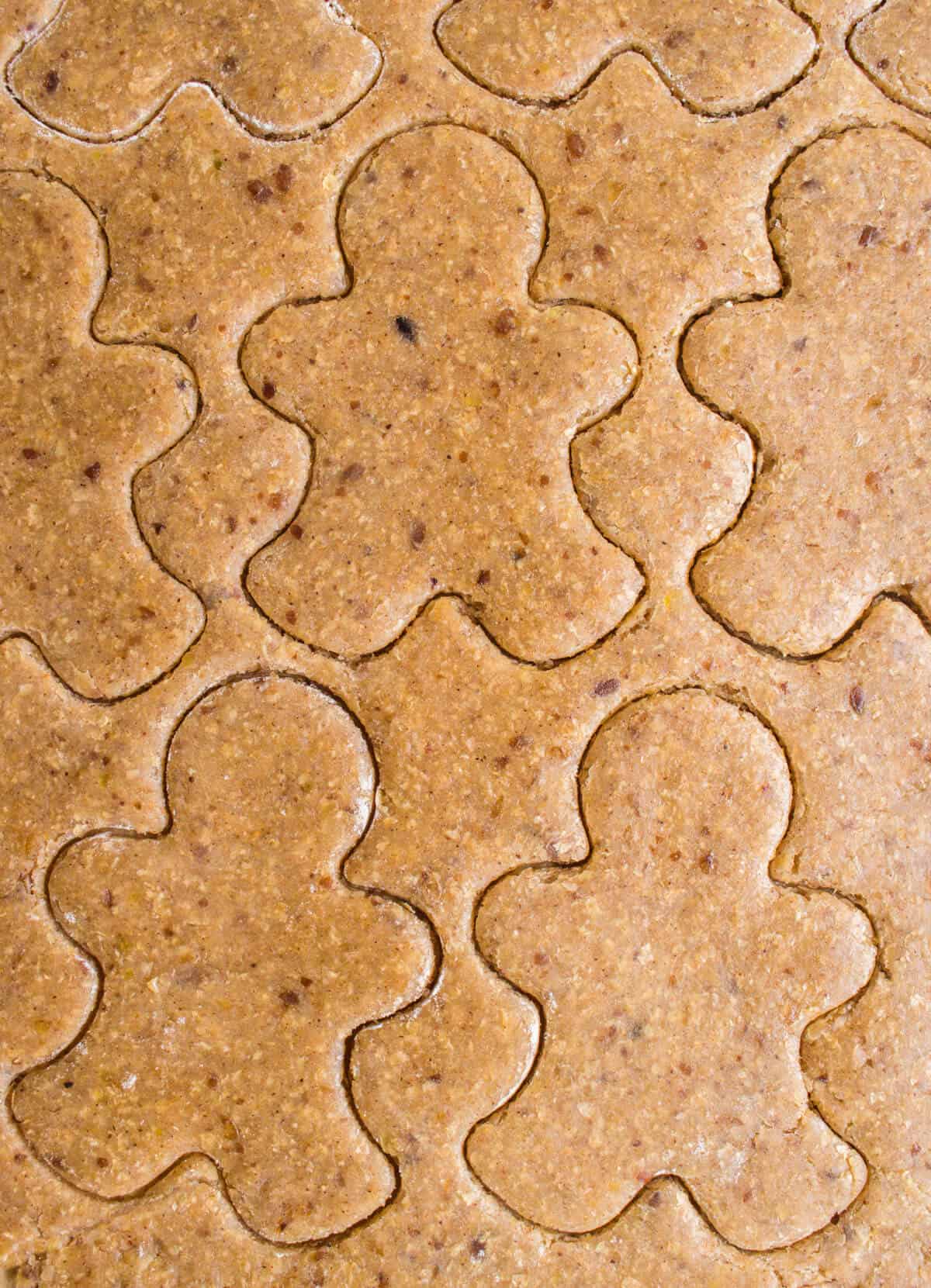 Ingredients to Make Gingerbread Biscuits
Flour, I prefer to use wholemeal flour, you can also substitute with your preferred flour
Maple Syrup, I've used pure maple syrup for its subtle sweetness and colour in substitute of the classically used dark molasses. This recipe isn't overly sweet, so if you do prefer a sweeter biscuit, you can also increase the quantity
Spice Mix, I like to make my own (details in the recipe below). You can then either increase or decrease the amount added to the batter depending on your preferred level of spiciness
Baking Soda, also known as bicarbonate of soda is used rather than baking powder
Coconut Oil, I prefer using coconut oil rather than using butter, you can substitute with butter if preferred
Flax-egg, as my recipe is a vegan recipe, I've used a flax egg (recipe below), however, you can substitute with one egg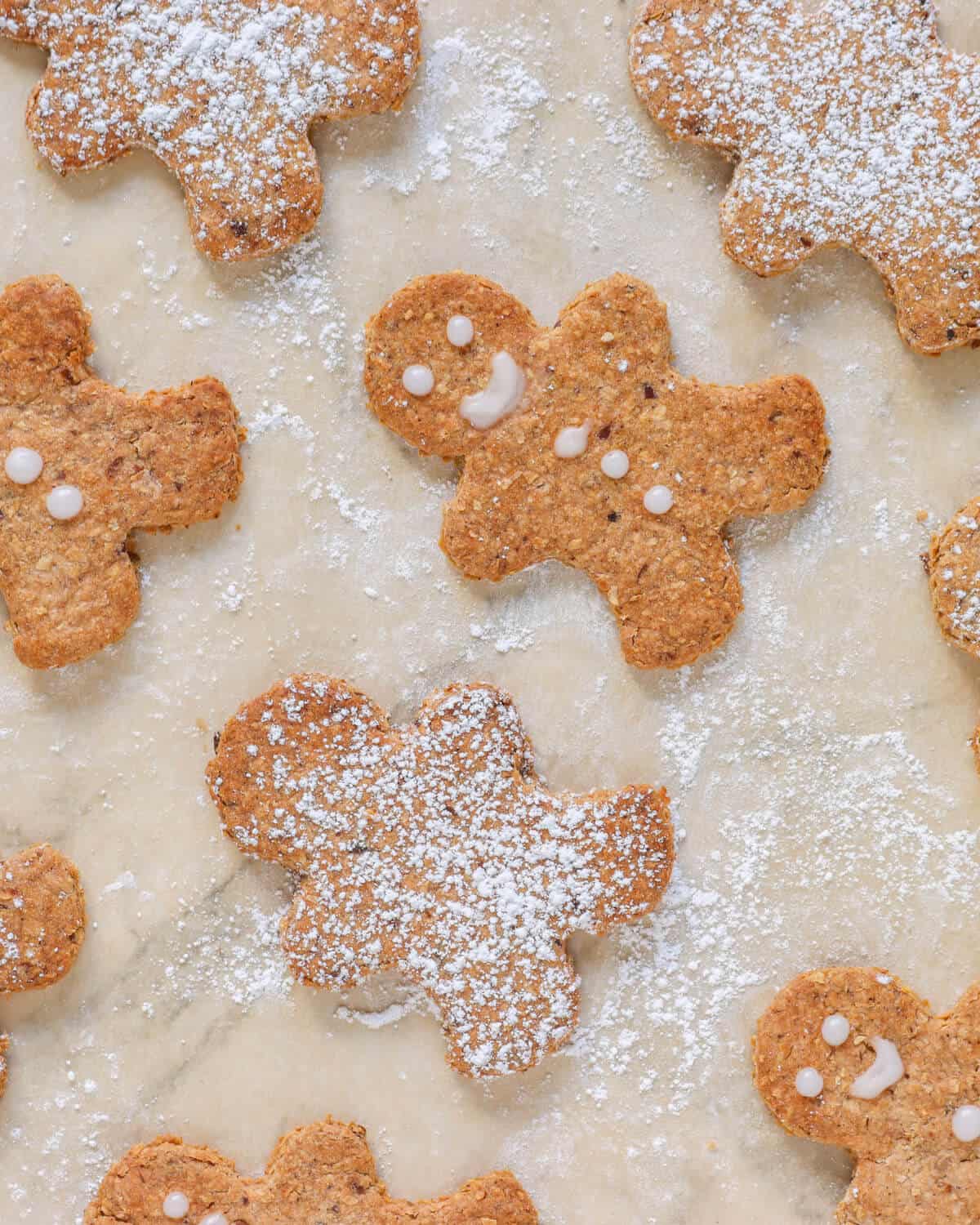 Important Tips
When making the batter, it might seem very dry at first but keep mixing and it will come together. If it feels too wet, add a dash more flour. If it feels too dry, add a slight drizzle of either coconut oil, maple syrup or almond milk.
Once biscuit shapes have been cut, you can make more biscuits by combining all the off-cut parts together to make more batter. If its too crumbly, place back in plastic wrap and into the fridge to set before rolling out.
When rolling the batter, the thinner the batter is, the more crispy the biscuits will be. If you are after a thicker more chewy biscuit, you can roll it to a thicker level
When baking the biscuits, if you prefer soft chewy cookies, they should only need 10 minutes in the oven, and if you prefer crispier biscuits, the longer they cook they will become crisper.
Biscuits will also become crisper once cooled on a wire rack after baking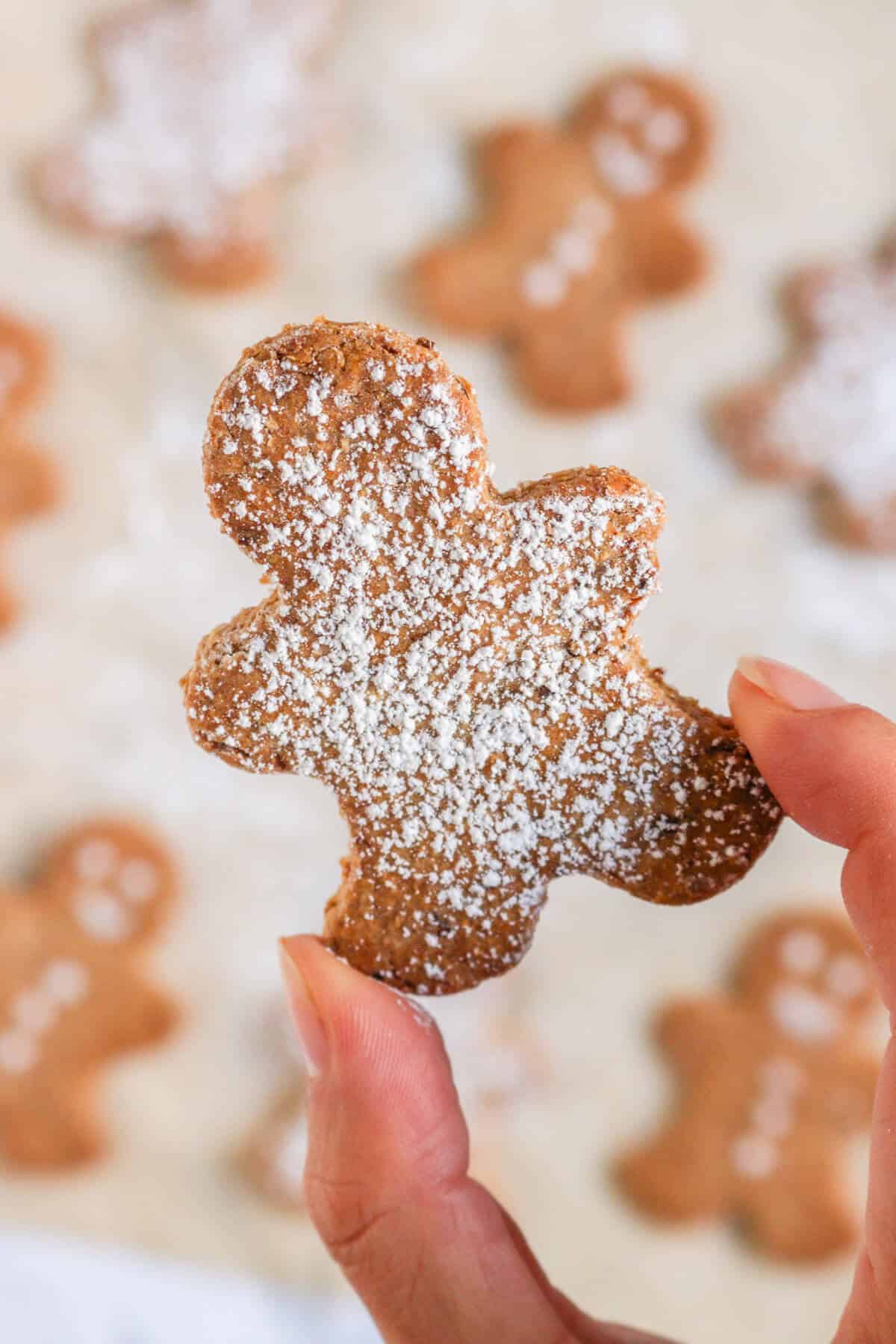 How to Make a Flax-Egg
A flax egg is used in substitution of an egg for a vegan baking recipe to help bind ingredients together.

To make a flax egg, mix 1 tablespoon of ground flax seeds with 2 tablespoons of water in a bowl. Let it sit for 5 minutes and it will be the consistency of an egg.
More Healthy Baking Recipes
I love seeing your creations and remakes, so make sure to tag me and send me a photo on Instagram so I can also share the love.
Recipe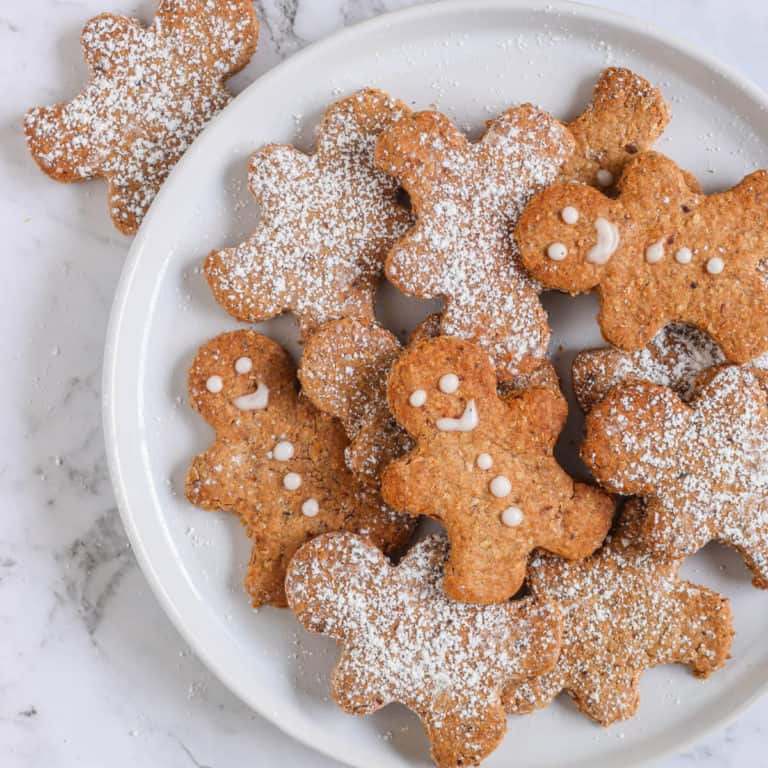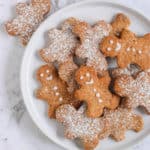 Gingerbread Biscuits
Print
Ingredients
1 ½

cups

wholemeal flour

2

teaspoon

spice mix (add more if you prefer extra spice)

¼

teaspoon

baking soda

¼

cups

melted coconut oil

¼

cups

maple syrup (increase if you prefer sweeter)

1

flax egg (use normal egg if not vegan)

Pinch of sea salt
Spice Mix
2

teaspoon

ground ginger

2

teaspoon

ground cinnamon

¼

teaspoon

ground nutmeg

¼

teaspoon

ground cloves
Instructions
Add flour, baking soda, spice mix and salt to a big bowl and mix together

In a separate bowl, mix maple syrup, coconut oil and flax egg together

Pour the wet ingredients into the dry bowl and combine well using a spoon to start. Then combine together using your hands into a dough ball

Wrap in cling wrap and place into the fridge for 40 - 60 minutes

Once time is up, preheat oven to 220C°/425°F

Place dough ball inbetween two sheets of baking/parchment paper. Using a rolling pin, roll dough into a large flat level piece.

Place floured cookie cutter onto the dough and press down well to create shapes. You can also use a glass to make round cookies.

Gently remove pieces and place down on a baking tray lined with baking paper. Place into the oven and cook for 10-15 minutes until browned (for softer biscuits remove at 10 minutes, as the longer they cook for the crispier they will be)

Let them rest on a cooling rack before decorating.

Optional, decorate with a light dusting of icing sugar or mix 1-2 tablespoon of Icing sugar with a small dash of water and mix to a thick consistency. Add to a zip lock bag and cut a tiny hole to use as a piping bag to decorate.