These classic Italian style Zucchini Fritters are a quick and easy way to use Zucchini's with only 6 ingredients and completely egg-free!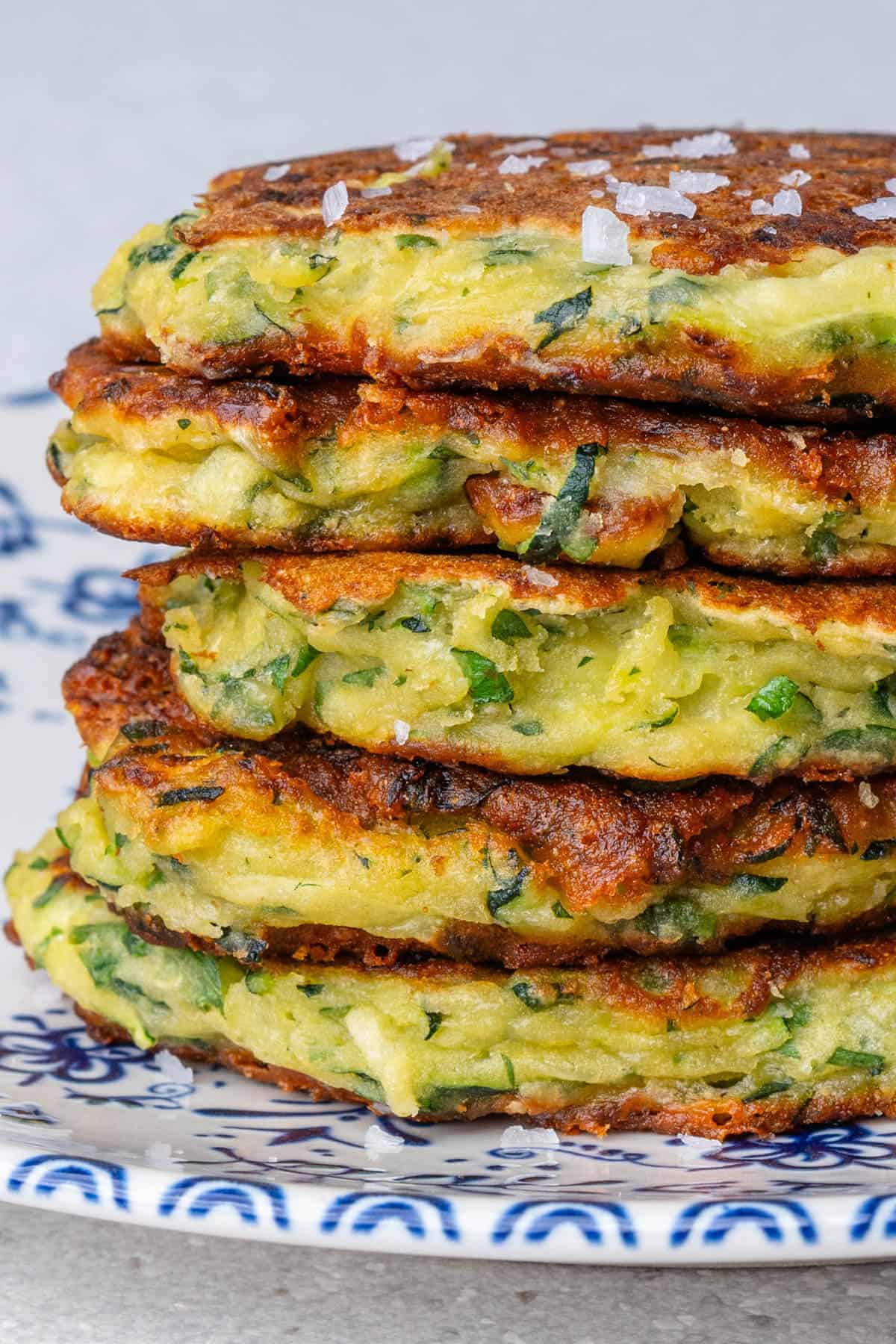 Zucchini Fritters but this time Italian style! They're called Frittelle di Zucchine and are one of my favourite things to eat.
My husband is Italian, and his Nonna would make the best Frittelle di Zucchine when he was a kid. I've tried to get as close as I can to her recipe without trying them myself 🙂

He has approved my recipe which is a big achievement for me!! She did however also add fiori di zucca in hers which are zucchini flowers. If you have some, you can also add them in the dish!
If you're like me and love fritters, you must also try my zucchini corn fritters which are one of my most popular recipes!
You can serve zucchini fritters for breakfast, lunch, or even great as a snack. They're also served in Italy as antipasto which is a shared starter.
I love making a batch for meal prep and having them during the week. They are also so yummy eaten cold so you can take them to a picnic and even the beach.
You can also easily make them vegan too with a simple substitution below.
Table of Contents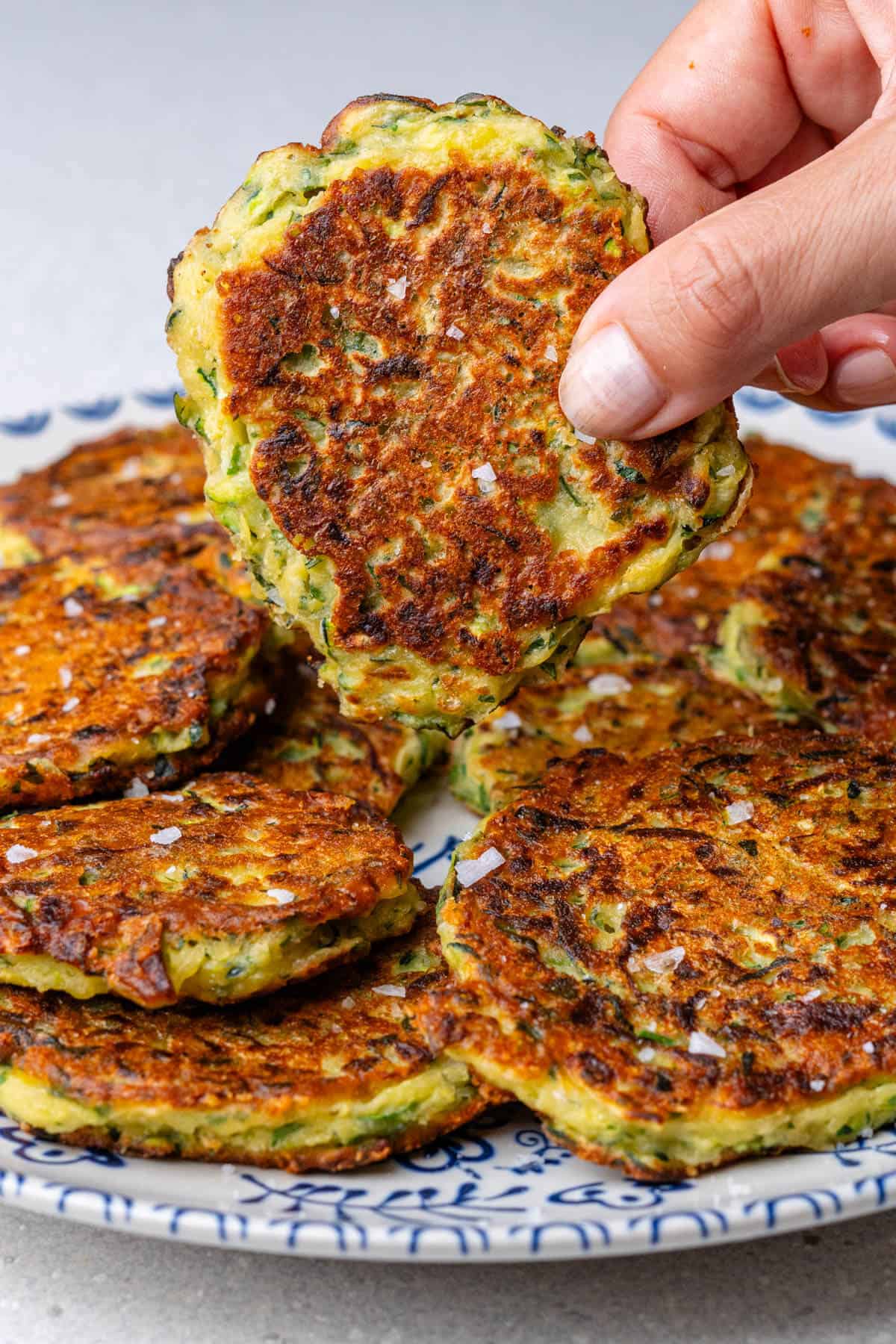 Ingredients to make Zucchini Fritters
Zucchini are of course the star of the recipe! I love making them in summer when its zucchini season as they not only taste better, but they're also super cheap and its a great way to use them up. Also try and use thinner zucchini's which are less watery
Flour, chickpea flour is my preferred flour to use as its not refined and its also high in protein and gluten-free. As I've preferred to leave the egg out of this recipe, the chickpea flour combined with some of the excess zucchini liquid gives you the same batter consistency. Standard all purpose flour can also be used if you prefer
Parmigiano Reggiano cheese is grated and added into the mixture. You can also use Pecorino Romano cheese too. If you're wishing to make the recipe vegan, add a plant based cheese or even some nutritional yeast
Parsley gives a lovely freshness to the zucchini fritters and also brightens the green colour too! Fresh herbs work best. Mint, fresh dill and coriander (cilantro) can also be used
Garlic for all my fellow garlic girls! I use only one clove as I don't want it to over power the fritters
Baking powder is added which makes the fritters light and a little fluffy. You don't need to add too much as a little goes a long way
Extra virgin olive oil is my preferred oil to use. You can of course use your preferred oil such as avocado oil, grape-seed oil, etc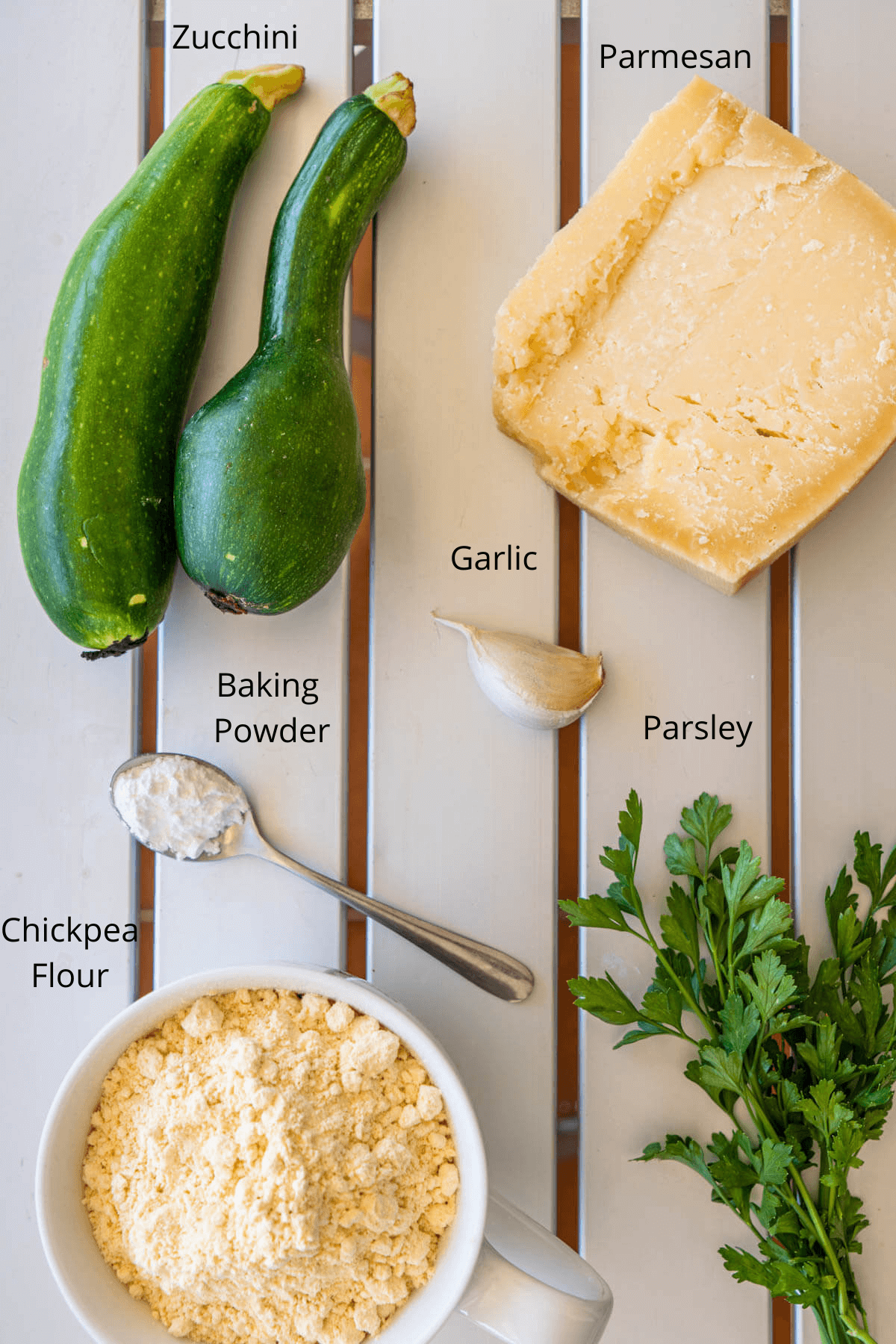 How to make Zucchini Fritters
Make these Italian style zucchini fritters in no time at all. Here are my simple steps to make them.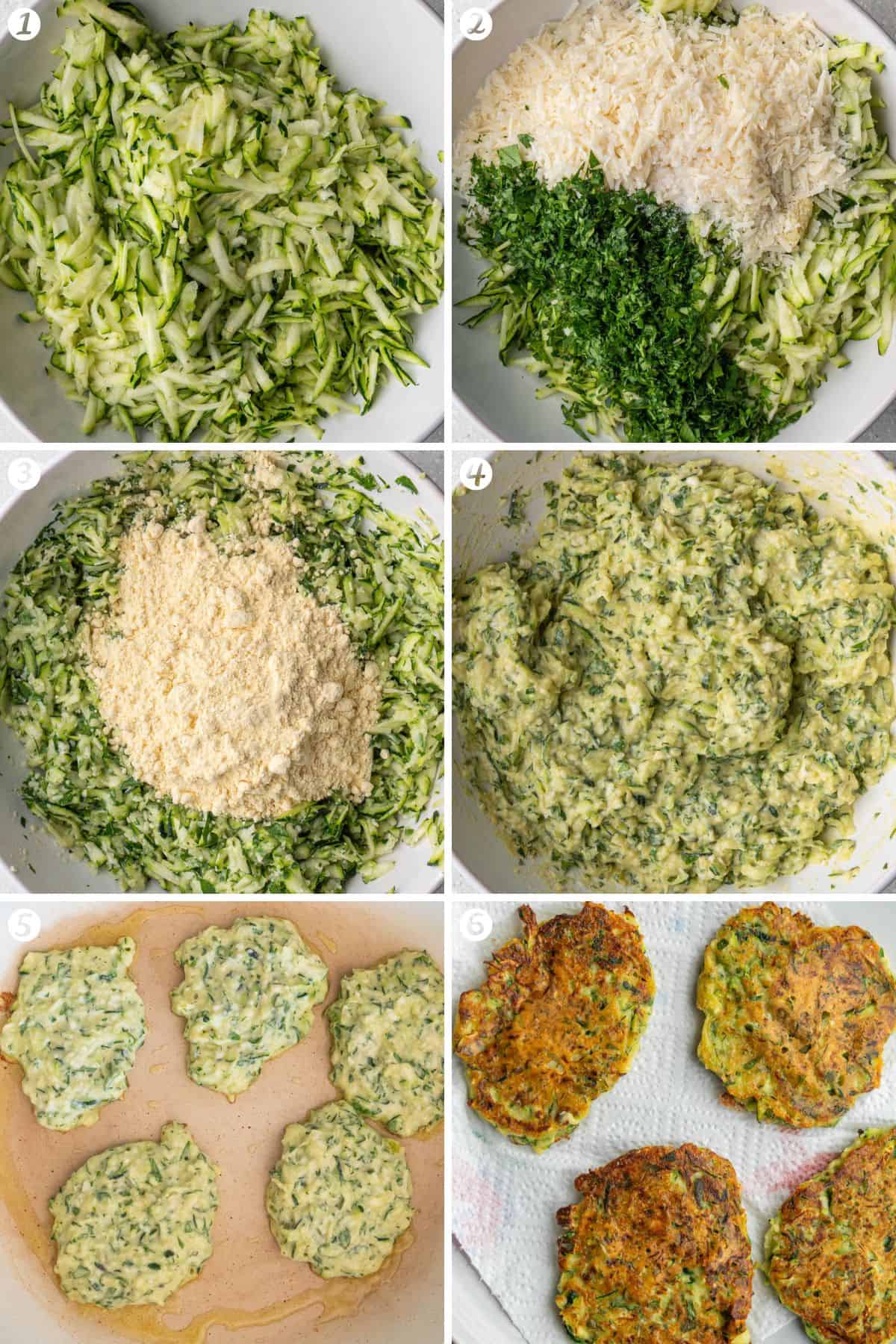 Grate the zucchini using a box grater, leave aside for 10 minutes then squeeze out the excess liquid. Add to a large bowl
Grate parmesan cheese and a garlic clove. Then finely chop the parsley and add all to the same bowl. Mix to combine
Add chickpea flour, season and combine together
Add 3-4 tablespoons of the zucchini water and 1 teaspoon baking powder to the bowl and stir together. Batter is ready!
Heat some oil in a pan on medium-high heat and spoon a tablespoon of the batter into the pan. Flatten gently with the back of the spoon. After a couple of minutes, flip until golden brown
Once cooked, place zucchini fritters on paper towels to remove excess oil. Enjoy!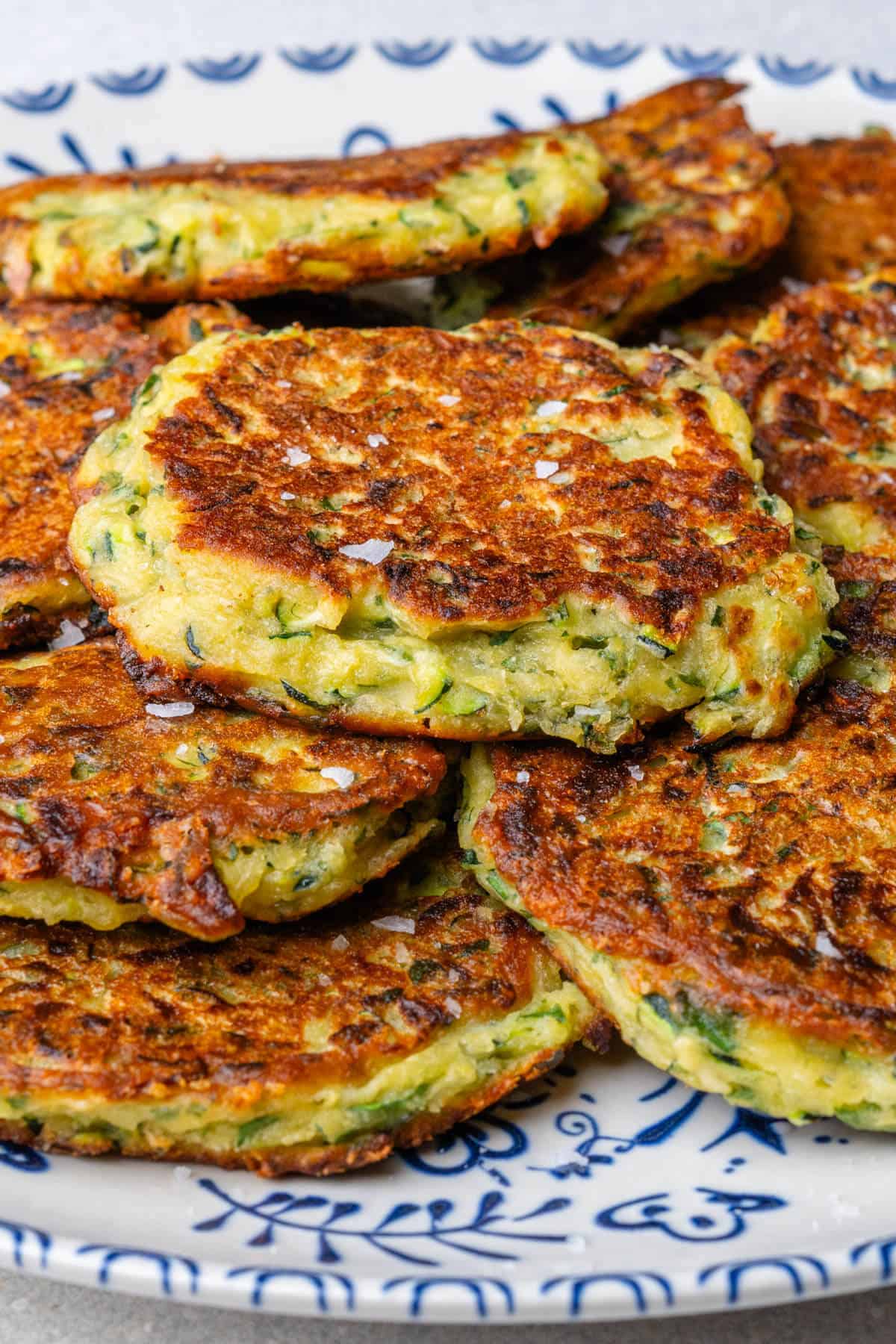 Tips & Tricks
Make sure to drain out the excess liquid from the zucchini. If you miss this step, they will be too soggy on the inside. Ensure however to keep the liquid as we will use some of it later
Add the zucchini water back slowly to get the right texture. If you add too much in, it will make it watery. You can add more, but you cant take it out!
Try and use thinner zucchini's and good quality ones. I find the really larger zucchini can have less flavour along with white zucchini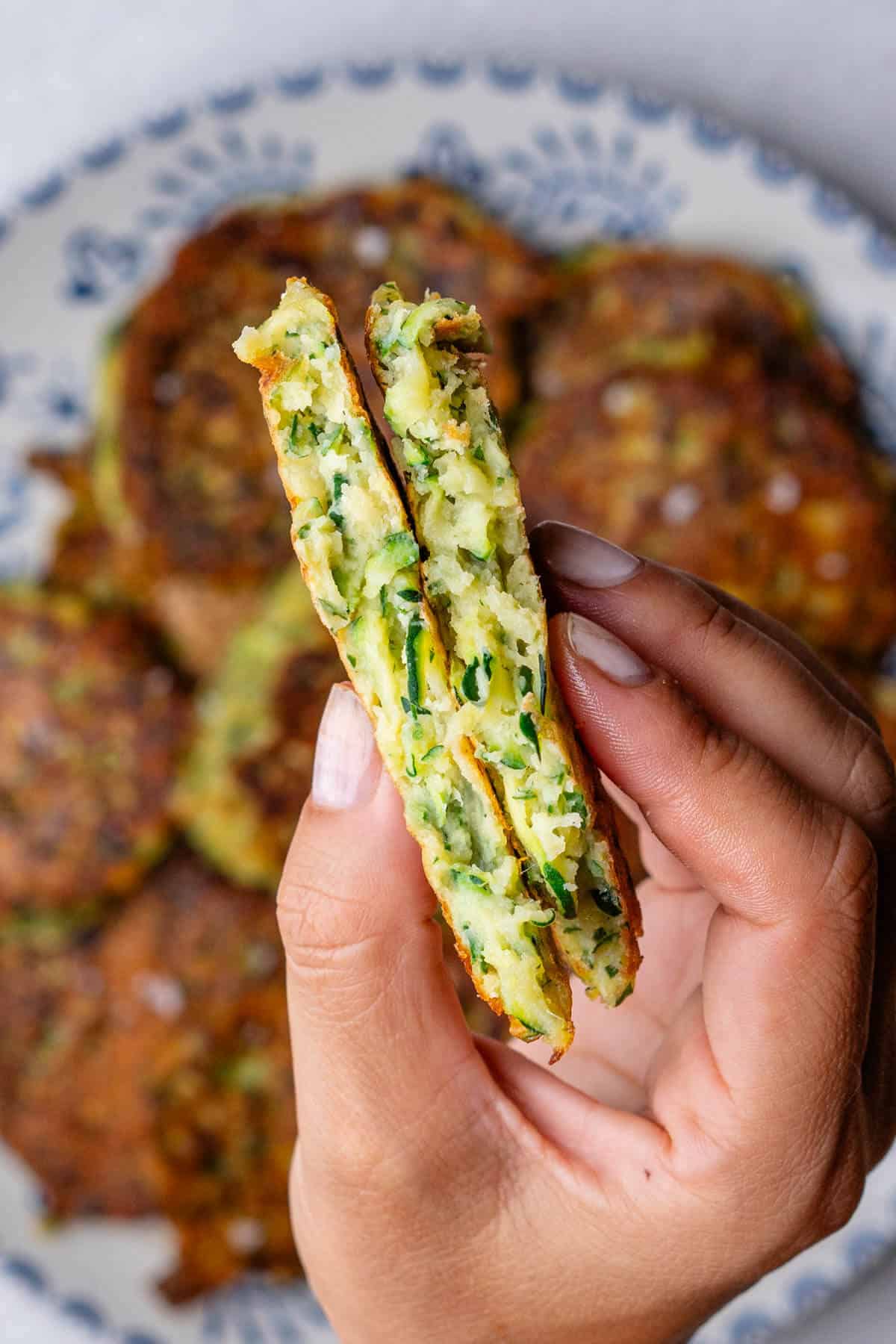 FAQs
Can you make Zucchini Fritters egg-free?
Zucchini Fritters can easily be made without eggs! Leave the egg out of the recipe and when squeezing the excess water out of the zucchini, keep it on the side. The excess zucchini water then binds together with the flour to still make great zucchini fritters
Are Zucchini Fritters healthy?
Zucchini which is the main ingredient is high in antioxidants and nutrients. They're also made with chickpea flour which is unrefined and high in protein and nutrients. To make the fritters healthier, you can bake them in the oven or air fryer which will use less oil
Can you bake Zucchini Fritters?
Yes of course! Place on a tray with baking paper, brush the tops with oil and bake in the oven or air fryer. Use the cooking method in my zucchini corn fritters recipe for more assistance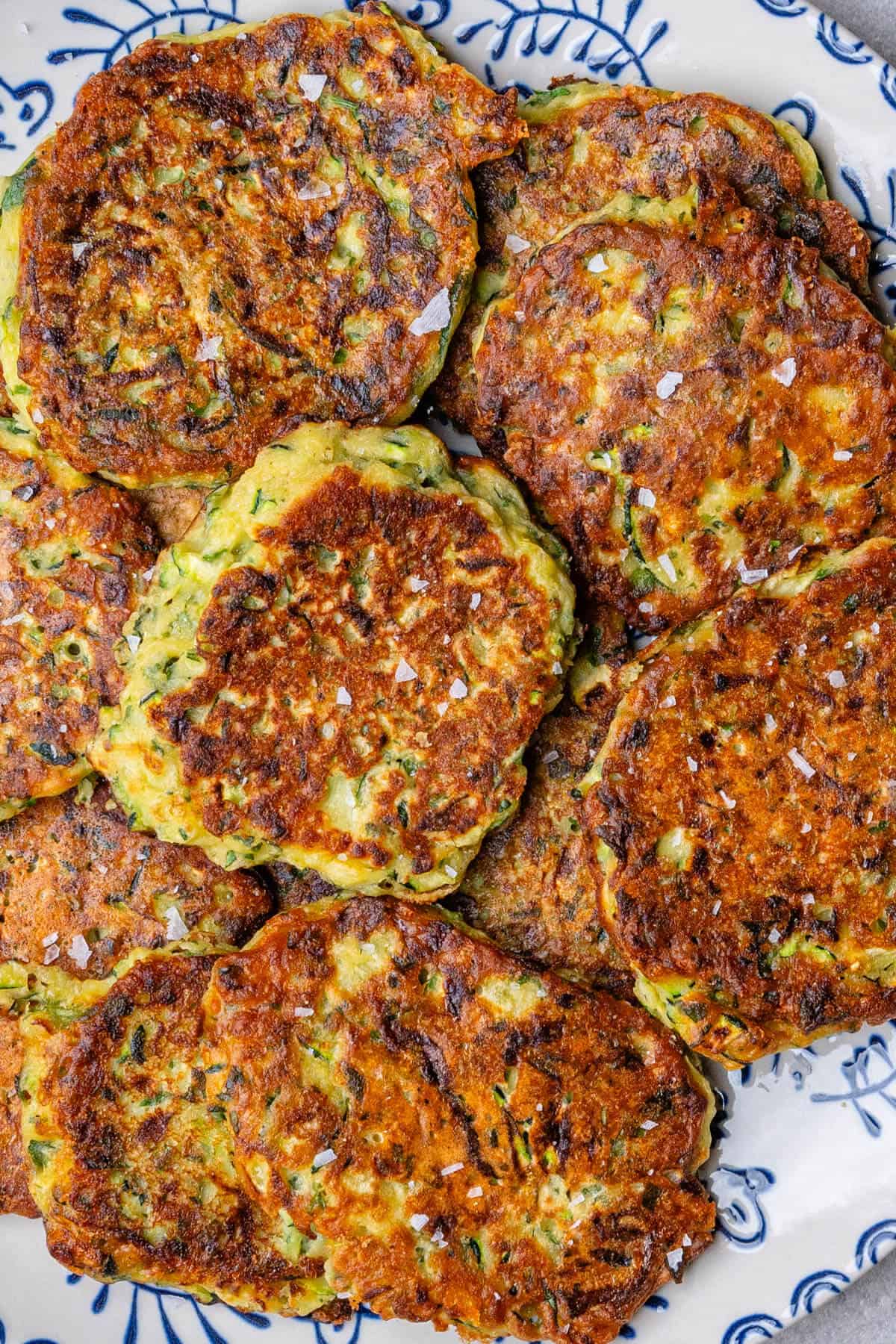 More Fritters
More Italian Recipes
I love seeing your creations and remakes, so be sure to rate the recipe, comment and share your Zucchini Fritters (Italian Frittelle di Zucchine) photo on Instagram so I can share the love!
Recipe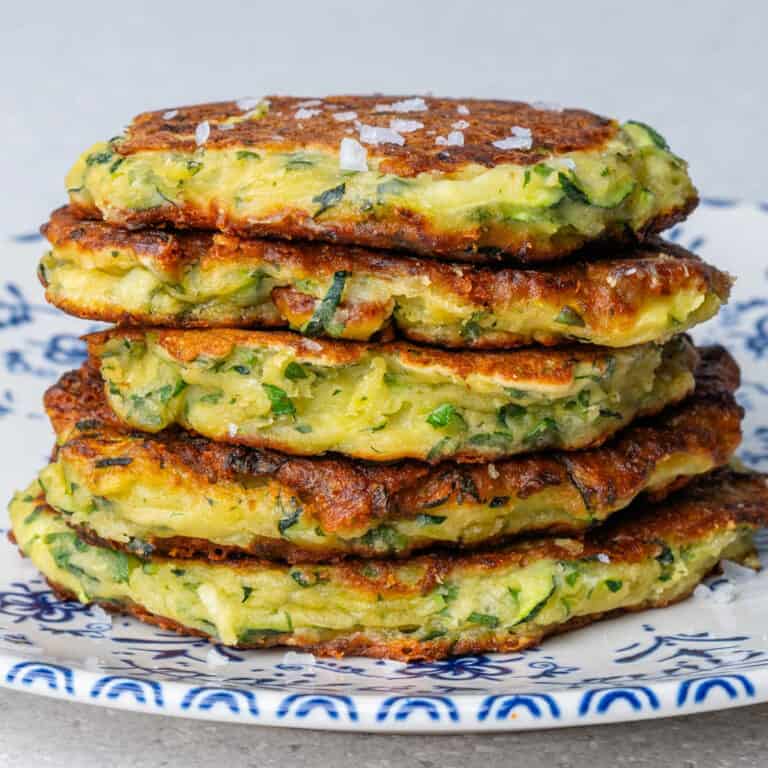 Zucchini Fritters (Italian Frittelle di Zucchine)
These classic Italian style Zucchini Fritters are a quick and easy way to use Zucchini's with only 6 ingredients and completely egg-free!
Print
Ingredients
500

g

zucchini

80

g

Parmigiano Reggiano cheese (parmesan cheese)

100

g

chickpea flour

1

small bunch

parsley leaves

1

garlic clove

1

tsp

baking powder

¼

cup

oil for frying (I've used extra virgin olive oil)

Salt and pepper to taste
Instructions
Grate the zucchini using a box grater, leave aside for 10 minutes then squeeze out the excess liquid.  Add to a large bowl

Grate parmesan cheese and a garlic clove. Finely chop parsley and add all to the same bowl.  Mix to combine

Add chickpea flour, season with salt and pepper. Mix to combine

Add 3-4 tablespoons of the zucchini water and baking powder to the bowl and stir together to create a soft batter which has binded together

(If needed, add more of the zucchini water slowly to get the right consistency without it becoming watery)

Heat some of the the oil in a skillet or pan on medium-high heat and spoon a tablespoon of the batter into the pan. Flatten gently with the back of the spoon to make a circle and repeat with the rest of the batter

Fry for a few minutes and flip each fritter until both sides are golden brown.

Place the cooked zucchini fritters on paper towels to draw out the excess oil and enjoy your Zucchini Fritters hot or cold 🙂
Nutrition
Calories:
107
kcal
|
Carbohydrates:
7
g
|
Protein:
5
g
|
Fat:
7
g
|
Saturated Fat:
2
g
|
Polyunsaturated Fat:
1
g
|
Monounsaturated Fat:
4
g
|
Cholesterol:
5
mg
|
Sodium:
157
mg
|
Potassium:
212
mg
|
Fiber:
1
g
|
Sugar:
2
g
|
Vitamin A:
539
IU
|
Vitamin C:
14
mg
|
Calcium:
116
mg
|
Iron:
1
mg