These Healthy Egg Muffins are like mini Frittata cups, delicious and are gluten free. Great for breakfast, snack, and for kids school lunches.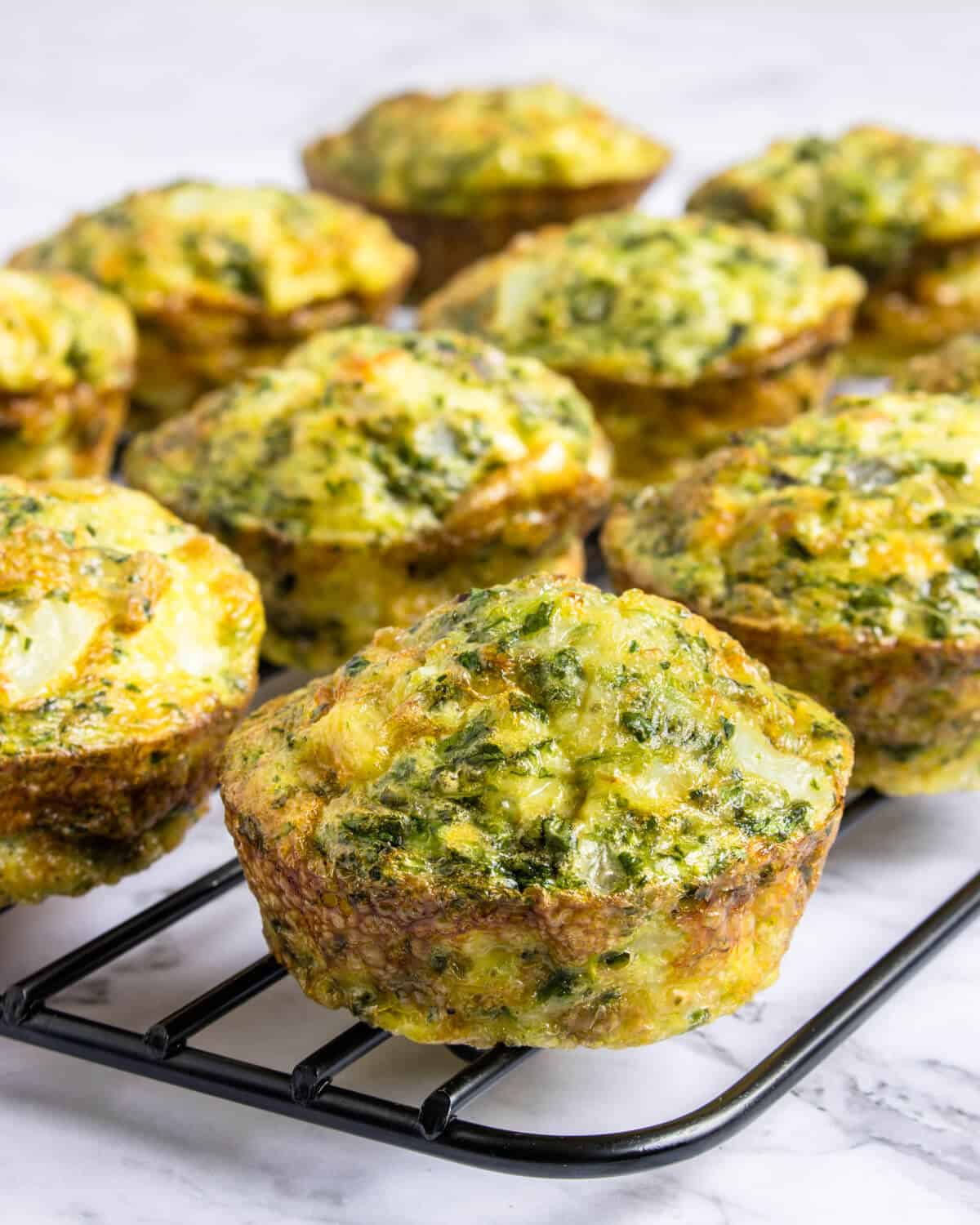 These Healthy Egg Muffins are like mini frittata cups, so delicious, packed full of flavour and healthy goodies! Perfect for breakfast when you're on the go, great for a snack, and also the perfect size for kids school lunches.
They are gluten-free, super light and fluffy on the inside, and a great source of protein. They can also easily be made into a keto recipe simply by removing the potatoes which you can either leave out or substitute with another vegetable.
This recipe is easy to make with only 6 ingredients and takes less than 30 minutes to make. Egg Muffins are also a great way to use any leftover vegetables you have in your fridge so you can get creative and add any vegetables you like.
Table of Contents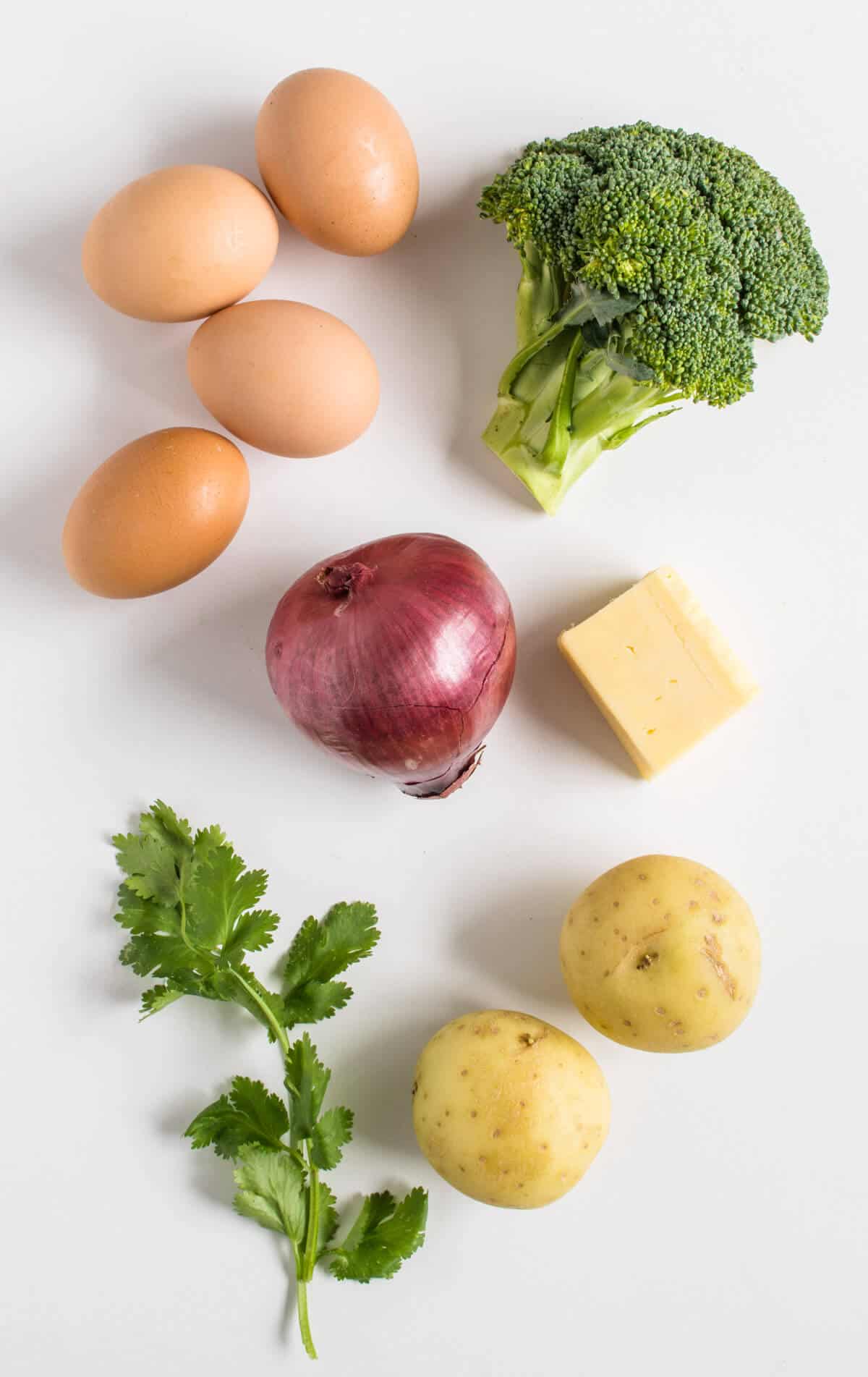 Ingredients to Make Healthy Egg Muffins
Eggs are the main ingredient in this dish. I've used large free-range eggs
Broccoli, I love adding broccoli to egg muffins as it not only gives a nice bright colour but it also adds so many nutrients
Red onion brings a beautiful sweetness to the muffins, white onions will also work if you cant get your hands on a red onion.
White potatoes, give body to the muffins along with some carbohydrates to keep you fuller for longer
Fresh coriander or parsley, I'm a big coriander fan myself so it's definitely my herb of choice. Parsley also works great as a substitute if you're not a coriander lover like me 🙂
Cheddar cheese, a little cheese is never a bad idea right! I like using cheddar cheese for a little extra saltiness and creaminess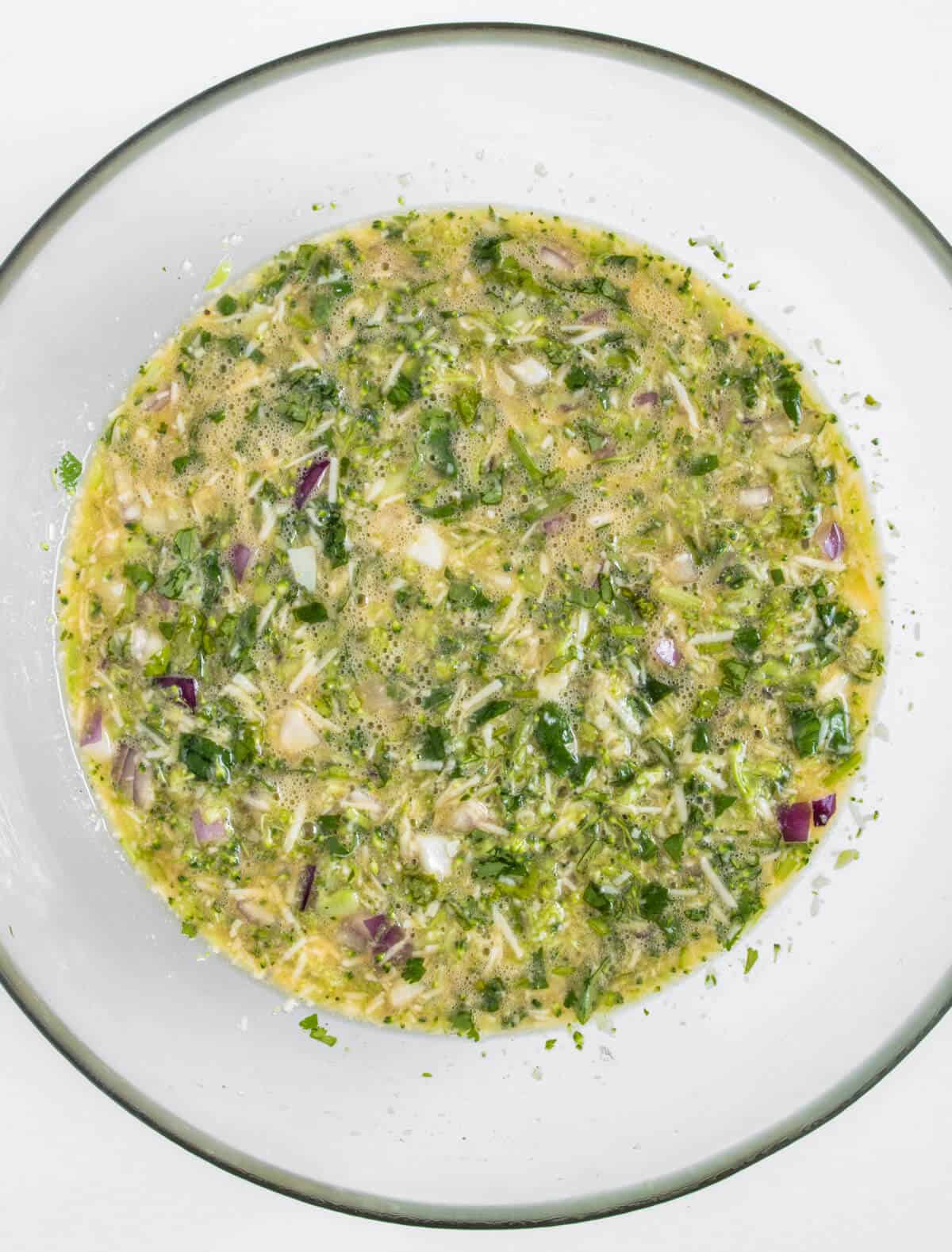 How to Make Healthy Egg Muffins
Making these muffins healthy is important so that's why these are cooked in the oven. The first step is to preheat your oven to speed up the cooking time whilst you prepare the ingredients.
In a large bowl crack in the eggs and chopped herbs then start to chop the potatoes and onion in small cubes to add in the bowl.
With a box grater, grate the broccoli and cheese and add to the bowl. Mix all ingredients together. Your muffin mixture is now ready!
Grab a muffin tin and spray oil olive so that muffins can easily pop out once cooked and bake for 20 minutes. Once they are ready let them rest on a cooling rack before diggin in!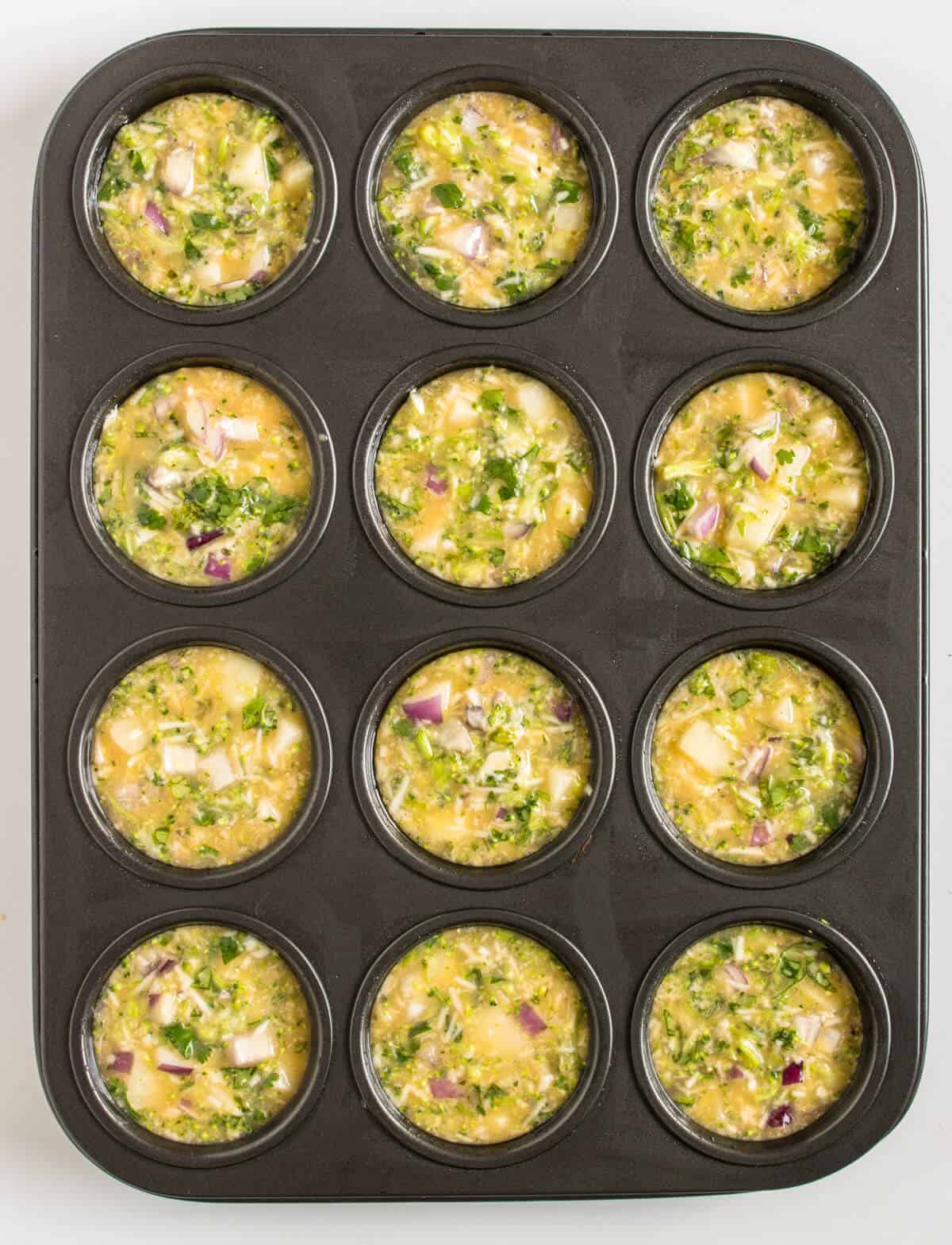 Important Tips
Make sure to chop all ingredients in small similar sized pieces. this ensures they all cook evenly along with being distributed evenly through all the muffins.
The best way to fill the mixture in the muffin tin is to use a measuring cup instead of a spoon. I find using a ¼ cup is the best size, so you can easily scoop mixture into the muffin tin and avoid any spillage with an easy cleanup
Once the muffins are cooked, remove from the muffin tray straight away and let them cool on a cooling rack. This will stop them from sweating and continuing to cook on the inside
They are even tasty to eat cold, I personally love slightly heating them in the microwave before eating or letting them sit at room temperature before eating.
For any muffins that haven't been eaten on the first day, keep them in an airtight container in the fridge for 5 days, that is if they last that long!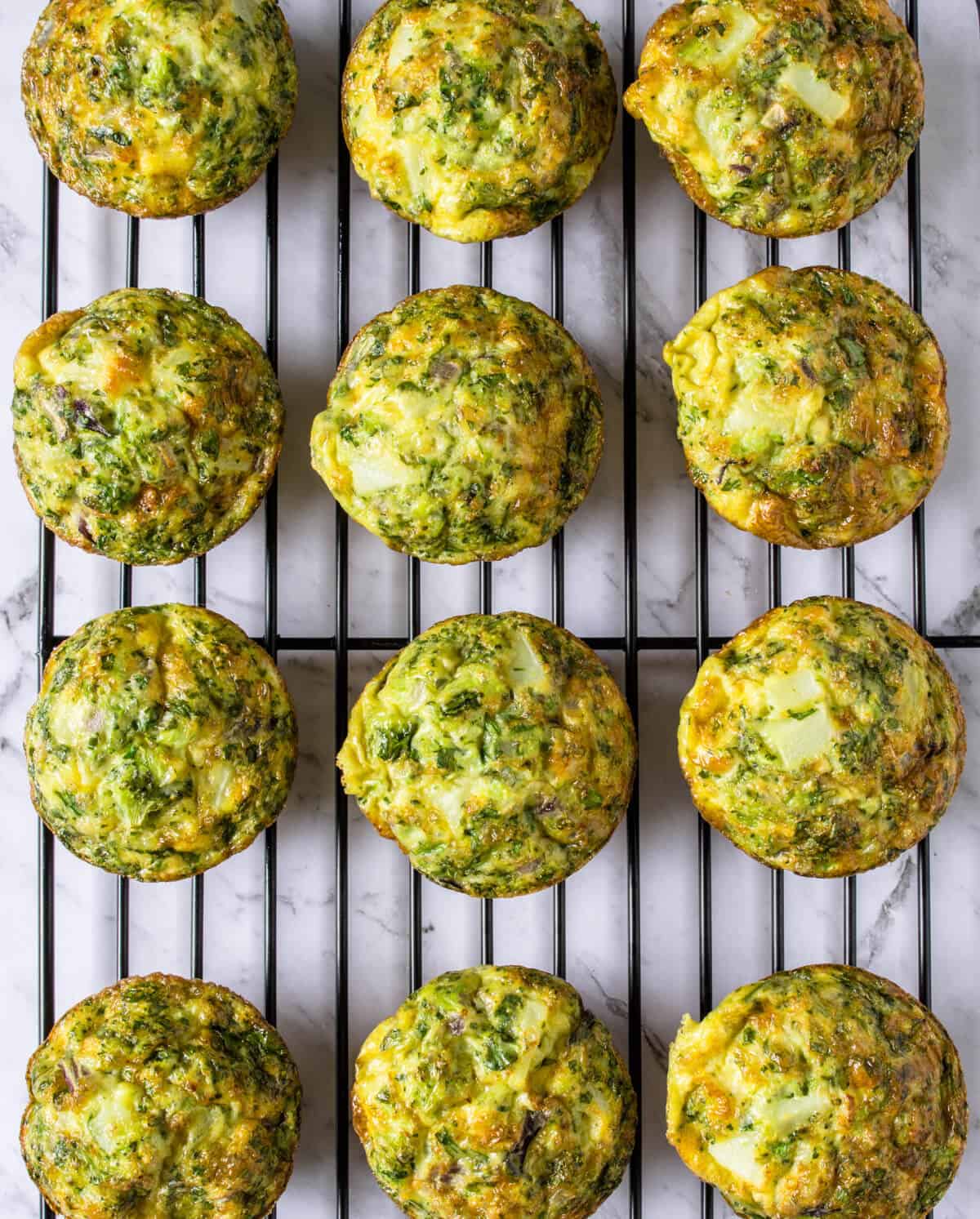 FAQs
What do they taste like?
Like breakfast in a muffin, with a good balance of flavours, saltiness and sweetness
Can you easily modify this to be vegan?
Yes sure, these muffins are a vegetarian recipe, however, can be made vegan. Simply switch the eggs for a plant-based egg mix along with the cheese to a vegan substitute. You can purchase both from your health or grocer stores.
How do you keep egg muffins from deflating?
You will notice once they come out of the oven they will start to deflate. Ensure to remove the muffins from the tin and let them rest on a cooling rack to stop them cooking and deflating.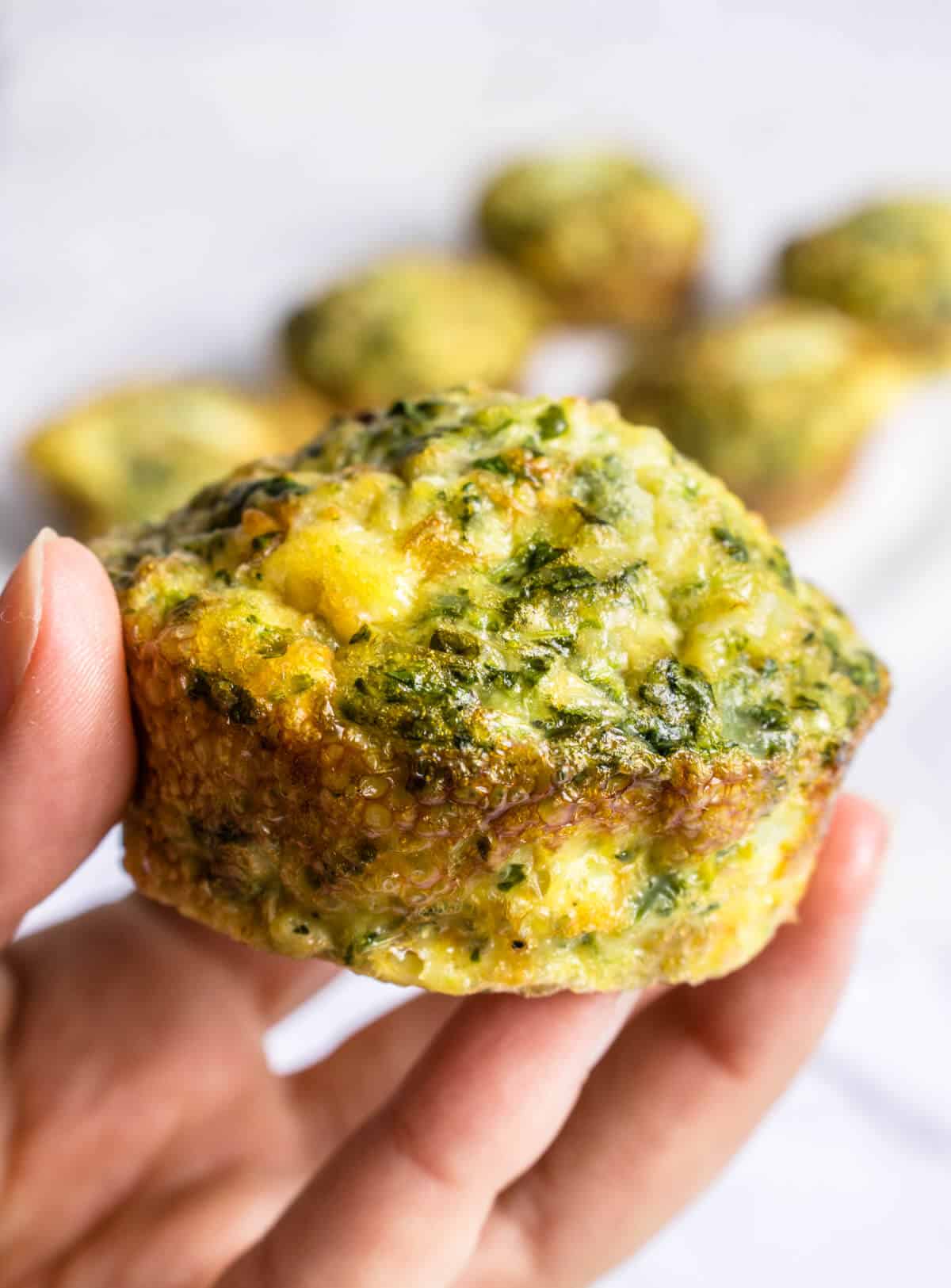 These little muffins are becoming a regular in my house, super quick to make and ready whenever you need a healthy snack any time of the day. What is more, is that you can substitute many of the ingredients and enjoy many different combinations.
More Breakfast Recipes
I love seeing your creations and remakes, so make sure to tag me and send me a photo on Instagram so I can also share the love.
Recipe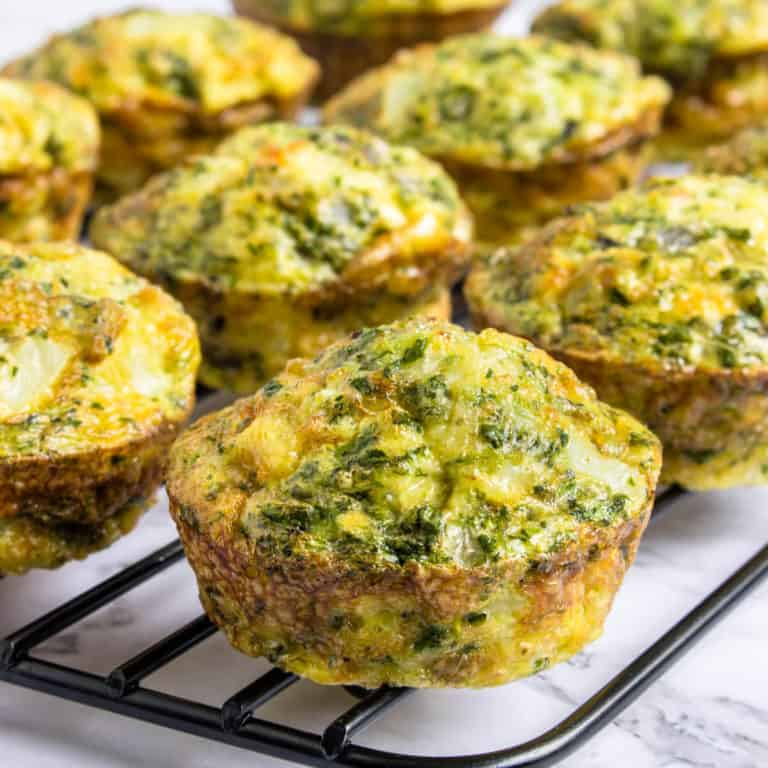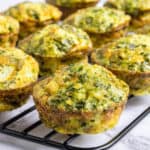 Healthy Egg Muffins
Print
Ingredients
8

eggs

100

g

broccolli

½

red onion

2

white potatoes

70

g

cheddar cheese

Big handful of fesh coriander or parsley chopped

Olive oil cooking spary

Salt and pepper to taste
Instructions
Preheat oven to 200°C/400°F

Crack 8 eggs into a large bowl. Season well with salt and pepper.

Dice onion and potatoes into small cubes, add to the eggs along with the fresh herbs

Using a box grater, grate the broccoli and cheese. Add to the bowl with the remaining ingredients.

Season bowl and mix well.

Spray olive oil in a muffin tin. Ensure all the sides are oiled.

Fill each muffin tin to ¾ full with the mixture.

Put in the oven for 20 minutes. To check they are cooked, stick a toothpick inside and see if it comes out clean

Rest muffins for 5 minutes on a cooking rack straight way and enjoy!