This Vegan Vodka Sauce makes delicious creamy pasta without using any cream. It's vegan, it's spicy, and the perfect comfort food!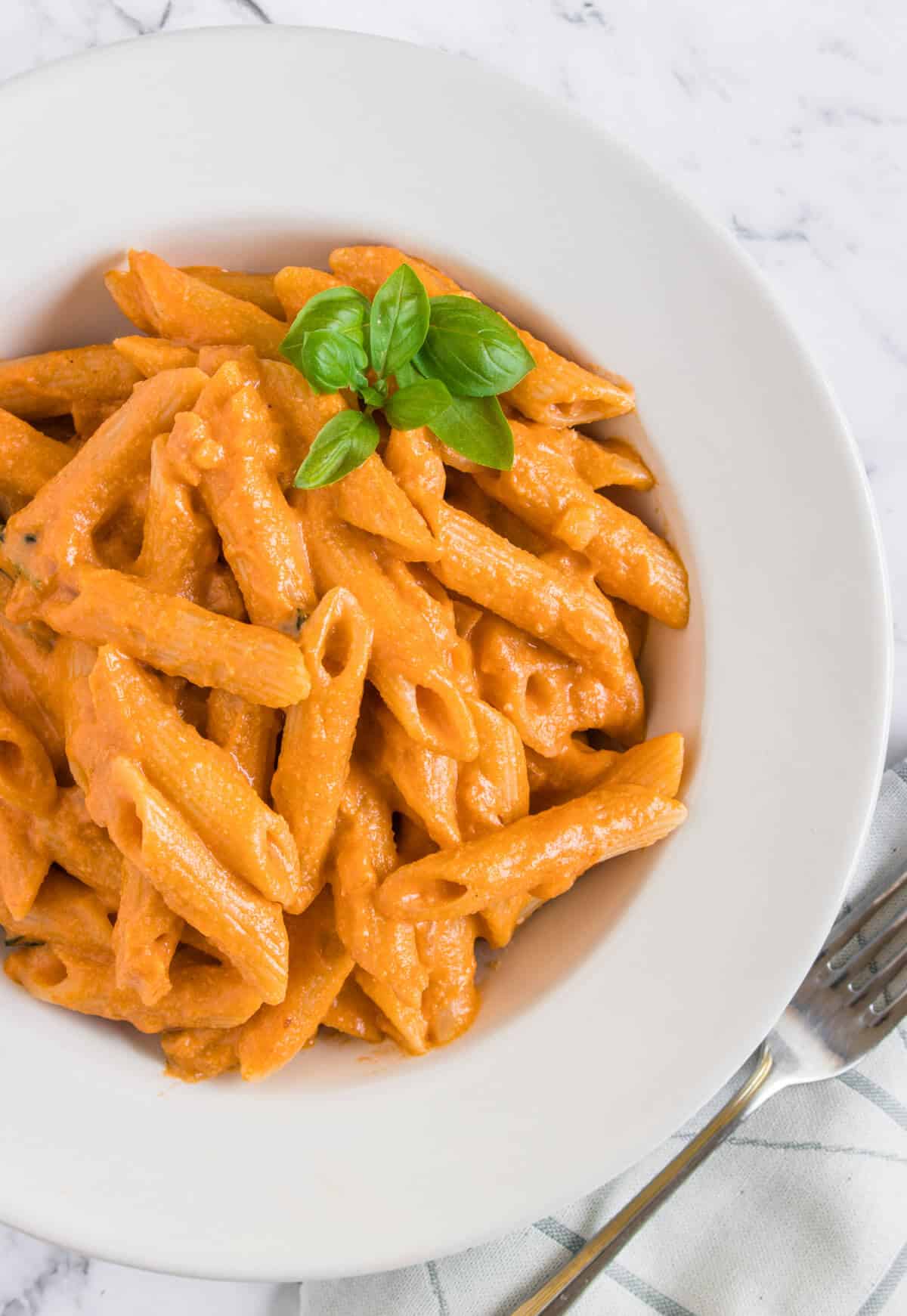 This Vegan Vodka Sauce is deliciously creamy without having to use any cream!

It's used to make one of my favourite comfort foods, vegan Penne Alla Vodka pasta. In this recipe, I will show you how to make the ever so popular dish with of course putting my own healthy twist.
Traditionally it's made with cream, tomatoes, and of course vodka. You don't have to use the vodka though so not to worry if you prefer to omit this.
Some more tasty vegan recipes you must try are my Vegan Bolognese, Rice Paper Dumplings and Cauliflower Steaks.
To keep it healthy, I'll show you how to make cashew cream which is also dairy-free rather than using heavy cream.
This delicious and creamy vegan vodka pasta sauce includes 9 ingredients and takes less than 30 minutes to make.
This is will pair perfectly with some delicious Bruschetta as an appetizer and you can also level up this pasta and top with some Pangrattato (crispy flavored breadcrumbs) for some crunch.
Table of Contents
What is Penne Alla Vodka?
Penne Alla Vodka originated in Italy back in the 80s, how exactly is unclear but there have been multiple claims of how the dish was invented. The popularity of the dish took off in the United States and there are many different versions today.
The famous and gorgeous Gigi Hadid shared her take on the classic dish, which made headlines, making Penne Alla Vodka a must try.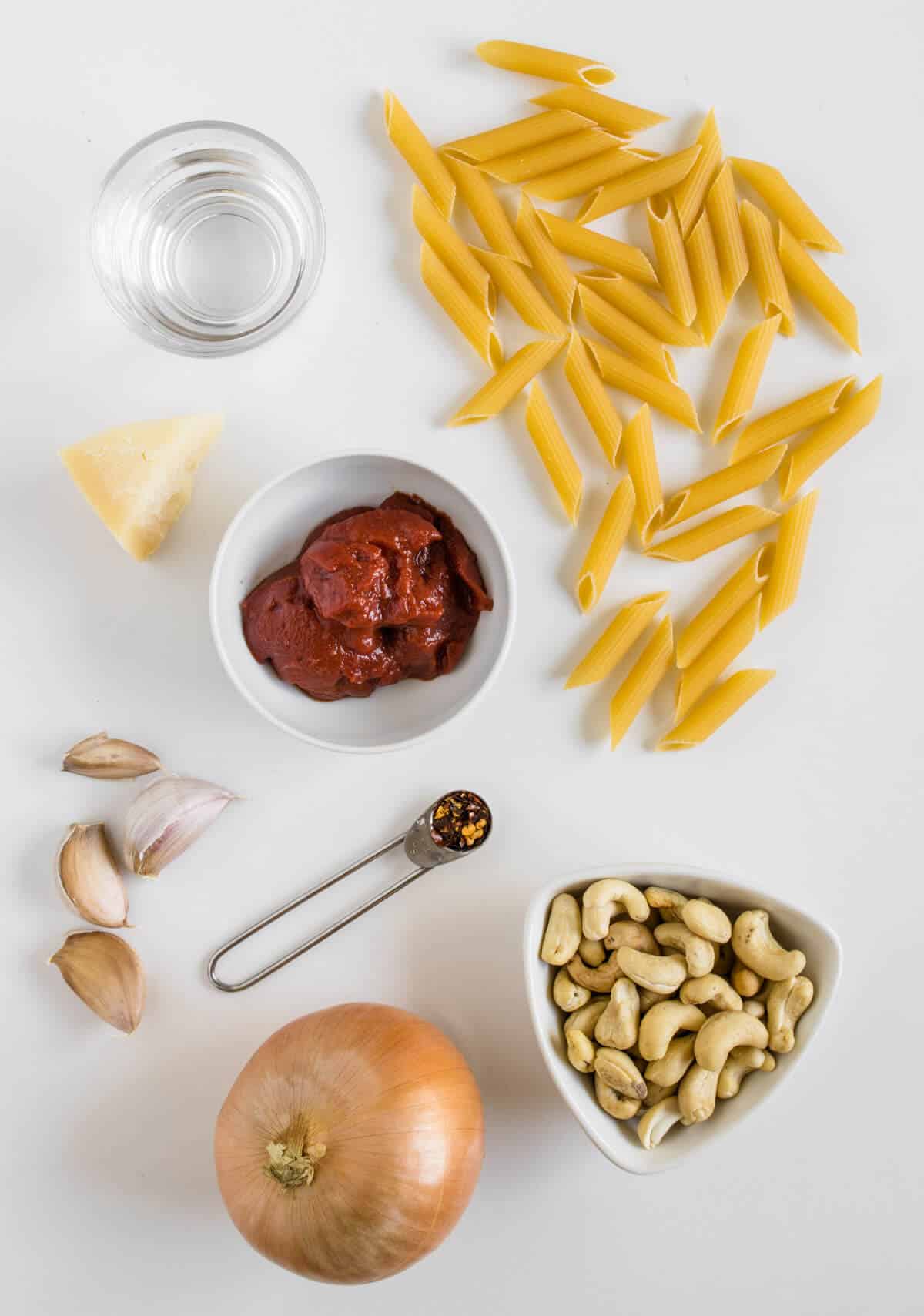 Ingredients to make Vegan Vodka Sauce
Pasta, the classic pasta shape to use is of course Penne. In saying so, it works perfectly with any other short pasta such as Rigatoni, Cavatelli, Orecchiette and even Casarecce or gluten-free pasta. This recipe works best with a short pasta so that the creamy sauce coats all the grooves and shapes
Vodka, given vodka is in the name of the dish, you will need ⅓ of a cup for this recipe. It might not sound like much, but a little goes a long way. You can leave the vodka out and use water or vegetable stock instead too
Cashews are used to create cashew cream which is a vegan and much healthier substitute than using heavy cream. Its made by soaking raw cashews in boiling water whilst your sauce starts to cook before blending with water to create cashew cream. To make this dish nut free, a great substitute for the cashew cream is coconut cream or coconut milk
Tomato paste is used instead of fresh or canned tomatoes. Tomato paste is concentrated tomatoes and brings a deeper flavour and darker colour in a short amount of cooking time. If you prefer to use canned or fresh tomatoes, the sauce will need to be cooked for longer
Onion, brown onion is a better choice rather than using red onion in this dish, as the tomatoes with the vodka create a sweet sauce so white onion balances these flavours
Garlic, well it can't be a tasty pasta without garlic right! Just make sure not to cut the garlic too small as garlic can burn easily when being sautéed. Small cubes work best so that they can be cooked with the onion
Cheese, nutritional yeast or vegan parmesan are a great options to give your vegan penne alla vodka a cheesy taste as a substitution for using Parmigiano Reggiano (parmesan cheese)
Chilli, red pepper flakes are added to the dish for a subtle spicy hit. You can add as little or as much as you like depending on preference. If serving young children, they can easily be left out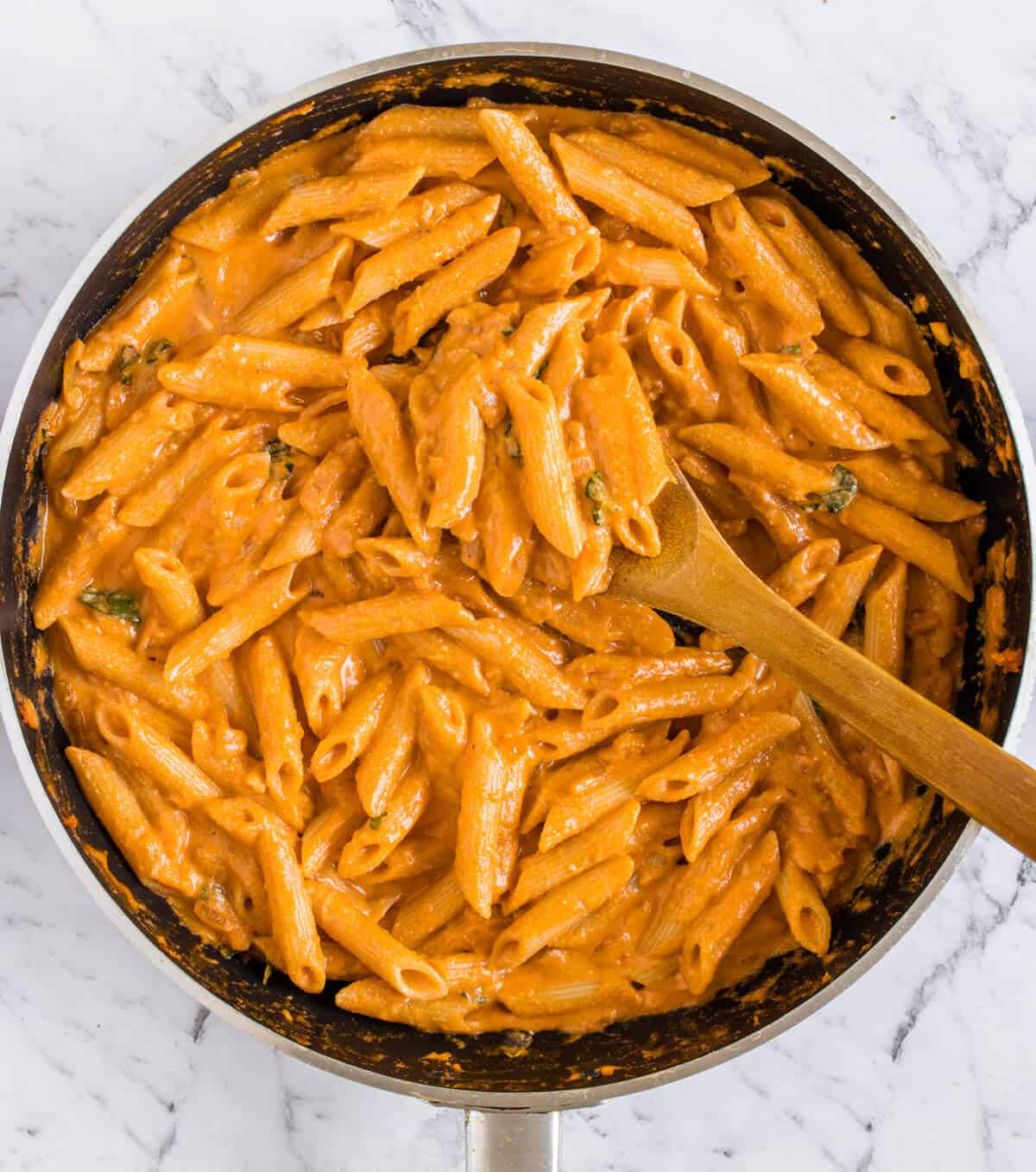 How to make Vegan Vodka Sauce
Time needed: 30 minutes
Soak cashews

Soak cashews in a bowl with boiling water for 20 minutes

Prepare sauce

Sauté diced onion and garlic in olive oil over medium heat until translucent.

Add tomato paste and fry together for 5-8 minutes to release all the beautiful flavor.

Then add vodka, cook the alcohol down in the sauce, season with salt and pepper and chill flakes

Cook pasta

At the same time, add the pasta to a pot with heavily salted boiling water and cook until al dente. Make sure not to overcook as pasta will need to finish cooking in the sauce

Make cashew cream

Drain cashews and add to a food processer or blender with 1 cup of warm water. Blend until smooth to create cashew cream

Pour cashew cream into the sauce, stir together and season with salt and pepper.
Add a good splash of pasta water to the sauce, tear in the basil leaves and let it simmer

Cook it all together

Add the cooked pasta along with the nutritional yeast or vegan parmesan cheese. Stir and cook together on medium heat for a few minutes until pasta is cooked and nicely coated in the creamy sauce. If sauce is too thick, add another splash of pasta water.

Serve it up

Serve with some extra basil leaves on top and enjoy your creamy bowl of goodness!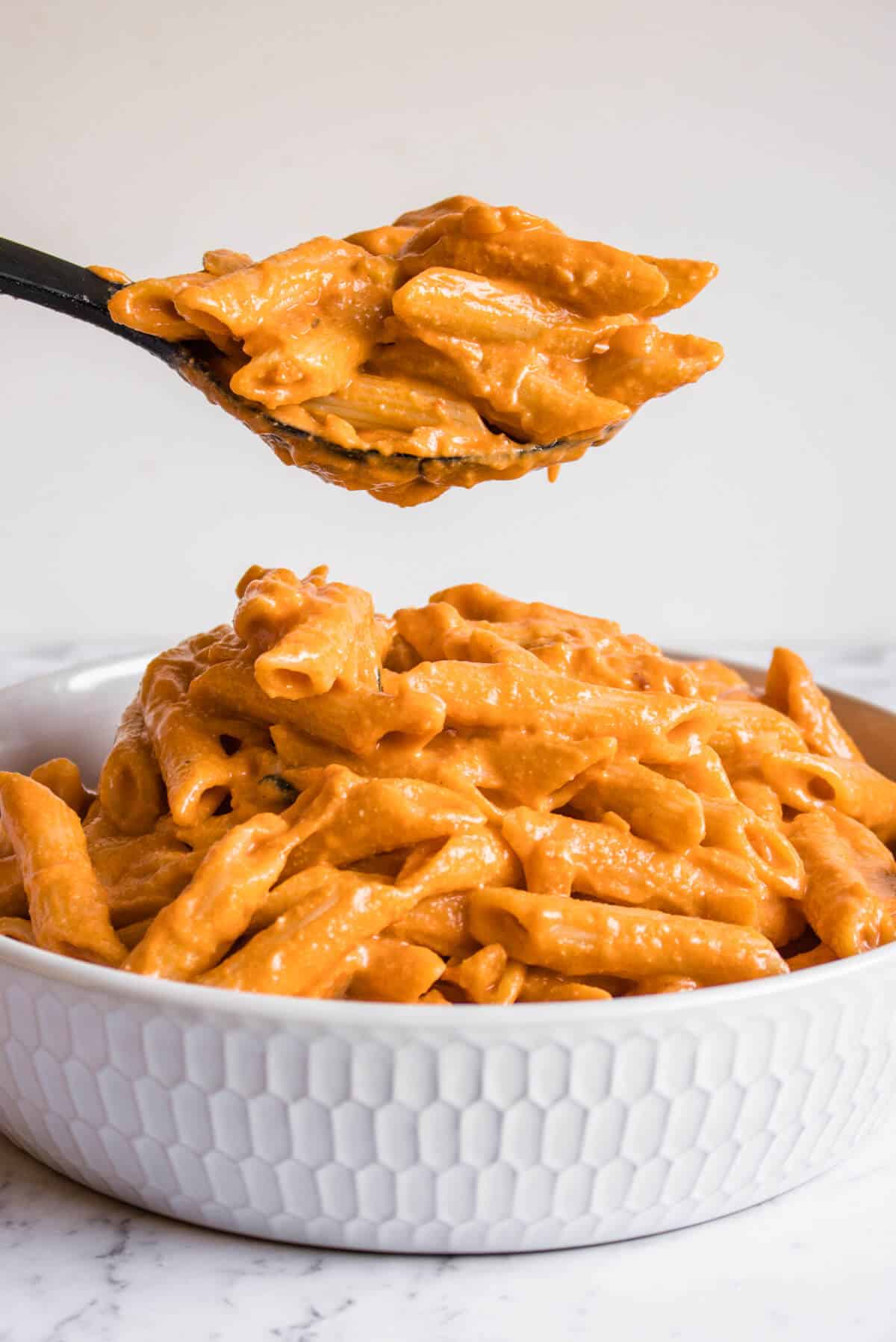 FAQs
What can I use instead of heavy cream in vodka sauce?
Here I've made cashew cream to make a vegan vodka sauce. You can also use coconut cream, coconut milk or even soy milk.
Is there a substitute for vodka in vodka sauce
You don't need to use vodka. Simply omit and add water or vegetable stock instead
What does the vodka do to the sauce?
The vodka enhances the sauce and provides richness as it releases flavour in the tomato.
Typically, alcohol such as wine is used in Italian sauces for this reason
Is Penne Alla Vodka healthy?
This recipe eliminates heavy cream and instead substitutes for cashew cream being a much healthier alternative. This is also a vegan pasta
Tips for Vegan Penne Alla Vodka Pasta
Always save some pasta water as the pasta water will help create a glossy creamy sauce. Without it, it can be quite thick due to the cashew cream
Don't cook the onion or chilli on a high heat as it can burn easily
No vodka no worries, you can substitute it with water or vegetable stock
Don't overcook the pasta when boiling as it needs to finish cooking in the sauce for the best flavour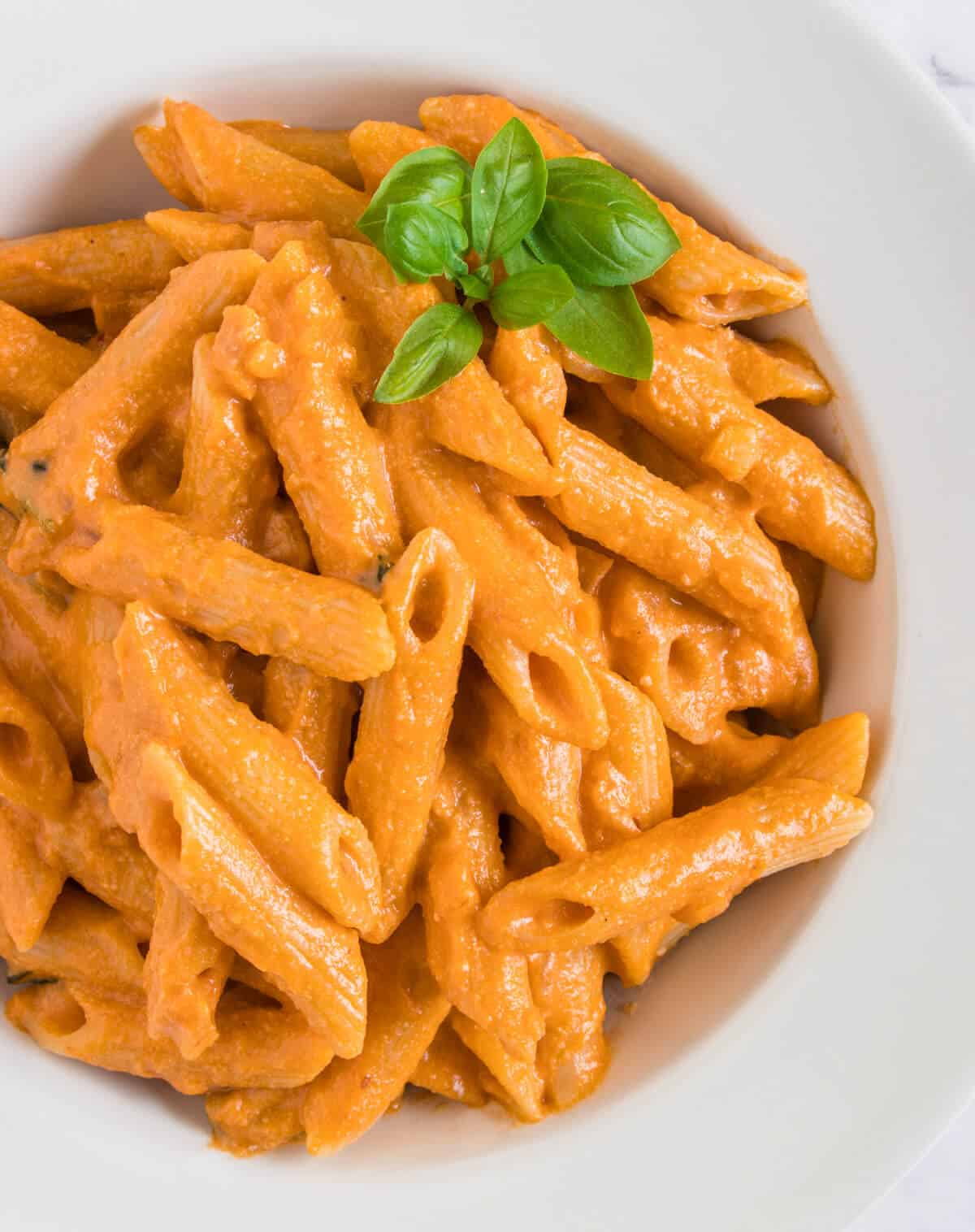 Simply serve the dish into your bowl and devour your rich and creamy pasta without any guilt or a touch of cream. Ah the ultimate comfort food!
More Pasta Recipes
I love seeing your creations and remakes, so be sure to tag @cookingwithayeh and share a photo of your Vegan Vodka Sauce on Instagram so I can share the love.
Recipe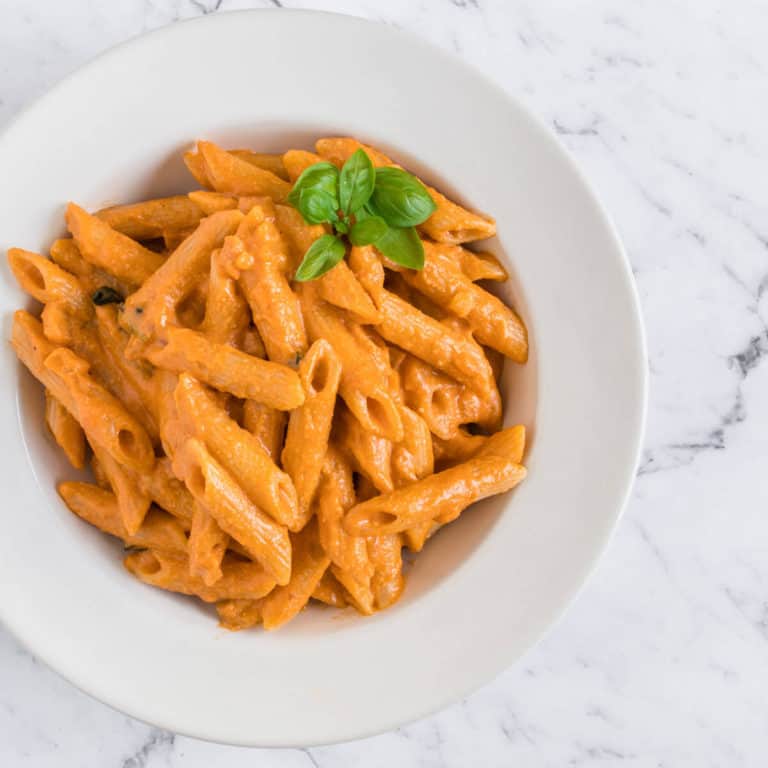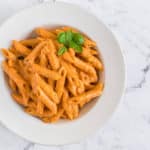 Vegan Vodka Sauce
This Vegan Vodka Sauce makes delicious creamy pasta without using any cream. It's vegan, it's spicy, and the perfect comfort food
Pin
Print
Rate
Ingredients
350

g

penne pasta

1

cup

raw cashews

7

tablespoon

tomato paste

1

onion

5

garlic cloves

2

tablespoon

extra virgin olive oil

⅓

cup

vodka (or vegetable stock or water)

1

teaspoon

red pepper flakes (add more or less depending on how spicy you like it)

Nutritional yeast or Vegan parmesan cheese

Handful fresh basil leaves

Salt and pepper to taste

Extra basil leaves or fresh parsley
Instructions
Soak cashews in a bowl with boiling water for 20 minutes

Dice onion and garlic into small cubes and sauté in olive oil over medium heat until translucent

Add tomato paste and fry together for 5-8 minutes to release all the beautiful flavor. Then add vodka, cook the alcohol down in the sauce, season with salt and pepper and chill flakes

At the same time, add the pasta to a pot with heavily salted boiling water and cook until al dente. Make sure not to overcook as pasta will need to finish cooking in the sauce

Drain cashews, add to a food processer or blender with 1 cup of warm water. Blend until smooth to create cashew cream

Pour cashew cream into the sauce, stir together and season with salt and pepper

Add a good splash of pasta water to the sauce, tear in the basil leaves and let it simmer

Add the cooked pasta along with the nutritional yeast or vegan parmesan cheese. Stir and cook together on medium heat for a few minutes until pasta is cooked and nicely coated in the creamy sauce. If sauce is too thick, add another splash of pasta water

Serve with some extra basil leaves on top and enjoy your creamy bowl of goodness 🙂
Nutrition
Calories:
651
kcal
|
Carbohydrates:
84
g
|
Protein:
19
g
|
Fat:
23
g
|
Saturated Fat:
4
g
|
Polyunsaturated Fat:
4
g
|
Monounsaturated Fat:
13
g
|
Sodium:
242
mg
|
Potassium:
748
mg
|
Fiber:
6
g
|
Sugar:
9
g
|
Vitamin A:
441
IU
|
Vitamin C:
10
mg
|
Calcium:
54
mg
|
Iron:
4
mg