Khoresh Bademjan has to be my number one favourite stew of all time! It's a Persian eggplant stew that's simmered to perfection in a cosy rich tomato sauce.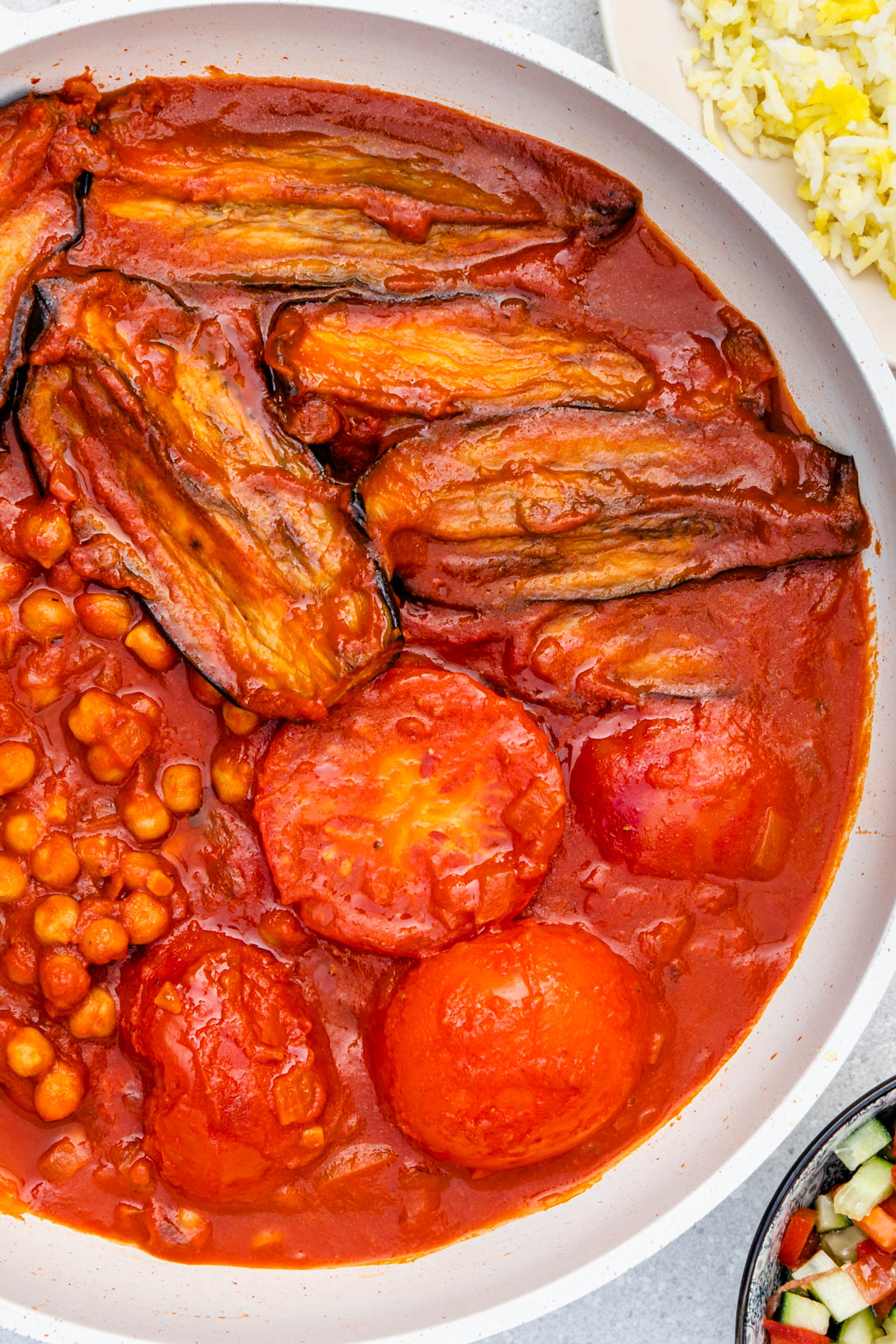 Khoresh Bademjan traditionally includes meat or chicken but here I've shared my vegan version of the very popular dish. I've used chickpeas instead for protein, yellow split peas or other legumes would also be great.
It's always served with Persian Rice with Crispy Tahdig which soaks up the yummy tomato sauce. A great accompaniment on the side is a Shirazi Salad for lovely freshness. These are both very common in Persian cuisine and in Iran.
The name derives from the words "Khoresh" which means stew and "Bademjan" which means Eggplant. It can also be called "Bademjoon" as another way to say eggplant.
I absolutely love eggplants so naturally, this is my favourite stew. However, it's common that not everyone likes eggplants. If you're not a huge fan, I'm sure this dish will change your mind 🙂
Another yummy dish to try which uses eggplants is a Persian dip called Kashke Bademjan.
Table of Contents
Ingredients to make Khoresh Bademjan (Persian Eggplant Stew)
Eggplants are of course the star of the dish! It's best to use Italian eggplants. The eggplants are commonly fried in this dish, however I've chosen to roast them for a healthier and lighter option
Chickpeas, khoresh bademjan traditionally includes meat such as lamb, beef or chicken. I've however made a completely vegan version by using chickpeas instead. You can also use other legumes. There is a similar dish called gheymeh bademjan which consists of split peas and eggplants in a similar sauce with the addition of Persian limes we call limoo amani
Onion and Garlic are sauteed together for the stew
Concentrated tomato paste is also then sauteed as the base of the stew. Ensure to fry this down for at least 5 minutes for the best flavor
Bottled tomato passata is also then added. I prefer to use pure tomato passata which consists of only pureed tomatoes
Saffron is used in most Persian cuisines, I always refer to it as liquid gold. It is quite expensive so ensure to grind the saffron into powder and infuse it in boiling water to maximise the flavour and color. I have noted how to do it in the recipe below too
Fresh tomatoes are also added to the stew as a yummy addition
Extra virgin olive oil is used for sauteing the onion and garlic along with roasting the eggplants. If you are choosing to fry the eggplants instead, I would suggest using another oil such as avocado oil, canola or sunflower oil as the eggplants do soak up a lot of oil
You can add additional spices such as turmeric, cumin or a Persian spice mix we call advieh that you can purchase from middle eastern and Persian grocers. I have however left them out for a simple stew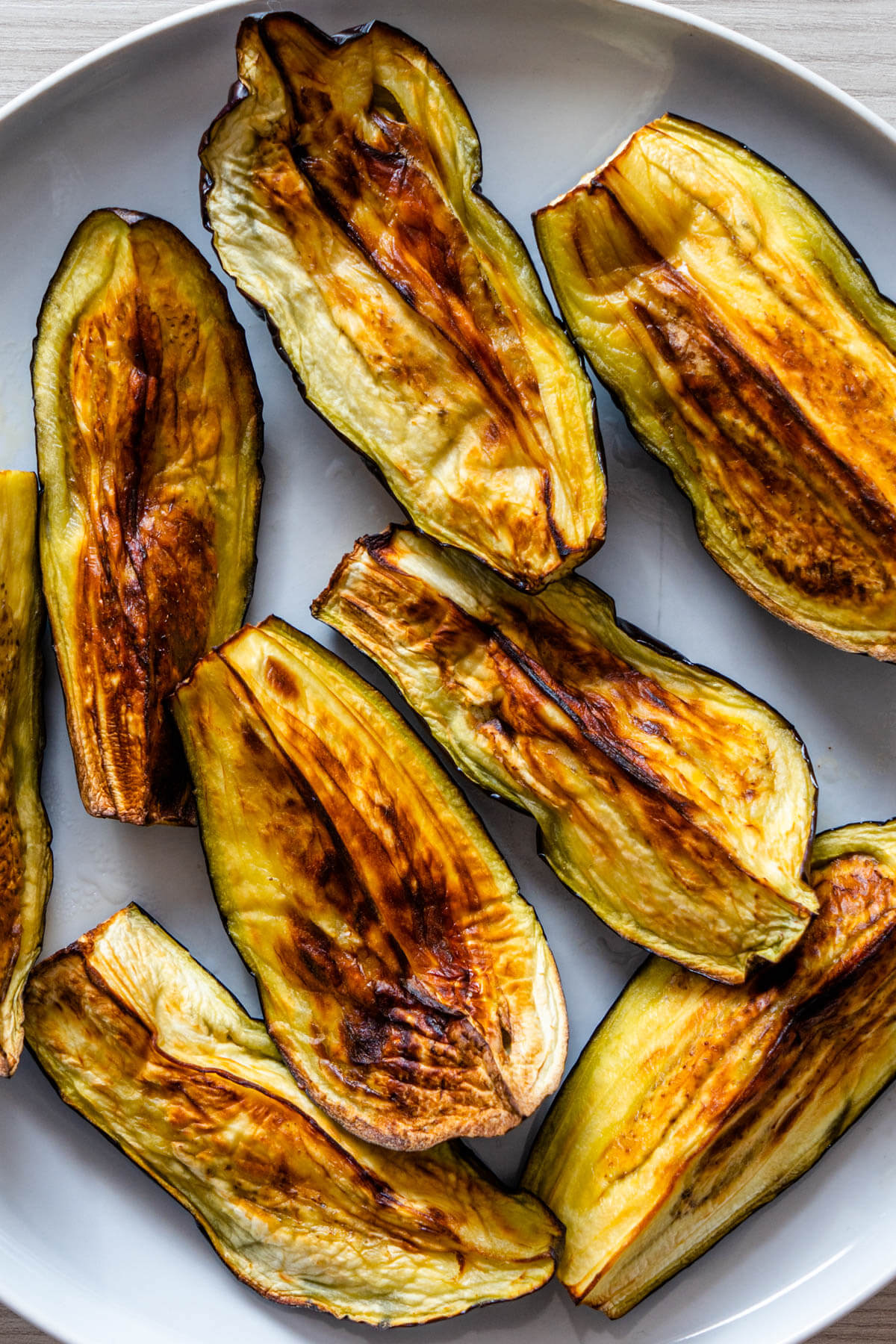 How to make Khoresh Bademjan (Persian Eggplant Stew)
Here are my simple steps to bring this hearty Persian eggplant stew to your table.
Prepare Eggplants and Saffron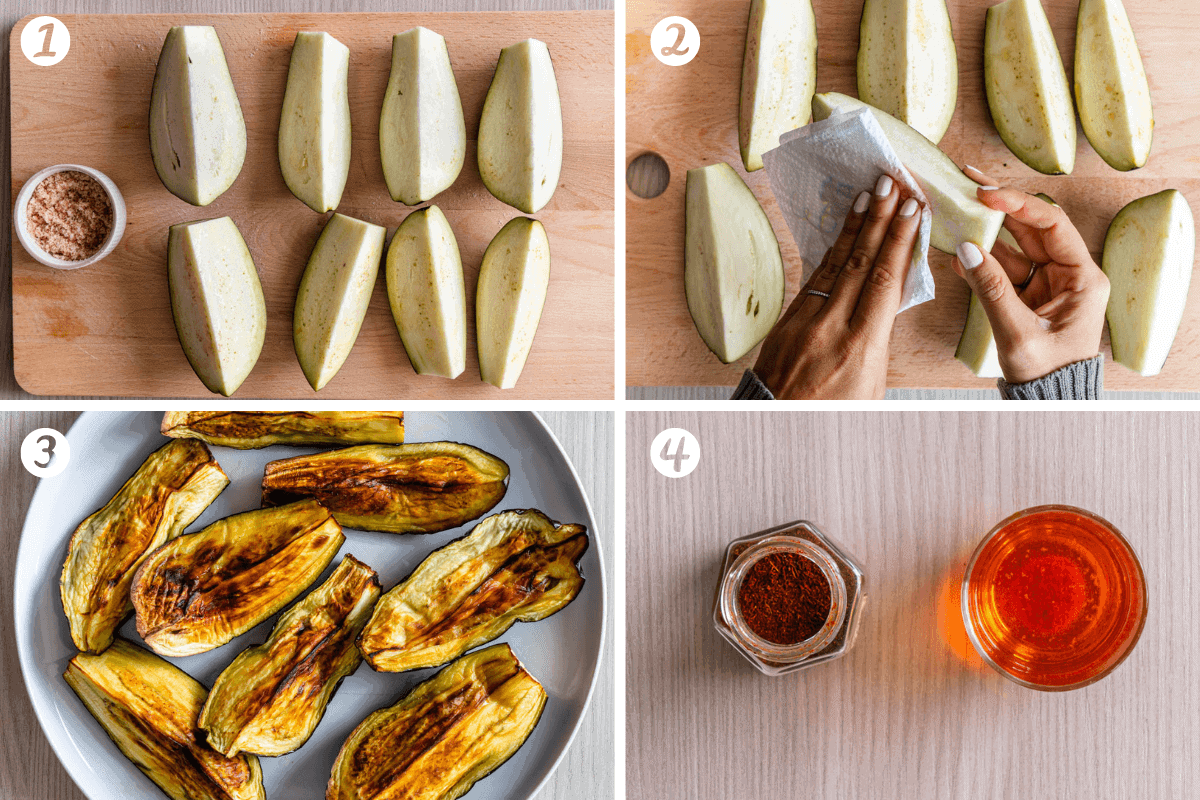 Slice the eggplants into quarters lengthwise and salt the insides
After 20 minutes pat dry the eggplants with paper towels, removing the excess salt and moisture
Cook the eggplants in the oven or air fryer at 180°C/350°F for 15 - 20 minutes until golden brown (as per the picture). If you prefer, you can also pan fry them too with oil, however it will need additional oil
Prepare the saffron by putting a pinch of ground saffron in a small glass with 2 tablespoons of boiling water. Allow to infuse
Cook Khoresh Bademjan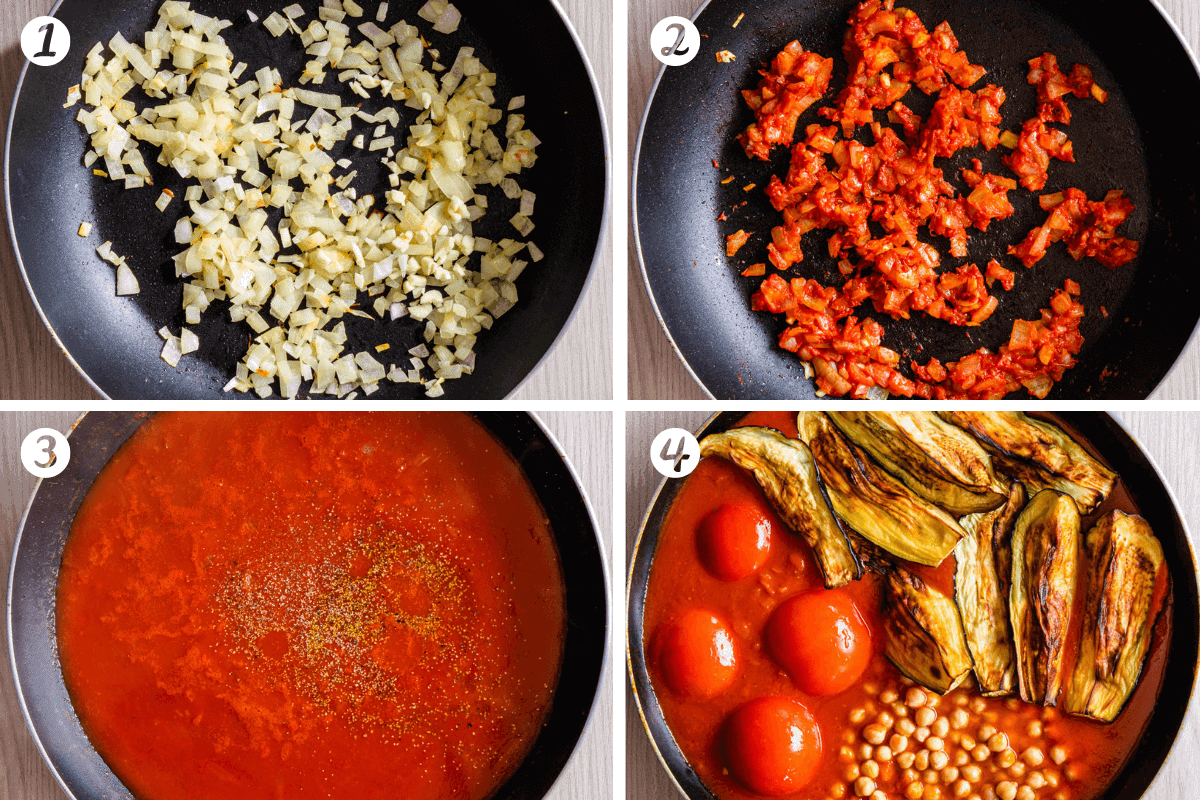 In a large pan (I've used a 30cm pan) add diced onion and garlic with 1 tablespoon of olive oil
Once translucent, add tomato paste with ½ tablespoon of olive oil and fry down for a few minutes
Add passata, then fill the bottle with water, shake the bottle and pour in the 400 mls of water. Add an additional 1 cup of water, season and pour in that infused saffron water. Give it a stir then place the lid on and allow to simmer over medium heat for 30 minutes
Give it a taste and season as required. Add the cooked eggplants to one side of the pan and the chickpeas to the other side. Add the tomatoes, place on the lid and simmer on a low heat for 30-45 minutes (the longer the better)

It's now ready to serve with Persian Rice and a fresh Shirazi Salad on the side. Yum!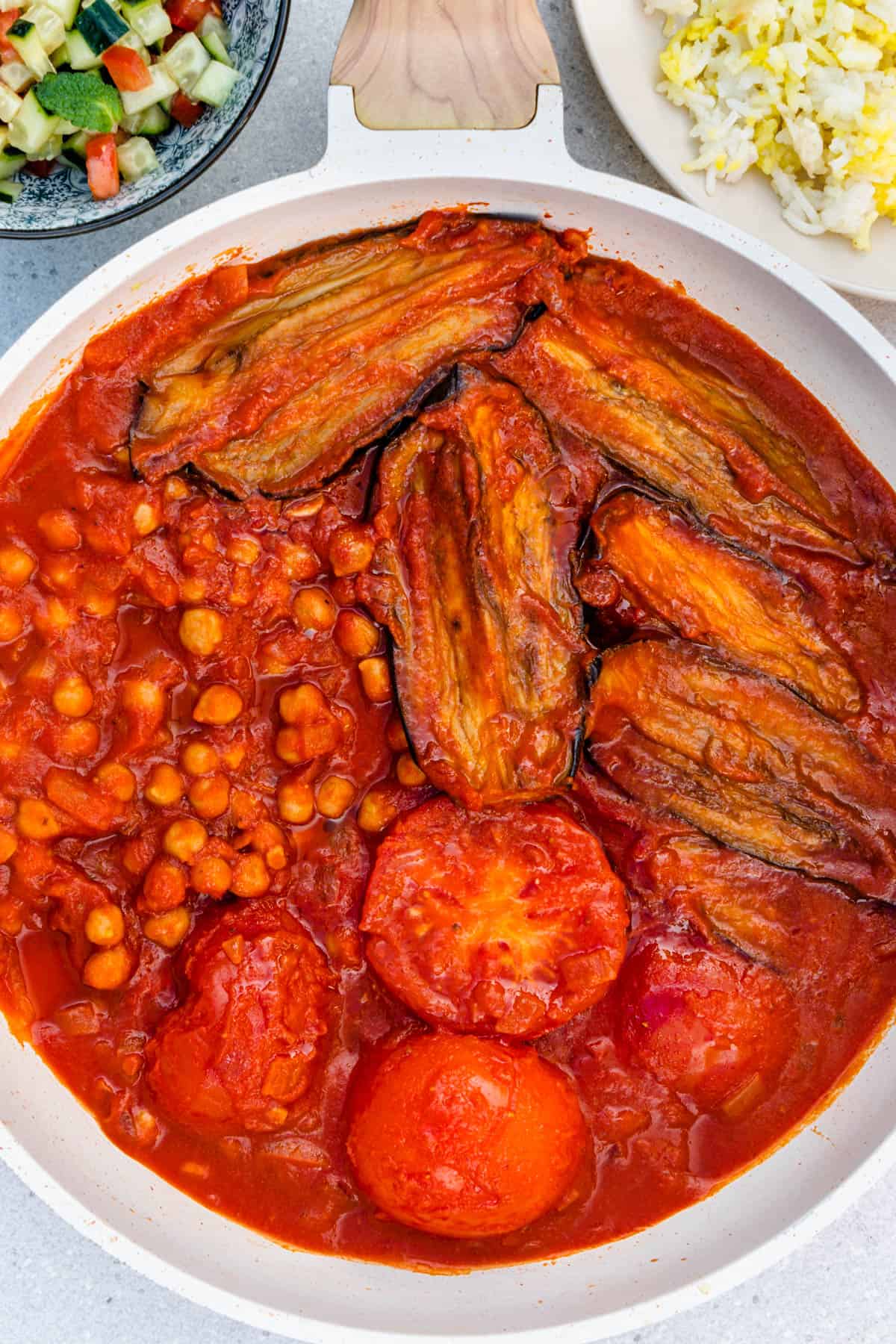 Tips and Tricks
Salting the eggplants in the first step is important as it will allow them to sweat out the excess water and bitterness. You will then pat them dry to remove the water and salt
I prefer to roast the eggplants in the oven or air fryer for a healthier option that needs minimal oil. The eggplants can however be pan-fried over medium-high heat. Note, you will need to use a lot more oil than my original recipe as the eggplants do soak the oil
Use a wide large pan or skillet rather than a pot to cook the stew (khoresh). This way, the eggplants can be on one side and the other ingredients on the other side in a single layer, rather than on top of each other
It's always best to cook Persian stews and dishes low and slow. The longer it's cooked the better it will be and have more depth of flavor
If you are not vegan/vegetarian and wish to use meat or chicken you certainly can do so. Sear the chunks of meat/chicken then place them in the stew and allow to simmer at the same time of step 5 in the recipe card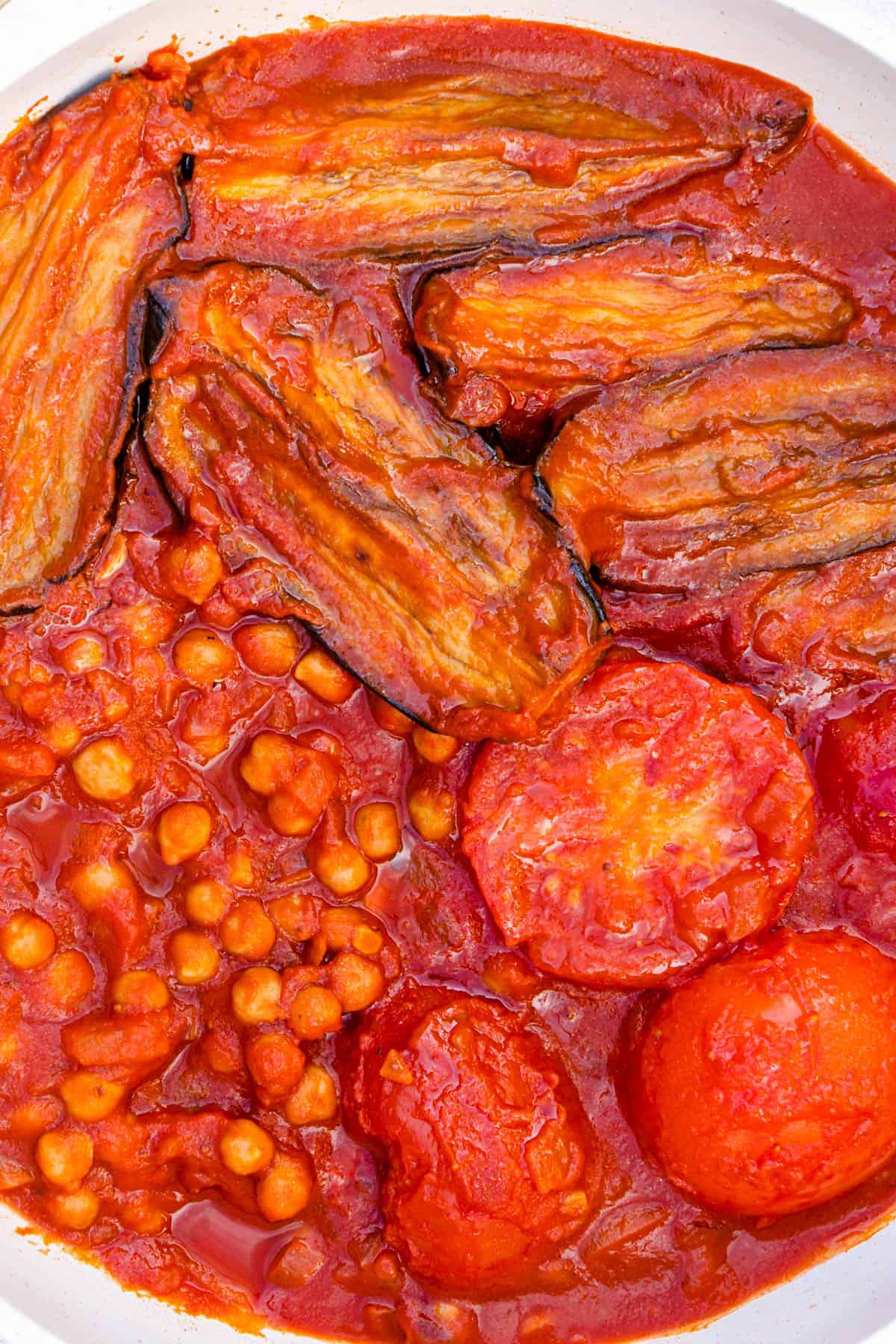 More Persian Recipes
I love seeing your creations and remakes, so be sure to rate the recipe, comment and share your Khoresh Bademjan (Persian Eggplant Stew) photo on Instagram so I can share the love!
Recipe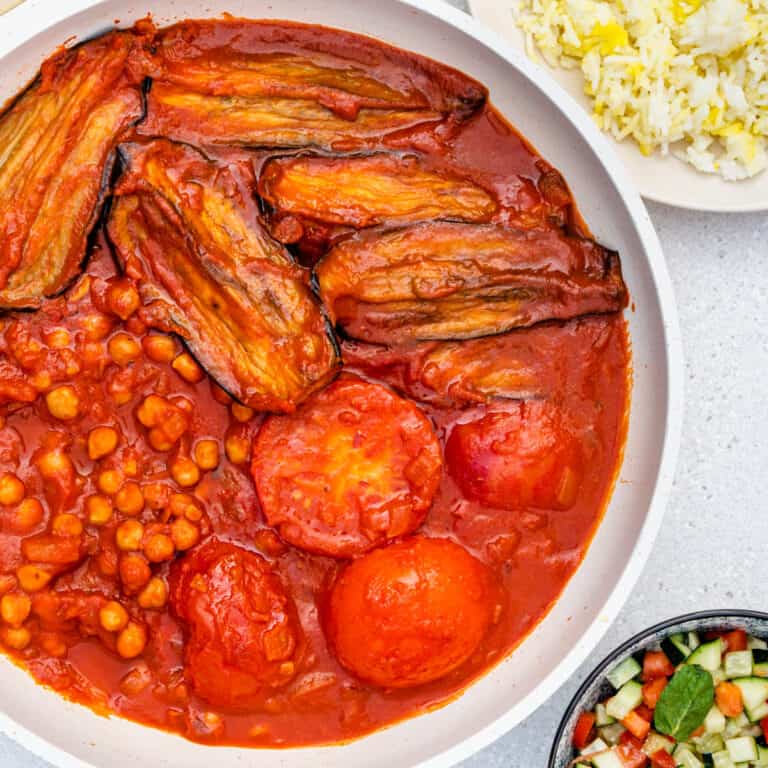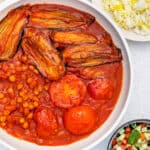 Khoresh Bademjan (Persian Eggplant Stew)
Khoresh Bademjan is a Persian eggplant stew that's simmered to perfection in a rich tomato sauce. This recipe is also vegan which is so hearty and flavourful
Print
Ingredients
2

large Italian eggplants

1

medium onion

3

cloves garlic

3

tablespoon

tomato paste

400

grams

bottle tomato passata

Pinch ground saffron (optional but recommended)

3

cups

canned chickpeas

2

medium tomatoes halved

2

tablespoon

extra virgin olive oil

700

mls

Water

Salt and ground black pepper
Instructions
Slice the eggplants into quarters lengthwise and salt the insides. Allow to stand for 20 minutes then pat them dry

Spray the eggplants with olive oil and roast in the oven or the air fryer at 180°C/350°F for 15 - 20 minutes until golden brown (you can also pan fry them too with additional oil)

**If using saffron, add the pinch of ground saffron in a small glass with 2 tablespoons of boiling water and allow to infuse

Dice the onion and garlic into cubes and saute with 1 tablespoon of olive oil in a large skillet or pan. Once translucent, add the tomato paste with ½ tablespoon of olive oil and fry down for a few minutes

Add the passata, then fill the bottle with water, shake the bottle and pour in the 400 mls of water. Add an additional 1 cup of water, season with a good sprinkle of salt and pepper and pour in the saffron water

Stir the sauce, place the lid on and allow to simmer over medium heat for 30 minutes

After 30 minutes, taste the sauce and season if necessary. Add the cooked eggplants to one side of the pan and the chickpeas to the other side. Add the tomatoes, place on the lid and simmer on a low heat for 30-45 minutes (the longer the better)

Serve with Persian Rice with Tahdig and a side of Shirazi Salad and enjoy your Khoresh Bademjan
Nutrition
Calories:
301
kcal
|
Carbohydrates:
47
g
|
Protein:
11
g
|
Fat:
10
g
|
Saturated Fat:
1
g
|
Polyunsaturated Fat:
2
g
|
Monounsaturated Fat:
6
g
|
Sodium:
492
mg
|
Potassium:
1457
mg
|
Fiber:
16
g
|
Sugar:
17
g
|
Vitamin A:
1277
IU
|
Vitamin C:
30
mg
|
Calcium:
108
mg
|
Iron:
4
mg