This Chickpea Avocado Salad is healthy, light, and packed with chickpeas and vegetables. Perfect as a main meal, a side or meal prep.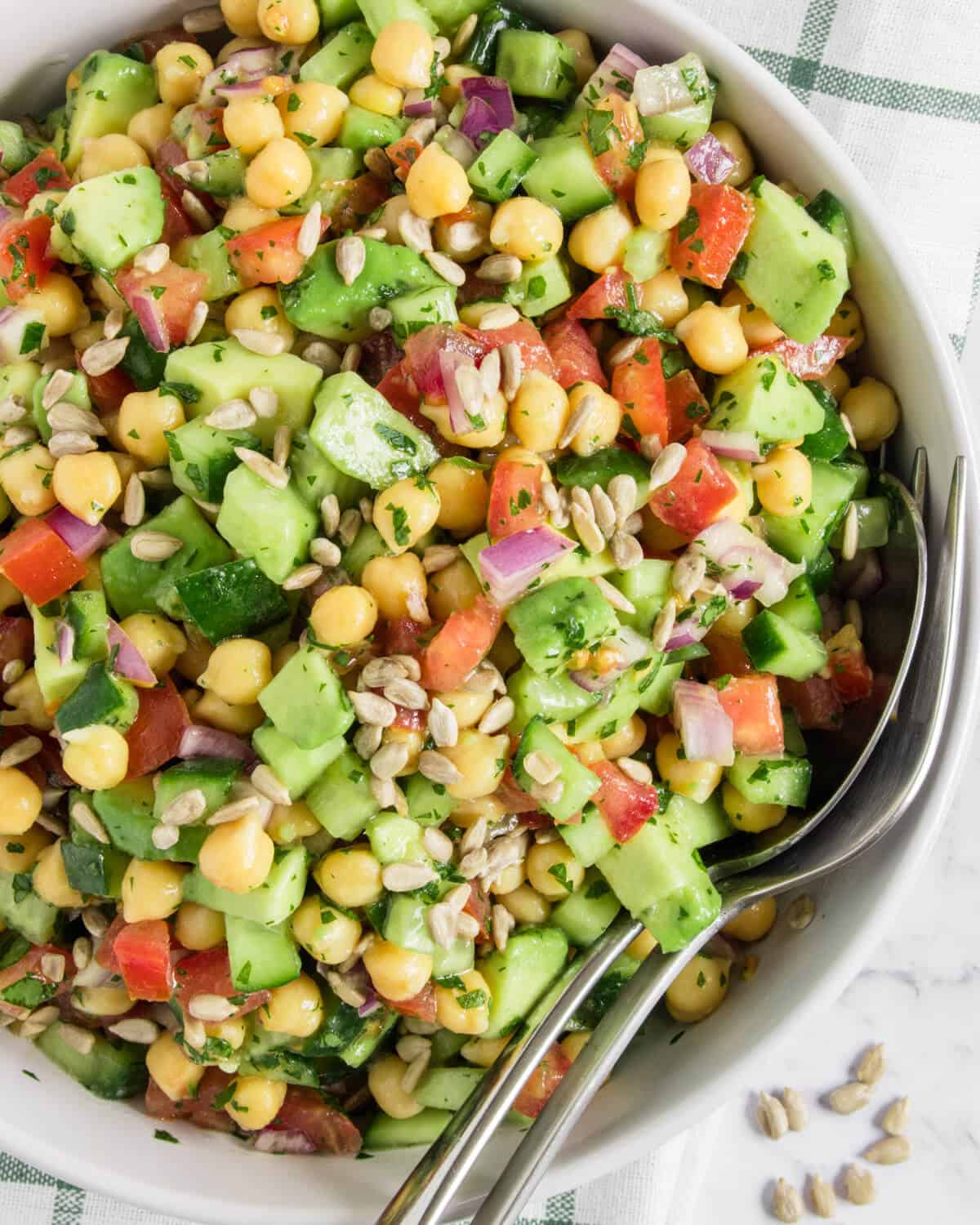 This Chickpea Avocado Salad has to be one of the most made salads in my house. It's a great meal to have during the day as a main meal for lunch as it's light but it still keeps you full with protein and carbohydrates from the chickpeas.
If you've been following my page for a while, you know how much I love Chickpeas and use them in many dishes such as Falafel, Hummus, Crispy Chickpeas and so many more! They are tasty, nutritious, and so versatile being used in many different ways.
It's also a great salad to make in bulk for meal prep. That way you can make it ready to go for work, school, or even just to save time if you are based at home.
When you have a healthy option already in the fridge waiting for you, it keeps you on track instead of rushing to either make or grab something unhealthy on the go.
This recipe is super easy only taking 10 minutes to make. It's also vegan.
Table of Contents
Ingredients to make Chickpea Avocado Salad
Chickpeas, you can use cooked or canned chickpeas depending on your preference. If I have planned ahead, I like to use dried chickpeas that I have soaked overnight and cooked myself. That way I don't overcook them so they have a little crunch however canned chickpeas work great too, especially if you are needing a faster option.
Avocado, one ripe avocado to provides a beautiful creaminess to the salad without having to add any creamy dressings.
Cucumbers, I recommend and always use Persian or Lebanese cucumbers as they are crisper and have a nice sweet flavour.
Tomatoes, it's important to use tomatoes that are ripe however are still firm so they don't become too soggy or watery. When dicing your tomatoes, if they are too watery, you can disregard the excess juice.
Red onion is a perfect addition for its sweetness and taste. You don't need to add too much as it can overpower the salad.
Parsley is my chosen herb for this salad, a good handful will do the trick.
Seeds, I love adding either pumpkin or sunflower seeds upon serving this salad for the extra crunch factor.
Lemon juice for a touch of acidity. You can use lime juice if you prefer.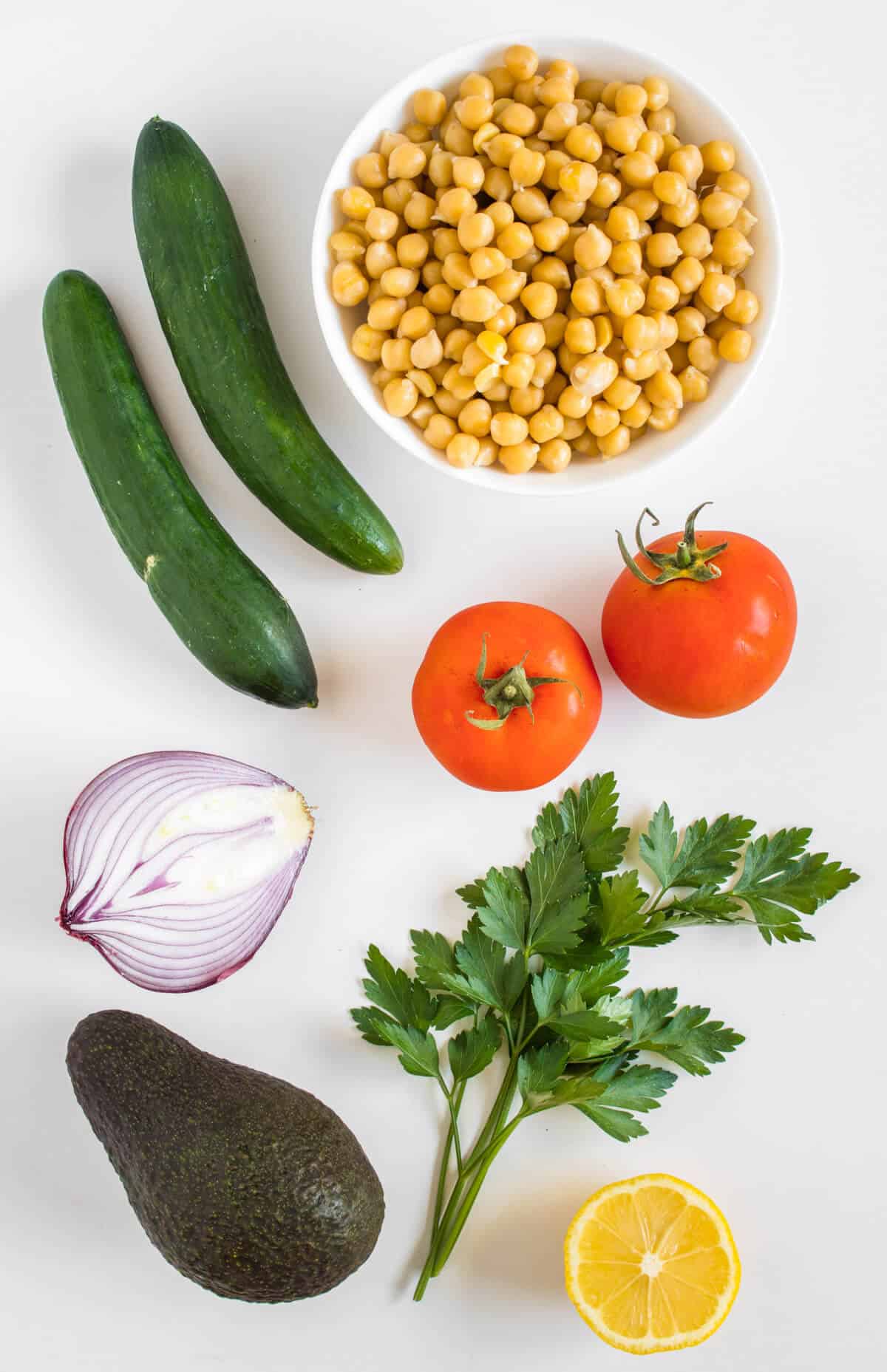 How to make Chickpea Avocado Salad
Time needed: 10 minutes
Chop veggies

Dice onion, cucumbers and tomatoes into small cubes and add to a bowl

Chop Avocado

Peel and chop the avocado into small cubes, add to the remaining ingredients.
Chop parsley leaves finely, add to the bowl


Make dressing

Squeeze in lemon juice, drizzle over olive oil and season with sea salt

Serve

Give a good mix together and right before serving, add seeds on top so they stay crunchy and enjoy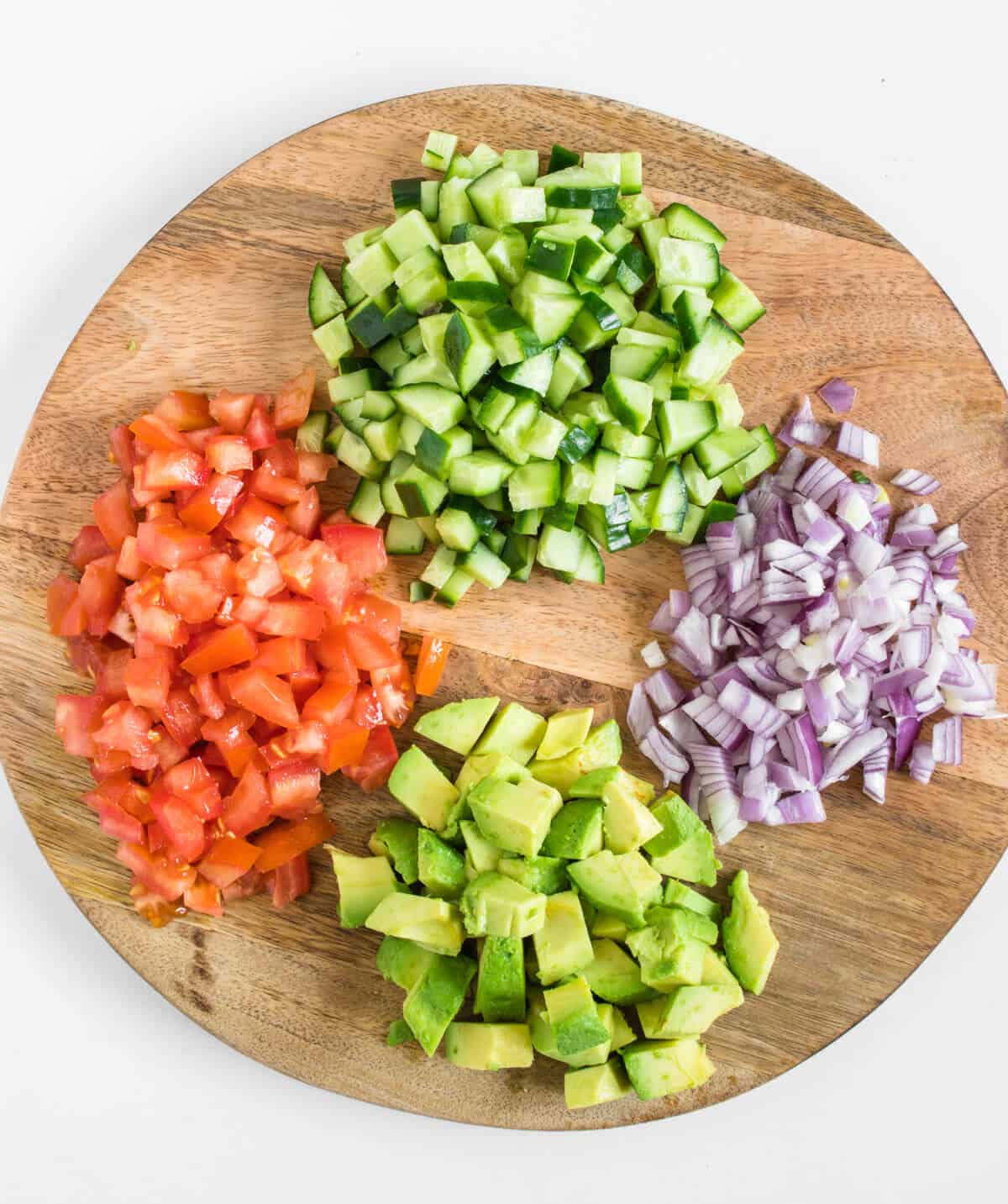 Tips for Avocado Chickpea Salad
Dress the salad about 10 minutes before its served. This allows all the juices and the dressing to coat and marinate the ingredients for the ultimate flavour.
If making this salad as a meal prep idea for the week, I find it best to only add ½ the dressing on the first day and to top it off with the remaining dressing on the days you are eating it. This will stop it from becoming soggy and soft. The lemon juice will also stop the avocados from browning too much
Another recommendation if making this salad for meal prep, and wishing to have it over a few days, is to pick a firmer avocado rather than one too ripe. This will allow the avocado to stay fresh and firm rather than become soft and mushy
Always add the seeds right before serving. This ensures they remain crisp and crunchy and won't become soft.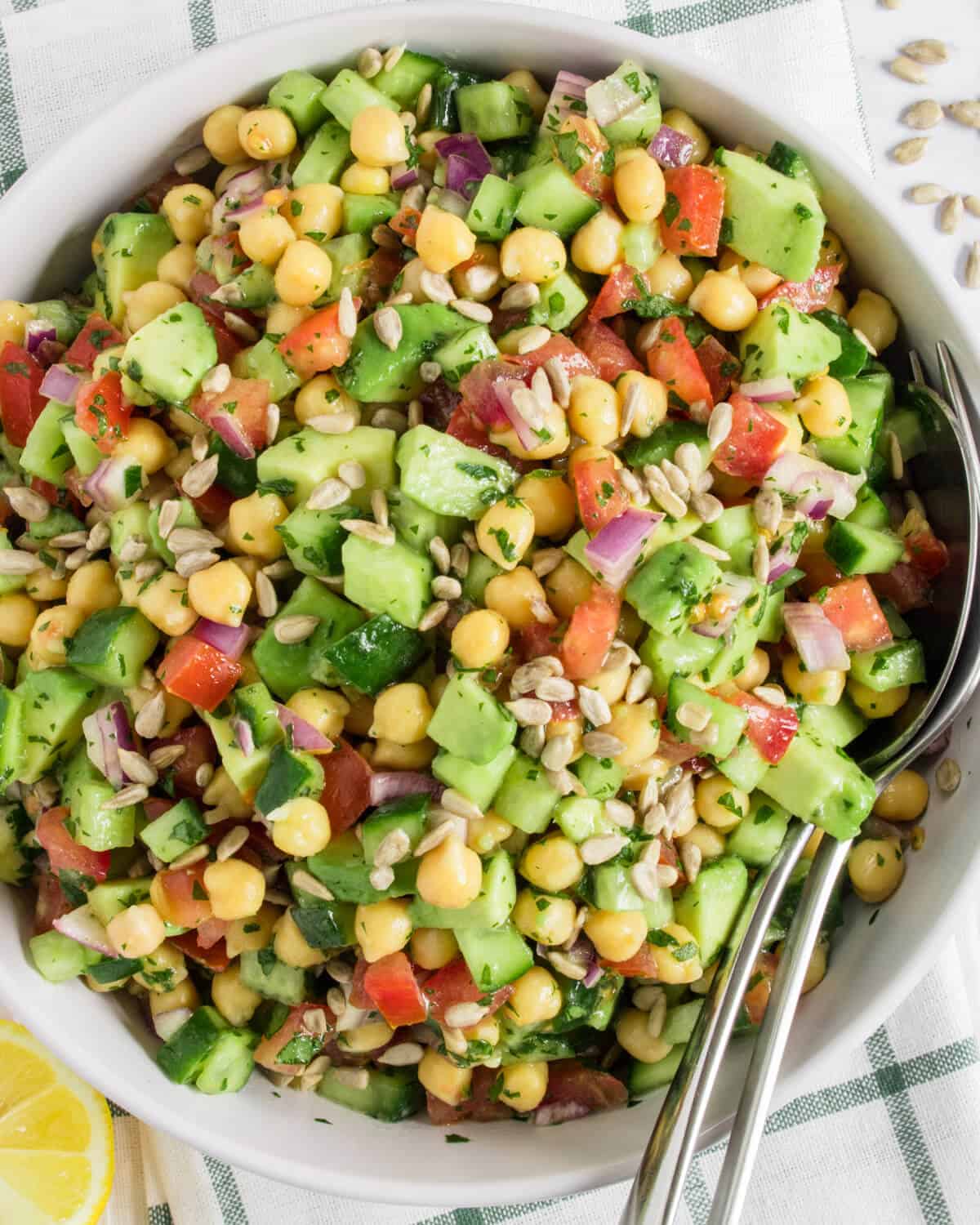 This Chickpea Avocado Salad looks amazing, is vibrant and sure to impress if serving to guests on the weekends at parties, lunches and picnics. It's become a regular staple in my home, so I hope you enjoy it as much as we do.
More Chopped Salads
I love seeing your creations and remakes, so be sure to rate the recipe, comment and share your Chickpea Avocado Salad photo on Instagram so I can share the love!
Recipe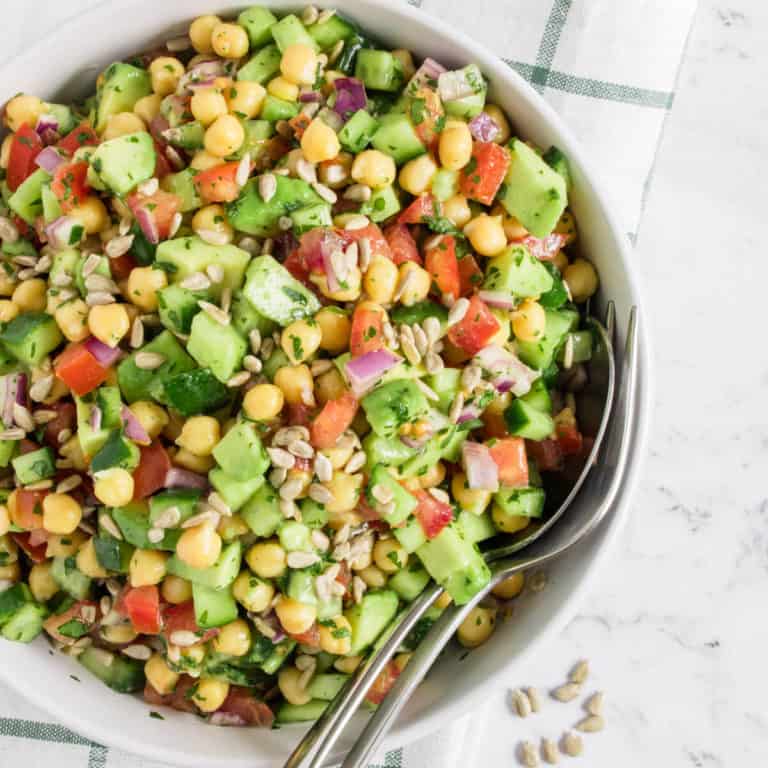 Chickpea Avocado Salad
My Chickpea Avocado Salad recipe has to be one of my most made salads in my house. It's healthy, easy to make, and great as a main meal, side dish or quick snack
Pin
Print
Rate
Ingredients
2

cups

cooked or canned chickpeas

2

tomatoes

2

Persian or Lebanese cucumbers

½

red onion

1

ripe avocado

Handful of parsley leaves
Dressing
1-2

lemons squeezed

5

tablespoon

extra virgin olive oil

Sea salt
Instructions
Dice onion and cucumbers into small cubes and add to a big bowl

Dice tomatoes into similar sizes as the cucumber. If tomatoes are very watery, you can discard excess juice or keep aside for a separate dish. Add tomatoes to the bowl

Peel and chop avocado into small cubes, add to the remaining ingredients

Chop parsley leaves finely, add to the bowl

Add chickpeas to the salad bowl

Squeeze in lemon juice, of course being careful not to add any seeds. I've noted in my recipe 1-2 lemons depending on your tastebuds, I love this salad a little sour so I use 2 lemons but if you dont, you can use 1.

Drizzle over olive oil, season with sea salt and give a good mix together (see important tips above)

Right before serving, add seeds ontop so they stay crunchy and enjoy!